Google really doesn't like the idea of you needing proprietary cables to charge your future Android devices.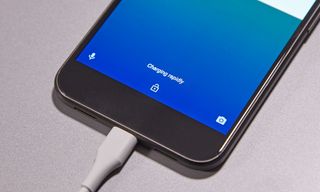 Google's latest Android Compatibility Definition document for Android Nougat takes on fast-charging technology, saying that device makers are "strongly recommended"to ensure that phones fully support USB Type-C charging standards. Google adds that it will frown upon devices that can't easily work with standard cables.
Google added in the guide that while it's not currently forcing vendors to support standard cables and chargers, it might "require all type-C devices to support full interoperability with standard type-C chargers" at some point in the future.
MORE: Smartphones with the Longest Battery Life
Fast-charging has become an important new feature across many Android-based devices. With help from technologies like USB Type-C, phone makers have been able to add quick charging that could boost battery life considerably in a matter of minutes. The feature is ideal in a mobile world where battery life is so precious; it also helps Android device makers to differentiate their products with Apple's iPhone 7, which is conspicuously missing a fast-charging feature.
Google's move is less about standardizing technologies and more about helping consumers. As fast-charging becomes more popular, it's possible that some device makers could eye proprietary connectors for the feature. The idea would be to get customers invested in a company's proprietary technology and hopefully keep them locked into hardware which supports that technology instead of trying out other devices.
Google's argument is that USB Type-C is a standard technology that facilitates fast charging. To not offer it to customers running Android devices puts undue pressure on customers to buy adapters, which ultimately pushes up the total cost of owning a device. What's more, it makes it harder for people to use the same accessories if they want to shift from one phone to another.
In Google's ideal world, it would seem, all Android devices with fast-charging would support a standard like USB Type-C and make it easy for us to employ the feature on any device we pick up. Requiring a standard also limits the possibility of devices requiring different amounts of power to charge the battery, thus creating the possibility of frying a device or accessory when too much power is delivered.
For now, though, Google is leaving charging plans in the hands of its device makers. And while it hasn't made the move to force them into any one technology yet, that might come down eventually.
Google offers fast-charging in its Pixel smartphones. The company uses standard USB Type-C to boost their juice.
Samsung Galaxy S8 Rumors: What Features to Expect