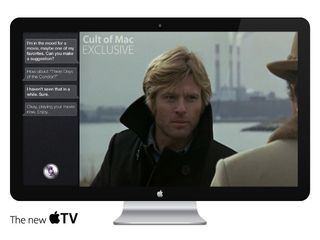 The latest rumor surrounding Apple's upcoming "iTV" and a formal, official reveal stems from Jefferies & Company analyst Peter Misek in a note to clients on Wednesday. He wrote that Apple will probably surprise attendees of its annual Worldwide Developer Conference in San Francisco next week with an actual announcement. He also added that companies including AT&T, Verizon, Rogers, Deutsche Telekom and France Telecom are already testing Apple's iTV in their labs.
The rumor follows a report that surfaced last month claiming the company would reveal a new Apple TV operating system running on its set-top TV boxes, not an actual physical stand-alone product. The new OS was said to be more "feature rich" than the current version, and even be used on a line of displays. There was also talk that it would feature a new "control out" API that allows third-party manufacturers to make compatible accessories.
According to unnamed sources, it would be possible to use the new API to control any connected components by using the Apple Remote -- possibly the Apple Remote iOS app as well. The API would reportedly work with all aspects of various popular components, possibly allowing control over program guides, set top boxes provided by cable operators, and other hardware components.
Back in early May, an unnamed source who claimed to have served hands-on time with the rumored HDTV said the device is similar in appearance to the current line of LED-backlit Cinema Displays, but much bigger. It also had a built-in iSight camera for making video calls via FaceTime, and Siri the virtual assistant made popular by the iPhone 4S. The working prototype was supposedly the same exact device Steve Jobs was talking about when he said he had "cracked TV" last year.
But here's a little food for thought, mixing both stories together: maybe iTV will be a new operating system that Apple will reveal next week. And perhaps this new software will support the iSight camera, both of which will be integrated into Cinema Displays larger than a specific size, and Apple TV set-top boxes. This way, Apple's new crusade to change the living room will cover both aspects of the couch potato.
Naturally take everything with a grain of salt -- it's all mere rumor and speculation until Apple comes clean with the iTV project. Offering a new operating system on an updated Apple TV set-top box and Cinema Display makes more sense than simply producing a standalone HDTV, but this is Apple we're talking about, a company intent on changing the way we consume media.