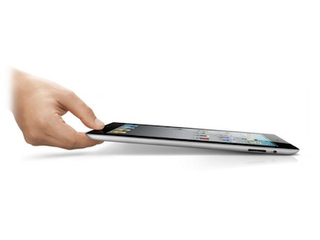 You can usually tell when an Apple launch is drawing closer because the number of 'people in the know' and sources whispering about the rumored product increases dramatically.
This week, the Wall Street Journal is keeping things moving with rumors that we haven't heard in quite a while. The newspaper is reporting that Apple could be working on a smaller iPad than the 9.7-inch model we've seen in the last two versions of the tablet. Don't panic, though. Just because 'people familiar with the situation' say Apple is working with component suppliers in Asia to test a new tablet computer with a smaller display, that doesn't mean the old model has been given the heave-ho.
Apple is apparently eager to better compete with competitors and strengthen its position in the tablet market, and broadening its portfolio is one way to maintain market share. These sources say that though the company is currently testing the product, it's no guarantee that Cupertino will ultimately decide to go ahead with the new slate, which is said to measure roughly 8-inches in size.
In other news, the upcoming (but as yet unconfirmed) iPad 3 will apparently be compatible with both Verizon and AT&T's 4G LTE networks. The Journal cites more people familiar with the matter in reporting that the tablet will land at both AT&T and Big Red, but whether or not Sprint and T-Mobile will also be able to sell the iPad remains unclear. Right now, T-Mobile is the only one of the four that doesn't offer the iPhone 4.
As always, Apple has refused to comment, because any hint of clarification on any of these rumors would be no fun at all. Instead, we'll have to wait for the big reveal, which right now is tipped to be March 7. If you can't wait that long, you can always check out our round-up of iPad 3 rumors. The quick and dirty is that most expect the tablet to pack a new Retina display, a quad-core CPU, a new camera, and support for LTE.
Further Reading