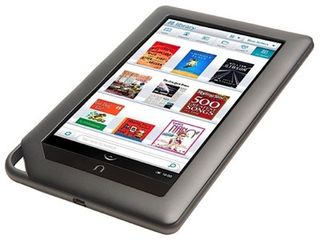 With the world and its mother jumping on the tablet bandwagon, companies we never expected to release slates, like Gigabyte, are eager to get a piece of the action. Joining Gigabyte on the list of surprise contenders in the tablet race is Amazon.

According to Engadget founder Peter Rojas, the Kindle manufacturer is indeed working on a tablet and it'll be released later on this year. Speaking via a post on his two-year-old gadget-centric social networking site, GDGT, Rojas claimed that the tablet would be an Android device and would launch this summer. Rojas says he's "99 percent certain" Amazon has contracted Samsung to manufacture its tablet. However, those hoping for an Android 3.0/Honeycomb experience will be disappointed to learn that Rojas believes the tablet won't use the tablet-optimized version of Google's mobile OS. As is the case with B&N's NOOK Color (pictured), Rojas says Amazon might use Android as a base but build a totally customized experience that "tightly integrates Amazon services."

"That integration would let Amazon charge a lot less for its tablet than it would otherwise," writes Rojas. "The reason Barnes & Noble has been able to price the NOOK Color so aggressively ($250 versus $350 to $450 for comparably-sized and spec'd Android tablets) is because they're assuming you're going to buy a bunch of books from them over the course of owning it."

Throw in Amazon Music, instant video, and apps from its new store and the company could end up selling quite a lot of content. So, just how cheap can they sell it if they're banking on all that extra revenue? According to Rojas, Amazon could sell a 7-incher for as little as $199 if it had its heart set on being really aggressive. Something bigger than that, say 10 inches, might be more difficult to price competitively.

Do you think there's room for this kind of device in the tablet market? Let us know in the comments below!

Read Rajas' full post here.