The heyday of apps like HQ and Fleetwit may have come and gone, but the best trivia apps remain a popular part of the mobile landscape. After all, who doesn't enjoy showing off their knowledge of arcane facts — and maybe besting their friends in the process?
Our look at the best trivia app features some newcomers to the quiz game, as well as some familiar mainstays with serious staying power. Even after the great trivia app boom of 2018, these apps have stuck around because they're fun to play, easy to pick up and put down, and offer the chance to show off your wits.
Want to show off your brain power and maybe have a little friendly competition with some of your fellow know-it-alls? These are the best trivia apps for aspiring brainiacs.
The best trivia apps for Android and iOS
1. Jeopardy! (Android, iOS: Free)
Jeopardy! brings the beloved game show to your mobile device, giving you the option of offline solo games or taking on other players in a head-to-head online match.
The answers don't come in the form of questions in this version of Jeopardy; instead, you're given multiple choice answers, earning power ups that can help you with some of the tougher questions. (Certain power-ups buy you more time to answer, while others take away an incorrect option.)
With questions in 26,000 categories, chances are you won't be seeing too many repeats, while a world tour element lets you compete in different settings. In addition to head-to-head play either against strangers or old friends, Jeopardy offers live events and leaderboards to keep the competition fresh.
Download Jeopardy!: Android, iOS
2. Trivia Crack 2 (Android, iOS: Free)
The sequel to Trivia Crack, Trivia Crack 2 introduced new game modes including a head-to-head time attack mode called Tower Challenge. as well as daily challenges and tasks — all of which you can play against your Facebook friends or random opponents. You can even form teams of like-minded know-it-alls.
Trivia Crack's Classic mode remains, with players compete to collect themed characters that mirror trivia categories. In the sequel, there are even more characters to collect depending on the question themes.
Trivia Crack 2 is a free-to-play app, though ads will become a familiar and not always welcome site. You can get a paid membership to make those go-away — subscriptions start at $4.99 per month. You can also unlock other bonuses including endless lives, special packs and discounts.
Download Trivia Crack 2: Android, iOS
3. Psych! (Android, iOS: Free)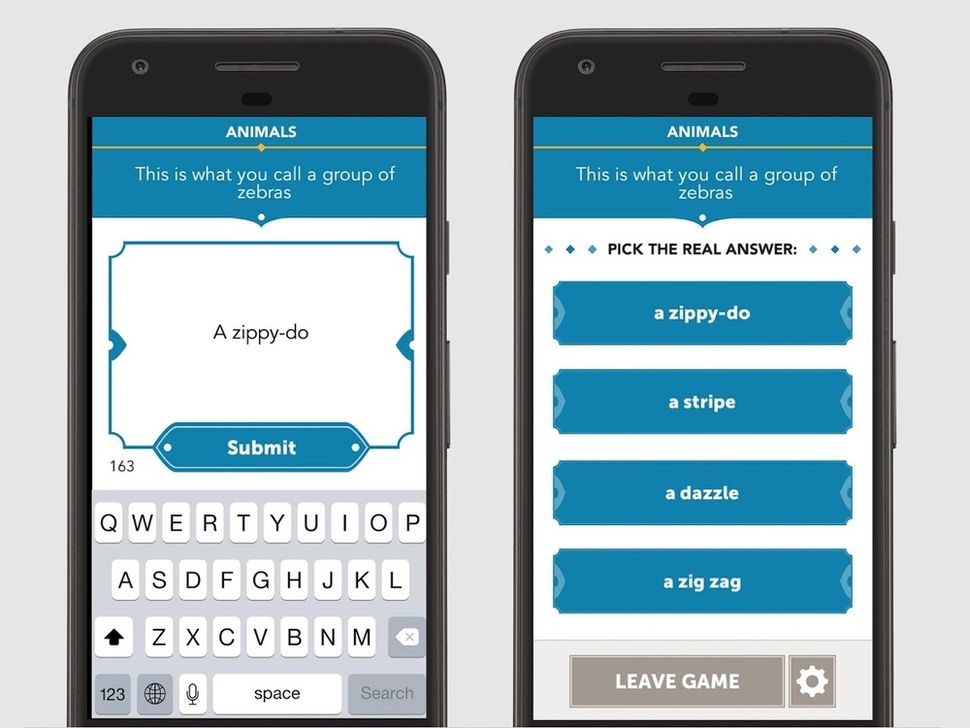 What do you call a group of zebras? What in the world is a mumpsimus? Inspired by party games like Balderdash, Psych! has you cooking up the zaniest but most plausible answers to these questions in order to fool your friends and score points. The app is free, though there are in-app purchases for turning off ads and unlocking new question packs.
Each player secretly submits a funny but plausible answer, and once collected, the submissions (and the correct answer) are displayed on your phone's screen, with players attempting to figure out which one is correct. If somebody chooses your submission, then you score a point, and if you guess the right answer, then you score a point as well.
The fact that you can play with other people in the same room makes Psych on of our favorite party games, but it's also one of the best trivia apps for showing off just how much you know.
4. Who Wants to Be a Millionaire? (Android, iOS: Free)
Jeopardy! isn't the only TV game show getting a mobile makeover. Who Wants To Be A Millionaire has also made the leap to touch screen devices, where it puts players through a battery of trivia questions of increasing difficulty. Classic lifelines such as 50:50, Ask The Audience, and Ask An Expert are back, too.
You're playing for points and leaderboard spots rather than actual money. You can also use in-app purchases to build up your bankroll and acquire mystery boxes. But otherwise, this the Millionaire experience shrunken down to a smartphone screen.
Download Who Wants to Be a Millionaire?: Android, iOS
5. Trivia 360 (Android, iOS: Free)
Trivia 360 offers thousands of trivia questions in a variety of game categories to keep things fresh, without distracting you with too many frills. Questions can come in the form of multiple choice, true or false, and identification questions. Users can select question categories and submit or rate questions, as well as view leaderboards.
The advertising in Trivia 360 can show up aggressively at the end of rounds, but an in-app purchase can remove ads if you find them too obtrusive.
Download Trivia 360: Android, iOS
6. Popcorn Trivia (Android, iOS: Free)
Fancy yourself a movie maven? You can prove it to the world — and yourself — in PopcornTrivia. The free-to-play app servers up trivia questions for a wide variety of movies and genres, with answers earning you popcorn that you can use to customize your avatar; you can also spring premium question packs for popular TV series.
PopcornTrivia includes both single-player and multiplayer modes, as well as leader boards and a stat tracker.
Download Popcorn Trivia: Android, iOS
7. Sporcle (Android: $1.99; iOS: $2.99)
It would be impossible to calculate the hours of productivity sucked away by Sporcle, which started life as a trivia website back in 2007. While the web version is still going strong, the games have also gone mobile, with an app that recreates the addictive pop quizzes Sporcle routinely serves up.
Sporcle features thousands of quizzes in a variety of topics, such as history, entertainment, science and literature, with players trying to list down all possible answers that fit a given question. Just like the website, the Sporcle app regularly updates with new quizzes, and players can even sign up for a Sporcle account to comment on and rate quizzes, as well as create and upload their own.
Quizzes that require the on-screen keyboard aren't nearly as fun as they are on the web, but thankfully, the app serves up other kinds of Q&As that require nothing more than tapping and an intimate knowledge of all things trivial.
Download Sporcle: Android, iOS
8. SongPop 3 (Android, iOS: Free)
The hits just keep on coming, and so do the sequels to SongPop. We're now up to SongPop 3, the latest iteration of the Name That Tune Game for mobile devices.
The app asks you to identify more than 100,000 music clips and the artists who perform them, putting your musical know-how up against friends and strangers alike. As you play, you unlock coins you can use to access new features and rewards. And as you build up your playlist of songs, you face stiffer competition as you try to outthink your opposition.
Download SongPop 3: Android, iOS
9. Kahoot (Android, iOS: Free)
Why just play trivia games when you can create your own? Kahoot allows you to do both in an app that's as home at family game night as it is in the classroom.
Kahoot's roots are in education, as a study tool and multiple choice quiz app used by students and teachers alike. But if you pay for a subscription — a family and friends package costs $9.99 — you can create and host your own quiz nights. Kahoot also has a library of images to unlock to add some visual excitement to your quizzes.
You can find Kahoot quizzes on multiple topics and create your own, even casting the app from your phone to your TV to take your quizzing to the big screen.
10. Quizoid (Android, iOS: Free)
Quizoid won't win anydesign awards, but the app offers a challenging, no-nonsense single-player trivia game that strips out social extras and online components.
Players try to get the highest scores they can by running through a gauntlet of questions, while armed with three lifelines. Answer wrong, and the game is over.
Quizoid features up to 7,000 questions in 17 categories, such as entertainment, mathematics and sports. In-app purchases add question packs, and can remove advertising. If you like your trivia apps without any extra fluff, then give Quizoid a shot.