When Netflix with ads launched in late 2022, it wasn't without controversy. This wasn't merely adding ads to your existing Netflix subscription, this was a notable downgrade from your existing Netflix experience. When our streaming editor Henry T. Casey tried Netflix with ads, he declared it not worth saving $3 a month.
But now the lowest Netflix tier is set to get an upgrade. According to Reddit user u/websgeisti in Germany (via FlatPanelsHD), their version of the tvOS Netflix app is now supporting the Netflix Basic with Ads plan, which it had previously lacked.
According to these sources, if you update to version 2.3.0 of the tvOS Netflix app, the ad-supported Basic with Ads will now work. To manually update Netflix, turn automatic updates off (Settings > Apps > Automatically update apps), search Netflix the app in the App store and hit update.
This is a big boost not only for the Apple TV 4K, which just fixed one of its most annoying problems in a recent tvOS update, but it's also a big boost for Netflix.
Netflix with ads also comes with issues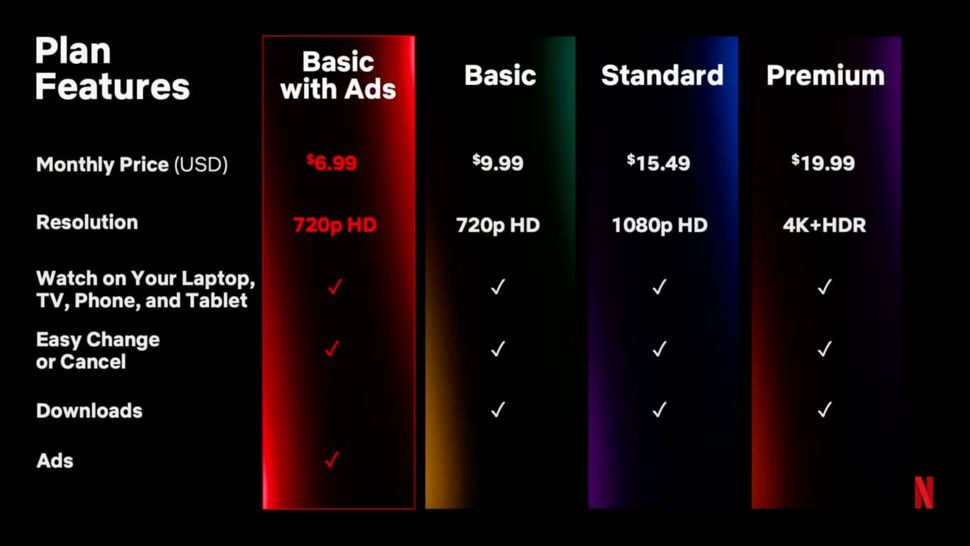 If you're surprised that Netflix with ads didn't already work on Apple TV devices, you wouldn't be alone. But this isn't a problem unique to Apple's devices — the ad-supported tier of Netflix also doesn't work on several other devices, notably including Chromecasts that don't have Google TV and the Windows OS Netflix app. Now it seems that the Apple TV HD and Apple TV 4K can be removed from the list of unsupported devices, though Netflix has yet to announce anything. That said, neither the Apple TV nor the Chromecast are currently listed in Netflix's help page for this issue.
This wasn't the only problem for Netflix's Basic with Ads offering. We found that since many Netflix shows aren't designed for ads, the app would often drop ads in places that created abrupt switches. This was particularly evident in Netflix Originals like The Crown, which was edited with the expectation of being ad-free and was not well-suited for pivotal moments being interrupted by Chevy ads.
Additionally, this isn't just your normal Netflix with ads thrown in. Netflix with ads comes with a serious downgrade in video quality. The stream quality for Netflix with ads caps out at 720p, meaning that the full potential of your Apple TV 4K will be criminally underutilized while watching Stranger Things. Oh, and did we mention that you cannot even watch all the best Netflix shows and movies? Licensing rules seem to be preventing Netflix from including some content in the ad-supported tier.
But if you're looking to save some money — we get it. And Netflix with ads can give you an opportunity to do exactly that. At least now if you have the Apple TV 4K, which is one of our picks for the best streaming devices, you don't have to worry about not being able to watch Netflix. That's a massive upgrade — hopefully, more are on the way.
More from Tom's Guide