iPhone 12 event recap: All the big announcements you missed
The biggest news from Apple's huge iPhone 12 event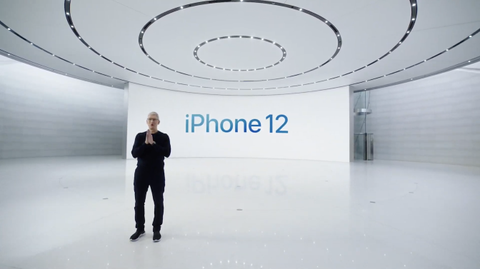 (Image: © Apple)
The iPhone 12 is official, and it's one of the most significant smartphones Apple has ever made. The latest iPhone range brings 5G connectivity to the iPhone for the first time, complete with a blazing A14 Bionic chip and rich Super Retina XDR displays.
And the Pro models have some truly awesome features, including professional-grade camera software tricks and an advanced LiDAR sensor for better AR and depth-sensing. We also got a look at the HomePod mini, which looks like a much better (and cheaper) take on Apple's smart speaker.
Here's a quick recap of what you missed from today's show:
iPhone 12: The iPhone 12 is one of the biggest leaps forward for the iPhone, with 5G support, blazing A14 Bionic speeds, a rich 6.1-inch screen and a range of new color options including blue, red and green. It releases on Oct. 23 starting at $799.
iPhone 12 mini: The iPhone 12 mini packs all the same features as the iPhone 12, but within a compact design that offers a 5.4-inch OLED display into a sleek chassis that's even smaller than this year's iPhone SE. The iPhone 12 mini launches on November 13 for $699.
iPhone 12 Pro and Pro Max: Apple's most advanced new phones, the iPhone 12 Pro and Pro Max feature professional-grade triple-camera setups with tons of awesome software features for photographers. The iPhone 12 Pro and Pro Max release on November 13 and start at $999 and $1,099 respectively.
HomePod mini: A smaller and more refined version of Apple's smart speaker, the HomePod mini promises great audio quality, deep Siri integration and a ton of useful smart home features within a cool spherical design. It launches on November 16 for just $99.
Be sure to also check out our archived liveblog below for all of our reactions to the big event as it happened.