While this speaker may be a lot more expensive than any of our picks for the best Bluetooth speakers, that doesn't make it any less gorgeous.
Bang & Olufsen has unveiled the Beosound A5, a truly stunning portable Bluetooth speaker that has a design somewhat reminiscent of a picnic basket. All for nearly three times as much as the $399 Sonos Move. But instead of wines and cheeses inside, it packs a 5.25-inch woofer, two 2-inch midrange drivers and a 1.75-inch tweeter that produce 360-degree spatial audio with 280W of power.
That's not all that's inside the Beosound A5. The portable speaker comes loaded with features from an IP65 waterproof rating (can handle some water, but don't throw it in a pool), 12 hours of playtime battery life, wireless charging for your phone, Airplay 2 compatibility and more. It will even connect via Chromecast to allow for easy streaming to the powerful speaker.
But the real headline of the Beosound A5 is the modular design. The speakers, the battery, the chassis and more are all replaceable individually, allowing you to simply get parts swapped out if a repair is needed. While it's a bit disappointing to see the modular design not come with modular upgradability as well, the Beosound A5 is so fully loaded that you probably wouldn't be in a rush to upgrade its parts anyway.
But, yes, it costs $1,100
Admittedly, at its $1,100 price tag, you probably won't be in a rush to take the Bang & Olufsen Beosound A5 outside either. If so, that's okay — the design still looks great indoors. Plus, things get better if you pair Beosound A5s together. You can pair two to create stereo spatial audio or use its Mozart 2.0 software to wireless connect speakers throughout your house.
The Beosound A5 comes in two colors: a lighter Nordic Weave for $1,099 or Dark Oak for $1,199. Either one will look great indoors or outside.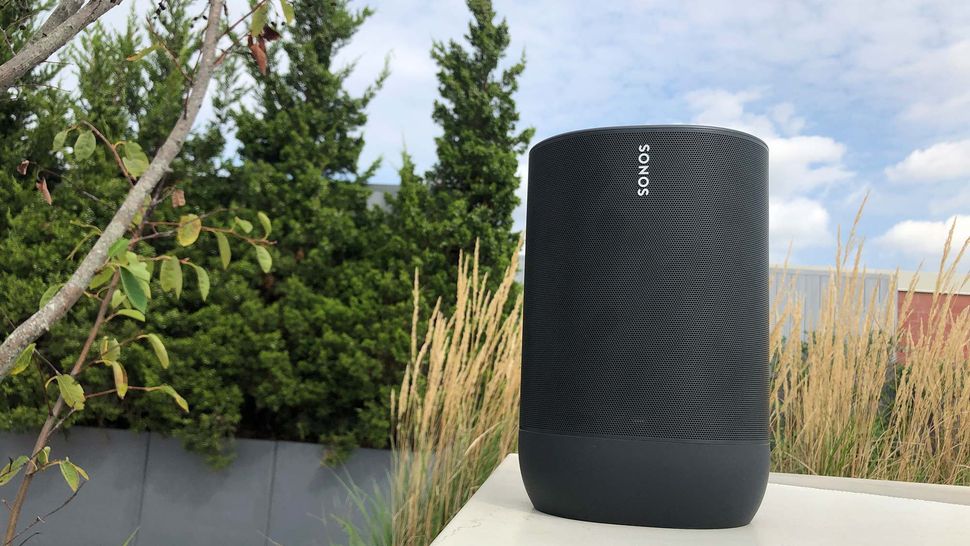 However, at $1,099, it's more than twice as expensive as the $399 Sonos Move. Like the Sonos Move, the Beosound A5 can connect to both Bluetooth and Wi-Fi, so you can bring it out into your backyard and still have it linked to your home network. It features an IP56 water resistance rating (again, don't throw it in a pool). But it loses some of its features when you leave your Wi-Fi network, as Sonos ties its smart features and speaker pairing for stereo sound to Wi-Fi connectivity.
If you want a more portable alternative to the Sonos Move, but don't want to pay up for the Beosound, there's also the Anker Motion X600. This portable speaker also looks great and provides spatial audio through its Sky Channel technology — but for a fraction of the price.
Right now, you can score a $50 discount that will bring the Motion X600 down to just $149. With a lot of the same features — spatial audio, stereo pairing, a IPX7 waterproof rating (it'll survive if you through it in a pool, but try to avoid it) — its a good alternative if the Bang & Olufsen Beosound A5 is a bit out of your budget.
More from Tom's Guide