The Studio Buds operate equally well on Android and iOS devices and have ANC. Not the bass-blasters once associated with the Beats brand, these produce a more balanced sound. Battery life may be bettered by the AirPods Pro 2, but the overall performance these buds offer is impressive given that they cost $100 less.
For
Compact design
Active noise cancellation
Affordable price
IPX4 water and sweat resistance
Against
Mediocre call quality
No wireless charging
Can't easily switch between multiple devices
Apple's next-gen AirPods Pro 2 bring significant upgrades to the popular original to take performance to the next level. Externally, they look pretty similar to the first generation, but battery life has been increased to offer 6 hours on a single charge from the earbuds and a further 30 hours from the wireless charging case. Not only are the earbuds IPX4-rated, but now too is the case itself.
For
World-class noise cancellation
Volume controls right on the stem
Dolby Atmos spatial audio
Improved battery life
Against
Lackluster call quality
Lanyard costs extra
In this scenario, we're comparing two of Apple's most popular ANC models: the Beats Studio Buds and Apple AirPods Pro 2. Although the Beats are the more affordable ANC model, they incorporate many of the great features of Apple's cohesive ecosystem, and both are considered some of the best wireless earbuds available.
The Studio Buds are a stellar offering from the iconic headphone brand that welcomes active noise cancellation, refined sound, and multiplatform support to operate the buds seamlessly on iOS and Android devices. Meanwhile, the AirPods Pro 2 bring significant upgrades to the popular original to take performance to the next level.
Which come out the winner? Keep reading our Beats Studio Buds vs. Apple AirPods Pro analysis to find out.
Beats Studio Buds vs. Apple AirPods Pro 2: Specs compared
Swipe to scroll horizontally
| Header Cell - Column 0 | Beats Studio Buds | Apple AirPods Pro 2 |
| --- | --- | --- |
| Price | $149 | $249 |
| Wireless charging case | No | Yes |
| Chip | Not specified | H2 |
| Battery life (rated) | 5 hours (ANC on), 8 hours (ANC off), 15 hours (charging case with ANC on), 24 hours (charging case with ANC off) | 5.5 hours (Spatial Audio and Head Tracking on) 6 hours (ANC on); 7 hours (ANC off); 30 hours (charging case with ANC on); 34 hours (charging case with ANC off) |
| Water resistance (rated) | IPX4 | IPX4 (buds and charging case) |
| Case size | 2.2 x 2.8 x 1 inches | 1.22 x 0.86 x 0.94 inches (per bud); 1.78 x 2.39 x 0.85 inches (charging case) |
| Case weight | 1.7 ounces | 1.8 ounces |
| Special features | Hybrid active noise cancellation, transparency mode, spatial audio, Headphone Accommodations, customizable sound, Fast Fuel charging, "Hey Siri" and "Hey Google" voice activation, Bluetooth 5.2, Google Fast Pair | ANC, adaptive transparency mode, adaptive EQ, personalized spatial audio, automatic switching, Ear Tip Fit Test, physical volume controls, audio sharing, announced messages with Siri, Find My (AirPods), "Hey Siri" voice-activated assistance, Live Listen, MagSafe charging case with built-in speaker, Apple Watch charging, lanyard loop support |
Beats Studio Buds vs. Apple AirPods Pro 2: Price and availability
The Beats Studio Buds are listed at $149 but can often be found discounted for less. The Apple AirPods Pro 2 have a higher MSRP at $249, and can also be found discounted at online retailers.
Given their neutral-platform performance and larger spec sheet, the Studio Buds offer more bang for the buck, though the AirPods Pro 2 are a solid pick for iOS users that want reliable buds.
In terms of MSRP, this is a win for the Beats earbuds, although clearly the AirPods Pro 2 can regularly be found discounted for less, and so far we have seen them go as low as $199.
Bookmark our best AirPods deals and best headphones deals pages to stay up to date with the latest wireless earbuds sales.
Winner: Beats Studio Buds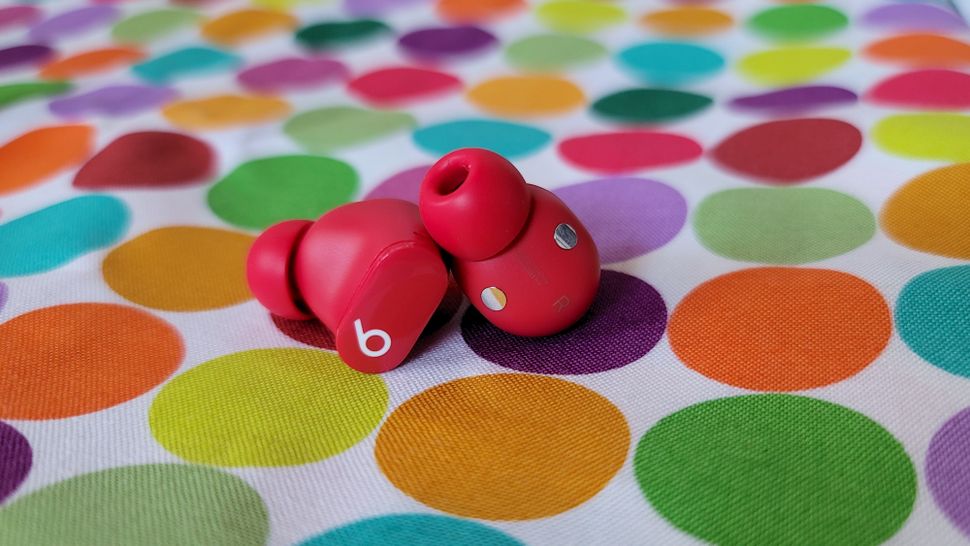 Beats Studio Buds vs. Apple AirPods Pro 2: Design
Beats went in a different creative direction when assembling the Studio Buds. Out goes the popular ear hook design associated with models like the four-star rated Powerbeats 4, and in comes a traditional in-ear design that allows the buds to rest more discretely on the ear.
Build-wise, the buds are constructed from sturdy plastic and can sustain scratches and hard spills to the concrete. An IPX4 rating also gives these buds sweat and water resistance. Specific details like the slim, long-strip multifunctional button and signature "B" logo are nice touches. Beats sells the product in three colors: black, white, and Beats red. Our only complaint is that the magnetic system that keeps the lid shut could be stronger.
As tiring as the AirPods design looks, Apple still finds ways to improve it, even if the changes are small. The AirPods Pro 2 resembles the previous version, donning the same plastic frame and details (e.g., aluminum accents, black vents). These buds also come with skin-detect sensors and are IPX4-rated for water resistance and sweat protection, which is now reflected on the MagSafe charging case.
Another addition to the case is the built-in speaker that sends out a tone to inform users of charging statuses, low battery, pairing or to find the case when misplaced via the Precision Finding feature.
Winner: Tie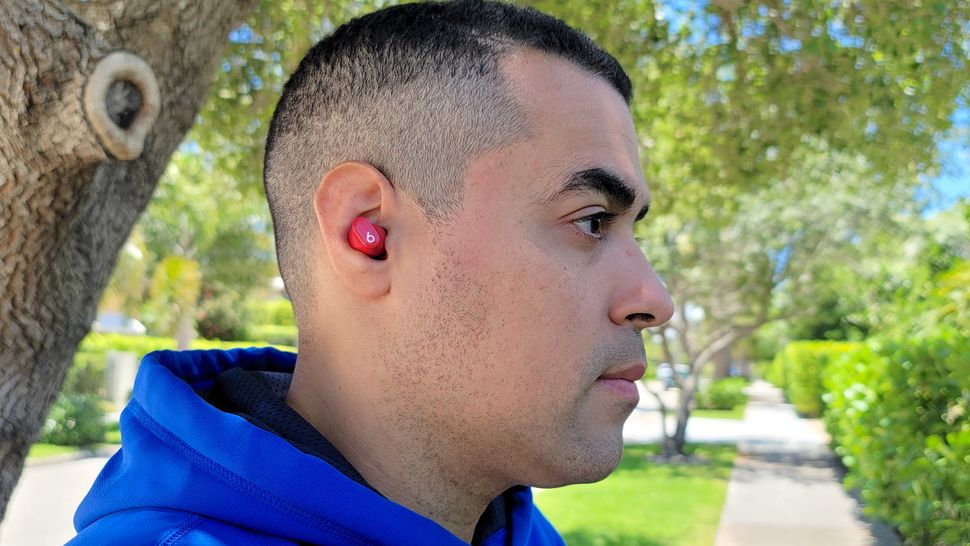 Beats Studio Buds vs. Apple AirPods Pro 2: Comfort and fit
Even without an ear hook design, the Studio Buds reward users with moderate comfort and fit. The new ergonomically tilted acoustic nozzle allows for simple insertion into the ear and the tips create a decent seal to keep the buds locked in. It's also thoughtful that Beats added laser-cut micro-vents to relieve pressure build-up using ANC. Wearing the buds will become fatiguing after an hour of use because of the sound port applying unwanted pressure to the concha.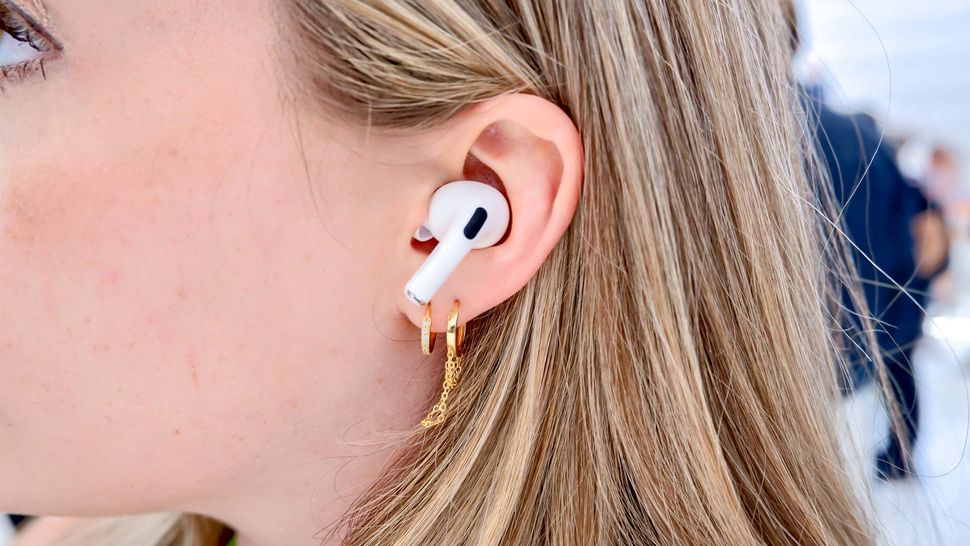 The AirPods pro 2 are more comfortable, and continue to use the soft silicon tips of its predecessor. The silicon tips gently conform to the ear canal rather than force it to open wider for the hard plastic casing. In practice that means you can wear the earbuds a lot longer without having to take them out — allowing for all-day wear without issues.
Comfort and fit go to the AirPods Pro 2. Apple's Ear Tip Fit Test and new tips establish a secure fit to wear the buds for long stretches without any slippage.
Winner: Apple AirPods Pro 2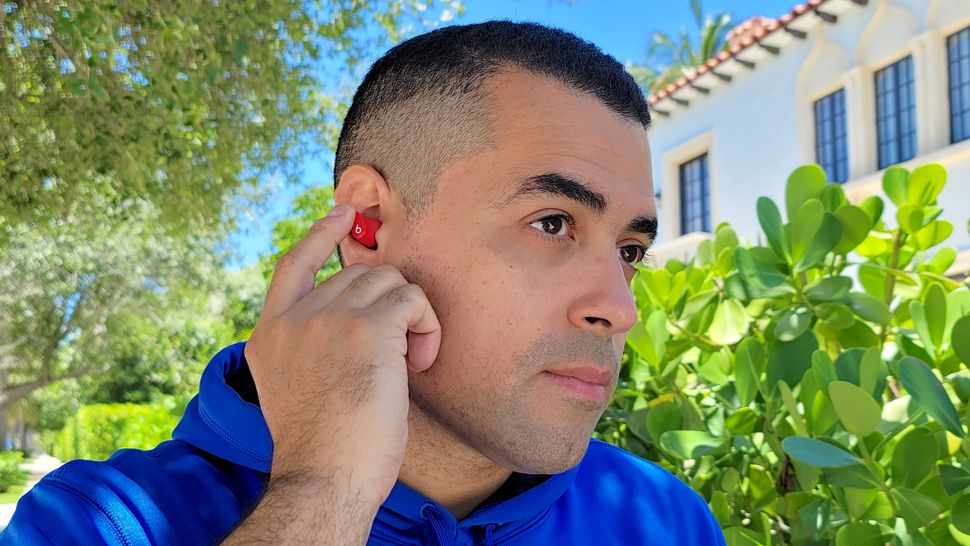 Beats Studio Buds vs. Apple AirPods Pro 2: Controls
We prefer the Studio Buds from a functional standpoint since they have more on-board controls that can be enabled through multi-tap and long-press gestures. They also have Google Assistant and Siri voice activation. The buttons' excellent haptics ensure commands are being met and the buds immediately fire up Apple or Google's AI bot when speaking out their respective action phrases: "Hey Siri" or "Hey Google." Verbal inquiries are registered quickly and responded to even quicker. On-ear detection is also spot-on to automatically pause music when removing the buds.
Apple builds on its phenomenal control scheme by integrating touch volume controls into the AirPods Pro 2's force sensors. Slide gestures are used to increase/decrease volume effortlessly, while single/double/triple and long-hold presses execute functions on demand. The skin-detect sensors are highly responsive for enabling auto-pause when taking off the buds. "Hey Siri" voice activation steals the show, firing up instantly when saying the wake word phrase and responding accurately to voice commands. If only Apple allowed the digital assistant function to work on non-iOS/macOS devices.
Winner: Beats Studio Buds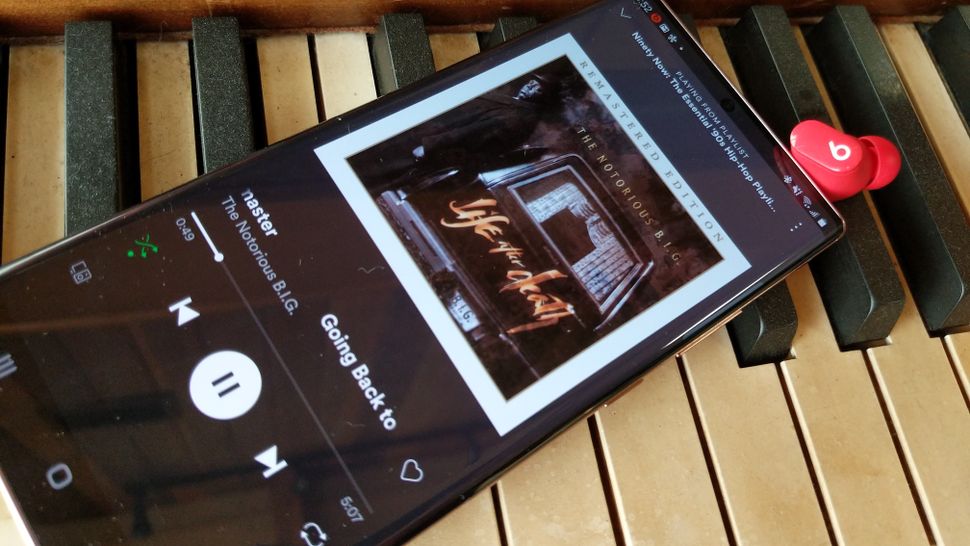 Beats Studio Buds vs. Apple AirPods Pro 2: Sound quality
The Beats Studio Buds sound great, but the AirPods Pro 2 sound better. Beats has engineered its sound profile differently than its predecessors, opting for a less boomy presence and refining the frequencies for a more balanced listening experience. And we're digging it.
Even though bass has been toned down, it is still impactful enough to get your head-nodding and toes-tapping when listening to bouncy tracks. However, it's the pleasant mix of mids and detailed highs that showcase the buds' superb reproduction. Instruments sound more intimate, especially on orchestral tracks, while vocals are crisp and striking on acoustic recordings.
Spatial audio, at least in Apple Music, works well too. It's also great that the Studio Buds allows for sound customization through the iOS equalizer or Spotify settings. Headphone Accommodations is available too, a feature that tailors sound to your hearing.
When it comes to sound quality, Apple upped its game with the AirPods Pro 2 and a new low-distortion driver and custom amplifier were developed for richer bass and clearer frequency response. And it pays off. It also introduced Personalized Spatial Audio, giving sound a more immersive feel when indulging in Dolby Atmos-supported content. The iPhone's TrueDepth camera scans your head and ears, while iOS creates a 3D sound profile for you that places effects and vocals accurately on songs and movies, something it does very well.
There are other cool audio features hidden in iOS like Headphone Accommodations to tune audio balance/range/brightness and Headphone Audio Customization for tailoring audio to your hearing.
Winner: Apple AirPods Pro 2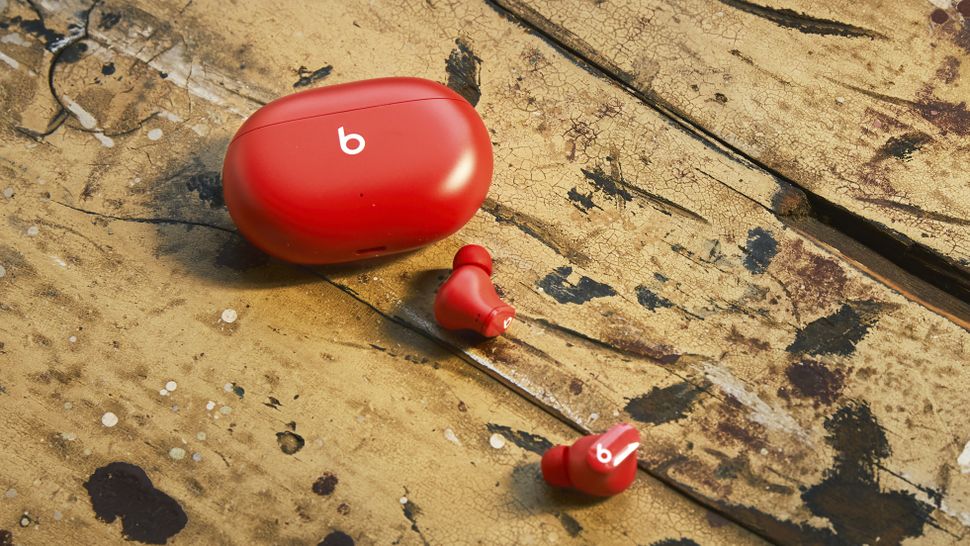 Beats Studio Buds vs. Apple AirPods Pro 2: Active noise cancellation
Active noise cancellation makes the Beats Studio Buds an attractive option at the price, and is a big win. Beats' ANC tech is serviceable for eliminating common distractions like loud televisions, rowdy commuters, and construction sites from about a block away. High-frequency sounds like baby cries and police sirens are unavoidable. There is a transparency mode to increase your situational awareness; it comes in handy for avoiding accidents and eavesdropping on conversations.
Apple claims it engineered the AirPods Pro 2 to deliver twice as much ANC as the original. Although this is difficult to evaluate, it was highly effective and handles high frequencies better than its predecessor. Where these buds see a major improvement is in ambient listening. The new Adaptive Transparency feature keeps listeners aware of their surroundings and reduces harsh environmental noise at the same time. If you're not fond of this, Apple has other modes you can try, such as Conversation Boost to emphasize vocals during chats and Live Listen, which transforms your iPhone into a live mic and picks up ambient noises that are sent to your AirPods.
Winner: Apple AirPods Pro 2
Beats Studio Buds vs. Apple AirPods Pro 2: Call quality
Issues with muffling and cutout don't make the Beats Studio Buds ideal for calls. If you happen to be in a pinch and need to call someone while outside, the buds will suffice, and they do an OK job with diminishing
Call quality is an area where we were hoping to see some improvement on the Apple AirPods Pro 2, but we didn't find much: calls sounded a bit muffled compared to a call on speakerphone. Unfortunately, that meant people still preferred us using the phone's built-in speaker rather than the AirPods — and, after listening to a voicemail recorded with the AirPods — we don't blame them.
Winner: Tie
Beats Studio Buds vs. Apple AirPods Pro 2: Battery life
The Studio Buds only manage 5 hours of ANC playback. Quick charging is stronger at 1.5 hours on a 5-minute charge. The charging case holds up to 24 hours of battery life, but this equates to 15 hours when ANC is used. There's no wireless charging.
A full charge gives the AirPods Pro 2 between 5.5 to 6 hours, depending how you use the buds, and the charging case can hold up to 30 hours when ANC is disabled — although we landed a little closer to 5 hours per charge and 26 hours with the case. Quick charge runs to 1 hour from a 5-minute charge, but they also support more MagSafe/Qi-enabled wireless charging and Apple Watch charging.
Winner: Apple AirPods Pro 2
Beats Studio Buds vs. Apple AirPods Pro 2: Verdict
Swipe to scroll horizontally
| Header Cell - Column 0 | Beats Studio Buds | Apple AirPods Pro 2 |
| --- | --- | --- |
| Price and value (5) | 5 | 5 |
| Design (15) | 12 | 12 |
| Controls (10) | 10 | 10 |
| Sound quality (20) | 15 | 18 |
| ANC (20) | 15 | 17 |
| Special features and apps (15) | 11 | 13 |
| Call quality (5) | 3 | 3 |
| Battery life (10) | 7 | 8 |
| Total score (100) | 78 | 86 |
The winner: the AirPods Pro 2. Apple focused on improving its strengths such as ANC, controls, spatial audio and iOS integration. Adaptive Transparency is fantastic for amplifying ambient noise without ruining audio quality. Precision Finding makes finding a lost MagSafe charging case much simpler. The increase in battery life is appreciated. Personalized Spatial Audio completes the package for immersive 3D sound.
Beats created something special with the Studio Buds: a pair of wireless earbuds that operate equally well on Android and iOS devices. While not the bass-blasters you're accustomed to hearing from Beats, this model is properly engineered to produce full-bodied sound. ANC won't match that of the AirPods Pro, but it is fine for the price.
More from Tom's Guide