From personal experience, Fanatec make some of the best sim racing wheels money can buy. For Black Friday, the company has unleashed something special — a new deal every day on its direct drive wheels, pedals and gear shifters.
My love for racing games all started when my Dad bought me a PS1 and the original Gran Turismo. Since then, my hobby has become a whole lot more sophisticated, thanks to using a wheel and pedals over a controller and the huge advancements of driving physics in games like Gran Turismo 7 (just $19 right now).
Fanatec has led the charge on this, but the gear is getting pricey, so any sort of price cut is a unexpected to say the least. That's why these sort of deep savings of over 50% off come as a massive surprise to me. Let's get into them.
Recent updates
Update Nov. 22: These are Fanatec's Black Friday deals for today. Bookmark this page, as I will be highlighting every new Fanatec Black Friday deal when they go live!
Fanatec Black Friday 2023 deals of the day (still in stock)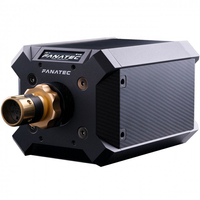 Fanated Podium Wheel Base DD2: was $1,499 now $799 @ Fanatec
The Podium Wheel Base DD2 is now available with a massive 47% discount! This is the most powerful Direct Drive wheel base Fanatec offers with 25 Nm of torque — ensuring you feel every single driving sensation and feel at one with the car. Plus, with Fanatec's cross platform support, you can pick up a wheel that is compatible with your platform of choice.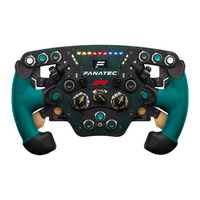 Fanatec Clubsport Steering Wheel F1 2023 + MPM: was $499 now $399 @ Fanatec
Right now, you can get $200 off easily the best steering wheel money can buy for F1 gameplay. The forged carbon fiber design is unmistakably premium with green metallic flakes, and the synthetic suede is super grippy with all the programmable buttons you need within reach.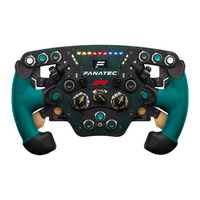 Fanatec Clubsport Steering Wheel F1 2023 + APM: was $679 now $499 @ Fanatec
Seriously up your F1 driving experience by adding an Advanced Paddle Module (APM) — featuring a strong magnetic resistance and a satisfying click to every gear change.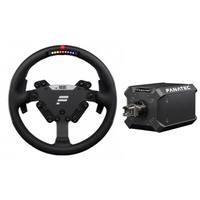 Fanatec Podium Racing Wheel RS bundle (PC & Xbox): was $1,399 now $999 @ Fanatec
If you need the wheel too, Fanatec's got you covered by chopping $400 off the Podium Racing Wheel RS setup. With the Podium Wheel Base DD1 base (20 Nm or torque), you'll be able to snag either the Podium Racing Wheel RS or the Podium Racing Wheel BMW GT2 V2 — both these wheels can work with PC or Xbox.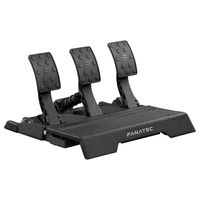 Fanatec CSL Elite Pedals V2: was $299 now $199 @ Fanatec
Complete the setup with Fanatec's impressive CSL Elite Pedals V2. Compatible with all gaming platforms, the all-metal design is seriously solid and durable — housing magnetic hall-effect sensors for peak precision, adjustable cell sensors, and a dual-stage brake action for true realism.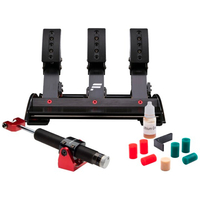 Fanatec Clubsport Pedals V3 Ultimate Bundle: was $499 now $299 @ Fanatec
Looking to seriously upgrade your pedals? Fanatec's Clubsport V3 offers the company's most advanced technology, alongside a 90kg adjustable load cell, a super premium all-metal construction, and all the customization kits you need for maximum adjustability.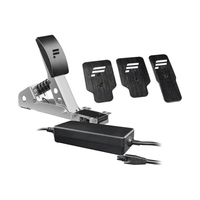 Fanatec CSL DD/Gran Turismo DD Pro upgrade kit: was $324 now $169 @ Fanatec
The pedal set that comes with the GT DD Pro is a basic but effective setup. This upgrade gives you a full load cell brake system, a power pack to increase the peak torque from 5 Nm to 8 Nm, and new pedal plates for a better footing.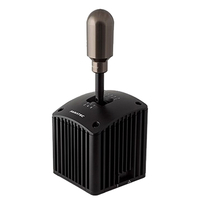 Fanatec ClubSport Shifter + USB Adapter: was $279 now $159 @ Fanatec
Sporting a full metal construction for a durable and premium finish, this 7 gear H-Pattern shifter packs a very realistic feel with strong haptic feedback. Plus, the reverse gear has an inhibitor to prevent accidental shifts.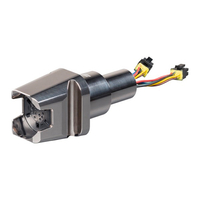 Fanatec QR2 Base-Side (Type-M): was $139 now $29 @ Fanatec
This second-generation Quick Release system guarantees speedy steering wheel changeovers if you flip between different racing sims on a regular basis. With $110 off, this solid aluminum connector with low-friction nickel coating provides confidence in a strong wheel feel.
Bear in mind, this supports a whole host of CSL and ClubSport wheels, alongside the Podium Wheel bases that are on offer right now.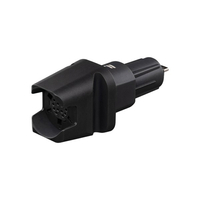 Fanatec QR2 Base-Side (Type-C): was $69 now $19 @ Fanatec
If you're a console racer, you'll probably have either the CSL DD or GT DD Pro wheel bases. For those, you'll need the USB-C quick release system, which Fanatec is shaving $50 off.