Good in-ear headphones don't come more affordable than the best cheap earbuds. Granted, there's an awful lot of half-baked, breakage-prone buds when you're looking around the sub-$35 bracket, but just because you want to spend less doesn't mean you need to put up with bad sound quality or shoddy craftsmanship.
Simply scroll down and you'll find a selection of agreeable low-cost earbuds, even including some of the true wireless persuasion. And we're not saying that on an educated guess, as we've tested all of them ourselves. So, if you don't have a few hundred to spare on the AirPods Pro or Sony WF-1000XM4, you can be sure these really are the best cheap earbuds you can buy, and not just more disposable dross.
What are the best cheap earbuds?
Why you can trust Tom's Guide Our expert reviewers spend hours testing and comparing products and services so you can choose the best for you. Find out more about how we test.
Based on our testing, the JLab Go Air Pop is the top pick for the best cheap earbuds overall. Strong audio performance, lengthy playtimes, and sturdy aesthetics are major selling points for these buds. Cool features, like an integrated USB case on the charging case, add to the Go Air Pop's appeal. Not to mention the bargain price of $25.
The Sol Republic Jax is a close second and currently stands as the best cheap earbuds with wires. Its mixture of powerful audio and practicality via tangle-free cable with inline remote makes them an undeniably smart purchase. The numerous color options and modest price tag are also extra incentives to buy in bulk.
In third place is the Skullcandy Dime, something of a trend-setter: it's a pair of truly wireless earbuds at a truly rock-bottom price. Some corners have been cut to get it this cheap, but with good sound quality and even water resistance, the Dime is a fine bargain indeed and our best value buy overall.
We've also added an oldie, but goodie, in the Panasonic ErgoFit RP-HJE120-K. You've likely seen these wired buds on the ears of several commuters or perhaps even owned a pair yourself when working with a limited budget. One thing is for sure, the sound and comfort you get out of them more than justify their generous price point.
Fancy something a bit more versatile then check out our picks for the best cheap noise-cancelling headphones or go high-end with the best audiophile headphones.
Best cheap earbuds deals
Black Friday 2022 is right around the corner so it's time to start thinking about what to look out for in this year's deals. The best cheap earbuds are always in high demand, so it pays to start shopping as early as possible if you're looking for top performance that echos the iconic style of the real thing but without the big price tag. Many of our favorite picks will be on sale making this period an ideal time to buy one of the best cheap earbuds. Be sure to follow our Black Friday deals page for all of your shopping needs this season and get ready for a second Amazon Prime Day in October with the rumored Prime Early Access Sale, which is essentially Amazon's Black Friday 2022 preview. (They held a similar retail event last October).
The best cheap earbuds you can buy right now
Number one on our list of the best cheap earbuds is a recently launched true wireless model: the JLab Go Air Pop. Serviceable in numerous ways, these buds are some of the smallest and most durable in the category, covered in solid plastic with IPX4 sweat and water resistance. Music sounds lively, thanks to three built-in EQs that JLab fine-tuned to give listeners a more personalized listening experience. Balance keeps audio neutral, while Bass Boost is self-explanatory and JLab Signature emphasizes bass and vocals. The most surprising hallmark on these buds must be battery life; a full charge generates 8 hours of playtime. Toss in a super-compact charging case with an integrated USB cable and you have a sweet package at an unbeatable price.
Though the Go Air Pop ranks No. 1, that doesn't make it perfect. Those who want a more reliable calling headset or extra features to play with will want to spend extra on any one of the market's best wireless earbuds.
Read our full JLab Go Air Pop review.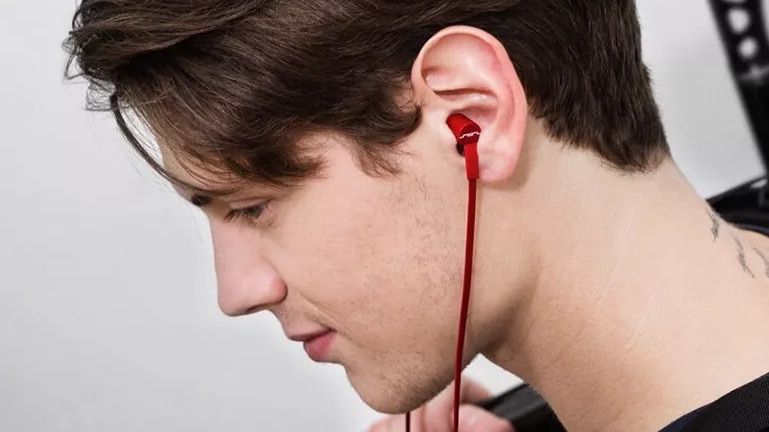 Budget earbuds with prominent bass are a rare find, and Sol Republic has you covered with what we consider the best cheap earbuds for wired enthusiasts: the Jax. These minimalist buds are powered by the company's i2 Sound Engine, which feeds your eardrums with lots of boom and doesn't distort sound, though the low end can become a bit overzealous on boomy hip-hop tracks. You'll also get some great noise isolation out of these buds as the tips create a tight seal to block out external sounds.
Sol Republic's plastic design may feel flimsy, and the cable has a tendency of getting in the way when walking, but those are minor complaints in the grander scheme of things. The Jax's sound, style, and serviceability are enough to win you over. These earbuds have been around for a while and haven't followed our usual review procedure, but trust us, you'll want to add two pairs to your shopping cart ASAP.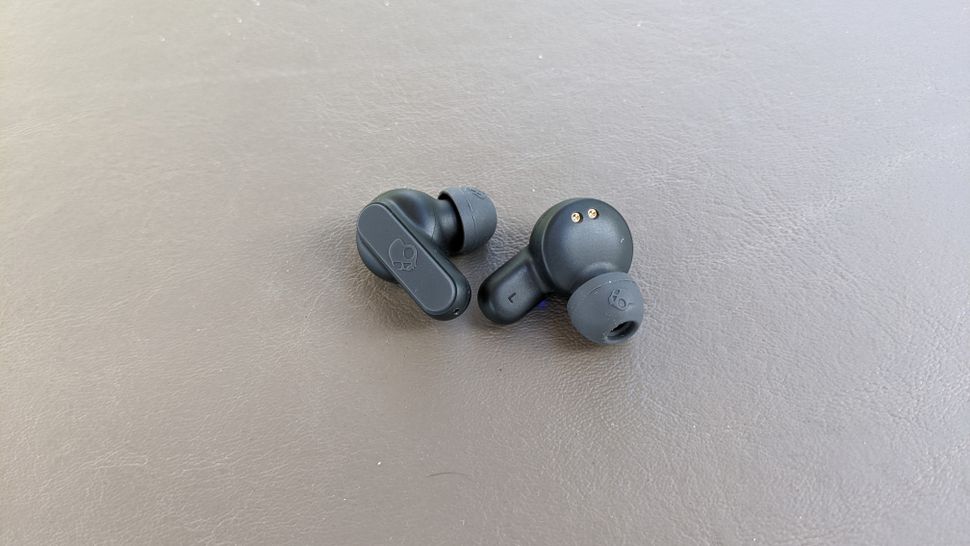 True wireless earbuds for less than $30? And good ones at that? Yes, the Skullcandy Dime is one of the most pleasant surprises around for earbud shoppers on tight budgets. Coming tucked into a charging case that's small enough to pass for a car key fob, the Dime quickly earned a place on this list with its impressive sound quality and robust build.
Thanks to IPX4-rated water resistance and a secure fit, it's even a respectable pick for running and workouts. Beware the low battery life, however: you'll struggle to get even four hours of playback per charge, though you can extend this on the go with that compact charging case.
Read our full Skullcandy Dime review.
They might look like something that you would find behind the glass countertop at your local grocery store, but Panasonic's tiny in-ears have been considered the best bang-for-the-buck deal for the past several years. The ErgoFit earbuds deliver crisp highs, warm mids, and deep lows despite their low price. Compared to other earbuds in their price range, the ErgoFit produces cleaner audio; the soundstage lends itself well to modern music genres like alternative rock, EDM, and hip hop.
Even better, they conform to the shape of your ear canal, creating a snug, but comfortable fit for those long jam sessions. Those who love to accessorize their headphones with their outfits will find a variety of colors, which should appeal to the fashion-conscious. You're looking at 15 bold shades in total. Panasonic also sells the ErgoFit with or without a built-in mic, though the latter is preferable since it grants you the ability to answer calls.
We also recommend checking out the RP-TCM125, which comes with a control module and mic for calls.
Read our full Panasonic Ergofit RP-TCM125 review.
The AU-Stream is an ambitious model that gets the basics right and comes with a few cool features. Touch controls tend to be hit or miss on wireless earbuds, but this pair hits it out of the park with several programmed functions (e.g. play/pause, digital assistant activation, volume +/-) that can be executed through single or multi-tap gestures. Bass hounds will love the deep lows produced on hip-hop and EDM tracks. The charging case only holds 20 hours total, but also comes with rapid wireless charging, so you can quickly juice up the buds in 1.5 hours by placing the case atop any Qi-enabled wireless charger.
While the buds do support multipoint technology so you can pair them to two devices simultaneously, the feature is buggy. It would only play the left earbud when listening to music on my first paired device (MacBook Pro), and vice-versa with the right earbud on my second device (Google Pixel 3 XL). Also, the long, thick stems are very unflattering.
Read our full AuSounds AU-Stream review.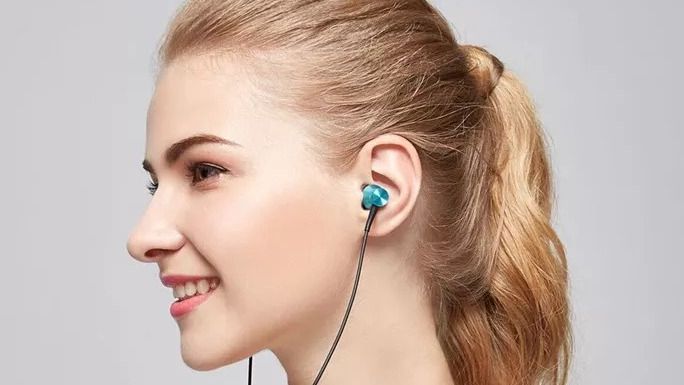 Another example of a great model gathered in and reviewed solely for this roundup, the Piston Fit is the perfect example of how to create premium-looking earbuds for dirt cheap. 1More kitted these in-ear monitors with an aluminum alloy body and "Kevlar core cable" that's designed to withstand the daily abuse you'll put it through for months to come. As attractive as they look, the buds' greatest attribute is its sound quality, which is remarkable for the price. You'll enjoy clear, spacious audio that lets lows, mids, and highs breathe over orchestral recordings. Stereo separation is also impressive, making these buds ideal for mobile gaming and YouTube binging.
The earphones come with three sets of extra tips to establish a customized fit. 1More sells the Piston Fit in four striking colors, too: pink, space gray, steel, and teal. We do wish the buds came with volume controls and had more modern features, but even with these shortcomings, they stand out as one of the best cheap earbuds that chump change can buy.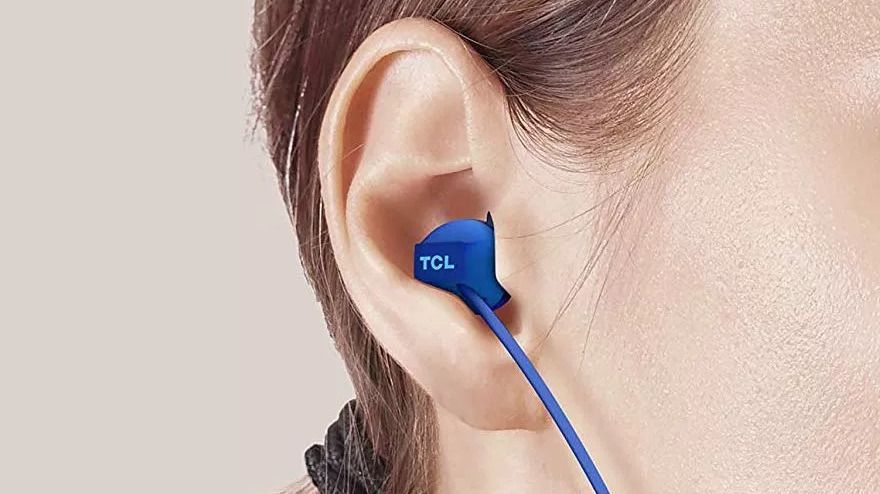 You probably know TCL best for dominating the super-cheap HDTV market, but did you know the television manufacturer has expanded its operations into the audio space? We saw these earbuds purely for this roundup, and the dirt-cheap 'buds surprised us with the kind of soundstage we'd expect from a mid-tier pair of headphones. The warm profile does favor bass-heavy content, but also shows love to mids and highs, so the listener can enjoy the subtle nuances in recordings. Music and video content sound high quality too. We also like the oval acoustic tube design that rests on the ear without applying pressure to the concha.
Noise isolation is another standout, with the earbuds forming a gentle seal to keep music from escaping and environmental clatter from seeping in. My only complaints are the lack of carry case and poor mic, which holds the earbuds back from a higher ranking. The SOLC300 is available in four distinctive colors: ocean blue, phantom black, sunrise orange, and sunrise purple.
How to choose the best cheap earbuds for you
When shopping for the best cheap earbuds, you're looking for models that can offer the most performance and usage at the lowest cost possible. Sure, that might be asking a lot from any pair of earbuds or headphones priced under $40, but it's not unrealistic.
Clearly, you want earbuds that sound good. Some companies have a great track record with audio, so seek out options with reputable namesakes. You'll also discover some hidden gems from lesser known brands, though you'll want to do your due diligence and research their credibility (e.g. consumer feedback, expert reviews). In any case, pick a pair that matches your sound preference.
Features are another priority. The limited hardware of cheap earbuds won't allow them to offer the advanced feature sets of premium true wireless models, but you can still get practical use out of them. You'll want a pair with a built-in controls for playback, call management, and volume; these controls may also support modern features like Google Assistant or Siri. A microphone is also important to answer calls on the go.
Accessories like extra ear tips are a huge bonus. These factor into comfort and fit, which is essential to enjoy music when commuting or listening at home for long stretches.
Lastly, you need to decide what media device you'll be using these earbuds with. Those who still own an MP3 player (e.g. iPod Classic, Zune) or use an older smartphone with a headphone jack are fine. For those with an Apple or Android smartphone, you'll want to consider one of our wireless recommendations or get a Lightning to 3.5mm female jack socket adapter from Amazon (opens in new tab) or USB-C to 3.5mm female jack socket (opens in new tab) to connected a wired headphone to your music player.
How we test the best cheap earbuds
When creating our list of the best cheap earbuds, Tom's Guide looks not only at price, but also design, sound quality, and ease of use. Our reviewers also test available features such as controls, mics, and digital assistant support (if applicable).
During the testing phase, each pair of headphones are worn for 2 hours at a time throughout the course of a week. We evaluate how securely they fit and noise isolation.
In terms of sound quality, we listen to many tracks across multiple music genres, including hip-hop, rock, jazz, classical, and electronic, while evaluating volume, clarity and fullness. Movies, podcasts, and video games are considered, when necessary. We also make phone calls to assess both call quality and microphone performance.
For sound quality, we listen to many different sample tracks and span as many music genres as possible, including hip-hop, rock, jazz, classical and R&B, while evaluating volume, clarity and fullness. Find out what we listen for during our testing process and how to get the best headphone sound for you.
Once we complete our testing, we rate the best cheap earbuds based on our five-point system (1 = worst, 5 = best). Products that hit nearly every mark are awarded an Editor's Choice badge.