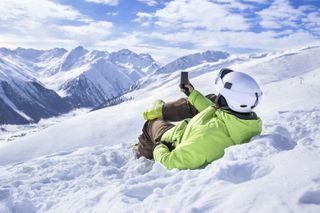 Hit these apps before hitting the slopes
There's an app for everything — even winter sports. From ski trackers and snow-reporting software to trip journals and slope safety tools, we've found some vital apps for skiers on both Android and iOS. Give them a try before you hit the slopes this winter. And don't forget the touchscreen-friendly winter gloves, or your fingers are going to be frostbitten in no time. (Image Credit: YuryKo/Shutterstock)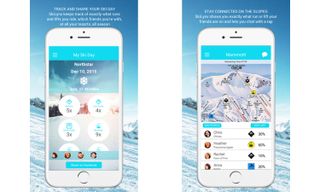 SkiLynx (iOS: $2.99)
SkiLynx keeps you connected with all of your friends on the slopes, allowing you to easily locate and communicate with your skiing buddies wherever they are. The app takes advantage of GPS and detailed trail maps to quickly show you where everyone is in real time, including details such as slope difficulty and percentage down the trail. Chat features allow you to tap out or send preset one-touch messages on your phone or Apple Watch, letting you quickly check in with everyone or set up meets. Once you're done, SkiLynx also functions as a skiing log, recording a variety of metrics which you can save and share over social networks.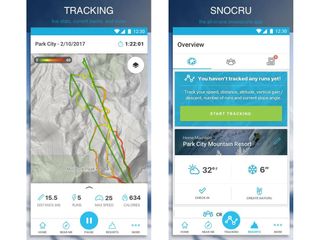 Snocru (Android, iOS: Free)
Snocru (Android, iOS) is another social app for skiiers that gives your day on the slopes a more competitive edge. Snocru users can set up a Daycru of fellow skiers and snowboarders, making it easy for you to locate and communicate with your skiing buddies. Snocru adds a gamified dynamic to things by recording a variety of metrics for each Cru member, allowing you to compete against each other and the community for things like most vertical feet traveled, fastest speed or most runs in a day. Once done, you can log and share the details of your skiing day over social media.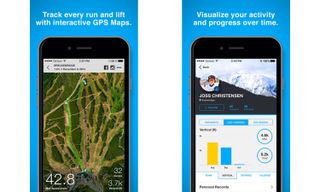 Trace Snow (Android, iOS: Free)
Formerly known as Alpine Replay, Trace Snow (Android, iOS) is a fantastic course-and-trail-tracking app that lets skiers log an entire day up in the slopes. Using your phone's built in sensors, Trace Snow records metrics such as speed, jumps, airtime, distance traveled and calories burned. Users can view a summary of their statistics after hitting the slopes, with their route automatically mapped out.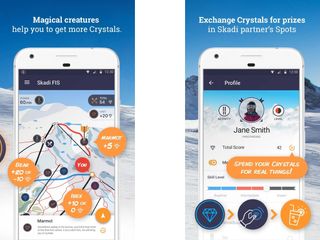 Skadi (Android, iOS: Free)
The International Ski Federation goes high tech with its latest app offering, Skadi (Android, iOS), an augmented reality game and slope guide rolled into one. Skadi creates custom ski tours for users designed around their skill level and preferences, with directions downslope piped in through your earphones. Along the way, skiiers will collect virtual gems and other powerups, which you can then trade in for real life discounts or prizes in FIS partner shops. The app also functions as a slope navigation tool and map, allowing users to find useful amenities nearby like ski lifts and restaurants.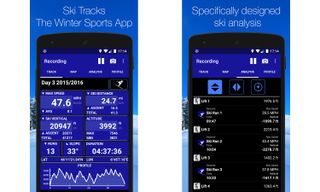 SkiTracks (Android, iOS: $0.99)
Ski Tracks (Android, iOS) is another popular tracking and logging option that takes advantage of your phone's GPS and other sensors to record your ski sessions. The app collects a comprehensive field of data, including maximum and average speed, total distance traveled and slope angle. All of these metrics can then be logged, divided into different runs and plotted out on a map.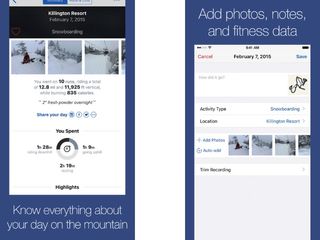 Slopes (iOS: Free)
Slopes is a free iOS skiing and snowboarding tracking app that helps log in your skiing day, taking advantage of your phone's sensors and GPS to track your ski lift rides and downhill runs, all without an internet connection and with stats easily accessible from your Apple Watch. You can add photos and notes, view a timeline and breakdown of the day's activity on the slopes, replay your runs with heat maps, and track your stats over the season. A premium subscription adds more detailed slope maps and other features.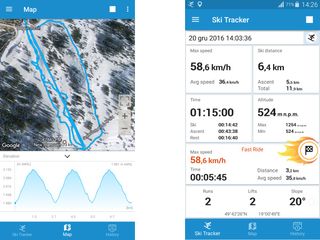 Ski Tracker (Android: Free)
Exa's Ski Tracker takes a freemium ad-supported approach to ski tracking, offering users useful activity tracker features like recording ski tracks on a map with your maximum speed, time, altitude above sea level, ski lifts, and rests. You can then review all that data at any time. Premium subscribers get the ad-free experience and extra tools like a more detailed map, the option to add location coordinates to a photo, and a more detailed map and skiing history.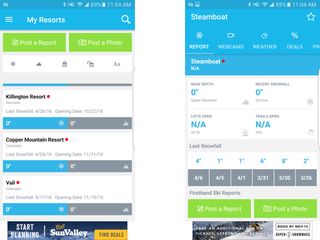 On The Snow Ski & Snow Report (Android, iOS: Free)
OnTheSnow.com fields a neat snow conditions app for Android and iOS devices called Ski & Snow Report. The app brings users current conditions and snow reports from more than 2,000 ski areas, resorts and courses worldwide, as well as crowd-sourced condition reports and powder notifications for when your favorite courses receive fresh snow. OnTheSnow Ski & Snow Report also comes with a wealth of extras, such as trail maps, resort details and reviews, skiing news, and information on the latest discounts and gear.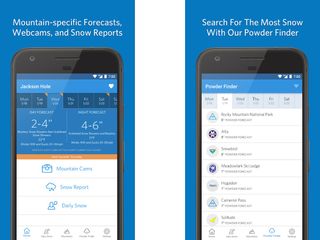 OpenSnow (Android, iOS: Free)
Another trusted resource for skiing weather reports and slope conditions is Open Snow (Android, iOS), which includes forecasts for mountains and courses throughout the US, Canada, Japan and Europe. Users can check out reports from local forecasters, compare conditions across a number of resorts, search for the best conditions with the app's Powder Finder and set up customized notifications and alerts for forecasts and reports.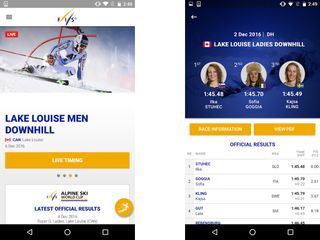 FIS App (Android, iOS: Free)
If you're a winter sports aficionado, check out the official app of the FIS (International Ski Federation) (Android, iOS). The app provides users with event calendars and results for everything from FIS races to World Cup events. In addition to live times and scoring, FIS also includes athlete bios, the latest news and up-to-date standings.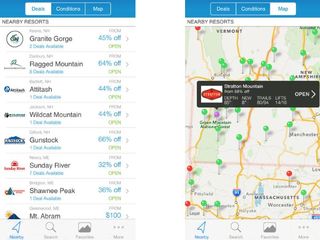 Liftopia (iOS: Free)
Liftopia gives users access to thousands of deals when it comes to pre-booked lift tickets, ski and snowboard lessons, equipment rentals and other winter sport-related purchases. Low prices are combined with easy in-app booking, letting you plan your skiing vacation without stress. Extra features include the ability to save your favorite ski resorts and courses for quickly pulling up relevant deals, as well as updated snow condition information for your go-to ski spots.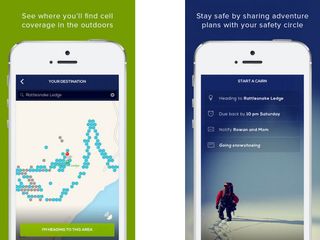 Cairn (iOS: Free)
Cairn is a outdoors safety app that does two things. First, it crowdsources information about where on a map you can receive a mobile signal (and it also logs your location). Second, Cairn allows you to leave a trip plan with your friends. If you are ever overdue, your contacts get alerts, receiving a map of location data where you were tracked to. The app allows you to plan ahead for areas on the trail with mobile coverage, and it serves as an additional safety net when going on an outdoor trip in the mountains or other wilderness areas.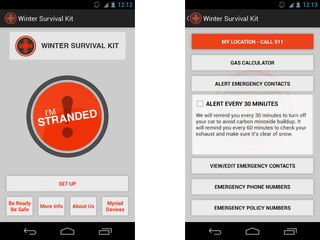 Winter Survival Kit (Android, iOS: Free)
Weather can be an unpredictable thing, and if you find yourself stranded on a mountain road, the Winter Survival Kit app (Android, iOS) includes handy safety information to help keep you in one piece. The app can help find your exact location, call 911, and store important numbers like insurance or roadside assistance services. You can also designate emergency contacts to notify if you're stranded, and the gas calculator feature can estimate how long you can keep your engine running with your remaining gas. The app will even remind you to turn your engine off every 30 minutes and check your tail pipe for blockages to help avoid carbon monoxide poisoning. The app also provides links on building your own winter survival kit and other safety tips for winter driving.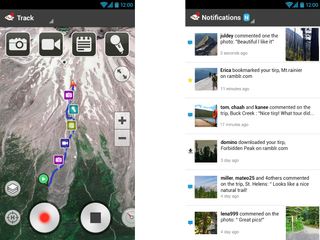 Rambler (Android, iOS: Free)
Outdoor types who like to document and journal everything about their trip should check out Ramblr (Android, iOS), a mobile journaling app designed for hikes and mountaineering trips. Ramblr allows users to record everything — their route, statistics (such as average speed, distance traveled and highest point), even geotagged audio, video, pictures or text. That allows you to easily recreate a blow-by-blow account or relive your trip in the future. Additional features include built-in mapping as well as the ability to upload and share your trips or check out where other Ramblr users have gone to.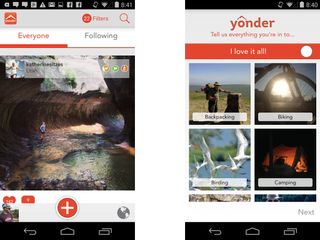 Yonder (Android, iOS: Free)
Yonder (Android, iOS) allows users to easily share their experiences hiking, skiing and camping with a global network of other lovers of the outdoors. Users can search or browse through a database of more than 200,000 destinations, follow other hikers to view their activity streams, or explore nearby locations through the map. It's great for finding out about nearby trails and routes, as well as an opportunity to network with anyone who shares your outdoor passions.