New York Comic Con 2016 Cosplay Gallery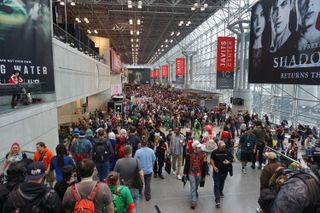 New York Comic Con 2016 Cosplay Gallery
New York Comic Con 2016 brought together fans of movies, TV shows, video games and comic books from all around the world. And what better way to exhibit your love for a fandom than with a costume?
From Star Wars to Star Trek, from DC to Marvel and from Zelda to Dark Souls, we saw something from just about every nerdy property under the sun. Here are some of the best costumes we saw during the show.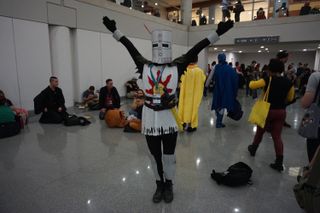 Solaire of Astora (Dark Souls)
Solaire praises the sun!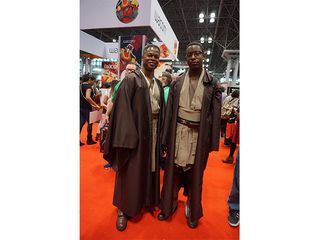 Jedi Knights (Star Wars)
Two Jedi Knights stand ready to defend the galaxy.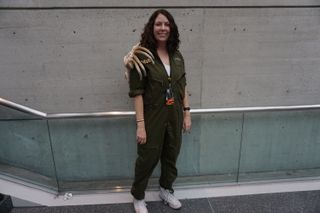 Ellen Ripley (Alien)
Ripley and the face-hugger have finally made peace.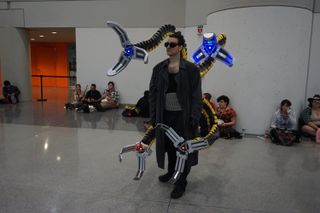 Doctor Octopus (Spider-Man)
Doc Ock is on the hunt for unsuspecting superheroes.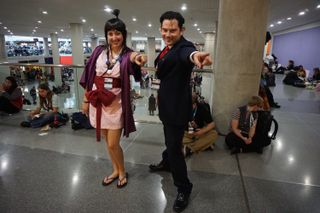 Maya Fey and Phoenix Wright (Phoenix Wright)
No objection to this excellent cosplay.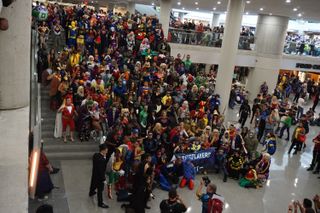 DC Universe (DC Comics)
That's pretty much everyone.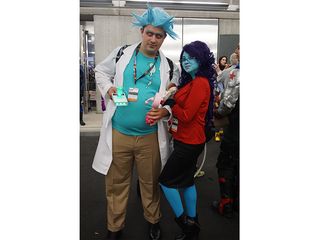 Rick Sanchez and Unity (Rick and Morty)
Only Rick could have a dysfunctional relationship with an entire hive mind.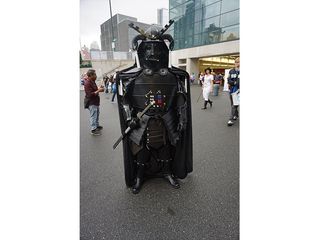 Samurai Darth Vader (Star Wars)
A somewhat long time ago in a country somewhat far away...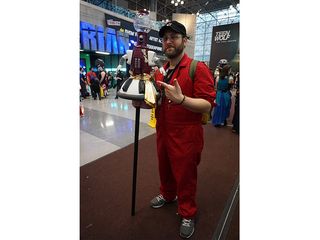 Tom Servo and Joel (Mystery Science Theater 3000)
But where's Crow?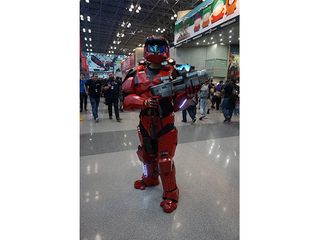 Spartan Marine (Halo)
This cosplayer stands ready to defend the galaxy from the Covenant.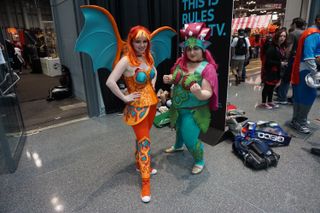 Charizard and Venusaur (Pokémon)
Not pictured: their 148 friends.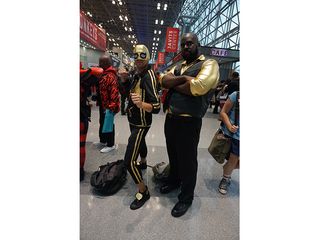 Iron Fist and Luke Cage (Marvel)
Two tried-and-true New York City superheroes.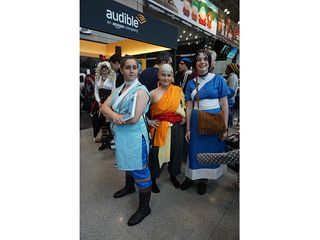 Sokka, Aang, and Katara (Avatar: The Last Airbender)
These three kept NYCC safe from the Fire Nation.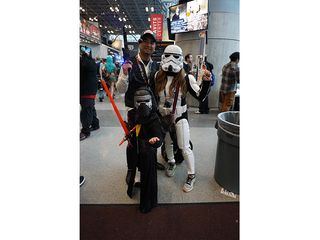 Han Solo, Stormtrooper, Kylo Ren (Star Wars)
The family that cosplays together, stays together.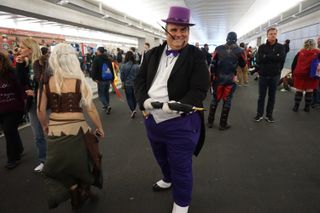 The Penguin (Batman)
The Penguin is greedy with money, but generous with glamor shots.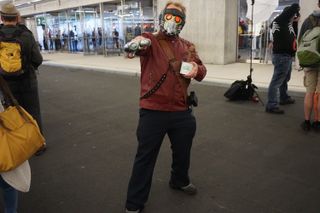 Star Lord (Guardians of the Galaxy)
We especially liked the tiny Groot.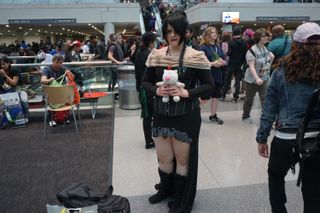 Lulu (Final Fantasy X)
The moogle isn't just for show; it's pretty deadly.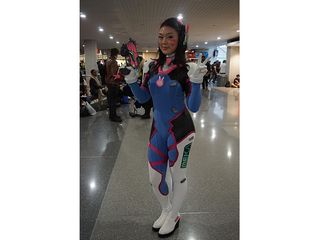 D-Va (Overwatch)
Naturally, D-Va showed up at a comic book convention.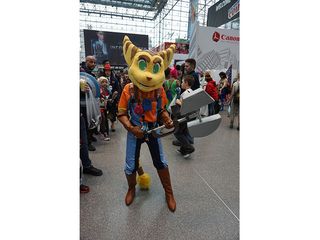 Ratchet (Ratchet and Clank)
He even had Clank strapped to his back.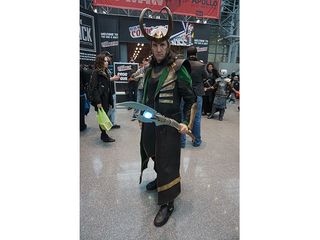 Loki (Thor)
This isn't the first time Loki has visited New York City.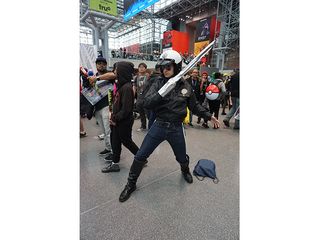 T-1000 (The Terminator)
He's looking for John Connor.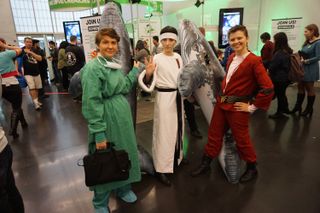 Dr. McCoy, Mr. Spock, Captain Kirk, Whales (Star Trek)
Captain, there be whales here!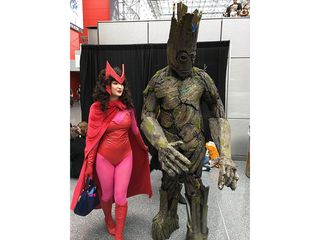 Scarlet Witch and Groot (Marvel)
Must be one of those crossover issues.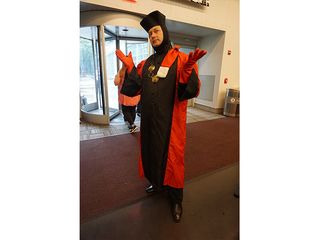 Q (Star Trek)
Q has little time for us mere mortals.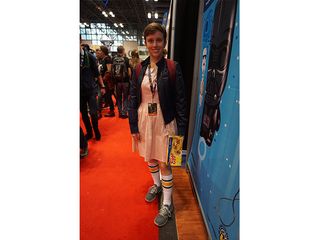 Eleven (Stranger Things)
Complete with signature Eggo waffles.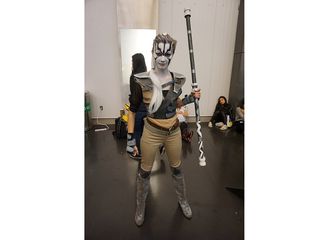 Jaylah (Star Trek)
One of Star Trek's newest characters is also one of its most popular.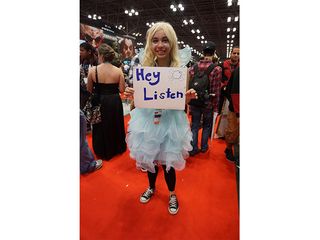 Navi (The Legend of Zelda)
The sign says it all.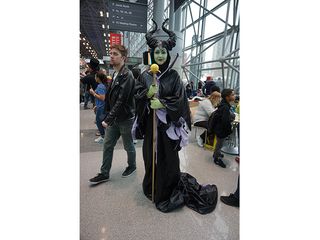 Maleficent (Sleeping Beauty)
Be sure to invite her to your next party.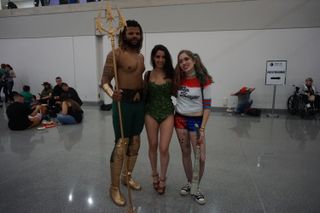 Aquaman, Poison Ivy, Harley Quinn (DC Comics)
Aquaman is looking rather chummy with two known supervillains.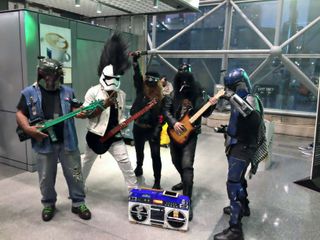 Star Wars '80s Band (Star Wars)
For some photos, you've got to just bang your head and say, "yeah!"