Trump v Clinton 2: Best Memes of the Presidential Debate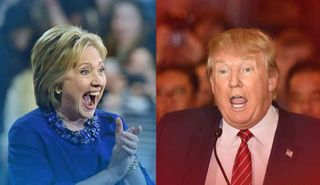 Laughs when we need them the most
The second presidential debate is in the books and it was... a lot. Now it's time to check out the funniest tweets that helped us sleep after all that nail-biting drama. So glower, shimmy and bug your eyes along with us, fair readers.
Image credit: A. Katz / Shutterstock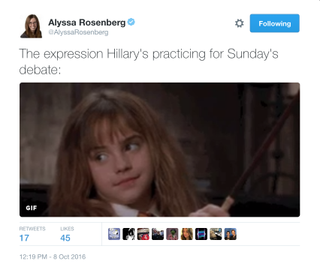 How many points for Gryffindor tonight?
Thanks to the tape that trumped all other news, the jokes about the debate started early, including this great Harry Potter reference from @AlyssaRosenberg.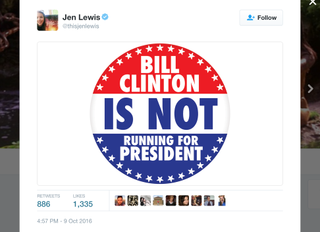 Wait, Bill's not running for president, is he?
Many Twitter users frowned upon Trump raising Bill Clinton's past scandals to respond to his own, using a refrain immortalized by @thisjenlewis. The hand-clap emoji-as-punctuation came back into popularity in @andnowtothemoon's version, and @rachel gave each word its own line.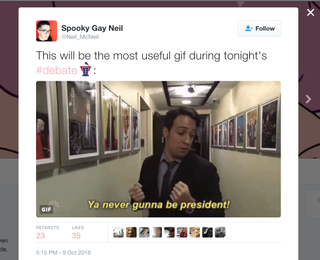 Channeling Lin Manuel
@Neil_McNeil shared this recently-made GIF, which came from Lin Manuel-Miranda's SNL debut.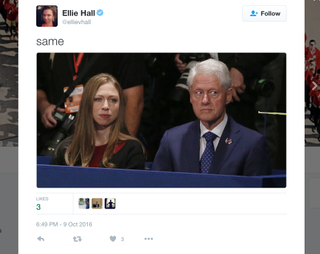 Yikes
@ellievhall found a perfect reaction photo from the moment Hillary responded to her own quote about two-faced politicians.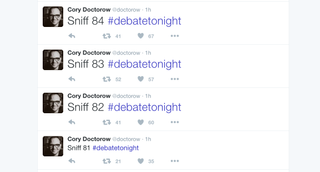 Count the sniffs
Almost a series of déjà vu moments, reminding everyone of the first debate, the second Presidential Debate saw Trump continue his fight against sniffling. @doctorow did the hard work of counting each sniffle. The final count was 84 sniffs.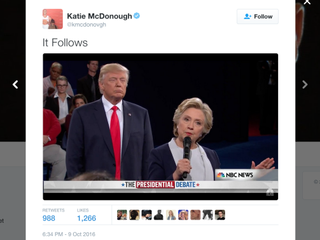 Cue the screeching music
Trump, standing close to Hillary, reminded @kmcdonovgh of a certain recent horror film.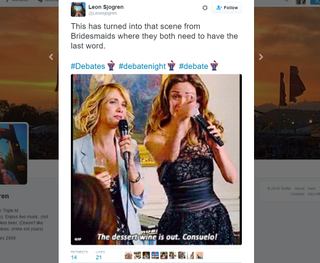 The Last Word
What was supposed to be a discussion about policies turned into a spat in which both candidates fought for the last word, as summed up by Leon Sjogren's Bridesmaids reference.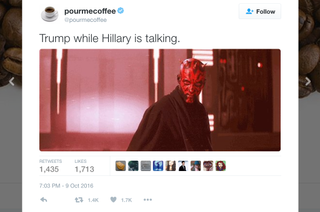 Maul of America
Political tweeter @pourmecoffee figured out who Donald Trump reminded him of as he paced throughout the debates.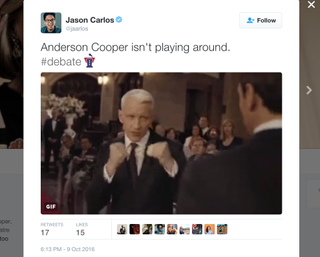 Anderson Cooper didn't come to play nice
@jaarlos noted how debate co-host Anderson Cooper refused to stand down as Trump tried to accuse him of favoritism.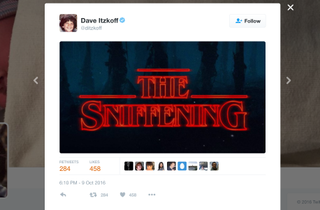 A debate from the upside down
@ditzkoff used the popular Stranger Things title generator to reference Trump's respiratory system.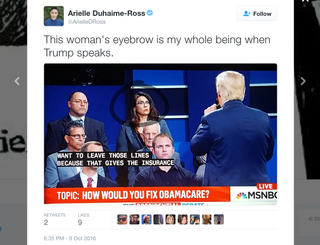 Her raised-eyebrow
One Town Hall audience member's eyebrows spoke for some of those at home, including @ArielleDRoss.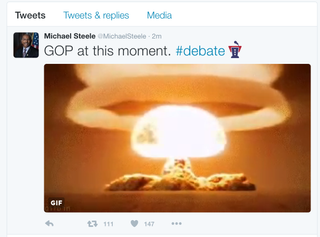 Going nuclear
This tweet from former GOP chair @michaelsteele was retweeted throughout the debate, as it became relevant over and over again.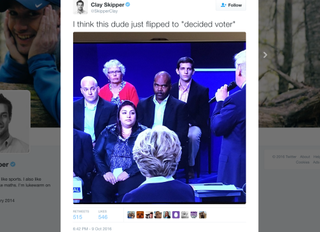 From undecided to decided
The members of the public at this town hall needed to be undecided voters in order to attend and ask questions. This man shown glowering at Trump appears to have decided.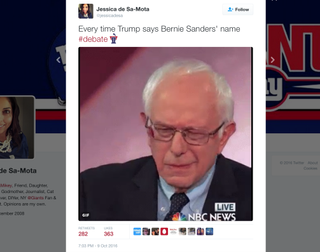 Keep my name out of your mouth
Trump, in an effort to win votes from a fractured Democratic base, repeatedly painted Bernie Sanders as a victim of Hillary. @jessicadesa found a GIF designed to represent Mr. Sanders' reaction.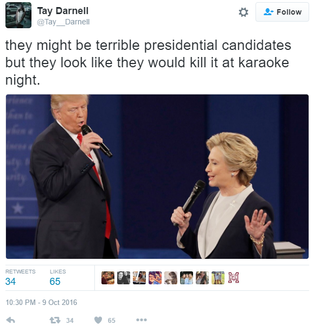 Karaoke Night
While Clinton and Trump didn't have many nice things to say about each other, this Tweet by Tay Darnell envisions an alternate universe in which the two candidates were simply enjoying a karaoke night together.