Best Facebook Messenger Bots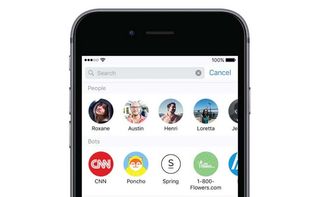 Facebook Messenger's Latest Bots
Get ready to strike up a conversation with your favorite companies in Facebook's Messenger app. Facebook has created tools that will help developers create chatbots for Messenger, and companies are responding with artificially intelligent bots that can assist with everything from checking the weather to ordering flowers.To find a bot, just type the name of a company into the search box of the mobile or Web-based Messenger app; if you see a tiny blue Messenger icon over the company's logo, you may have found a bot that's ready to talk back to you. Companies are still rolling out bots onto Messenger, but here are the most interesting ones we've found so far.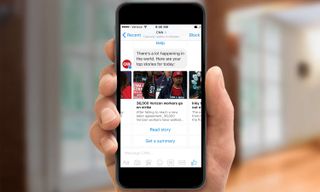 CNN
The cable news channel's bot can deliver headlines straight into the Messenger app. It's not a very conversational bot at the moment: CNN works best when you simply type "headlines" or name a topic you want to read about like presidential election. You can either click on the headlines CNN serves up to read the full story or just summary; as you read more stories, the CNN bot can offer a list of suggested stories based customized to your interests.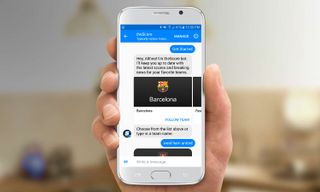 theScore
Sports fans on Facebook can get breaking news on their favorite teams, past game scores and score updates for games in progress using theScore's messenger bot. Just type in the name of your favorite teams and you'll automatically get links to the latest relevant stories on theScore.com.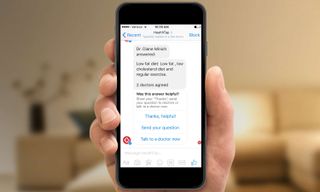 HealthTap
Turning to Doctor Internet to diagnose your symptoms is so 2015. Pose a question to the HealthTap bot, and you'll get a list of articles to scroll through that may provide the answer you're looking for. HealthTap also gives you the option of connecting with doctors to go more in-depth on a health question.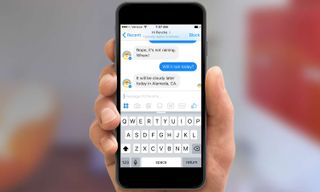 Poncho
Think of Poncho as a weatherman with a bit of an attitude. Tell this virtual cat where you are, and he'll be able to tell you current weather conditions and forecasts. Ask Poncho if you need an umbrella, and he'll tell you if rain is on the way. He can also alert you about pollen counts or if the humidity is going to cause a bad hair day.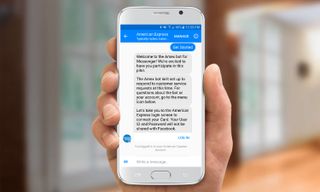 American Express
Amex cardholders can keep track of their purchases using Facebook Messenger. Once you connect your Amex account, you get messages via Messenger about what you've bought, including the purchase amount, vendor's name, address and type of business and whether the charge is pending or has officially cleared. The bot is currently in its pilot phase though, so it can't answer customer service inquiries or respond if you ask how many Delta Airlines miles you've racked up using your card.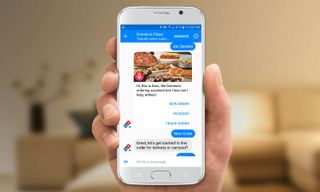 Domino's Pizza
If you're a Domino's Pizza lover, you can use Facebook Messenger to place an order, reorder from your order history and track your pizza as it makes its way from your local restaurant's kitchen to your door. The Domino's bot isn't equipped to process credit or debit card payments though, so you'll need to pay in cash when it arrives. And if your local Domino's is closed, you'll have to go online to Dominos.com to schedule a future order.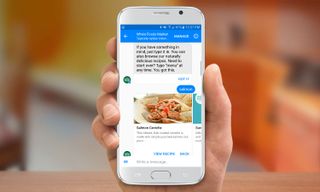 Whole Foods
Type in the ingredients you have on hand and the Whole Foods Messenger bot will show you a slideshow of recipe options that include those ingredients. You can even add an ingredient and the type of cuisine you'd like to prepare, and the Whole Foods will give you either the most relevant recipes it has or related recipes. It's easier than sifting through Google search results.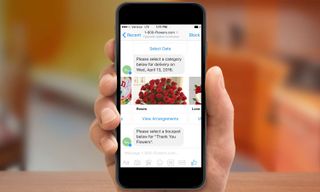 1-800-Flowers
You can finally say it with flowers without ever having to talk to another person. Give an address to the 1-800-Flowers bot, select an occasion and you can choose from an array of floral arrangements, even ordering the gift from within Messenger.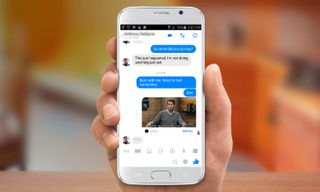 Find Out More About Messenger
If you want to do more with Facebook's messaging app, we can show you how to send a GIF in Facebook Messenger or make video calls using Messenger. If you want to know more about bots, you can see how Microsoft is making it easier to include chatbots in Skype.