13 3D-Printed Halloween Costume Accessories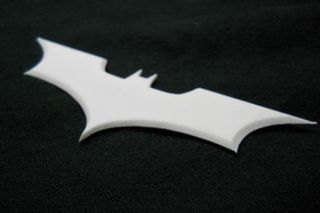 3D Printing for Halloween
This Halloween, don't settle for shoddy props made out of cardboard and glue. 3D- print your lightsabers, batarangs and other costume accessories with these and more 3D models available free online.
Email jscharr@techmedianetwork.com or follow her @JillScharr and Google+. Follow us @TomsGuide, on Facebook and on Google+.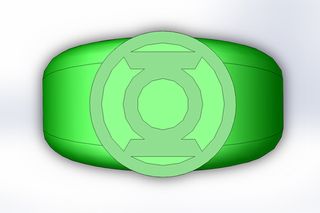 Green Lantern's Power Ring
No Green Lantern is complete without the superhero's signature power ring! You can order this piece in your size by contacting designer TrekGineer22 on Shapeways, who also has rings for the Star Sapphires, Blue Lanterns and all the rest of the Lantern Corps.
MORE: 10 Best Mobile Games for Hardcore Gamers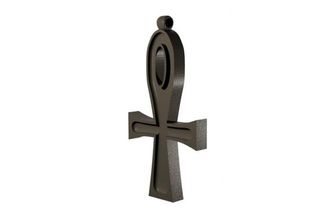 Ankh Necklace
The ankh is the ancient Egyptian symbol meaning "life." This pendant is the perfect accessory for a number of costumes, from Queen Cleopatra to Death herself from the "Sandman" graphic novels by Neil Gaiman.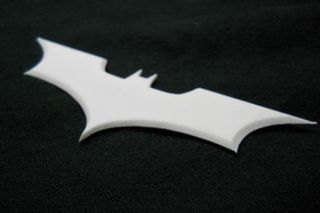 Batarang
No Batman (or Robin, or Batgirl, or Nightwing or Batwoman) costume is complete without the Batfamily signature weapon: the Batarang!
Though if you want to be really hard-core and get Nightwing's Wing-Dings or Robin's Birdarangs, you'll have to design and print them yourself using design software such as Cubify Sculpt or 123 Make.
MORE: 3D Printer Buyer's Guide 2013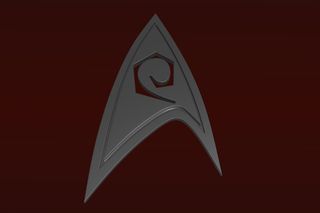 Star Trek Badge
The perfect addition to your "Star Trek" costume. This badge was worn by Engineering officers (the red shirts) in the original series. Or you can get the badges worn by science officers (blue shirts) and command officers (yellow shirts) from designer xavikax on Shapeways as well.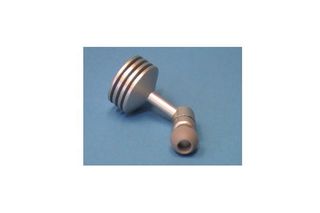 Uhura's Ear Receiver
Ladies, pair that red "Star Trek" badge with this ear receiver, which Lieutenant Uhura used to monitor radio frequencies on the Enterprise! One catch: to complete your costume you'll have to paint this model by designer SLK in silver to make it look like the piece from the TV show and movie.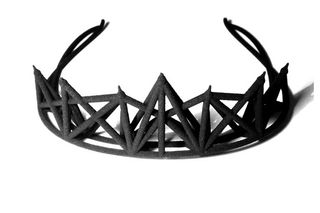 Geo Princess Tiara
For the vaguely gothic princess in you, this tiara by FabMeJewelry is a must. You can also contact the designer to order a custom piece that's fitted to your head.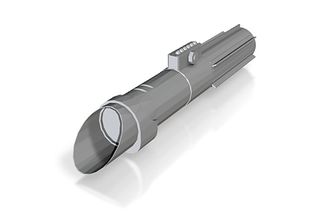 Darth Vader's Lightsaber Hilt
If you're going as Darth Vader, you'll need this accurate 3D-printed model of the lightsaber hilt he wields in Episodes IV-VI. Red laser blade not included.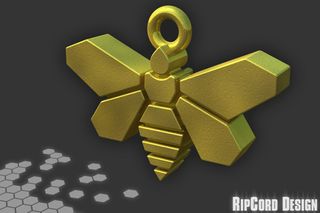 'Breaking Bad' Bee Pendant
Walter White may never have worn this pendant — the bee symbol is seen on the chemical barrels in the background of the show — but it's still a nifty piece of flair to add to a "Breaking Bad" costume.
MORE: Where to Watch Your Favorite TV Shows Online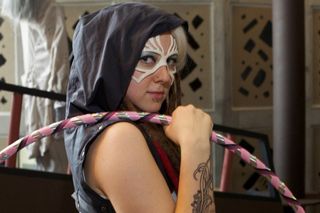 Eagle Mask
Designer ThreeForm has a number of excellent 3D-printed masks to spice up your costume, but our favorite is the Eagle Mask, printed in the material "White, Strong and Flexible" to fit your face.
MORE: How 3D Printing is Changing Etsy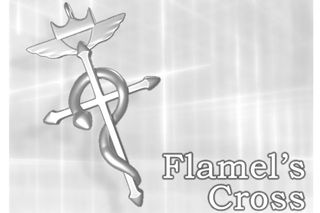 Flamel's Cross
Whether you're going as real-life alchemist Nicholas Flamel or the fictional Edward Elric from "Fullmetal Alchemist." you'll need this 3D print of Flamel's cross, which you can get in stainless steel at Shapeways.com.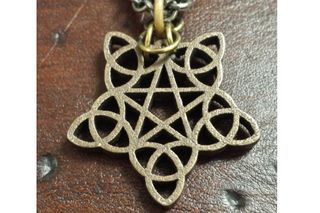 PentaKnot
Witches and warlocks alike will like this pendant, inspired by the pentagram symbol and Celtic knots.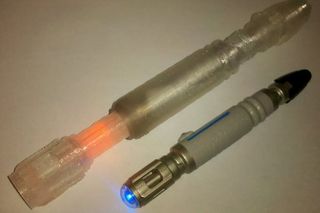 Sonic Screwdriver
No "Doctor Who" costume is complete without the Doctor's signature do-it-all gadget. Here's a 3D model of the sonic screwdriver used by the tenth doctor.
MORE: BBC Shows on Hulu: 'Doctor Who,' 'Sherlock,' 'Top Gear' and More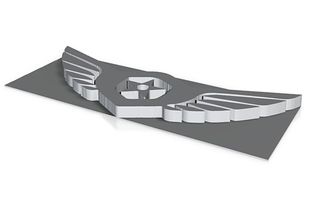 Gypsy Danger logo
Going as a Jaeger pilot from the summer blockbuster "Pacific Rim"? Shapeways designer elsewyse has you covered with Pan Pacific Defense Corps badges and the above Gypsy Danger logo.

Do-it-yourself 3D printing
Thanks to 3D printing, you don't have to be a Hollywood special effects master to have these cool costume accessories. In the past year in particular, advances in 3D-printing materials make it possible to print in metals, ceramics and more versatile plastics.