10 Amazing 3D Printed Artworks from 3D Notion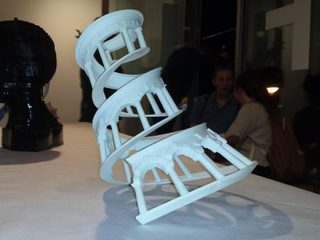 3D-Printed Art Showcased in New York - Tom's Guide
What would you do with a 3D printer?
The artists featured in "3D Notion," an art show held in New York City's Greenwich Village on Sept. 7, have all found innovative ways to incorporate 3D printing into their artwork.
The show was organized by Taylor Absher, an artist and senior staff member at New York University's Advanced Media Studio, and featured 19 artists' 3D-printed works.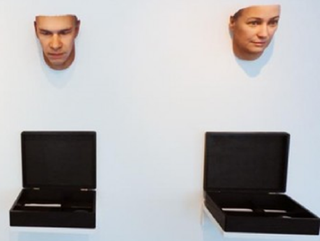 "Stranger Visions" 1
These face-only statues are part of an exhibit by Heather Dewey-Hagborg called "Stranger Visions." Dewey-Hagborg collects stray pieces of DNA from sources like hair or chewing gum (displayed in the cases shown above) and brings them to a laboratory, where an analysis called a polymerase chain reaction reveals the DNA owner's gender, race and physical traits such as eye color, hair color and freckles.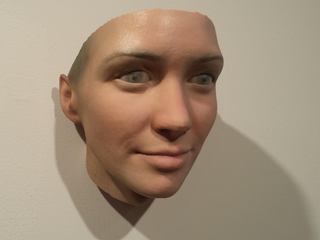 "Stranger Visions" 2
Dewey-Hagborg then puts these details into a computer program, which outputs a model of the DNA owner's possible appearance. The model is then printed using a Zcorp Zprinter 650, which produces color models by layering a fine powder and sealing it with glue.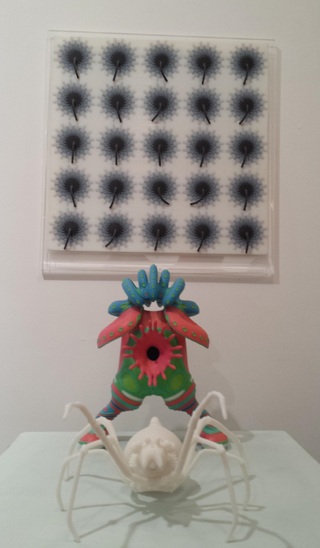 "Mommy"
This exhibit was created by Taylor Absher on three different printers: The wall hanging was printed on an Objet500 Connex in several digital materials, including VeroWhite Polyjet Resin and a rubbery material called TangoBlack.
The figure was printed with a ZPrinter 650. Finally, the spider was printed on a ProJet 7000 with a material called VisiJet SL Flex.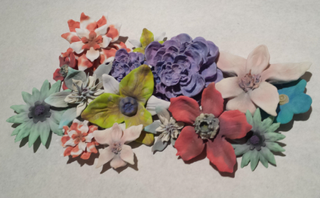 Flowers (untitled)
These flowers are all individual pieces designed by Polytechnic Institute of New York University student Sarah Awad.
MORE: 10 Great 3D-Printing Projects
Like the previous two pieces, these were printed on a ZCorp Zprinter 650, which prints in a fine powder and seals the layers with glue, thus allowing for the nuanced color.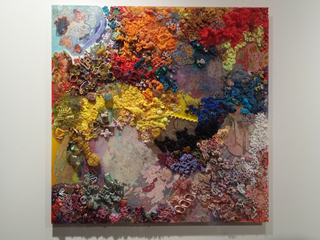 "Computronium-Cloud Copylution"
This piece looks like a 3D print gone wrong, but that's the point: New York-based artist Shane Hope created it using the 3D modeling programs MeshLab and Blender, and then used a custom-built 3D-printer to create the desired effects in a plastic called PLA.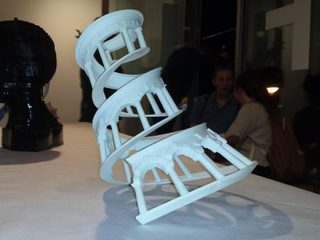 "Arcade Coil"
Joshua Demonte is a Philadelphia-based jewelry designer who has created a number of pieces inspired by architecture, including this armband entitled "Arcade Coil."
MORE: Beyond Google Glass: 5 Unique Wearable Tech Concepts
To make his designs, Demonte uses a Zcorp 3D printer, a Stratasys Objet 3D printer and a MakerBot 3D printer. This piece was printed in 33 percent glass-filled polyamide.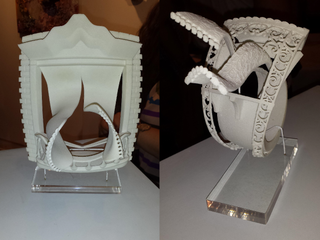 "Curtains" and "Wrought-Iron Bangle"
These pieces, intended to be worn as bracelets, are also designed by Joshua Demonte and printed in 33 percent glass-filled polyamide.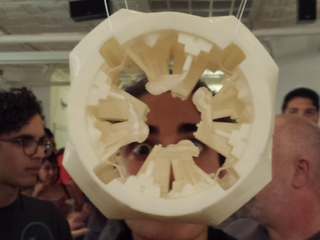 "Industrial Habitat 01"
What will the space stations of the future look like? "Industrial Habitat 01" is artist Micah Ganske's best guess. The artist printed this piece with one of MakerBot's more affordable 3D printers, using the plastics ABS and PLA.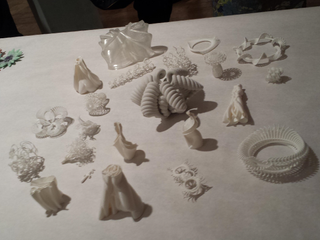 Assorted
These small, delicate-looking pieces were all designed by New York-based artist David Lobser and have names like "Sierpinski," "Whatsit" and "SpiderSense." They were printed in a material known as "White Strong and Flexible," and several of them are available for purchase on Shapeways, a 3D-printing community hub that prints designs on demand for people who don't have 3D printers of their own.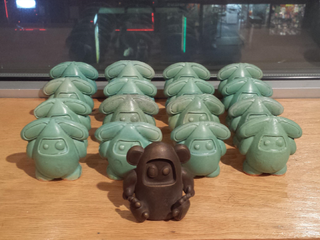 "luxMOMO"
These pieces are by Erol Gunduz, a sculptor and an adjunct instructor at New York University's Center for Advanced Digital Applications. The figures in the "luxMOMO" series were not 3D printed themselves; rather, Gunduz 3D-printed the model casings and then filled them with brass to make the finished figures.
Email jscharr@techmedianetwork.com or follow her @JillScharr. Follow us @TomsGuide, on Facebook and on Google+.