How To: A Quick Guide to Filezilla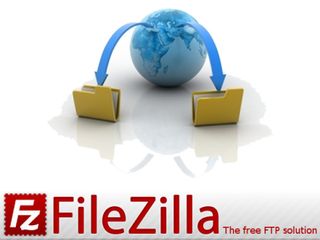 Filezilla
Filezilla is one of the most popular free, open source FTP programs floating around on the web, and with good reason. Featuring a clean, dual-pane interface for quick access, Filezilla is a great FTP tool whether you're a new user learning the ropes of FTP or a seasoned netizen. Used for file sharing, backups, and uploading content to your websites, Filezilla is a remarkably versatile little tool. Here's a quick guide to setting up the Filezilla client, as well as a few basics for uploading and downloading material.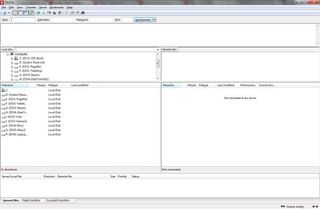 Basic Interface
Filezilla's installation is a simple, no-nonsense affair, and once the program itself is set up, you'll be presented with Filezilla's basic interface. This is a top-mounted menu and toolbar with common actions, a connections manager for inputting server addresses and login details, a connections log, the two-pane file explorer for exploring your local file system as well as folders shared by the server, and the download queue pane where you can view active and pending download progress.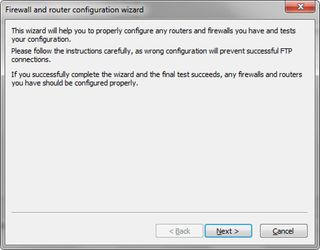 The Network Connection Wizard
The first thing you'll want to do is to run the Network Connection Wizard, a handy guide to configuring your system and firewalls to let Filezilla through. This is accessed through the Edit>Network Configuration Wizard menu button.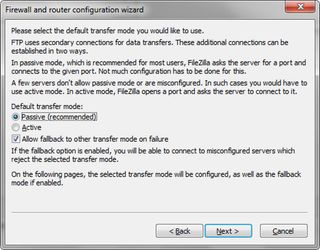 Network Connection Wizard (cont.)
The first thing the Network Connection Wizard will ask is your default transfer mode. With Passive mode (recommended), your system asks the server for a port and then connects to it. In Active mode, your computer opens a port and asks the server to connect to it. To keep things simple, stick to the recommended Passive mode, but leave the "Allow fallback..." checkbox on, letting Filezilla fall back to the other mode if the main transfer mode fails for some reason.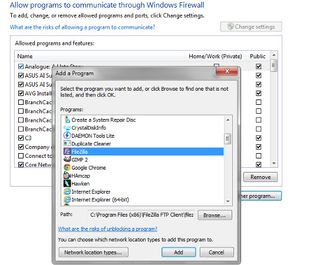 Configure your Firewall
You will then be asked to configure your firewall to let Filezilla through. In this case, we're just on the default Windows firewall, so a quick trip to the Control Panel and a few checkboxes handles this step, though obviously this will depend on whatever firewall you're using. You may also need to open up Port 21 on your router if you use one (procedures vary per router model, so check your documentation).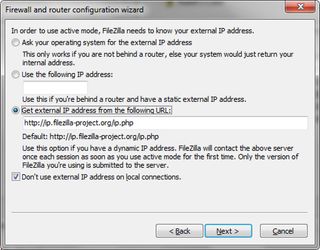 Configure IP Address
In order to use Active mode, Filezilla needs to know your machine's IP address. Three options are available here: If your computer is directly wired to the internet (in other words, not connected to a router), then choose the first. If your computer is connected through a router and uses a static IP address, you can retrieve it from a site like whatismyip.com and then input it manually. Finally, if you have a dynamic IP, you can have Filezilla retrieve it at program startup. If you're unsure, it's best to let Filezilla handle the IP for you with the third option.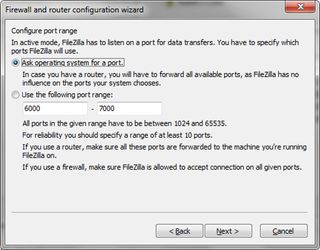 Network Configuration Settings (Port Ranges)
The last bit for the Network Configuration Wizard is configuring your port range for Active Mode. You can have Filezilla automatically ask the system for a port, or set the range of ports that Filezilla will ask to open from the system. You may have to configure your router to open all ports, or to open the selected range of ports in order to function properly.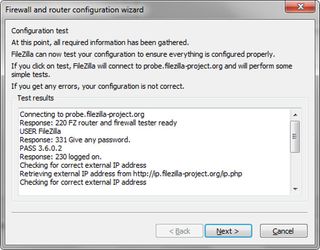 Network Test
Once that's done, the Network Connection Wizard will run a quick series of tests in order to test the network settings. If all goes well, your network settings should be properly configured to let Filezilla upload and download files whether in active or passive mode.
That said, the network configuration can easily be a technical bottleneck, especially for less technically inclined users. If trouble is persistent, users may want to check out the active community in the Filezilla forums, as well as the Filezilla wiki's Network Configuration guide and FAQ for more clarifications and help in setting their configuration up.

Getting Connected
Now that your settings are configured properly, it's time to actually connect to a remote server. A quick Google search should be able to let you find a few FTP servers from things like open source software projects to connect to. Offhand, you can try Chillkat Software's SecureFTP-Test.com, a free service graciously provided for anyone to test FTPs. You can test out file downloading from their server, though you may not upload files.
To connect to a remote server, you will have to input a specific user login and password (and occasionally, the specific port, if necessary), unless the server allows anonymous logins.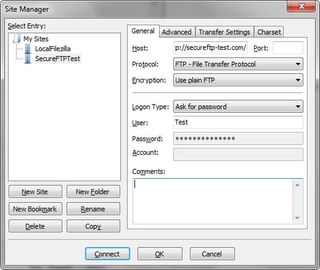 Site Manager
Rather than having to input the server address and details every time, you can instead use the Site Manager tool to save your server connection details. Simply click on the Site Manager button on the upper left, right below "File," and from there, you can create and save sites to connect to, and save server details, the user accounts you wish to connect with, as well as password details. It's advisable to create these shortcuts for every server you frequent, allowing you quick access without having to retype login and address every time. You can quickly bring up the Site Manager through the handy CTRL+S shortcut.
Note: By default, Filezilla operates in "kiosk mode," which does not save passwords for your connections, requiring you to input your login password every time. You can allow Filezilla to save passwords through a checkbox in Edit>Settings>Interface, but doing so only saves passwords in plaintext, something that a more security conscious user may frown upon.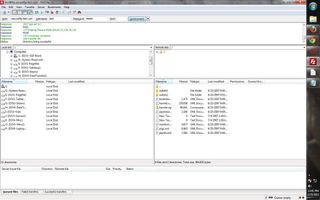 Interface: Connected
Once you've typed in the login requirements, the log should show you the technical minutiae of the connection, while the right pane of the explorer window should display any files and folders being shared by the remote server. From here on in, the interface should behave very much like the Windows file explorer. Folder navigation is done through by double-clicking, and common actions on files can be accessed through a right-click contextual menu.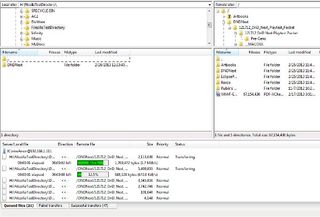 Basic Operations: Drag & Drop
You can already drag and drop files to and from the two explorer panes, allowing for a simple (if crude) interface for uploading and downloading files. Drag and drop operations are executed immediately in the queue. Progress is reflected in the connection log and thedownload/upload queue in the lower part of the window.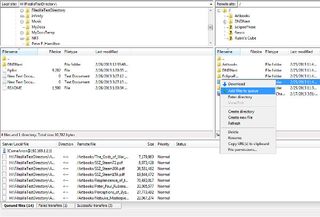 Basic Operations: Queue
For slightly more control, you can select files for the upload/download queue. Placing files and folders in the queue allows you to prioritize certain downloads and uploads, and a right-click contextual menu allows you to set behaviors, such as what to do if a file being uploaded/downloaded already exists in the target machine, as well as behavior after a particular batch task is completed.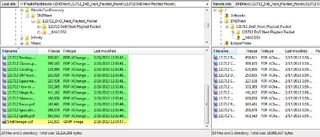 Synchronized Browsing & Directory Comparison
Two other convenient tools worth immediate mention are Synchronized Browsing, and Directory Comparison. If your computer and server have similar directory structures, you can set Filezilla to synchronize browsing (View>Synchronized Browsing or Ctrl+Y), so that going up a directory in your local machine also navigates the server to the same directory or file if it exists. This is especially convenient for mirrored backups and when you have a local copy of online content. Additionally, Directory Comparison (View>Directory Comparison or Ctrl+O) tells Filezilla to automatically compare the contents of the server with your local directory, color coding files that already exist, or have no match server-side. Again, this makes updating content that much easier.
That's a quick overview for setting up Filezilla (as well as uploads, downloads, and a few helpful features), but of course we've barely scratched the feature of this free, open-source FTP tool. Do you have your own helpful hints and other power user tricks for Filezilla that you wish to share with other users? Please feel free share in the comments section below!