10 Ways to Customize Windows 7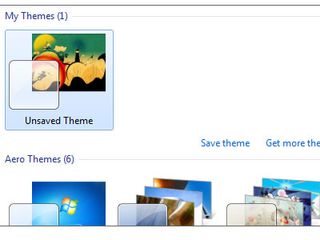 Make Windows 7 Your Own
We know Windows 7 is a powerful and versatile operating system so it goes without saying that there are many ways to customize its interface and fine tune its features. This is especially important for productivity-addicts that want all of their favorite controls to be easily accessible, as well as visual-driven users who may become bored with Windows 7's default appearance.Check out the 10 different ways to customize Windows 7 listed here. The first part details quick tips and tricks that you can apply to your default flavor of Windows 7, while the second features software that allows you to change the look of even the most basic elements of Windows 7.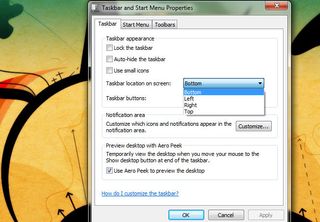 Move the Taskbar Around
Almost no one we know adjusts the taskbar on the screen, preferring to keep it at the bottom. However, the option is still appreciated, most likely by those with ultra-wide- or multi-display setups. Just right-click on the Start button, and click on Properties. Choose the "Taskbar" tab then select the desired orientation under "Taskbar location on screen".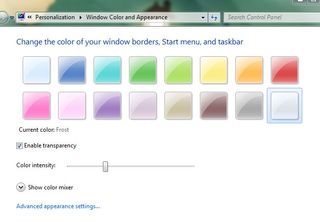 Change Window "Glass" Color
Windows is so named because it allows you to manage different "windows" that represent different programs, documents, and other items you work with. By far the quickest customization you can make is to change the color of these windows. On Windows 7 Home Premium and more advanced versions, open the Start Menu, click on Control Panel, then click on "Change the theme" under "Appearance and Personalization." Click on "Window Color" and select a color before clicking on Save Changes.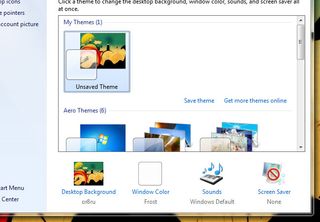 Choose a Different Theme
More advanced editions of Windows 7 (Home Premium and up) have numerous themes included. Just follow the same instructions we listed for changing the window glass color. Instead of clicking on "Window Color" just select a pre-assembled theme on the main list. Even better: if you search sites like this one (http://windows.microsoft.com/is-IS/windows/downloads/personalize/themes) you can download more themes!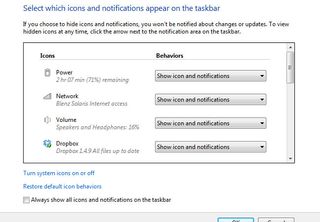 Control Notifications
For the uninitiated, the lower right (by default) area of your screen is the Notifications Area. It contains small icons that provide visual cues on the status of your software and hardware. Some notifications will prove unnecessary, so click on the arrow and you'll end up on a window that let's you customize which icons appear.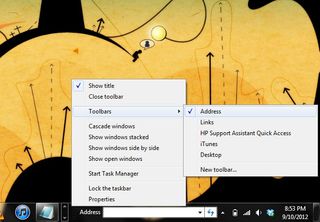 Use Taskbar toolbars
Got a large display? Maximize the taskbar space by adding a toolbar. Again right-click on the Start button, then select Properties. You can enable toolbars under the Toolbars tab. To add a new toolbar, just right-click on an existing one, select the Toolbars sub-menu, then click on "New toolbar..."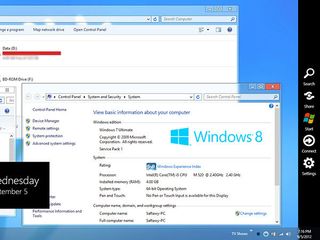 Windows 8 Transformation
Can't wait for Windows 8? Aside from trying the already available preview builds, you can download the Windows 8 Transformation utility and completely change the appearance of Windows 7 to more closely match its successor. To be clear, there's nothing special about the software, it just "skins" the Windows 7 interface into something new. The only disadvantage is that you'll have to disable some of the more notable visual elements of Windows 7, such as the "Aero" feature that gives the operating system that glassy look.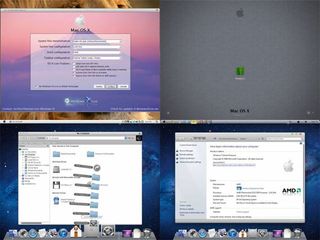 Lion Transformation Pack
This is basically software that converts the entire Windows interface (not just 7, XP and Vista support it as well) into something that resembles Mac OS X. It definitely won't go down well with users who have been using Windows their entire life, but it is a way to customize your PC. And who knows? Maybe the Lion Transformation Pack is a good way to "test" out the Mac UI before heading for the Apple store.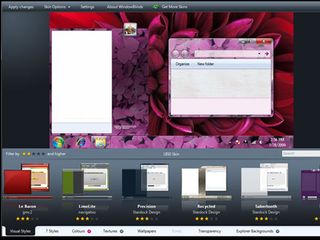 WindowBlinds
Think of this software from StarDock as Windows themes, but on steroids. While the default personalization tools of Windows just let you change the color of the taskbar and window elements, WindowBlinds adds loads more options. Most notably, there's the ability to add textures on top of your color choice. Our only complaint, if it's actually a valid one: WindowBlinds isn't free.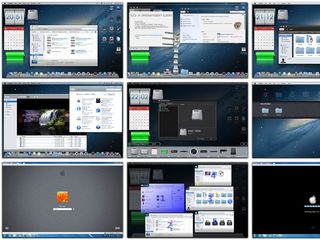 SkinPack
SkinPack not only lets you completely change everything on the Windows 7 interface, it also supports "Skins" that represent different computing environments. Forget trying to emulate what's on Apple PCs, what about an Ubuntu desktop? That's possible through SkinPack thanks to its portfolio of more offbeat skins. There's also an interface similar to that of the Xbox 360.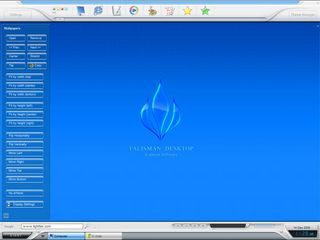 Talisman Desktop
Unlike most of the other visual-driven customization options listed here, Talisman Desktop stands out by providing complete control over how your computer interface looks. The key is that it does this independent of a specific theme or skin. It can change major things like how files and programs are listed in Windows, and more minor elements like the shadow of your Start button.