Minecraft 101: The Newbie Survival Guide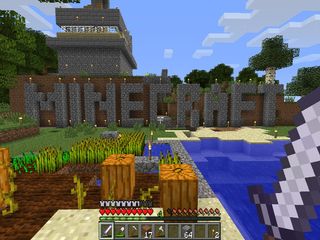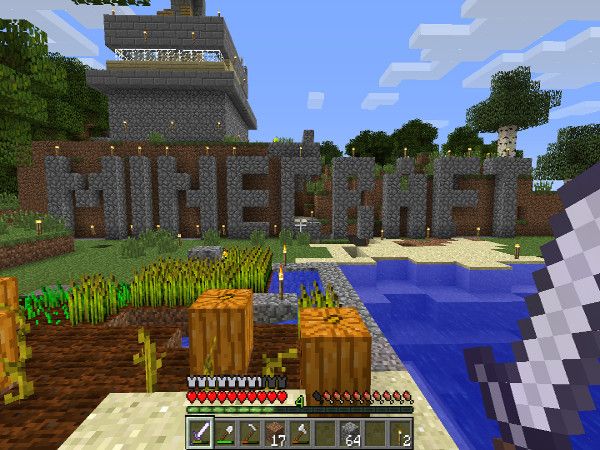 Minecraft!
Minecraft is the sandbox gaming sensation that's taken the internet by storm. Don't let its seemingly crude graphics confuse you, it's a surprisingly deep freeform play experience that allows players to mine, build, farm, and adventure to their heart's content. Try it out by downloading the demos here at Tom's Guide!
Minecraft PC Demo
Minecraft Mac Demo
Minecraft Linux Demo
Next, our very own new player's survival guide!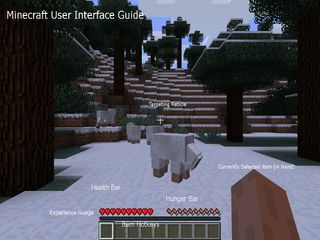 Interface Guide
Minecraft's user interface provides a sleek first-person view of your surroundings. The W, A, S, and D keys allow you to move forward, strafe left, move back, and strafe right, respectively, and the spacebar allows you to jump. The left mouse button is used to attack a block of terrain or mob (the term for monsters, animals, etc.) with your currently selected tool or item, and the right mouse button unleashes any special power your tool has on any target in your crosshairs.
The health and hunger bars show the general state of your player. Don't let either of these drop. If you run out of hearts, your player dies and has to respawn without any of your precious equipment. If your hunger bar drops, then you might be unable to sprint. You could also start losing health.
Finally, the Item Hotkeys, mapped to your number keys, allow you to quickly switch between various tools and items.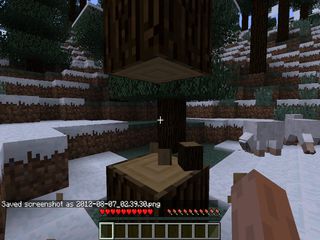 Step 1: Punching Trees
You'll start the game without any useful tools, so the first thing you'll need to do is to make some by attacking trees until they are reduced into usable blocks. Keep breaking down trees until you've collected a dozen blocks or so to work with. If you're lucky, you may also get your hands on some apples and saplings. Keep those, they will be useful down the line.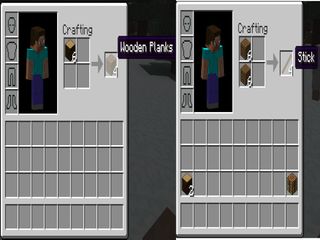 Crafting 101: Planks and Sticks.
Now that you've got some wood blocks, you'll need to craft them into usable items. Open up your inventory with the 'E' key. Select the wood blocks and place them within the crafting area. Your crafting will allow you to convert a single wood block into 4 wooden planks, which can be turned into tools, building materials, or sticks, which can be used as handles for tools and torches. Right click on the Planks 'til you've crafted around a dozen sticks. Keep at least seven of the planks, convert the rest into sticks.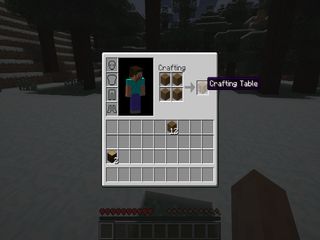 The Crafting Table
Your personal crafting space is limited to a 2x2 square layout. You'll need a bigger space to craft complex items. For that, you'll need to make a crafting table. Take your stack of wooden planks and right click on your crafting space to place a plank in each square. This will allow you to craft a table.
Notice how crafting is all about taking your raw materials and arranging them in the shape of your product? That same principle will apply to toolmaking later on.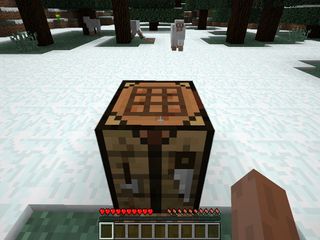 Deploying the Crafting Table
Now that you've crafted a table in your inventory, drag and drop it into one of your hotkey slots (the bottom row of your inventory). Then select it, look for a nice flat surface to place it on, and right click to place the table on the ground. This is also how you'll place building blocks later on in the game. Select a block of material from your hotkeys, and then right click to place it on the ground in front of you.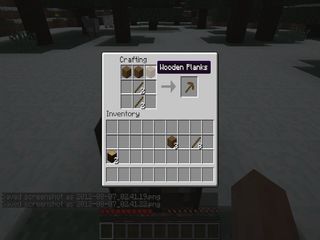 Making a Bigger Stick
Now that the Crafting Table is deployed, walk up to it and press right click. You'll be presented with a bigger (3x3) crafting space. Take some planks and sticks and arrange them like on the right in order to manufacture a wooden pickaxe. It's not an incredible tool, but it will allow you to mine through stone. The pickaxe is most important right now, but you might want to try your hand at making a shovel (best tool for digging through soil, dirt, and snow), an axe (best tool for efficient logging, and a decent backup weapon), or even a sword (never walk in the dark without one!).
When you're done, you can disassemble the craft table by attacking it with your fist or a suitable tool like an axe or pick. You can also leave the table where it is if there's a suitable mining site nearby as wood usually isn't too hard to replace.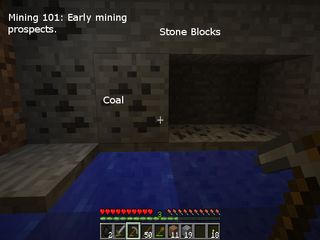 Mining 101
Now that you've got a basic tool to work with, it's time to start mining for materials. The purpose of this is two fold: One, you'll want something better than wood to make tools out of, and two, you'll want to start digging some kind of shelter for yourself when night falls. Why? Because monsters spawn in the darkness. Use a pickaxe to dig through stone, and a shovel for dirt and gravel.
You'll want to look for grey stone blocks to harvest into cobblestones. These can be used to make more sturdy stone tools and also function as sturdy building materials. Rocks with black pixels scattered on their surface contain coal, which can be used as fuel, and is a component for another important item: the torch. Stone blocks that look like coal but with a brownish streak contain iron ore, which can be smelted for iron ingots used in toolmaking. As you delve deeper in the future, you might encounter other, stranger materials deeper underground.
Finally, as a safety note, never dig straight down, as you never know when you might burst through a cavern, plummeting to your death.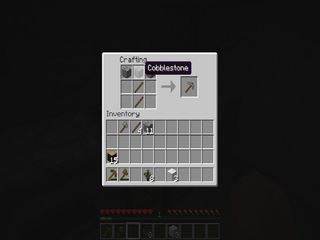 Sticks and Stones.
With your newly mined cobblestone blocks you can manufacture more resilient stone tools in much the same way you manufactured wooden gear earlier. Tools wear down over time and stone is a serviceable general use material that isn't as flimsy as wood and nowhere near as scarce as iron or diamond. You'll want a pickaxe, axe, and a sword. If you hadn't figured it out earlier, swords are made with a stick at the bottom mid, and then two material blocks, one in the middle, and another in high middle. Axes are made with sticks in low mid and middle, and then material blocks in high mid, upper left, and middle left, respectively. You've almost got everything you need to survive in the Minecraft world!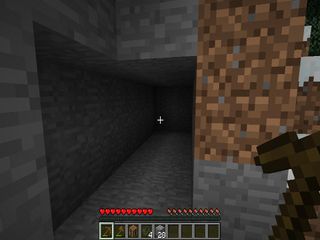 A Hole In The Wall
The light will be dying in a bit so you'll want to have some shelter from the coming darkness. A safe bet at the start is to use the shaft you've carved out while mining. As night falls, you'll want to fort up inside. Place some cobblestone or dirt to block up the entrance, leaving only a 1x1 hole that will allow you to see outside. It's not much, but it'll keep you safe until you can build a more effective shelter structure in the future. Make sure to bring your crafting table inside with you, as the forced break provided by nighttime is a good opportunity to finish crafting up more necessities.
If you still don't have some coal, make sure to have some fresh wood (not planks, but raw wood blocks) before sealing the entrance.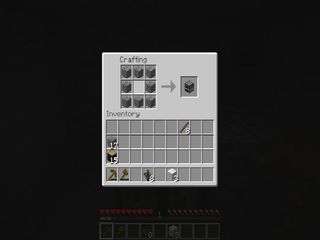 The Furnace
Here's your other major crafting necessity: a furnace. A furnace allows you to smelt ores into more refined forms, as well as cook food and make charcoal (if you haven't had the luck to mine coal earlier). It is placed much like a craft table, and is used by right clicking. You'll find a screen similar to the craft interface, but with only two squares. The top square is for the material to be cooked or smelted, and the bottom is for your fuel source, such as wood blocks, planks, sticks, or coal. If you don't have coal, now is a good time to try manufacturing charcoal using wooden planks as fuel, and wooden blocks as material.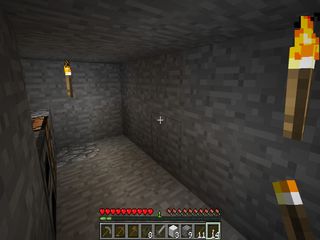 Fiat Lux!
The last item you'll need to start staking out your safe zone is light. The easiest source for this is torchlight. Torches are very easy to craft, requiring a stick and a piece of coal or charcoal to create 4 pieces. You'll want a large supply. Torches will allow you to see well in the dark and also prevent many hostile mobs from spawning within their illumination area. To place them, simply right click on a surface.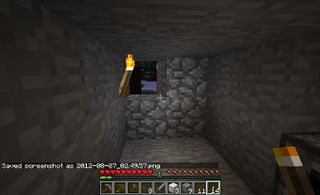 For the Night is Dark and Full of Terror
Nighttime is dangerous in the Minecraft world as hostile mobs of zombies, skeletons and other things come out at night. By now, you should have a little shelter like this where you can wait out the darkness till sunrise. Nighttime is a great opportunity to sit back and craft items from your raw materials, and if you've used your mine shaft for shelter, you can try to use the time to dig deeper underground.
The more adventurous can even try to brave the perils of the darkness but be warned: The Night Is Dark and Full of Terror. Don't be afraid to flee for your life if swarmed.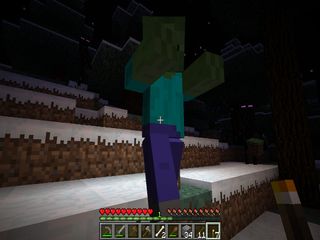 Rogue's Gallery: Zombies
Front and center and first in our Rogue's Gallery is the Zombie mob. A slow, basic monster, it's not a threat individually, and a few thwacks with a sword or axe will bring it down. In numbers however, it can keep up the pressure and you may find yourself surrounded. Keep an ear open for tell-tale groaning.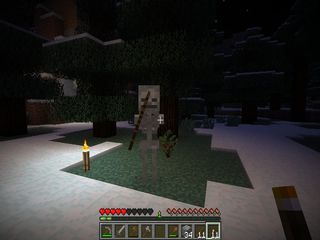 Rogue's Gallery: Skeletons
Skeletal archers are a bigger threat than zombies. Though not too difficult to bring down, their ability to dish out damage at a distance can be surprising. Even if you choose to flee, you might still be downed by an arrow in the back. Still, they can be worth pursuing, as they sometimes drop arrows and their bones can be ground down into bonemeal, a useful fertilizer if you plan to do a lot of farming and tree planting. Their movement makes a bone-clanking sound, so be on the lookout.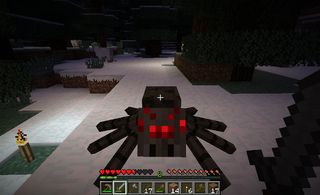 Rogue's Gallery: Spiders
Spiders are another threat in the darkness. Watch out for their glowing red eyes. Fast and persistent, they can be quite damaging if they catch you by surprise. Also notable is their ability to climb vertical walls, so you may need to create a small lip or overhang on the walls of any house or castle you build down the line. Spiders drop string, which can be used for tripwires, bows, and other crafting. Watch out for a squeaking sound when walking in the woods.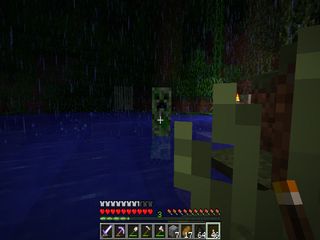 The Builder's Bane: The dreaded Creeper
Finally, we round out our Rogue's Gallery of common threats with the most devastating of the common hostile mobs: the dreaded Builder's Bane, the Creeper. The Creeper is essentially a walking bomb. Silent in its movement, the only noise it'll make is a slight hissing sound as it prepares to detonate right next to you. The explosion can be lethal to an unarmored player, leaving a crater and potentially damaging shelters and construction projects. Best dealt with at range, they can also be taken down in melee by a nimble player who can move close, strike once (AND ONLY ONCE! Or BOOM!), and then pull back. If you can pull that off a few times, you can bring down a creeper and be rewarded with gunpowder, which has useful applications in crafting. Be very careful with this one.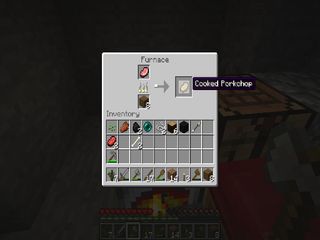 What's for Breakfast?
As the sun rises, its rays will set fire to most hostile mobs in the overworld. Within a few moments, it'll be nice and peaceful outside. Soon, it'll be time to break open your shelter and proceed with your next day's plans. The last thing you'll need to do is to find something to eat. If you're lucky, the trees you felled earlier may have dropped an apple. If not, you'll have to go outside and hunt down something to eat such as wild pigs or cows. Kill one or two and then cook its meat in the furnace for maximum effect. Cooked meat refills more of your food bar than raw flesh. To eat foodstuffs, place the item in your quickbar and hold right click.
Vegetarians can try planting using the hoe tool to create farmland out of dirt near water sources, and then planting seeds, which grow into wheat and can be crafted into bread. Though this is a viable alternative to hunting, killing, and cooking meat, it can also be more time consuming.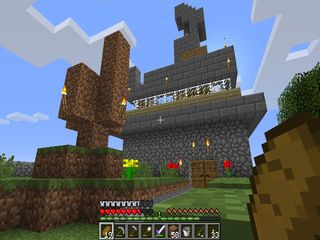 Your Home Is Your Castle. Enjoy it!
You've learned how to build tools, mine for resources, and defend yourself in the wild. Congratulations, you now have all the knowledge you need to survive in the Minecraft world! There's an entire world to discover out there, such as strange environments, hidden recipes, and much more. Soon, you'll be building monuments and castles, enchanting items, and engineering strange Rube Goldberg devices using the game's robust mechanics. Have fun!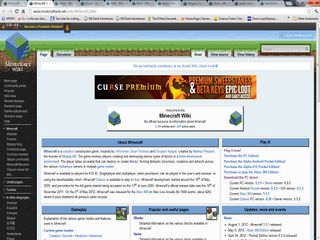 Do you want to know more?
Our Newbie Survival Guide arms you with everything you need to get started on Minecraft but there's still much to learn about the game and its community. If you want to learn more, check out the Minecraft Wiki for a massive player-compiled database of information, or hit up the resources in the Minecraft official website.
Have fun!