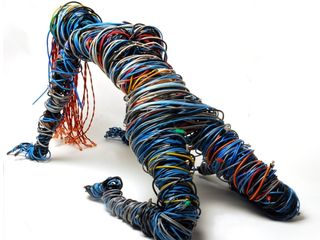 Hot Wires
It may not be obvious at first glance (or second glance either, really) but this work of art is a self-portrait. This very suggestive piece, made by Kasey McMahon out of recycled computer and electrical cables, is called "Connected".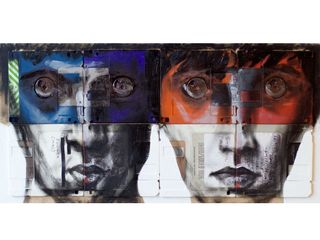 Discs In Stock
Okay, we're all thinking it – where would you get so many floppy disks in this day and age?! Neither canvas, nor wood, nor cardboard was able to capture what the artist's vision– an interesting juxtaposition between 3.5 inch floppy discs and unique faces, each with a different strange and at times spellbinding expression. One of the keys to this piece is that their eyes are positioned right on the rotating axis of the disks.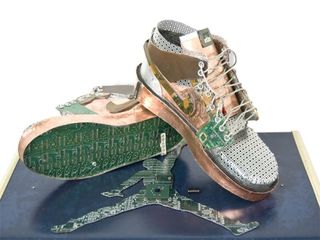 Mechanic Shoes
Gabriel Dishaw is a plastics artist who has been fascinated by metalworking and metallic objects since a very early age. His work involves salvaging and transforming old pieces of computers, calculators, and typewriters into pieces of art. In addition to abstract sculptures, he has created a series entirely dedicated to shoes, particularly sneakers inspired by Nike models.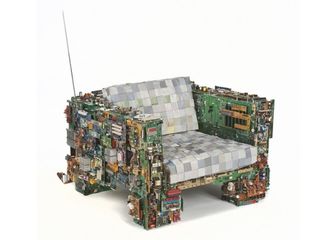 Binary Armchair
Benjamin Rollins Caldwell is an American designer who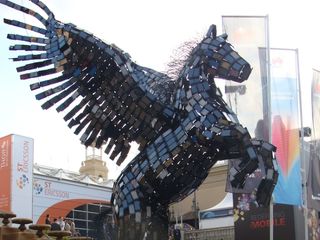 A Very Well-Connected Horse
Visitors to the Mobile World Congress 2012, which took place in Barcelona a few weeks ago, were able to admire a gigantic, high-tech work of art – a sculpture representing Pegasus, the mythological winged horse, which was covered in 3500 Smartphones. The company Huawei commissioned this sculpture in order to celebrate the launch of its new Smartphone, the Ascend D Quad.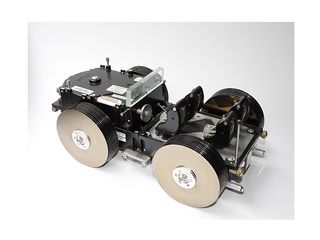 Rolling Discs
Using bits and pieces of discarded computers that his company had collected over the years, artist Predrag Savic has created a collection of tech-savvy sculptures. The themes of these pieces range from vehicles to planes, steamships to prehistoric creatures (T-Rex and Brachiosaurus).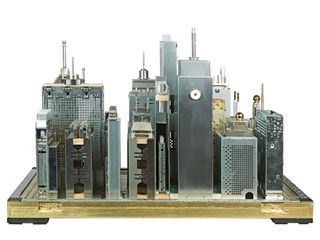 Reconstructed Manhattan
Italian "Metropolitan" artist Franco Recchia has created a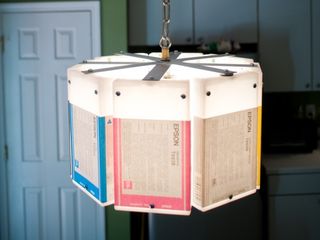 Luminous Ink
For us commoners, empty printer ink cartridges only have one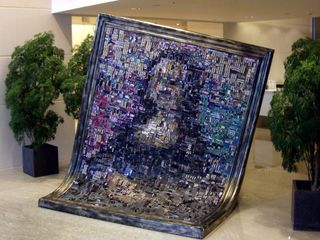 Homage to Leonardo Davinci
The original Mona Lisa is one of the joys of the Louvre in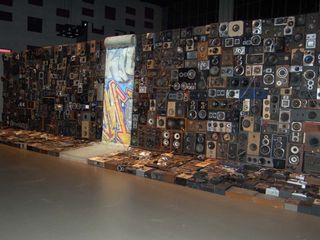 Wall Of Sound
This conceptual piece by French sculptor and performance artist Benoit Maubrey was displayed a few months ago at Angers for the Accroche-coeur festival. Named "The Wall of Sound", the installation takes recycling to the next level - it has a real piece of the Berlin wall that's clamped into place by 1000 speakers of all different sizes. The point of this piece isn't exclusively visual though - a telephone line that can be called via a special number links the arrangement of speakers. Once on the line, the caller can hear their voice diffused simultaneously through all of the speakers at once.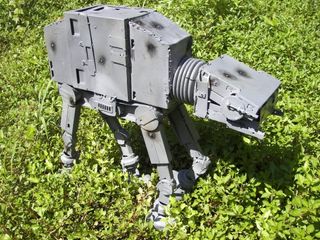 Counter-Attack Casing
This artist has an interesting side job: called Sage Werbock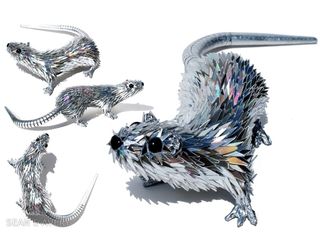 CD Fragments
Sean Avery is an Australian author and children's book illustrator, who also dabbles as a sculptor. Here we see a stunning series of sculptures, representing mostly animals, made from shards of CDs that have been carefully assembled and glued onto an underlying frame.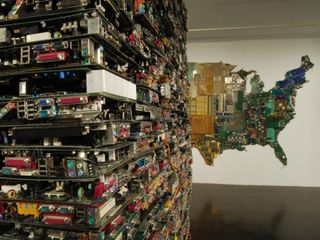 Cards As Maps
British artist Susan Stockwell has worked as part of a team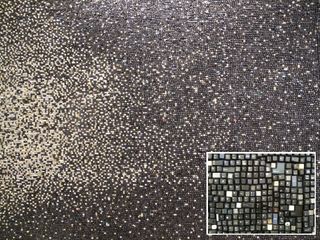 Keyboard Fragments
"Debris, Qwerty>" is a large-scale project, created by Sarah Frost, which was exhibited at the P.P.O.W. gallery last spring. This huge monochrome sculpture was made up of a mosaic of thousands of keyboard keys from computers salvaged by the artist and meticulously assembled so that you got a different effect depending where you were standing.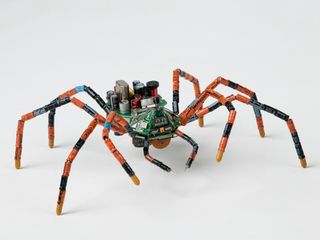 Recycled From Head To Toe
"PCBMixed Media" is a series of pieces by Steven Rodig made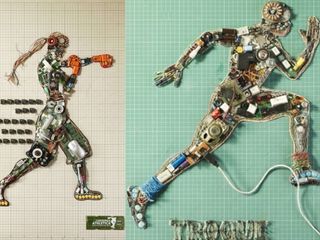 Bionic Athletes
This poster ad campaign by Brazilian art director Murilo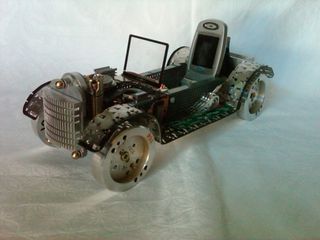 Cell On Board
Enrique Conde, another salvager of old computer parts, bases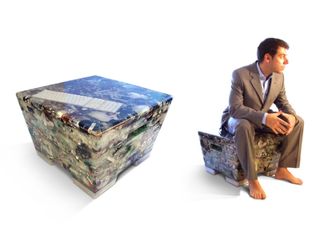 Scraps In Resin
Named N+ew, an abbreviation for No More Electronic Waste,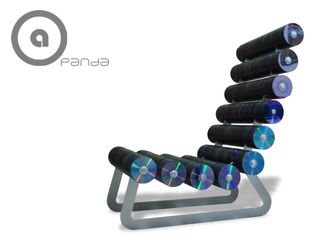 The Sitting CDs
Inspired by the fact that the polycarbonate that CDs and DVDs are extremely difficult to recycle, Spanish artist Belen Hermosa has worked to create a chair called "PANDA Chair" which is made up of 4232 (yes, exactly) recycled disks.