We Don't Have That Here: Gadgets We Discovered in Asia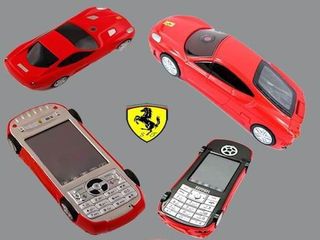 Ferrari Car Phone
When I say car phone, you probably think of something you can talk on while driving, right? WRONG! These car phones are more like Micromachines than iPhones, but they're pretty fun. Inside these zippy little phones are a video camera, a 1.3 megapixel camera, and a 2.2-inch display. Not too much to brag about, but it's nice look at!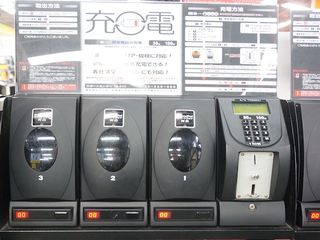 Coin Operated Phone Chargers
Sure, we have charging stations for phones in the airport in the US, but how about in a giant electronics store? These chargers took yen coins and would dole out super-doses of electricity to a variety of phones. Better yet, you can leave the phone there plugged in for a designated amount of time while you shop.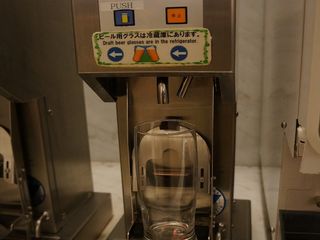 Beer-Pouring Robot
Who needs a bartender? At the JAL lounge in Tokyo, the business of pouring beer is all automated by a shiny machine. Just slide a frosty pint glass into the holder and push a button – the machine tips the glass, pours in the beer and then adds head foam from another spout at the top, resulting in a perfect glass of brew.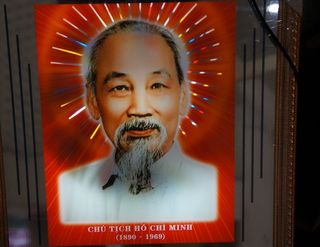 Hypnotic Ho Chi Minh
All over Vietnam, these omnipresent Ho Chi Minh electronic pictures stare down from walls. It doesn't matter if it's a bank or a noodle shop, Uncle Ho seems to hold court everywhere. This highly-electrified wall hanging has a calendar, clock and other mysterios numbers flashing in red. The truly mesmerizing part are the beams shooting from Ho's head, shining communist light through the land.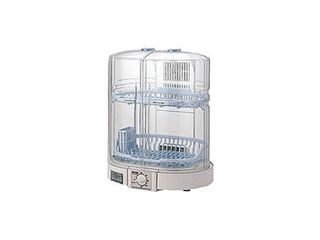 Zojirushi Tiny Dishwasher
In my house, I love my Zojirushi rice maker. It turns out restaurant-grade rice in a snap! But in Tokyo, I learned about the Zojirushi empire. That company makes many, many devices for the kitchen, and one of them is this adorable dishwasher and dryer. A little more than a foot wide, there is nary a house that wouldn't be able to accommodate the labor-saver. The "float basket" has an adjustable height, and it has cool hooks to hang a ladle or spatula inside. Seriously, if my suitcase had the space – and we had the right hose hookups – this would have made it back with me.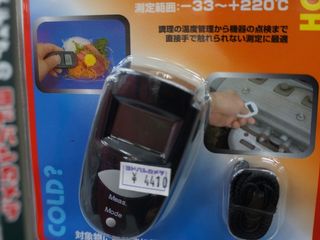 IR Laser Thermometer
I love the idea of these infrared laser thermometers. I know, I know, we have these in the states – but they are relegated to the realm of electricians and plumbers. These little keychain laser thermometers in Japan have another purpose – food! Is your soup hot? Or too hot? With one click of a button, you can have all the information you'd ever need about cold sushi or hot coffee.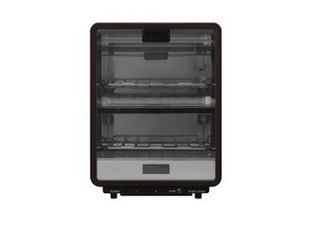 Plus Minus Toaster
I have to say, the kitchen aisle at Tokyo's electronics stores were fascinating. Everything was very compact and well-designed, like this Plus Minus toaster (not available outside Japan). It actually has two vertical layers of baking sheets – like a double oven for midgets. It can do two separate tasks at once, and doesn't take up a whole lot of space either. This makes sense as many Japanese use the toaster to do more than, well, make toast.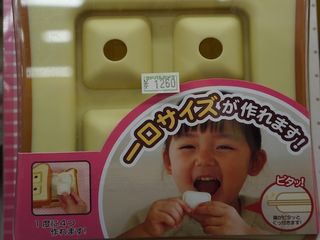 Bread Pocket Maker
What could be better than bending bread to your will? Well, folding it up into tiny pockets, of course! I was impressed with the number of bread-related accessories in Tokyo. Of course, this is the country that created the bento box (the most fun anyone could have with a lunch) but the tiny bread pouches are also intriguing. I think this kid is likely getting a straight sugar buzz from the bread.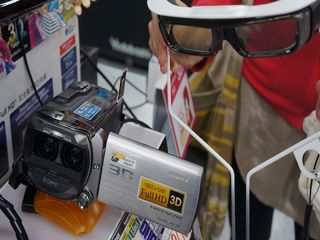 Sony 3D HD Handycam
Sony released this rather-awesome 3D handycam way back in September last year in Japan – and the US will start getting theirs this week. It was fun to play around with the 3D action of the camera, but I'm sticking with the fact that wearing glasses to watch home movies might be a stumbling point, no matter where you live.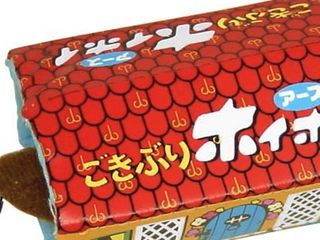 Cockroach House
In Japan, there's no such thing as a roach hotel. Instead, the Japanese have created sticky pheromone traps that are encased in cute, decorated cardboard houses. After all, there's no reason for the poor roaches to be squirming around in public. You can pick up a keychain version of the roach demolition mansion here.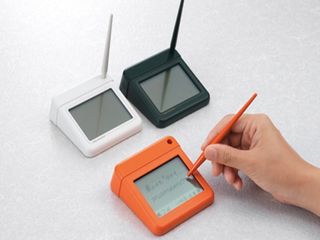 Electronic Memo Pad
Post-its are great, but what about for those people who want to replace paper with tech? In a Tokyo electronics shop, I found these great electronic memo pads. Unlike paper notes, which can get lost as documents pile up on your desk, notes made on the electronic pad are easily retrievable from its memory. The screen goes to sleep automatically after thirty seconds of inactivity, but it comes back when you push on it with the stylus. Never lose another note again!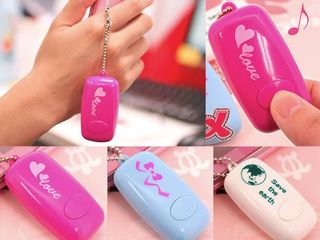 Portable Toilet Sound Blocker
Japanese toilets are the coolest technology your butt will ever experience. They typically have heat, special jets to clean various nether regions, and will even play you music as your relax on the crapper. But what if you don't have access to a special toilet, and you want to mask a tell-tale plop? Well, that's where the toilet sound blocker keychain comes in, of course. The key chain makes a flushing noise to drown out any other sounds that might be coming from the bathroom. Just be careful – people might start to wonder why so many flushes are happening.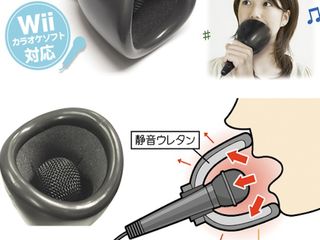 Noiseless Karaoke Microphone for Wii
For those of you who enjoy singing karaoke in the comfort of your own home, it's likely that your neighbors don't share your enthusiasm. You'll be pleased to hear, however, that there is a way that you can continue to sing all night long without bothering the folks next door. The Noiseless USB Karaoke Mic provides a veritable cone-of-silence around your microphone, keeping all those decibals cupped between you, your karaoke machine, and your headphones. Ideal for the Nintendo Wii, it connects via a simple USB cable.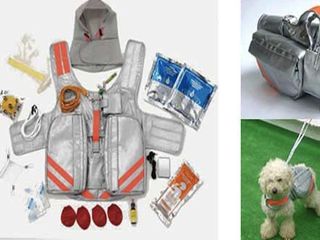 Pet Evacuation Jacket
Made from the same material used by Japan's world-class firefighters, this flame-retardant suit protects from heat while adding a carrying handle for controlling and transporting frantic pets. It's not just for your furry friend, though- pockets on the side of the jacket hold emergency tools and supplies for pet and owner alike. With rugged hardware, professional-grade materials, and rapid velcro closure, it's one less thing to think about in emergency situations. You know, after you grab the laptop, the backup harddrive and your kids, reach for the cat wearing a flame-retardant suit.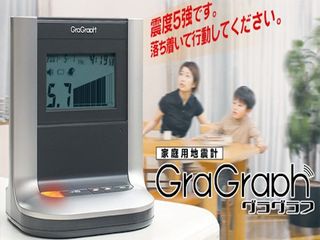 Home Seismograph
If you think that a seismograph has to be a big machine in the basement of a university, think again. In Japan, you can have a seismograph at home – it will let you know right as the next earthquake strikes. The gadget measures the intensity, and records the data in its calendar. The verbal warnings are in Japanese, but the digital data can be easily accessed in any language. In normal mode, the Gragraph serves as a tabletop calendar/clock and a reference for past activity – and to freak out your friends.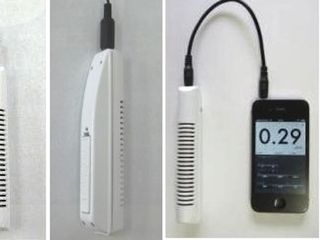 iPhone Geiger Counter
Measuring radiation is rad. This smart and handy radiation-measuring device demonstrates the Japanese ability to turn disaster into engineering foresight. The Geiger Fukushima iPhone is a portable, lightweight geiger counter that works with your iPhone to measure beta and gamma rays in your surroundings. The app is free and you can start checking radiation levels immediately.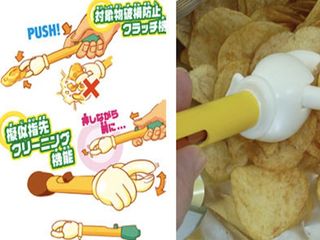 Potato Chip Grabber
Just imagine… all you want to do is eat a potato chip – but the salt! And the chip residue! Now you can use the chip and popcorn grabber to do the work for you. Never has it been so easy, just use the button to control the sophisticated fingers and then pick up your desired snack. No more greasy fingers! I love the future.