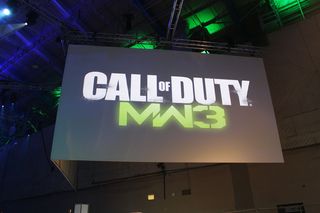 Welcome to COD XP LA
Following in the footsteps of QuakeCon and BlizzCon, COD XP is a weekend event that's all about the game in its name: Call of Duty. Activision pulled out all the stops for COD XP, offering up two days jam-packed with gaming, music, and - most importantly - free stuff.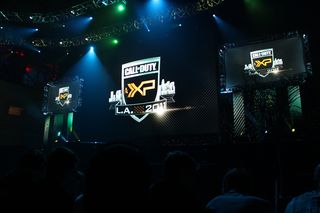 Press Night
COD XP was technically 2.5 days, with Thursday night being a press-only affair.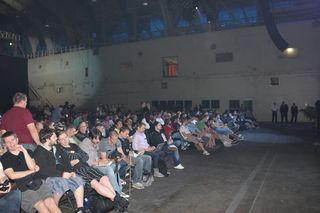 The Press Crowd
This is but a small sample of the invited press. Activision flew in press from all over the world (the farthest away we saw was South Africa). The amount of COD XP coverage over the last few days has been staggering, to say the least.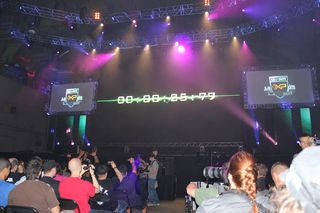 Countdown
Fast-forward to Friday morning, where the public press conference is about to begin.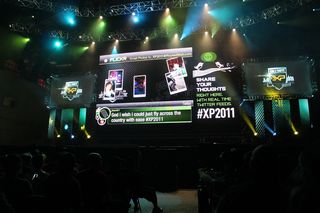 Obligatory Social Media Tie-In
Before the keynote began, Activision had the obligatory Facebook and Twitter feeds up on the big screen. Sadly we couldn't get any Battlefield 3-related tweets to show up.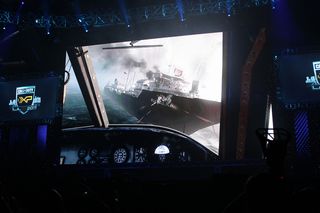 COD Montage (Montage!)
Things kicked off with a COD montage, narrated by the one and only Lance Henriksen (Millennium, Aliens). With footage going all the way back to the original Call of Duty, the video showed how far the franchise has come over the last eight years.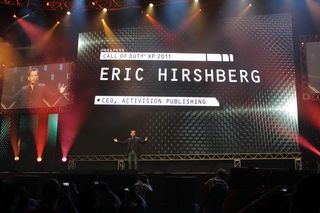 Eric Hirshberg
Activision Publishing CEO Eric Hirshberg takes to the stage, welcoming one and all.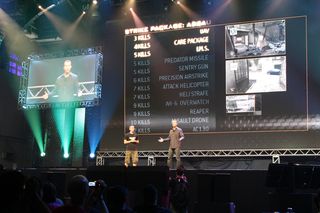 Strike Packages
Next we get a rundown of the changes made in Modern Warfare 3. From points streaks (instead of kill streaks) to strike packages, to the removal of certain perks like Commando and Last Stand (those were met with thunderous applause), it seems like Infinity Ward took community feedback to heart in more ways than one.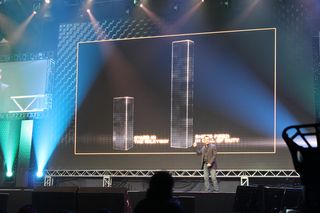 Stars vs Bullets
Back to Hirshberg, who reveals that COD players have shot more bullets than there are known stars in the galaxy.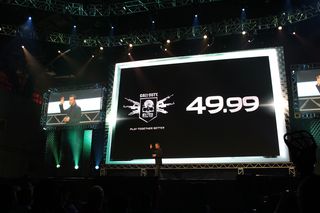 COD Elite Pricing
COD Elite has been a flashpoint for many gamers, but more details regarding the paid version were revealed. The $50 yearly price tag not only nets you all of the new COD:E features, but you also get every piece of DLC, or about 12 maps a year. That alone is worth $60 (based on four, $15 map packs per year). And just like that, the paid Elite service just became much more attractive to the hardcore COD crowd.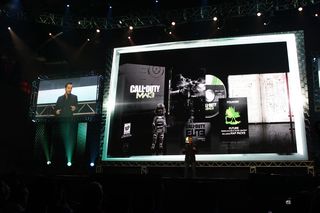 Modern Warfare 3: Hardened Edition
COD XP LA tickets cost $150, with 100 percent of that money going to charity (the Call of Duty Endowment). However, the sticker shock was softened when Hirshberg revealed that every COD XP attendee would receive the Hardened Edition of Modern Warfare 3, for free. This includes MW3, a year-long COD Elite subscription, and a custom Xbox Live avatar, among other goodies.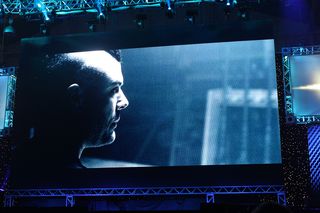 Operation Kingfish
Next: Activision shows off a fan-made Modern Warfare film called "Find Makarov: Operation Kingfish". Check it out online here.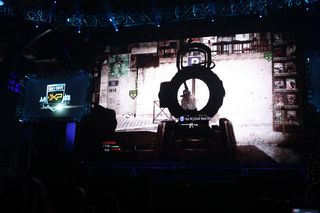 Finale: MW3 Multiplayer Trailer
Last but not least: the world premiere of the Modern Warfare 3 Multiplayer trailer.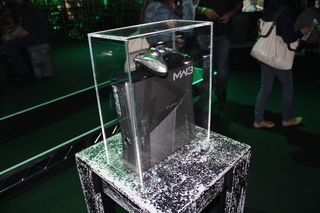 MW3 Xbox Spotted!
Microsoft is releasing a new, custom Xbox 360 to commemorate Modern Warfare 3. This tricked-out console packs a 320 GB hard drive, custom paint job, and custom MW3 sound effects when powered on.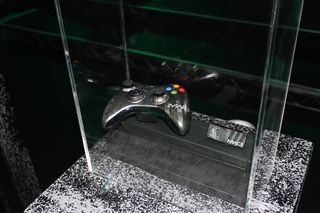 Matching MW3 Controller and Headset
Here's a better look at the custom controller and Bluetooth headset.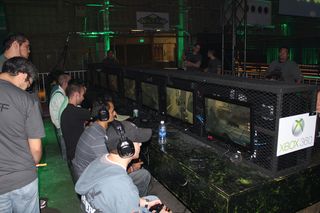 Playing MW3
There was plenty of Modern Warfare 3 to be played, as evidenced by one of the packed stations.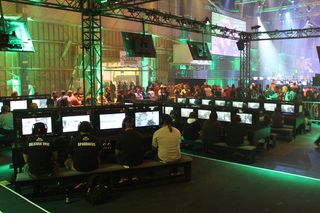 More MW3
These 48 MW3 stations might represent a fifth of the total stations available at the event.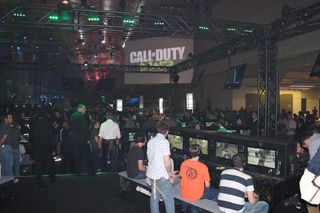 ...even MORE MW3!
Even MORE MW3 goodness.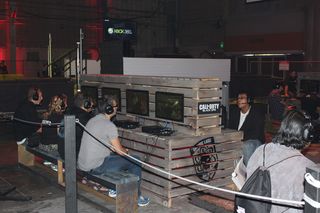 Don't Forget about Black Ops
This event was all about MW3, but Black Ops was also out in force. Here we see gamers checking out the latest DLC pack, called Rezzurection.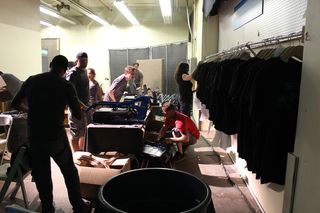 COD Shirts
Along with a code to get a free copy of MW3, every attendee got a free customized shirt. Simply write down your gamertag or handle (or anything short of profanity) and this team silk-screened it onto the back, for free!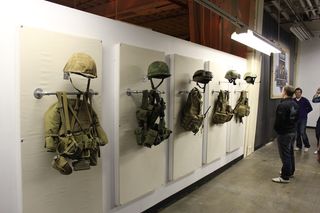 The COD Armory
COD XP had a full armory to check out, starting with a gear exhibit.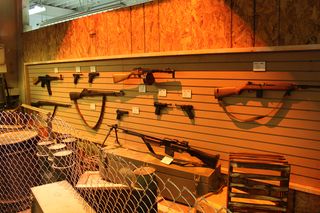 The Greatest War
The Armory covered every COD game, including the World War II-era titles. Can you spot the BAR?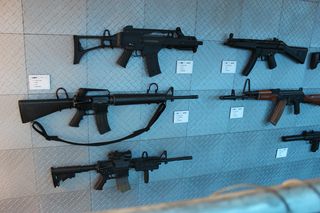 Back to Modern Warfare
No Armory would be complete without an M4, M16 and AK-47, among others.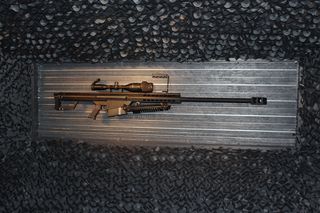 Big Momma Sniper Rifle
Remember: Fear the .50 cal.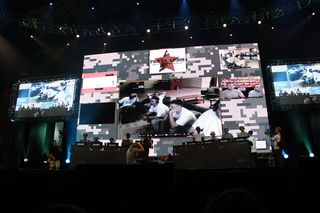 Pros Versus Joes
Acitivision and the Call of Duty Endowment are all about helping the military, both active and retired. This "Pros vs Joes" event connects servicemen and women with pro athletes, like Kevin Garnett and Russell Westbrook (pictured). The servicemen on the screen are stationed at various posts around the world.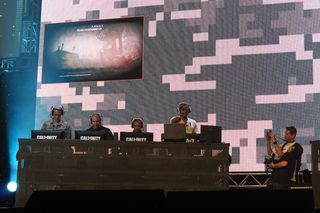 Russell Westbrook
Up close with Westbrook.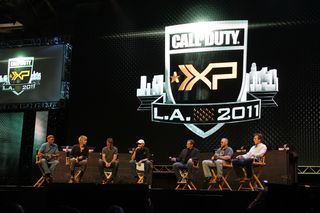 Voice Actor Panel
Like any convention, there were a few panels to enjoy. Here we see some of the acting talent present in Modern Warfare 3, including William Fichtner (Armageddon, Black Hawk Down) and Michael Rooker (Cliffhanger, Mallrats).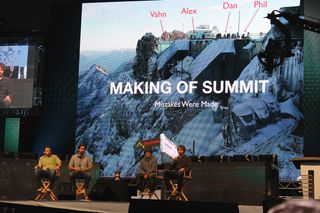 The Treyarch Design Panel
Next up: a panel about game and level design, with some of the Treyarch talent (the studio behind World at War and Black Ops).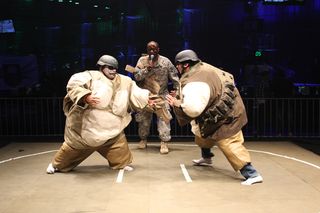 Sumo Showdown
What convention is complete without a sumo suit battle royale?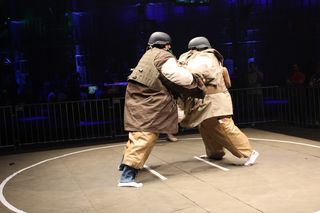 The Sumo Shoving Match
Fight!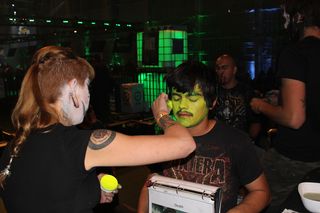 Camo Paint
I think this kid is turning into the Incredible Hulk.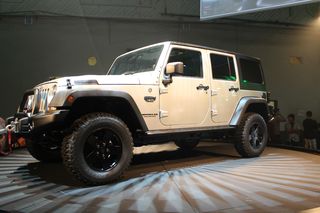 MW3 Jeep
Like the Black Ops Edition before it, Jeep is releasing a special Modern Warfare 3 Wrangler. It's based on the Rubicon model, with some added flair (black wheels, front-end winch and COD badges).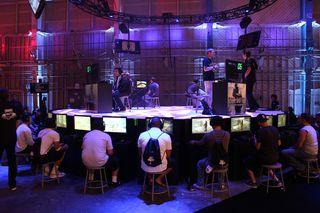 COD Competition
Nothing but a little friendly competition.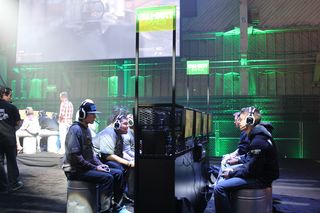 One Milion Dollars!
This competition? Not so friendly...since a sizable amount of cash was on the line. Activision and Microsoft co-sponsored a $1 million MW3 tournament, and the first place team took home $400,000.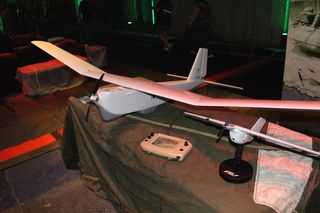 Enemy UAV Spotted!
This can't carry any Hellfire missiles, but an eye in the sky is still a valuable tool.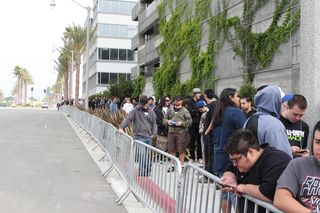 Day Two Begins
Day Two! Saturday! Long lines for general admission!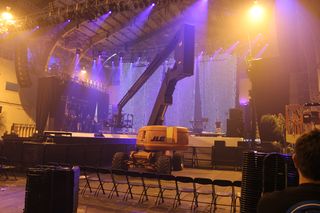 Stage Construction and Sound Check
Looks like the stage is being set up for Kanye West...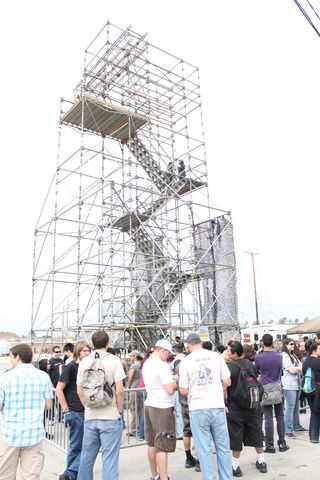 The Zipline
Most of day two was spent outdoors (the non-artificial light was killer). First up: the zipline.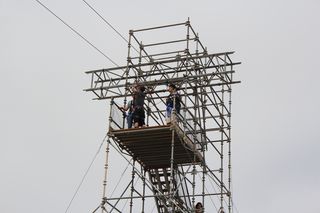 Zipline: Ready to Rock
Ready? I sure hope so!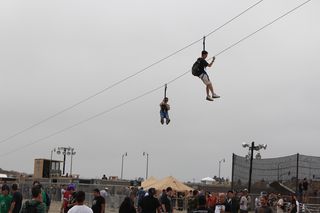 Zipline: Go!
Tally-Ho!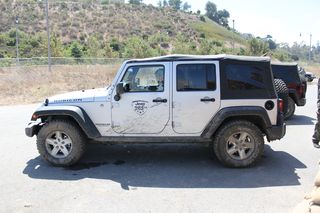 The Jeep Experience
We wanted to do the Jeep experience, where you're driven through an obstacle course, and taken through a simulated building breach with a SEAL team...but the five hour wait was a bit of a damper on that plan.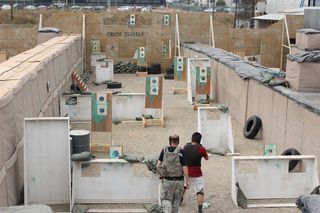 The Pit
There was traditional paintball, as well as The Pit, which harkens back to the training levels in Modern Warfare 1 and 2. My time was 27 seconds!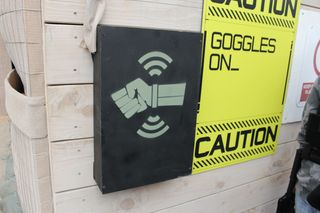 RFID Scanner
Every COD XP attendee was given an RFID bracelet, which was used as a check-in for every outdoor event, as well as to register for your swag bag.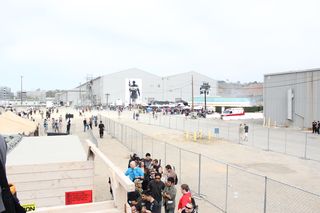 The View
A view from the top of The Pit.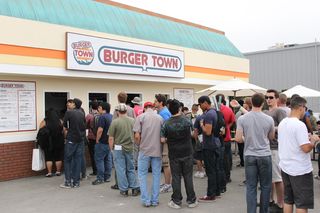 Burger Town
If you're an MW2 fan, then Burger Town should sound familiar.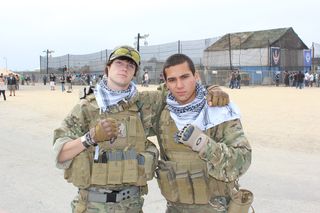 COD Cosplay
Like every other convention ever held, there was plenty of cosplay to be seen.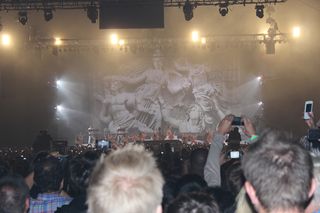 Kanye Time!
...last but not least: it's Kanye West time.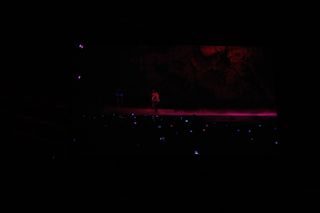 Small, Blurry Kanye
Back in the press section + no zoom lens = small, blurry Kanye.