23 Ways Foursquare Saves You Time and Money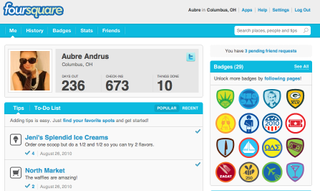 Foursquare Is Your Friend
When it comes to online technology, even die-hard tech lovers don't always accept new trends with open arms--especially when it comes to social media. The same people who are addicted to Facebook might think they're too cool for Foursquare. But this location-based social networking site is filled with discounts and advice in addition to the points and badges you may have heard of. Read on to find out why Foursquare is one of the easiest ways to save money, read reviews, and network with your friends at places you probably already visit.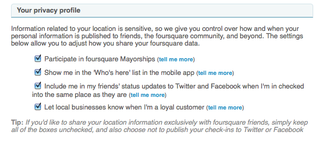 Nobody will know where you are, unless you want them to.
You don't have to hook up your Foursquare account to Twitter or Facebook. If you choose to do so, you can share check-ins with your Foursquare friends. Or not. Under 'Your privacy profile,' you have the option of opting out from appearing in the 'Who's here' list when you check-in to an establishment as well as further security settings that prevent businesses or even friends from gathering your information.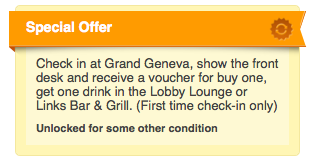 Get discounts and free stuff from your favorite local businesses.
Before you check-in to a location, Foursquare will let you know if the business (or any nearby ones) offer Foursquare specials. A recent check-in allowed me a buy 1, get 1 free drink voucher for my first visit to a hotel bar. Other specials may include free cover at a bar, a free hair product at a salon, or 25% off your purchase.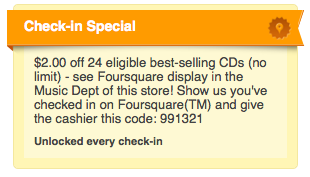 Get discounts and free stuff from your favorite national chains.
While local restaurants and bars were one of the first to jump on the Foursquare bandwagon, national chains offer great deals, too. Right now, a check-in at Barnes & Noble earns $2 off a list of best-selling CDs, Sonic gives Foursquare users $1 off a $6 or more purchase, and Bath & Body Works hands out 2 oz. lotions.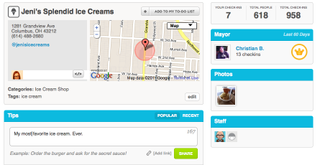 To businesses, Foursquare is like a loyalty rewards card.
And the person who checks in the most wins. Well, more specifically they become "Mayor" of that business. Whoever holds the title is often bestowed with an exclusive special for their elite status. It depends on the business, but the rewards are often good – like 50% off your tab for your entire run as mayor or a free happy hour for you and 10 friends. If you don't become mayor you can still earn rewards. For example, a local gift shop near me gives 20% off after a fifth check-in.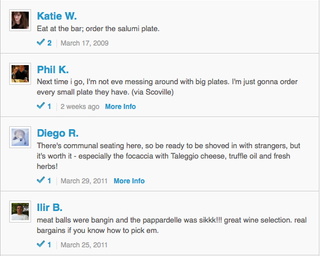 Get insider information with user-generated tricks and tips.
If you've never been before, check in on Foursquare and read the "Tips left here" from other users – which also includes tips from your friends. Find out what your foodie friend thinks is the best item on the menu, where to find the best bathrooms, who's the coolest bartender, or when is the best time to pop in for the best service. You can even add photos so you can start drooling at images of food before it arrives at your table.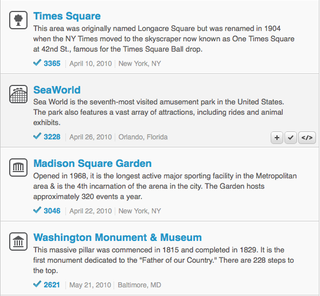 Learn more while you travel.
On Foursquare, you can follow your favorite brands who will then give you tips when you check-in to or nearby one of their favorite places. While roaming New York City, a pop-up box from The History Channel gave me some additional information on The New York Public Library while Gossip Girl informed me that the members-only Yale Club was nearby (a good place to meet a British boyfriend, apparently).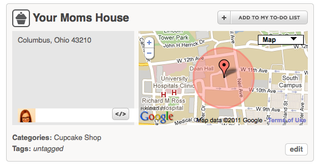 You can create a Foursquare venue.
Anyone can create a Foursquare venue. Just type the desired name into your Foursquare app and search. When it doesn't come up, click "Add this place" and fill out the details. The possibilities are endless – name your apartment so your friends can check in, turn your favorite bathroom in the city into a venue and leave a tip, or make a statement by checking into "A Much Needed Vacation" or "Not Joe's Party."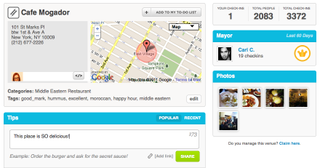 Keep track of where you've been.
After a check-in during a recent trip for a wedding, I was informed that the last time I'd been in Wisconsin was November 2010, the last time I saw my friend Sean was at so-and-so restaurant on this-and-this date, and that I had traveled 520 miles between my last check-in and this one. More importantly, I was able to look up the name of the delicious place where I ate brunch in New York City last month and recommend it to my Wisconsin friends.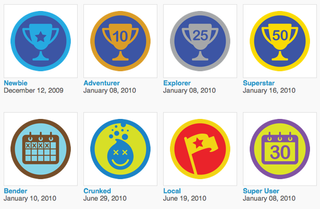 Compete with your friends to earn points and badges.
Foursquare awards points for every check-in and certain check-ins get rewarded with exclusive badges designed by Foursquare and other popular brands. Some badges are easy to score while others require extensive research and planning. Start a full-blown competition with your Foursquare friends to see who can earn the most points in one day, the most mayorships in a month, or the most all-time badges. It's addicting.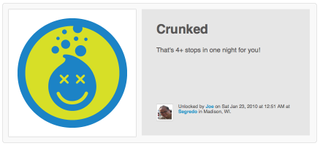 If you're a social butterfly, you'll love Foursquare.
The more you use Foursquare, the more you'll benefit from it. So social-media-loving social butterflies are sure to blow past their friends in points and badges. You like to go out? The badges are endless including the Bender (check-in to bars 4 nights in a row), the Crunked (check-in to 4 bars in a row) and the School Night (check-in anywhere after 3 AM on a school night).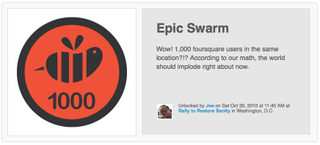 You'll never feel alone on Foursquare.
When you check-in to a venue, you can see how many other Foursquare fans are surrounding you. If you're lucky, 250 or more people may be checked-in as well. That means you get pegged with the Super Swarm badge. If 500 people are checked-in, the heard-to-reach Super Duper Swarm badge is yours. The elusive Epic Swarm badge means 1,000 people are checked-in to one location. Music festivals and techy conferences are always good places to search for these badges.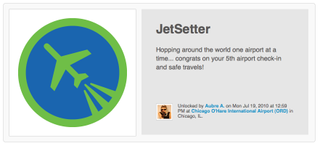 Frequent travelers get rewarded.
With badges at least. The Jetsetter badge will be yours when you check-in to an airport five times. The Mile-High badge (not as dirty as it sounds) simply means you used GoGo WiFi as you checked-in to the plane while flying through the clouds. While you're still on the ground, read the Foursquare tips at your gate. Another Foursquare user might save you from the worst airport food of your life.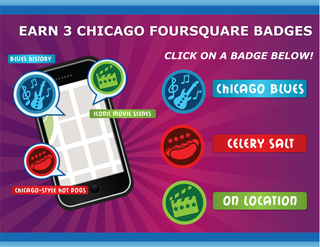 Learn what the locals love.
Screenshot Credit: ExploreChicago.com
Certain cities, like Chicago, offer exclusive tourist badges like the Chicago Blues badge, Celery Salt badge, and On Location badge that highlight many of the famous filming locations from much-loved Windy City movies like Ferris Bueller's Day Off. If the tourism board created a Foursquare badge for checking into (and eating) five different Chicago-style hot dogs from a list of 12 handpicked restaurants, Chicagoans must think it's a pretty important experience.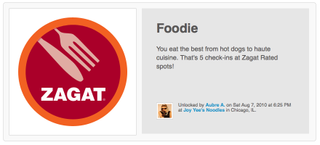 You're a foodie, and now you can get a badge to prove it.
Follow your favorite foodie brands to get tips and recommendations that are worth your while. Follow Zagat on Foursquare then check-in to five Zagat-rated restaurants to earn the Foodie Badge for those who 'eat the best from hot dogs to haute cuisine.' For a more elusive foodie honor, Follow Bravo and check-in to 2 venues associated with the show – the list of venues isn't very long -- to get the Top Chef badge.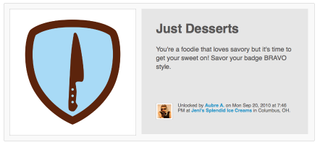 Foursquare is for (dessert) lovers.
Follow TLC (home of the venerable Cake Boss) and check-in at three cupcake bakeries listed on the TLC Foursquare page to earn the elusive title of Cupcake Connoisseur. This badge features confectionary locations like Georgetown Cupcake in DC, Primrose Bakery in London, and Gigi's Cupcakes in Alabama. Or follow Bravo and check-in to 2 dessert places listed on the Bravo Foursquare page to get the Just Desserts badge.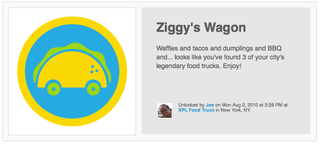 Foursquare doesn't discriminate against any kind of food.
If you're more into street meat than fine dining, check-in to three different food truck venues in your city to earn the Ziggy's Wagon badge. It's an elusive badge as not every city has a plethora of food trucks around every street corner. For those who feel left out, try the Pizzaiolo badge. It's reserved for those who check-in to 20 different pizza places.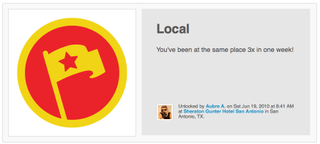 Foursquare is for locals.
Besides offering deals and discounts at your favorite local shops, restaurants, and bars, Foursquare also has a badge for local love. Check-in to any venue three times in one week and you'll earn the Local badge.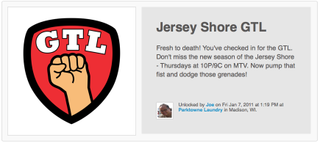 Foursquare motivates you to work out and have fun.
Go to the gym ten times in one month and you'll win the Gym Rat badge. Take a trip to the karaoke lounge three times this month and the Don't Stop Believin' badge is yours for the keeping. Jersey Shore fans can check-in to a gym, tanning place, and laundry establishment and earn the GTL badge.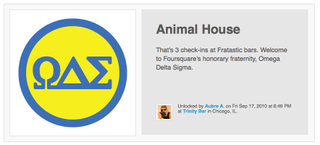 Foursquare likes colleges.
Check-in to a college stadium for the Smells Like School Spirit badge. Five check-ins to a campus dining hall gets you the Munchies badge, while the Campus Explorer badge means you've checked-in to 10 locations around your college campus. Check-in to 3 locations tagged "Frat boys" and you'll get the Animal House badge. While you're there, it's worth knowing that checking-in to 25 locations tagged "Douchebag" will earn you the Douchebag badge. I hear that's a surprisingly hard one to get.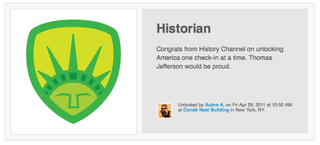 Look dignified with Foursquare.
For all the art lovers out there, ten gallery check-ins gets you the Warhol badge, or two check-ins to the Metropolitan Museum of Art means you've earned the Met Lover badge. If history is your thing, check-in to two of the History Channel's important landmarks around the world to receive the Historian badge.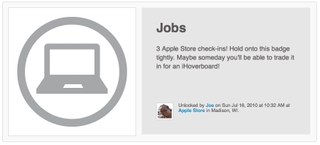 Foursquare is for nerds.
The Jobs badge has nothing to do with work – it has to do with the man himself. Check-in to any Apple store three times to get the nerdiest badge of all. However, you're not officially a Foursquare nerd until you hold 10 mayorships at once and get the elusive Super Mayor badge.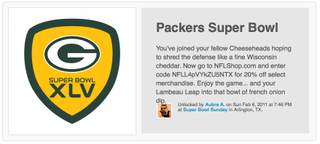 Make everyone jealous.
Events like SXSW, the World Cup, or the Super Bowl are filled with exclusive badges for only those who are in attendance. Do your research and you'll rack up some special badges that will soon be retired and that your friends will never get.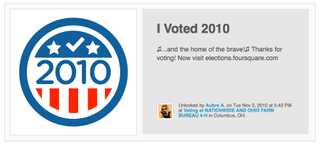 Feel cool when you become an insider.
Foursquare is constantly releasing special badges that can be earned only on a single day for those in-the-know. For example, the I Voted 2010 badge, 4sqDay 2011 badge, and the Packers Super Bowl badge for those who went to the big game. For some badges, you must check in to a venue and then 'shout' the appropriate message required to earn the badge. 'Shout' just means that you type a word or message in the check-in field.