Get the Smartest House on the Block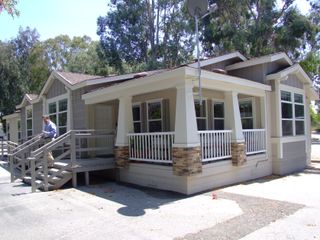 The Home Of Now
Tucked away on HP's Cupertino campus is a small house that might look familiar. Once the Next Gen Home at CES 2006, this two-bedroom house was cut in half, trucked here from Las Vegas, and kitted out with a mix of digital home entertainment and home automation gear. HP's Brian Burch showed us around what he calls "the home of now, not the future". Outfitting the SmartHome took two weeks and $75,000 for everything from throw pillows and a Whirlpool Duet washer and dryer, to Z-Wave controlled shades and in-wall Klipsch speakers – plus the latest HP notebooks, TVs and Windows Home Servers.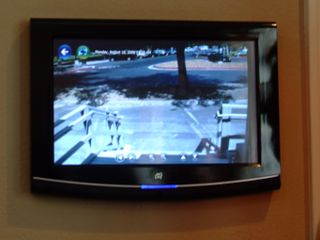 The Front Door
Just inside the door is a touch panel from Exceptional Innovations. You can see who's outside before you open the door, set the alarm, open the drapes, check the weather, control the thermostat and turn lights on and off throughout the house (as long as you have Z-Wave controllers fitted). Burch calls the touch panel "aspirational" for most people, but the LifeWare software runs on Windows Media Center. In the SmartHome, that means you can choose music on the touch panel to play in different rooms, but it also means you could run it on any Media Center PC.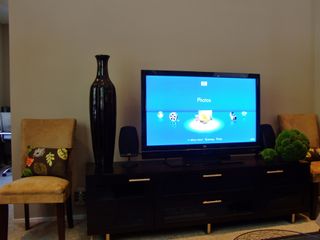 All Your Media On TV
The 47" HP MediaSmart TV dominates the living room, but the large screen leaves plenty of room for wireless antennae in the bezel. It runs HP's own software, which automatically finds and aggregates shared media like music, photos and video from any PC in the house. It has a CinemaNow client, so you can buy or rent first-run movies the day the DVD goes on sale (although you need a PC turned on to handle the payment for you). It also has a client for Live 365 Internet radio, and a client for HP's own portal, which includes Snapfish for printing and sharing photos.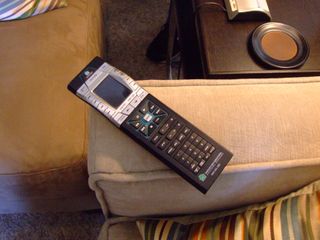 The Remote Control
The MediaSmart TV also works as a Windows Media Center Extender (including the versions of Vista with Media Center in them). If you'd rather use that interface, there's a green button on the Monster Cable Monster Central remote control that starts a Media Center session. The remote controls up to five devices, including a Dish Network satellite receiver and a Denon AV surround receiver. It uses RF and infrared and comes with an RF to IR bridge to control devices in other rooms. You can also program in combinations of commands if just playing a CD means turning on multiple devices.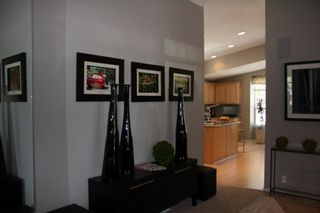 Frame Digital Photos
Instead of hanging up 'digital photo frames', HP has set 19" LCD screens into the walls and framed them like pictures. Each screen is connected to an individual PC so it can show a different photo gallery or video file; they also look good with an aquarium screen saver. Burch runs employee parties at the SmartHome for events like the NCAA tournament and the Oscars, playing different games or all the nominated movies and photo slideshows on the various screens throughout the house. It's like having your very own sports bar!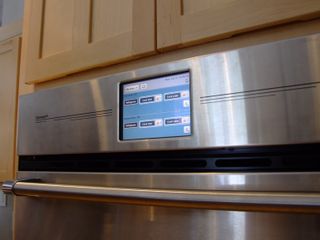 Even The Cooker Is On The Network
Plenty of ovens have timers, but there aren't many dishes you want to leave in the oven all day before you cook them. The TMIO Connect Io Intelligent Oven has a built-in refrigerator, so you can put dinner in there at breakfast time and come home to an appetizing smell (rather than food poisoning). It also has a wireless Internet connection, so if you're running late, you can log in to the oven and change the start time over the Web, or from your cellphone. It even has a double oven, so you can set up dessert as well...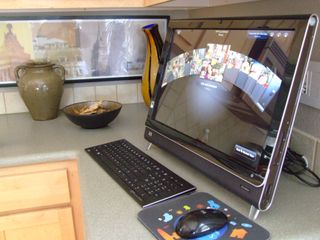 TouchSmart – The Ideal Kitchen PC
Thinner and sleeker than the original 19" model, the new 22" TouchSmart PC uses cameras to detect touch so you can write a note on screen with your finger, scroll through a recipe with the handle of your spatula or select a search result with your elbow (if you've got flour all over your hands). The new UI adds gestures, so you can wave your hand to flip through your photos. The case is splash-proof, so it doesn't matter if you spill your smoothie on it, and Brian Burch assures us that "you can wipe frosting off the screen easily".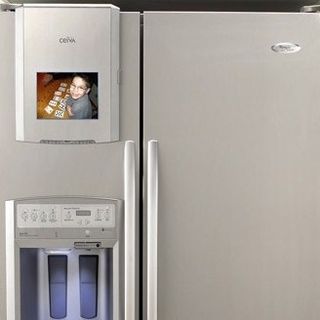 The Entertaining Refrigerator
If you're using a TouchSmart PC so you don't need to stick reminders all over the refrigerator door, you can use the space for something else. The $2,000 Whirlpool centralpark has a dock on the top left that can take a satellite radio, a CD and DVD player, a weather forecaster, an iPod dock and speaker, an iGo charging station – that has room for, say, a phone, a media player and a camera – or a digital photo frame. That's handy, because most stainless steel fridges aren't magnetic enough to stick your photos on (assuming you even print them out any more).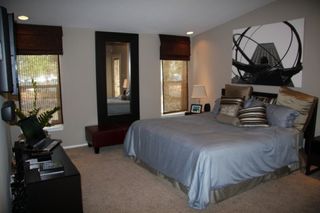 The HD Bedroom
If the 42" HP HDTV on the wall in the bedroom wasn't already a MediaSmart TV, the new $349 MediaSmart Connect receiver would give it the same MediaSmart interface, with online services like Snapfish, CinemaNow and YouTube, and access to shared content on all of your PCs in one place. Like a MediaSmart TV, it's also a Windows Media Center extender – in fact, it's really just the electronics from the MediaSmart TV, without the screen. It works with any HDTV, and you get the same five-device universal remote to control other devices plugged into the TV.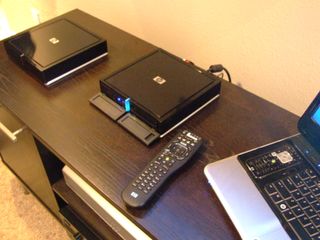 Watch YouTube in bed
The MediaSmart Connect has HDMI and component audio and video to plug into an HDTV; Ethernet and Wi-Fi (a, b, g, n) to connect to your network; and instead of a built-in hard drive, a Pocket Media Drive Bay so you're not stuck with a drive that looks small next year. One USB port is on the front to make it easier to get at photos, while the other's at the back for daisy-chaining another drive. It supports what Burch calls "a super-long list of codecs – almost anything you throw at it, with the exception of Apple FairPlay".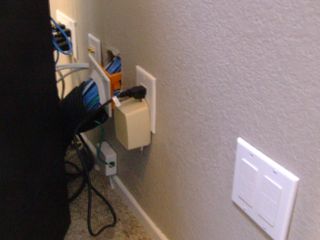 Coping With The Cables
Wireless networks aren't up to moving this much data around, so there's a significant amount of Ethernet cable running through the walls; so much that this conduit to the media rack can barely contain it. It's not always easy to deal with the cables when you're retrofitting home entertainment and automation systems, but "this level of cabling is common in new-build houses," says Burch. He also notes the trend of 'digital remodeling' instead of redecorating the bathroom or putting in a new kitchen.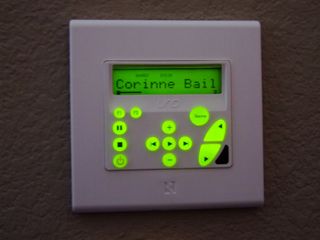 Mixing PCs and Traditional Multi-Room Audio
If you're happy to control everything from a PC screen or remote control you can do that, but when you don't already have a PC fired up, starting one takes time. Fortunately, the SmartHome also has the Russound UNO-S2 audio keypad in many of its rooms, coupled with Klipsch in-wall speakers. The music you can choose comes from the same Windows Home Server box that the PCs and TVs connect to, but this is more like a traditional multi-room audio setup with dedicated controls, letting you take music with you as you move around the house.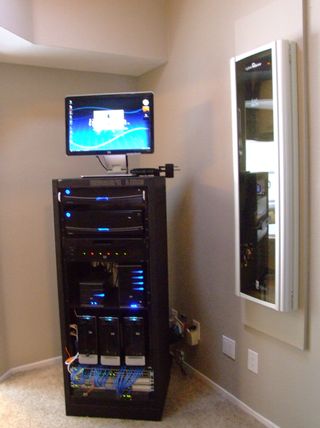 The Media Closet
If you want this much home automation, you're going to need a network switch like this 48-port ProCurve, and somewhere to put it - along with the high-end Media Center PC that runs everything around the house, the four-bay MediaSmart Windows Home Server that takes 1 TB and soon 2 TB drives, and the 500 GB Media Vault network storage. You also have to deal with home automation solutions like the AprilAire controller that connects to the heating and air conditioning, and the Russound controller that connects to the audio control panels and even the doorbell. The 19" Middle Atlantic AV rack and UStek structured wiring cabinet sit where you'd usually have a walk-in closet.

The SmartOffice
The 'his and hers' home office has one 24" 1080p HP screen that Burch reminisces is "five inches bigger than my family TV growing up", one 22" screen, a full-size Pavilion Elite PC and a Pavilion Slimline with a smaller chassis that still has room for a Pocket Media Drive Bay (so you can swap the 160GB HP Pocket Media Drive for something more spacious when you need to). It's the same dock as used in the Media Smart Receiver, so you can carry downloaded videos into the bedroom faster than you can transfer them across the network.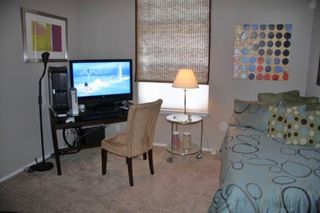 Blackbird Comes Home
The 37" HP HDTV in the teenager's room is hooked up to a Dish Network HD satellite receiver, the AT&T U-verse IPTV service and an Xbox 360. The PC is an HP Blackbird 002, the retail version of HP's premium gaming machine, with a cast aluminum case, sealed liquid cooling, illuminated ports at the back of the case, drive bays you can access without any tools, plus a neoprene panel holding tools for changing out any devices that aren't as well designed. Like most of the SmartHome, the room is unfeasibly tidy but the technology is something you could enjoy today (if you have the money).