Best Toys of Toy Fair 2019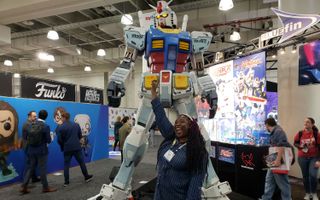 Best Toys of Toy Fair 2019
We scoured the massive Jacob Javits Convention Center during Toy Fair 2019, the find the best and newest tech toys and we were not disappointed. Toys continue to become more sophisticated adding augmented reality technology, motion trackers with some light coding to get kids ready for the world of tomorrow, today. That doesn't mean there weren't some retro goodies for the kidults to enjoy. Heck, we even got some training at Lightsaber Academy. The following are our picks for the best tech of Toy Fair 2019.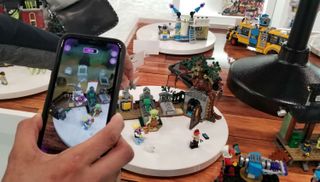 Lego Hidden Side
Lego is launching a new line called Lego Hidden Side, which is the company's first build set designed specifically for an augmented reality experience. The playsets revolve around a haunted town, so the player has to help two kids fight ghosts and zombies through different sets from a small Lab (174 pieces, $19) to a giant School (1,474 pieces, $129). The AR app is designed for children to play with one hand on the phone, blasting away ghosts and hitting button prompts, while the other hand is meant to manipulate the set to solve puzzles that the phone will react to in real time. There are five virtual keys in each set that unlock a unique boss that your child fights once they collect them all. The Hidden Side sets will start at $19.99 and launch sometime in the summer. — Rami Tabari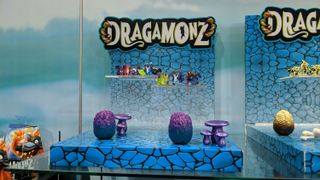 Dragamonz
Dragamonz is basically the Hatchimals if they were cool dragons. In order to get the egg to hatch, your child has to smash it open in a trial by fire sort of way. Each pack of Dragamonz comes with a set of cards that your kid can use to play a game similar to Yu-Gi-Oh or Pokemon. But it tops those games by enabling your child to register each card in augmented reality on the free Dragamonz app. You, or your kid, can then use the dragons you've collected to battle opponents online in a combat style similar to the card game along with the occasional button mashing. Dragamonz will launch sometime in August 2019 and start at $3.99 for a single pack, $9.99 for a multi-pack and $17.99 for the Ultimate Dragon pack. — Rami Tabari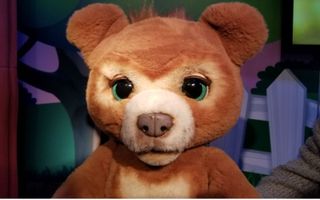 Cubby the Curious Bear
Hasbro's FurReal Friends line just gets cuter and cuter. This time around, the company's launching an adorable bear called Cubby, the Curious Bear (available summer 2019 at $99.99). You can feed, pet and brush this interactive cutie, it even gives hugs and plays peekaboo. It also responds with gentle coos when you talk to it. And when it's time for bed, switch Cubby into Nightime mode, it makes yawn sounds as it closes its eyes and plays 1 of 4 lullabies. — Sherri L. Smith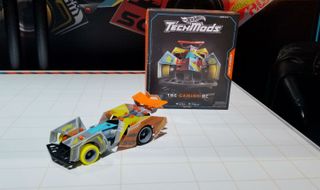 Hot Wheels TechMods
Remote-controlled cars and digital racing? Sign us up! Available on Indiegogo starting in April (estimated ship date late summer/early fall) for $50, Mattel is launching Hot Wheels TechMods, a customizable smart car. After building the car to their specifications, racers can control the car via a free app (Android, iOS) on a smartphone or tablet. Or, if they're looking for a digital angle, the car itself can be used as a control for an in-app game that gets increasingly difficult as the game progresses. — Sherri L. Smith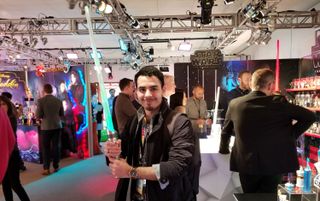 Star Wars Lightsaber Academy
Ten long years ago, my brother and I used to beat each other with lightsabers to see who was the true Jedi master, and while it was the most fun I had when I was a kid, those barbaric times could never define a clear winner (and it mostly resulted in tears). To solve that, Hasbro is launching the Star Wars Lightsaber Academy, which is an interactive battle system that's hosted through an app. Hasbro's Lightsaber Academy lightsaber has a built-in accelerometer, barometer and gyroscope which allows the app to register all of your attacks and movements. You can train and fight against one of the five available masters, and you can even fight against a second player (my favorite feature). The Lightsaber Academy will retail for $49.99 and launch sometime in Fall 2019. — Rami Tabari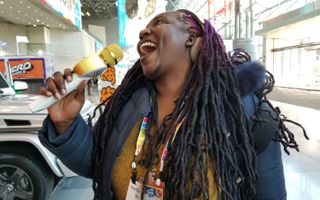 Carpool Karaoke, the Mic
Take your in-car concerts to the next level this summer with Carpool Karaoke, the Mic. Based on the popular "Carpool Karaoke" segments on The Late Late Show with James Cardon, the $49.99 Bluetooth-enabled microphone will let you sing over the vocals of your favorite songs while you're in the passenger seat. It even works with FM Radio. All you need, is the mic, your favorite music and a driver willing to be your captive audience. — Sherri L. Smith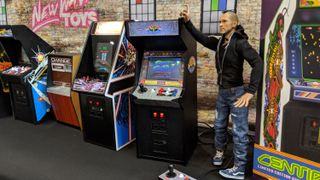 Street Fighter II: Champion Edition x RepliCade
This is by far my personal favorite discovery at the Toy Fair (mostly because it's something that I would immediately buy for myself as opposed to my nonexistent child). New Wave Toys has built a 12-inch (1/6th scale) Street Fighter II: Champion Edition arcade cabinet that is easily the most adorable and nerdy thing I've ever seen. And despite its small stature, I was surprisingly immersed while to playing, as the display and the controls felt rather authentic and responsive, especially given the scale. New Wave Toys' Street Fighter cabinet is currently available for preorder on their site for $99 ($119 is the regular price after presale) and it will ship out on July 1, 2019. — Rami Tabari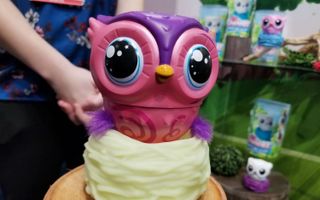 Owleez
While they're not as prevalent as dog or cat videos, owl vignettes are pretty cute. That might be where SpinMaster got the idea for the adorable Owleez line of toys. Available in the fall, the $49.99 mechanical owlettes are interactive and in need of your tender, loving care. Thanks to motion sensors, you can tickle, feed, pet or even burp them. It's LED eyes will change color based on their emotions. With enough love and care, you can start teaching them to fly. When they're ready, you just put them back on their nest and they'll take flight, exposing a pair of propellers to keep them airborne. SpinMaster estimates that you'll get about 15 minutes of flight out of your Owleez. After that, it'll take 30 minutes in its nest to fully recharge. — Sherri L. Smith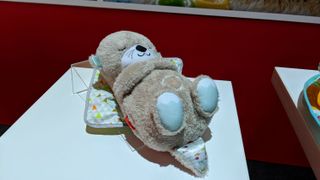 Fisher-Price Soothe 'n Snuggle Otter
Parents of newborns will tell you, one of the first things you want to do is get your baby on a regular sleep schedule. But until then, expect long nights and early morning of feedings, diaper changings and crankiness. Fisher-Price is hoping to help with its Soothe n' Snuggle Otter. Available this fall for $39.99, this adorable little plushie will help baby (and parents) to sleep. Simply press the button on the toys stomach and it will replicate the gentle rise and fall of a parent's breathing. Place your baby on top and pretty soon you'll have a peacefully resting baby and a super cute photo of your kid with a stuffed otter. It's a win-win. — Sherri L. Smith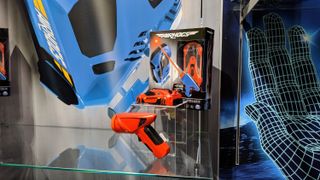 Air Hogs Zero Gravity Laser Racer
The Zero Gravity Laser Racer is like a car enthusiast's version of a pet cat, or even a humane version of a tireless child's pet cat. This RC car can suction itself to any surface your child would like, whether it's the wall or the ceiling, and literally race to any direction that they point the laser gun. The Laser Racer has a sleek design and resembles a sports car. Of course, one car isn't enough as they come in red and blue, so it's best used in an actual race against another player. The Laser Racer will run for $39 and be available sometime in Fall 2019. — Rami Tabari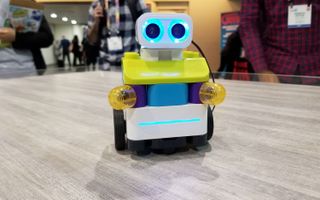 Pai Bots
For the future coder in your life, we'd like to present Pai Technology's Pai Bots. Available for preorder (shipping in spring 2019) on Amazon for $99.99, Pai Bots lets your child build, code and control their very own robot. The kit comes with 150 pieces so your child can make one of the six Pai Bots characters. The helpful free app (Android, iOS) will help your child build their bot, after which they can use their smart device to scan their creation to play with it in an augmented reality world as well as send it commands through rudimentary drag-and-drop coding.