The Best Co-Op Games on PS4
As much fun as it is to enjoy some alone time with games and forget about the drama of everyday life, there's something about cooperative gaming that makes the escape that much sweeter. Accomplishing challenging video game feats on your own is great, but having someone there to share the moment with you is even better — and not just because they can verify your story. With that in mind, we took a look at the PlayStation 4 library to see which games will help you and your friends thrive on co-op play.
Credit: Activision
Fortnite
You had to expect the biggest game in the galaxy would make this list. While Fortnite is most recognized for its competitive solo play, it does offer the ability to play with friends in Duos, Squads and the PvE Save the World horde mode. Duos and Squads make the Battle Royale a bit more tenable for newcomers and less-experienced shooter players. They're also a great way to pass the time with friends who aren't able to invest hours in massive campaigns, and just want to get right into the action without much hassle. The fact that the game is free-to-play is merely the cherry on top.
Credit: Epic Games
Destiny 2
Destiny 2 is a terrific cooperative game on a number of fronts, but it does take quite a bit of time to get the most out of its narrative, PvE and PvP modes. Having to stay on top of the challenge curve by earning rare loot could be a drag, if you're left to do it with complete strangers. But having a few close buddies online for those adventures takes the sting out of missing out on those choice exotics. What's more: Destiny's raids require more than a blunt-force approach, encouraging you to actually work together to get through the most difficult elements the game has to offer.
Credit: Activision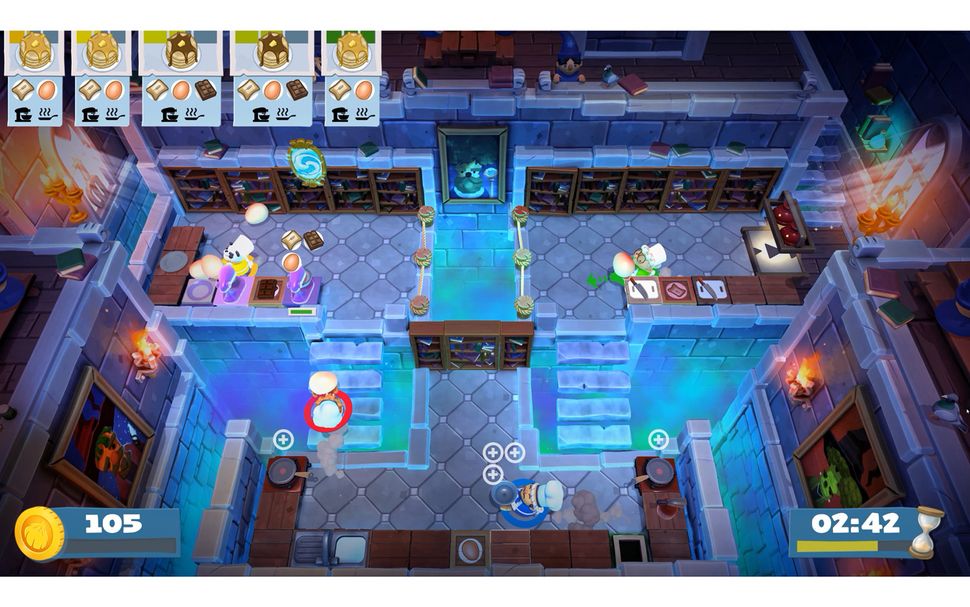 Overcooked 2
It's hard running a kitchen on your own in real life, but it's way more difficult when you have to work in a restaurant that's built into a hot air balloon or the suspension bridges of a mineral mine. Thankfully, Overcooked 2 allows you to team up with a friend or three to tackle the challenges of creating great sashimi or pasta — while also dodging all kinds of hazards that would terrify any ordinary chef. The game also offers this action with couch co-op options, which makes all the excitement and hustle that much more entertaining — at least for any bystanders watching the antics on-screen.
Credit: Team17 Digital
Minecraft
If you and your friends are more into a zen experience that removes nearly all the pressures of action-focused titles, you can't go wrong with an iconic game like Minecraft. The forerunner of the crafting simulation crowd, Minecraft is still one of the best cooperative experiences in gaming. There's something to be said about being able to hang out in a virtual world that you and your friends can craft in your own images. Minecraft allows your imaginations to flourish like few other games do and is a true callback to a time when creativity meant more than skill. Now, you can relive those days with your closest pals, regardless of where they live.
Credit: Mojang AB
Diablo III
Diablo III is the sequel that just keeps giving. Dashing through this fantasy realm with a friend is just as much fun as it was 20 years ago, when Diablo II first hit the scene. Though there is a larger campaign driving all the action, Diablo III has a strong reward system, no matter how much time you're able to invest. The core gameplay loop of unlocking newer, more powerful gear at a steady clip gives Diablo III plenty of replayability, too. The fact that the game offers couch co-op only sweetens the deal, allowing you to share the loot-hunting action with anyone, even if they don't invest in a copy of the game themselves.
Credit: Blizzard Entertainment
Borderlands: Handsome Collection
Few cooperative shooters have managed to achieve the longevity of the Borderlands franchise. Though there hasn't been a new entry in a few years, the updated versions of the second two games (and their respective add-ons) offer plenty of fun for players of all skill sets. Getting together with three friends to romp around Pandora and laying waste to the bandits standing between you and all the hidden treasures of the world is still great fun. That's a testament to the design of these games, which are still alluring, despite being a decade old. Keeping all the action focused on PvE also means that it's just you and your pals against the world, with no antagonistic humans to ruin your good time.
Credit: 2K Games
Monster Hunter: World
Traveling to fantastical new worlds with friends is one of the best aspects of video games. Being able to hunt the exotic wildlife of those biomes without any of the real-life risks involved also makes for some fun gameplay. Monster Hunter: World offers that very experience and lets you do it with a handful of friends eager to explore the challenges of hunting massive, predatory beasts in the name of sport. Capcom's Monster Hunter series used to rely on solo excursions, but opening up the series to co-op play has done wonders for the franchise's creativity and difficulty. It can be a bit grind-y at times, but it's still a rewarding experience when you can best some of MHW's more outrageous creatures.
Credit: Capcom
Rock Band 4
Twelve years ago, Rock Band redefined what a party game could be, and cooperative/party gaming was never the same again. Rock Band 4 brings all the fun of the original games to modern consoles; it has an expansive library of music to which you can jam out with your best bandmates. In Rivals, Rock Band 4 even introduced a story element that lets you and your friends live through a Behind the Music-esque documentary about the rise and fall of your fictional band. We've all thought about what it'd be like to live the life of a rock star at one time or another, and Rock Band 4 gets you as close as possible to that dream without your having to leave the living room.
Credit: Harmonix
Don't Starve Together
The original Don't Starve was a stylish and challenging roguelike that focused solely on a single-player experience. The game was such a hit, though, that developer Klei Entertainment found a way to change up the challenge by adding cooperative play into the mix. Don't Starve Together combines all the elements that made the original such a treat, while also introducing new creatures, lands and weather patterns to shake things up. You don't even need the original game to enjoy the co-op variant — Don't Starve Together is a separate, stand-alone experience. But if you hope to survive together, just be aware of the creatures lurking in the shadows.
Credit: Klei Entertainment
Keep Talking and Nobody Explodes
Typically, virtual reality is a rather lonely experience. That's not the case with Keep Talking and Nobody Explodes, where co-op isn't just a fun wrinkle; it's a key component to the game. In the game, you and your teammate work to defuse a bomb. One person remains on the "inside" with the device and the other stays "outside," reading a manual that contains the instructions for stopping the explosion. KTANE is a frenetic experience that tests even the strongest of bonds under pressure. Additionally, no two experiences with the game are the same, as every bomb is randomly generated to keep players on their toes. That goes for the defusing player as well as the instructing player, and the unpredictability keeps the tension up, no matter how many times you return to the game.
Credit: Steel Crate Games