The 15 Best Capt. Picard Episodes of Star Trek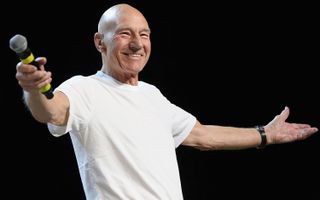 15 episodes that put Capt. Jean-Luc Picard front and center
If you're anything like me, you're already counting down the days until Patrick Stewart's new Star Trek series airs — and we don't even have anything resembling a hard release date yet. Stewart will be reprising his role as the beloved Capt. Picard from Star Trek: The Next Generation. It's not clear whether any of his fellow cast members are coming back, too, but let's be honest: Picard is a strong enough character to carry a series on his own. We've selected 15 of the very best episodes that put Jean-Luc front and center, from alternate-reality adventures, to romantic trysts, to action extravaganzas. Pour yourself some tea — Earl Grey, hot — and engage your TV.
Credit: Gabe Ginsberg/Getty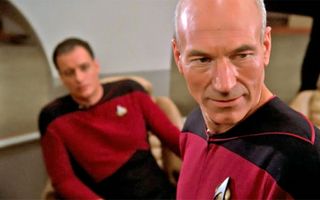 "Encounter at Farpoint" (Season 1, Episodes 1 and 2)
Let's be honest: The very first episode of Star Trek: The Next Generation was not one of the better Star Trek premieres. And yet, if you want to fully grok Capt. Picard's character, it's where you should start your TNG rewatch. In this episode, Picard takes command of the newly commissioned Enterprise-D, and his first mission is to unravel the mysterious phenomena afoot at Farpoint Station. What's more interesting, though, is the omnipotent being Q (John de Lancie), who challenges Picard to prove humanity's worth on a galactic scale. Picard's eloquent defense of humanity's imperfections sets the tone for the character's future adventures.
Credit: CBS Broadcasting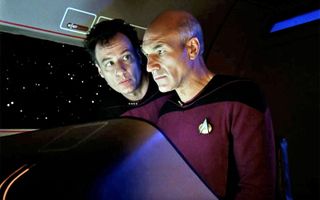 "Q Who" (Season 2, Episode 16)
When TNG first aired, the main villains for the series were supposed to be the Ferengi: diminutive, big-eared aliens who took capitalism to a violent extreme. Thankfully, the writers realized early on that the Ferengi served better as comic relief, but that still left them with a question: Who would be the main villain in the series? "Q Who" answered that question, when Q whisked Picard and the Enterprise into the far reaches of space to a first encounter with the Borg, a technological collective of "assimilated" species who have no individual identities. This is where Picard first encountered a problem he could not solve, and watching the usually unflappable captain deal with failure was unsettling, but riveting.
Credit: CBS Broadcasting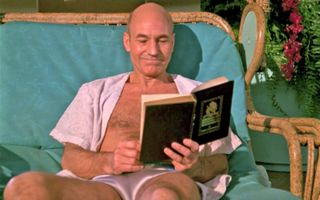 "Captain's Holiday" (Season 3, Episode 19)
Up until "Captain's Holiday," Capt. Picard always seemed somewhat unapproachable: a stern, upright authority figure. You'd trust him with your life, but you wouldn't necessarily want to go out for a drink with him. This episode showed us what Capt. Picard is like when he lets his hair down — er, when he gets to relax. During a restful vacation on Risa, Picard falls in love with an adventurous archaeologist named Vash and helps her unravel an ancient mystery. But Vash isn't what she appears to be, and the situation only gets more complicated when she runs afoul of a greedy Ferengi and two temporal policemen. It's also Picard as his Kirk-iest: shirtless and punchy.
Credit: CBS Broadcasting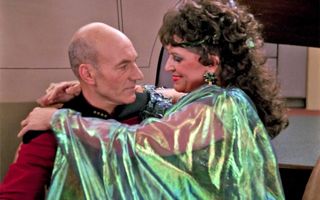 "Ménage à Troi" (Season 3, Episode 24)
Ignore the silly name; "Ménage à Troi," one of the funnier episodes of TNG, lets us see Patrick Stewart shouting Shakespearean sonnets on the bridge of the Enterprise. A duplicitous Ferengi merchant kidnaps Cmdr. Riker as well as Counselor Troi and her overbearing mother, Lwaxana. In order to rescue them, Capt. Picard must pull off the toughest bluff of his career: pretending to be in love with Lwaxana. Picard's desire to rescue his (platonic) friend is constantly at war with his desire to get rid of her as soon as possible, and it's nearly impossible to not crack a smile during the over-the-top finale.
Credit: CBS Broadcasting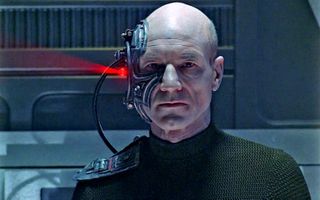 "The Best of Both Worlds" (Season 3, Episode 26 / Season 4, Episode 1)
Fans consider "The Best of Both Worlds" to be one of the best episodes of any Star Trek series, and for good reason. The Borg finally invade Federation space — but that's only half the problem. In order to communicate with Starfleet more efficiently, the Borg kidnap Picard and assimilate him into their collective as Locutus of Borg. Seeing the normally righteous Picard as a fearsome Borg commander is positively chilling, and Patrick Stewart's performance as a heartless villain is one of his most memorable. After the threat has passed, we also see the toll it's taken on Picard: a quiet and haunting scene, which has profound implications for the rest of the series.
Credit: CBS Broadcasting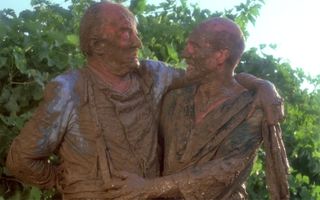 "Family" (Season 4, Episode 2)
While Capt. Picard is normally reserved and collected, "Family" shows us that even he has a vulnerable side. After his traumatic experience with the Borg, Picard returns to Earth to visit his family: his curious nephew René, his outgoing sister-in-law Marie and his imperious brother Robert. Even though Jean-Luc needs to be shown compassion and support, Robert has nothing to offer his brother but scorn and indignation. After the two come to blows (literally), Jean-Luc finally pours his heart out about what it was like to be Locutus, and the scene is one of Patrick Stewart's most powerful in TNG. (Also: a fun B-story about Worf's adoptive parents!)
Credit: CBS Broadcasting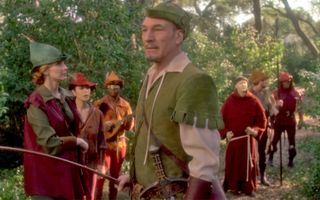 "Qpid" (Season 4, Episode 20)
Remember Vash from "Captain's Holiday?" She's back — just in time to observe Q's latest visit to the Enterprise. Watching Picard manage his everyday responsibilities, his romantic attachments and his mercurial antagonist is a treat in and of itself. But the episode gets even better when Q decides that what Picard really needs is a fantastical, swashbuckling adventure in Sherwood Forest. As Robin Hood and his band of Merry Men, Picard and his senior staff must rescue Vash from Q and Guy of Gisbourne (played by Clive Revill, the original Emperor Palpatine). Patrick Stewart rocking a goatee would be reason enough to watch this episode, but you also get Worf declaring, in no uncertain terms, that he is not a Merry Man.
Credit: CBS Broadcasting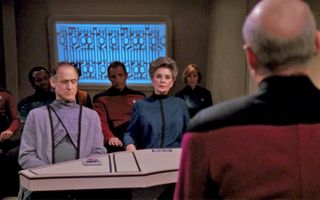 "The Drumhead" (Season 4, Episode 21)
The story in "The Drumhead" is, unfortunately, more relevant now than it was when the episode first aired. When Geordi La Forge and Data suspect sabotage aboard the Enterprise, Starfleet dispatches Norah Satie, an admiral skilled in rooting out treachery. But when Satie's investigation becomes a witch hunt, Picard sticks up for the rights of his crew — and winds up in her crosshairs. In an intense courtroom scene, Satie calls into question Picard's competence, his experience and even his loyalty. Hearing Patrick Stewart give an eloquent defense of civil liberties — even in the face of baseless xenophobia — gets at the very heart of what Star Trek is all about.
Credit: CBS Broadcasting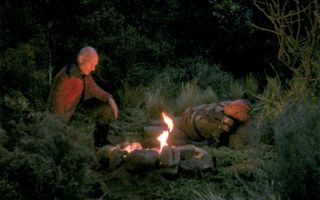 "Darmok" (Season 5, Episode 2)
While a lot of Star Trek episodes deal with fictional applications of the physical sciences, "Darmok" takes inspiration from social sciences — namely, linguistics. The Enterprise attempts to communicate with a race known as the Tamarians. While the universal translator recognizes Tamarian words, it's unable to make any sense of what the aliens are saying. To facilitate understanding in a trial by fire, the Tamarians beam Picard and their own Capt. Dathon (Paul Winfield) down to El-Adrel IV: a dangerous planet where they'll need to cooperate to survive. Watching Picard figure out the Tamarian language is fascinating, especially since the viewers begin to figure it out around the same time he does. Sokath, his eyes uncovered. Bonus: This episode also features the acting debut of Ashley Judd.
Credit: CBS Broadcasting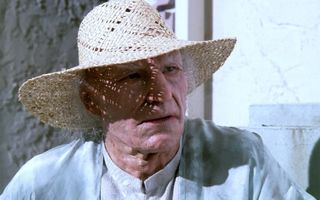 "The Inner Light" (Season 5, Episode 25)
One of the most moving episodes of TNG is also one of the most experimental. The Enterprise encounters an abandoned probe, which beams a stream of information directly into Capt. Picard's brain. While Picard is unconscious on the bridge, he begins to experience another life: that of a man named Kamin. Over the course of decades, Kamin lives out a full life: raising children, learning to play the flute and researching the conditions on his home planet. But when Kamin realizes his planet is doomed, he becomes determined to preserve its memory. Patrick Stewart gives a very different kind of performance as the outgoing, argumentative Kamin, which only makes the episode's ending that much more powerful.
Credit: CBS Broadcasting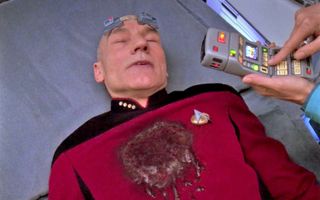 "Tapestry" (Season 6, Episode 15)
The rest of the members of the Enterprise's senior staff take a back seat to Picard in "Tapestry," Star Trek's homage to Frank Capra's It's a Wonderful Life. After Picard dies in sick bay due to a malfunction in his artificial heart (long story), Q gives him the chance to relive his Starfleet Academy days and avoid the fight that cost him his organic heart in the first place. When Picard returns to the present, he finds that the Enterprise is a very different place — and that his position aboard it has changed considerably. "Tapestry" not only provides a fascinating glimpse into Picard's past but also imparts a valuable lesson about how our choices shape our future.
Credit: CBS Broadcasting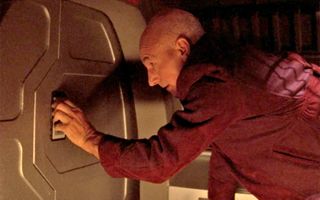 "Starship Mine" (Season 6, Episode 18)
What would happen if Die Hard took place in the Star Trek universe? "Starship Mine" answers that question with a series of chases, fistfights and improvised traps. Picard finds himself alone on the Enterprise during what's supposed to be a routine maintenance assignment. But spacefaring terrorists decide to use the whole operation as a cover for stealing potentially destructive materials from the warp engines. It's Picard, all by himself, against an entire team of criminals, none of whom have any compunctions about killing him. Patrick Stewart doesn't get to play an action hero all that often, but episodes like this one suggest he'd be pretty good at it. "Yippie ki-yay," indeed.
Credit: CBS Broadcasting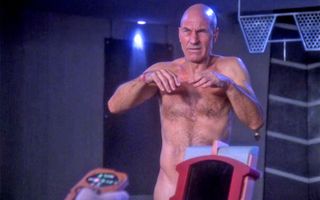 "Chain of Command" (Season 6, Episodes 10 and 11)
It's hard to believe that a show's entire dramatic climax could hinge on the number of lights in a room, but that issue is at the crux of "Chain of Command." In this two-part adventure, Picard goes undercover along with Worf and Dr. Beverly Crusher to foil a Cardassian plot. The plan goes awry when the Cardassians capture Picard and hand him over to the charismatic, fiercely intelligent Gul Madred. Picard must endure intense psychological torture as Madred tries over and over to break the seemingly unbreakable captain. After some time in Madred's clutches, Picard can't be certain of what's real anymore. There are four lights — aren't there?
Credit: CBS Broadcasting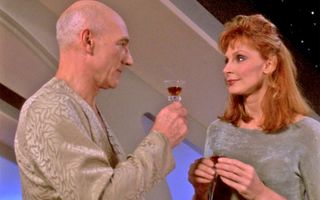 "Attached" (Season 7, Episode 8)
Ever since the first season of TNG, there had been some romantic tension between Capt. Picard and Dr. Crusher. But it wasn't until the show's final season that the two characters got to deal with the issue directly. After a botched diplomatic mission, Picard and Crusher wind up implanted with electronic devices, which allow them to share thoughts and feelings. After escaping their captors, the pair winds up out in the wilderness, where they have to grapple with both harsh survival conditions and their suddenly-much-closer relationship. Like most Star Trek episodes, "Attached" doesn't leave us with any easy answers, highlighting just how lonely it can feel to love someone.
Credit: CBS Broadcasting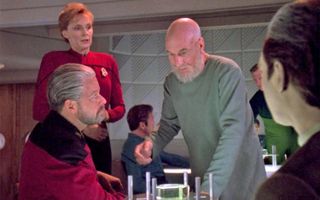 "All Good Things …" (Season 7, Episodes 25 and 26)
TNG comes full circle in its mind-bending finale. In "All Good Things … ," Q decides that it's time for humanity's seven-year trial to end, since humanity is doomed — and Capt. Picard himself will be its executioner. To make matters worse, Picard finds himself existing in three time periods simultaneously: the present, as the seven-year captain of the Enterprise; the past, reliving the events of "Encounter at Farpoint"; and the future, as an old man whose mental illness makes his claims of temporal cataclysm seem unreliable, at best. Patrick Stewart employs his full acting range in this two-part episode, giving us one last televised adventure with Capt. Picard and a poignant ending.
Credit: CBS Broadcasting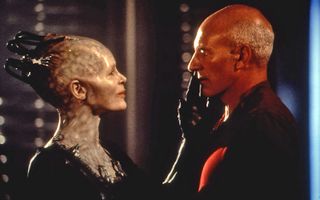 BONUS: Star Trek: First Contact
If you've been following Capt. Picard's arc with the Borg, from "Q Who," through "The Best of Both Worlds," through "Family," it's only fitting that you should see how the story ends. In the film Star Trek: First Contact, the Borg return to Federation space under the command of the manipulative Borg Queen (Alice Krige). Pursuing the Borg into Earth's past for a time-travel action/adventure story, it's clear that Picard's mental trauma never quite healed. The experience of transforming into Locutus changed something in his psyche forever. In a powerful scene, Picard must decide once and for all whether hunting the Borg is a necessity, or an obsession.
Credit: Everett Collection