The Best TV Shows That Were Canceled Too Soon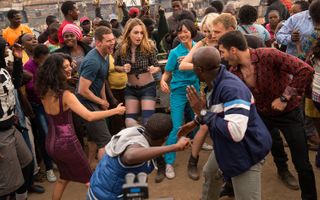 Shows that faded away too soon
On Friday (June 8), Netflix airs the movie-length finale of Sense8, its original sci-fi series that lasted only two seasons before its cancellation. While its viewership was loyal, its size wasn't large enough to support what Netflix officials said was an expensive show to produce.
So, now is as good a time as any to look back at the best shows that got axed too early. Some shows also inspired movies, while others were picked up by other networks (before getting canceled yet again).
Credit: Murray Close/Netflix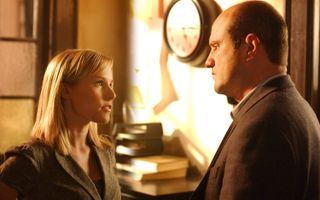 Veronica Mars
The high school noir series Veronica Mars — led by Kristen Bell — picked up the Strong, Witty Female Lead torch that Buffy The Vampire Slayer mic-dropped at the end of its seven-season run. A hit with critics for its excellent season-long mysteries, the show struggled to gain an audience during its first two seasons on UPN. A third season that brought Ms. Mars and her friends (and frenemies) to college aired on The CW, and dealt with sexual assault on college campuses in ways that felt ahead of its time. A Kickstarter-backed film followed many years later, but felt too cobbled together, as the Mars family's investigations fit better in a longer, drawn- out format. — Henry T. Casey
Credit: CBS/Getty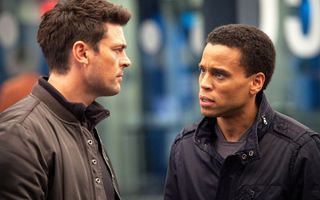 Almost Human
This is among the long list of shows brimming with potential that was canceled by Fox before its time. Almost Human was a sci-fi buddy cop show packed with creative action scenes and quality CGI. A shunned, human cop who hates androids, Karl Urban (Star Trek), gets teamed up with a new partner, Michael Ealy (Barbershop), who happens to be an obsolete android. These two outcasts reluctantly pair up, and each episode throws a brand-new case at them with interesting sci-fi gimmicks. While it may sound incredibly cliché, the show actually proved to be quite campy due to the performances and chemistry of the two leads. It had some decent world-building as well, leaving you wondering what was really outside the walls of the city. There's an entire universe filled with intense action, natural comedy and fluid drama waiting to be embraced by audiences. — Rami Tabari
Credit: Fox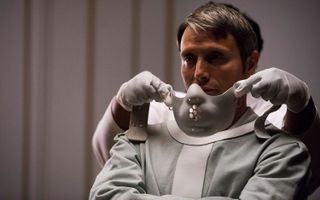 Hannibal
It almost feels greedy to ask for another season of Bryan Fuller's Hannibal, which was so insanely gruesome that I'm still surprised NBC aired it. The show focuses on the complicated relationship between Dr. Hannibal Lecter (Mads Mikkelsen) and the man hunting him down: FBI special investigator Will Graham (Hugh Dancy). If that synopsis — and the promise of Gillian Anderson portraying Lecter's psychotherapist, Bedelia Du Maurier — tickles your fancy, then run to Amazon Prime Video now, and avoid any spoilers about the show. Yes, the show could easily have a fourth season, and fill some of the void that Game of Thrones is about to create. — Henry T. Casey
Credit: Brooke Palmer/NBC/NBCU Photo Bank/Getty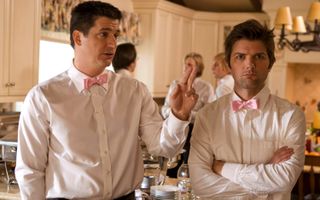 Party Down
Party Down operated on a fantastic premise: a catering company of screwups, based out of Los Angeles, goes from party to party, trying to survive their mundane, soul-sucking work. The show was anchored by Ken Marino's amazingly pathetic performance as Ron, who's dying to leave the group and start a chain of Soup 'R Crackers restaurants.
It's argued that Starz's cult-hit comedy Party Down had to die, in order for Adam Scott (Henry) to take the role of Ben Wyatt on Parks and Recreation. But that discounts the dry, biting comedic timing of Lizzy Caplan (Casey), who could have led the show for multiple seasons into the future. — Henry T. Casey
Credit: Ron Batzdorff/Starz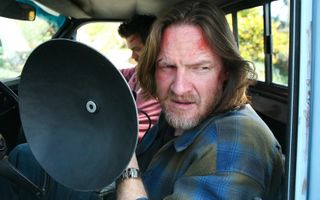 Terriers
Hank Dolworth (Donal Logue) is an ex-cop who got booted from the force and the house he shared with his now-ex-wife, and who is seriously down on his luck. How bad is it? The first episode finds him dealing with an old friend's death, struggling to pay past-due alimony checks, and taking a job from a real estate mogul he doesn't trust. Luckily, his old buddy, Britt Pollack (Michael Raymond-James), is also in need of a payday, and the two partner together.
Terriers didn't make it longer than a season on FX, which was a great home for murky crime dramas. Maybe it didn't grab an audience because of its focus on relationships and frustration with an upper class developing every property lot in sight. And perhaps because it didn't offer the sex appeal of Sons of Anarchy, or the violence of The Shield. But if you enjoy the short season, you can find more of Donal Logue as Detective Harvey Bullock on Fox's Gotham. — Henry T. Casey
Credit: FX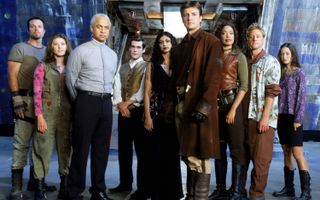 Firefly
In 2002, a bickering band of runaways packed themselves onto the Serenity, a Firefly-class spaceship, and stole everything from black-market goods to the hearts and devotion of a legion of fans. The ship's led by the boorish, stubborn Malcolm "Mal" Reynolds (Nathan Fillion) who wouldn't survive without the help of his first mate, Zoe Washburne (Gina Torres), who is married to the ship's pilot Hoban "Wash" Washburne (Alan Tudyk). Mechanic Kaylee (Jewel Staite) gave the crew a bit of optimism, while the surly Jayne (Adam Baldwin) matched her enthusiasm with cynicism. The cast included Morena Baccarin as Inara, a Companion (a classy sex worker of the future), and Sean Maher and Summer Glau, who played Simon and River Tam, a brother and sister pair on the lam..
To the dismay of the show's small but rabid fanbase, Firefly was showrunner Joss Whedon's shortest-running TV series, running only three months, from Sept. 20 to Dec. 20. Those fans managed to push Fox to give the Serenity one last voyage, as a feature-length movie. — Henry T. Casey
Credit: Everett Collection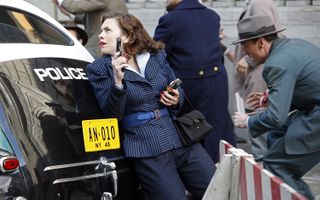 Marvel's Agent Carter
After stealing the show in Captain America: The First Avenger, Agent Peggy Carter (Hayley Atwell) got an excellent spin-off show that continued the adventures of the witty, badass super-spy. Agent Carter was playful 1940s noir at its finest, balancing Carter's deep-cover investigations with her everyday struggles as a single girl in New York City (and later Los Angeles). It also had a great supporting cast, with Dominic Cooper reprising his role as Howard Stark and James D'Arcy playing the charming Edwin Jarvis (you know, before he was Tony Stark's A.I.). Sure, Agent Carter's second season wasn't as thrilling as the first, but it's still one of the stronger TV projects to come out of the Marvel Cinematic Universe. And we need a resolution to that cliffhanger ending. — Mike Andronico
Credit: Kelsey McNeal/ABC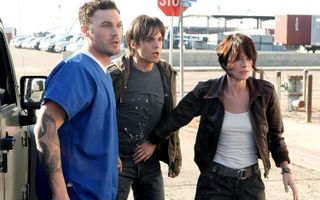 The Sarah Connor Chronicles
The Terminator franchise has been through a lot, from its low-budget origins to big-budget marvel and a string of mediocre sequels. But the best thing to happen since T2: Judgment Day is definitely the show Terminator: The Sarah Connor Chronicles. This is the show that proved to me that there was some life left in the tales of Skynet's time-traveling murder-bots, no matter how horribly the many sequels botched things. With Lena Headey as Sarah Connor, channeling Linda Hamilton's traumatized badass mother, to a young John Connor (Thomas Dekker), and Summer Glau as a reprogrammed guardian Terminator sent back from the future, the show followed the trials of a broken family, showing Sarah Connor as a single mother trying to raise her son to save the world.
Ultimately, the show was killed off due to a combination of low ratings and Warner Brother's desire to avoid confusing audiences with Terminator Salvation's 2009 theatrical release. The show ended after it's second season, in the middle of a cliffhanger that was never resolved. It's no exaggeration to say that I'd happily trade the last three Terminator movies for even an abbreviated third season of the show that never got to wrap up those loose ends. — Brian Westover
Credit: Everett Collection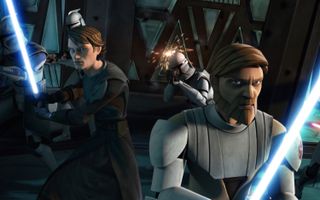 Star Wars: The Clone Wars
Though Star Wars: The Clone Wars started out as a shallow, kid-friendly affair, the show quickly matured into a nuanced look between the events of Attack of the Clones and Revenge of the Sith. By the cartoon's later seasons, it was tackling serious stories and arcs within the Star Wars canon, like Anakin's transition to the dark side, the rise and fall of Savage Opress, the return of Darth Maul and the implosion of Mandalore.
The Clone Wars made for incredibly compelling TV, and was therefore sorely missed when it was abruptly canceled following Disney's acquisition of Lucasfilm (though the show's impromptu ending was absolutely stellar, given the circumstances). Thankfully, Netflix acquired the show for streaming and included a sixth season's worth of bonus episodes that bridged much of the remaining time gap between Episodes 2 & 3. So, in a way, the show did get a bit more time to shine. Not nearly enough time, though. — Robert Carnevale
Credit: Lucasfilm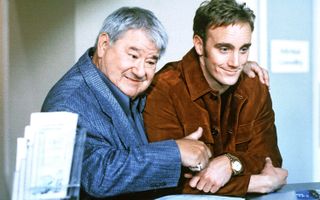 Action!
This 1999 rude, raunchy and hilarious single-camera Hollywood satire starred Jay Mohr as a producer of schlocky movies trying to make a comeback with a flick called Beverly Hills Gun Club. Illeana Douglas co-starred as a business-savvy child actress turned call girl; Lee Arenberg played a ruthless, vertically challenged, sexually flexible and prodigiously well-endowed studio president; and Buddy Hackett, of all people, had a role as Mohr's uncle and limo driver.
Episodes dealt with sex tapes (Sandra Bullock playing herself), sexual harassment (Salma Hayek and Keanu Reeves as the main characters' victims), drug abuse and death. Also, David Hasselhoff. Critics loved the show, which had been intended for HBO, but audiences didn't catch on quickly enough, and Fox killed it after eight episodes. — Paul Wagenseil
Credit: Everett Collection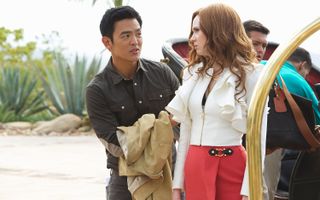 Selfie
John Cho may have given the world the term "MILF," but he wasn't as successful with this witty and sarcastic sitcom that lasted for seven episodes on ABC in the fall of 2014.
Cho starred as Henry Higgs, a stuffy, old-fashioned marketing manager who takes it upon himself to impose good manners and graces upon (and then slowly falls for) Karen Gillan's Eliza Dooley. She's a selfish, shallow and social-media-obsessed co-worker who is starting to realize that Instagram fame doesn't translate into real-life popularity.
It's My Fair Lady for the 21st century, but the sharp, satirical takes on internet celebrity, as well as Gillan and Cho's natural charm and chemistry, made Selfie much more than a cute romantic comedy. — Paul Wagenseil
Credit: Greg Gayne/ABC/Getty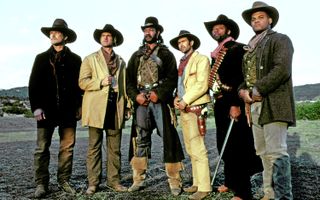 The Adventures of Brisco County Jr.
Bruce Campbell, fresh off the Evil Dead trilogy, had a great time hamming it up in this steampunk Western that aired on Fox for the 1993-1994 season. Campbell played the title character, a bounty hunter going after a ruthless gang of outlaws who are trying to seize the Orb, a mysterious glowing object of unlimited power.
John Astin echoes Gomez Addams as a cheerfully mad scientist who somehow creates rockets, motorcycles and zeppelins out of 19th-century technology. Kelly Rutherford vamps as a saloon singer who becomes Brisco's love interest, and Julius Carry is a rival bounty hunter who ends up partnering with Brisco. Perennial bad guy Billy Drago leads the outlaws.
The show's blend of science fiction, sexiness, humor and thrills didn't completely connect with audiences, and ratings slid throughout the show's single season. But it laid the template for The X-Files — Kim Manners was the lead director on both series — and later Buffy the Vampire Slayer and even the Doctor Who reboot. — Paul Wagenseil
Credit: Everett Collection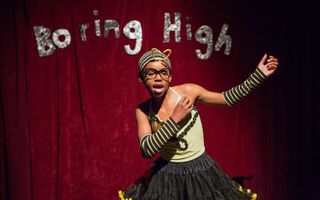 Everything Sucks!
Maybe it's too early for '90s nostalgia. This high school comedy-drama, set in a small Oregon town in 1996, self-consciously treads the same paths as"Freaks and Geeks and Stranger Things but makes sexual identity central to the show's premise. Luke (Jahi Winston) is a nerdy freshman who develops a crush on Kate (Peyton Kennedy), a sophomore fellow member of the A/V club. Kate, daughter of the school principal, is slowly finding that she likes girls better than boys. Luke's cringe-inducing yet sweet video courtship of Kate, played over the school's closed-circuit TV with Oasis' "Wonderwall" as the backing track, is one of the show's highlights.
Kate agrees to go out with Luke, but only so he can be her beard. Luke falls in love with her anyway. Meanwhile, Kate's widowed father and Luke's single mother hit it off. Both Luke and his mother are black, and Kate and her father are white, yet race never seems to be an issue, which you might find either refreshing or unrealistic for small-town 1996. The show lays on the '90s references pretty thick, and some of the supporting characters are clones of people we've seen on other shows. But Winston and Kennedy's performances save the whole endeavor with genuine awkwardness that makes you root for them.
Netflix canceled Everything Sucks! after one season, further cementing the Freaks parallel. Still, you'll be able to watch all 10 existing episodes on that streaming service until the last Oasis CD crumbles to dust. — Paul Wagenseil
Credit: Scott Patrick Green/Netflix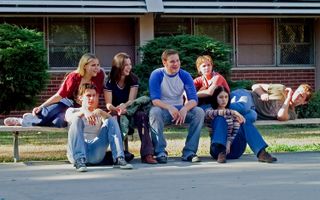 Freaks and Geeks
Even if you've never seen Freaks and Geeks, you've surely heard of its stars. James Franco, Seth Rogen and Jason Segel all got their start in this cult-classic comedy drama, which realistically and humorously portrayed the lives of teens in 1980. The show closely followed Lindsay Weir, played by Linda Cardellini, as she rebels against her status as a top student and finds belonging in a group of outcasts.
The show is also fondly remembered for its inspired soundtrack, that sets the scene with songs from Rush, The Who and the Grateful Dead. (Plus, who could forget Dimension?) After just one season on the air, NBC pulled the plug in 2000 — though that hasn't stopped Freaks and Geeks from becoming a regular fixture on lists of the greatest TV shows of all time. — Adam Ismail
Credit: NBC/NBCU Photo Bank/Getty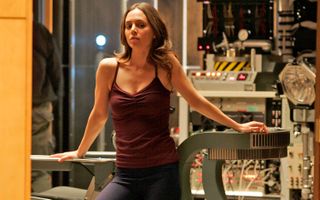 Dollhouse
The first season of Dollhouse was mediocre at best, and it probably deserved to be canceled. But the second season, man, that second season. Eliza Dushku and company got a heck of a send-off, when Echo stops doing her personality of the week and facing off with the rogue doll Alpha (Alan Tudyk), who uses implanted memories to serve in his serial killing. The second season was filled with good ideas about technology, humanity and slavery, and those elements were clearly all jammed together to finish the story.
Perhaps, if the show had a stronger opening or was given a bit more time to breathe, it would have been able to spend more time on interesting villains and complex themes. But considering how touch-and-go Season 1 was, fans are just glad they got any closure at all. — Andrew E. Freedman
Credit: Gary Friedman/Los Angeles Times/Getty