Here's the 10 Biggest Things Facebook Announced at F8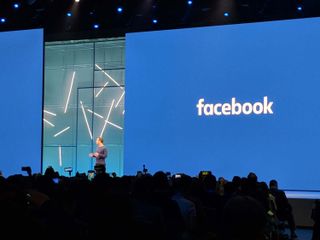 These big changes are coming soon
Anyone expecting Facebook to devote the bulk of this year's F8 developers conference on its ongoing struggles with user privacy was in for a surprise today (May 1) when a parade of executives kicked off the annual conference by outlining what to expect next from Facebook. Sure, privacy was a big topic — in the wake of the Cambridge Analytica scandal, how could it not be? — but the social network is planning on launching a number of new features in the coming weeks and months, too. "We need to do more to keep people safer, and we will," Facebook CEO Mark Zuckerberg told developers during his F8 keynote. "But we also need to keep building and bringing the world closer together." Here's a closer look at exactly how Facebook plans to meet both goals.
Image Credit: Tom's Guide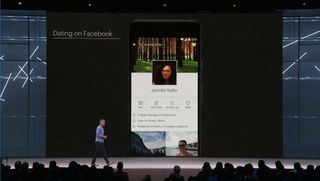 Facebook's New Dating Tool
One Facebook executive joked that it was widely assumed within the company more than a dozen years ago that a dating tool would be the next thing coming to Facebook. Well, the future is now, with Facebook planning a beta test later this year. But since Facebook says it was inspired to add this feature based on hearing from people who first met their spouses on Facebook, don't expect a Tinder knockoff. Instead, Facebook says its dating service is going to be focused on encouraging meaningful interactions with people who share your interests and passions.To that end, the new dating app will suggest groups and events based on your interests and location. Join a group or unlock an event, and you'll be introduced to other people whose profile matches yours. To satisfy privacy and safety concerns, the text messaging in the dating feature will be independent of apps like Messenger and WhatsApp, and none of your dating activity will be visible to your friends in your News Feed. We're waiting to here more details on how the dating tool will work, but given its reach, Facebook figures to be a formidable force in the world of online dating.
Image Credit: Facebook
MORE: Best Dating Apps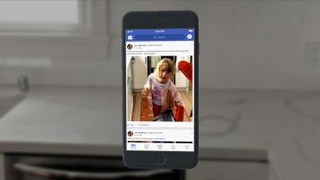 3D Photos
Coming to Facebook later this summer, 3D Photos will be stylized images aimed at adding an extra level of immersiveness to all those photos dotting your News Feed. You won't need any special equipment to take a 3D Photo, Facebook says — just shoot something with your smartphones camera and select the new "3D Photo" option when you upload the image to Facebook. The resulting image looks a lot like those portrait shots captured by dual image cameras, where the focus of the photo seems to pop out of the image.
Image Credit: Facebook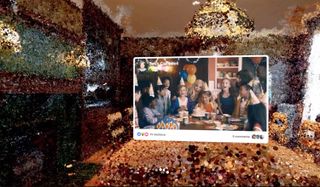 Photos in Virtual Reality
Facebook has ambitious plans for all those old photos you've posted to the service over the years. If they were all taken in one place — your childhood home, say, or a favorite hangout — Facebook wants to use artificial intelligence to create a stylized pointillistic background that fills in the rest of the details of that place. The result is you'll be able to stroll around a virtual room scattered with the photos that were taken there, allowing you to immerse yourself in your memories. It's unclear when Facebook plans to bring this feature to the public.
Image Credit: Facebook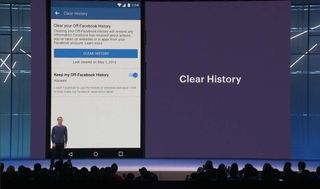 Clear History
Facebook announced plans to build Clear History, a feature that sounds like it will work a lot like clearing cookies on your web browser. In Facebook's case, that means deleting information about the apps and websites you interact with and even opting not to have that information logged going forward. Facebook warns that clearing your history will impact your experience on the site, making it less seamless. For users who want greater control over what data gets shared with who, though, that may be a trade-off they're willing to make.
Image Credit: Facebook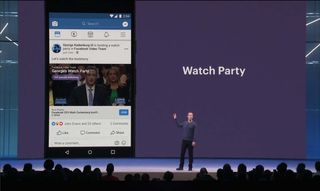 Watch Party
Facebook unveiled Watch Party earlier this year, but F8 provided the company with the chance to show it off in a convention center packed with developers. Watch Party takes the passive process of watching a video and makes it more interactive by letting you view the video simultaneously with friends who can comment on the action. One feature Facebook executives showed off allowed the leader of group to appear as a floating head next to the video, adding live commentary.
Image Credit: Facebook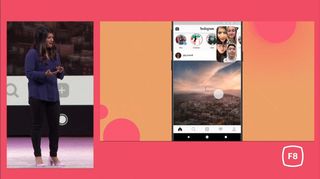 Instagram Video Chat
Instagram Live brought live video to the photo-sharing site more than a year ago. But sometimes you want your video interactions to be a little more personal. To that end, Instagram is adding a video chat feature that lets you talk with friends, either individually or in a group. Video chat will be integrated into Instagram Direct, and since it lets you communicate with the friends you already have in Instagram, there's no need to download a separate app (a lesson Google probably could have learned). You'll also appreciate how the video chat player can shrink in size so that you can still move around your Instagram feed while you catch up with your pals.
Image Credit: Facebook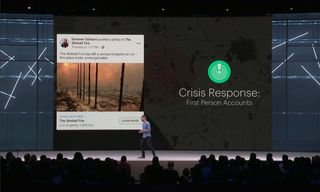 Improvements to Crisis Response
If you've ever found yourself near a fire, earthquake or other dangerous situation, you've probably turned to Facebook's Safety Check feature to let loved ones know you're OK. Safety Check is part of a wider Crisis Response center on Facebook where you can also find information about developing events, including ways to donate and help those affected. A new Crisis Response feature coming later this year lets people involved in natural disasters and other events provide their own accounts, to make more real-time information readily available.
Image Credit: Tom's Guide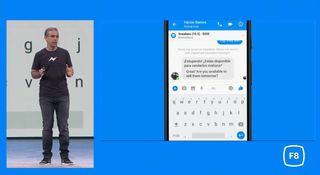 M Translations in Messenger
In the last two years, the Messenger chat app has become more of a place where Facebook users can interact with businesses. David Marcus, Facebook's VP of messaging, says that there are more than 8 billion messages between people and business each month, quadruple what it was a year ago. Soon, those messages won't even have to be in the same language. M Translations will let buyers and sellers in Facebook's Marketplace interact regardless of language, with the feature offering to translate any messages that aren't in your native tongue. The feature launches in the U.S. in the coming weeks with English/Spanish translations.
Image Credit: Facebook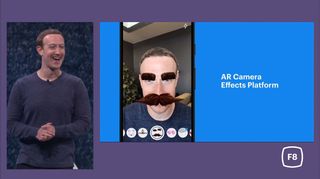 AR Camera Effects
Facebook's looking to beat Snapchat at its own game, with face filters and effects coming to its assorted programs. It's all based on the AR camera platform Facebook introduced last year, and it's coming to Instagram in the form of interactive camera effects. Messenger will see more AR, too, as brands will be able to add AR effects into their chats with potential customers, too. (Think Nike showing off a virtual model of one of its shoes that you can interact with.)
Image Credit: Facebook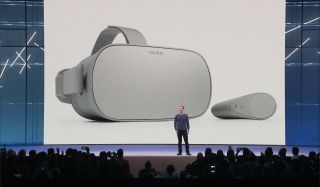 Oculus Go
OK, so this $199 standalone VR headset was unveiled long before F8. But the developer conference gave Zuckerberg a public platform to announce the availability of Oculus Go, a standalone headset. Facebook execs also talked up some new features debuting on its VR platform, like Oculus Venues, where you'll be able to virtually attend sporting events and concerts, and Oculus TV, which delivers on-demand content to a virtual big-screen TV. Both of those features launch later this month.
Image Credit: Facebook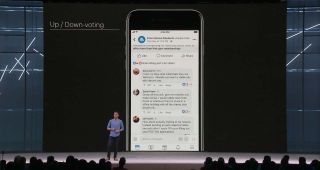 Other changes
Those are just some of the highlights of what Facebook's showing off at F8, but they weren't the only announcements. The Facebook app will get a new Groups tab, which is aimed at managing groups you belong to while also discovering new ones to join. You'll be able to up- and downvote comments in Facebook, similar to Reddit, with an eye toward elevating conversations. WhatsApp is getting a group calling feature on top of its existing voice and video capabilities. And expect a redesigned look for the Explore section of Instagram.
Image Credit: Facebook