The New WinMo App Store: Marketplace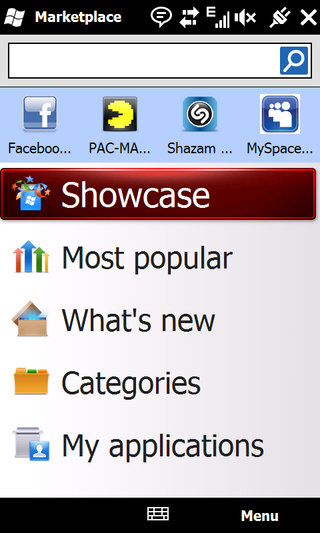 Windows Mobile Marketplace
If you get a Windows Mobile 6.5 phone or a software upgrade for your Windows Mobile device, then you'll notice an icon for Marketplace, the Microsoft Windows Mobile app store. You may have previously come across Windows Mobile Marketplace under the SkyMarket codename (Sky is the usual Microsoft codeword for cloud, while the Microsoft MyPhone service was originally known as SkyBox), but the store didn't officially launch until October 6 with a couple of hundred applications. Marketplace lets you browse, buy, download, and manage applications for Windows Mobile phones (and run each app on up to five phones, so you can take your apps with you when you change phones).
You need to have a Windows Live ID that is associated with a credit card through thewindowsphone.com site unless your mobile operator has signed a deal to let you pay for apps directly through your phone bill (and you'll need to set that up on the Windows Phone site as well). Greg Sullivan, senior product manager for Microsoft's Windows Mobile division, said that being able to pay for apps directly through the operator's service is a big advantage. "You do not have to rely on a third-party billing mechanism that may or may not be up to snuff," Sullivan said.
The first version of Marketplace is only available on phones running Windows Mobile 6.5, but in November Microsoft will release a version of Marketplace that you can install on Windows Mobile 6 and 6.1 phones (by downloading the installer or typing your phone number into a Microsoft Web page to have it sent to your phone via text message).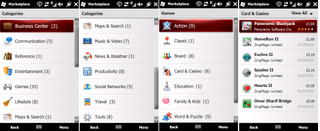 What's in Marketplace
Like the other app stores, Marketplace puts apps into categories. There are 13 top-level categories, compared to 20 in the iPhone App Store and 17 in BlackBerry App World, but nearly all of the categories are divided into sub-categories (many of which have sub-categories of their own). The categories look a little empty at the moment, but as Marketplace fills up with more apps, this is going to be much more organized than browsing through long lists of apps, 25 at a time.
Within each category, apps are ranked. This is a deliberate difference from the App Store, Sullivan said. "I don't think developers were done a service by the model for climbing to the top of the App Store, which basically said 'volume,' which drove the price down and overemphasized the model of sheer volume," Sullivan said. "In time they evolved that and said gross revenue… but the ability, from an end-user standpoint, to look within categories and sub categories and sub, sub categories where appropriate, to have a framework that makes it easier for looking at reviews or filtering by price, these were things we wanted to differentiate on."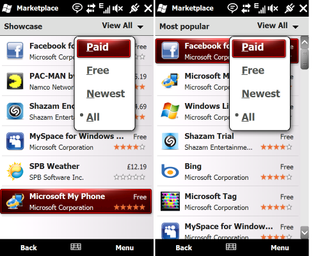 Filter and Sort
Like other app stores, Marketplace also highlights new and popular applications as well as featured apps in the Showcase. As with categories, you can click the View All menu to see only paid or free applications or to sort by what's most recent. The Most Popular list includes some apps rated as low as one star, so presumably it looks at the number of downloads as well.
Apps like Shazam that have a free trial will show up as two separate apps rather than one app with a free trial option. "As we roll out and add functionality, we will have a cleaner way to do it," John Bruno of the Marketplace team said. "The problem is everyone in the industry does demo and trial differently, and if we choose one way we may upset someone. Some people want time-limited trials and some people want feature-limited, so we're looking at a way to do that. Currently you can have a free version and a paid version and you can decide the difference in functionality between those."
There's no option for selling apps as subscriptions yet, although Bruno said there will be "additional commercial capabilities and different billing models in the future."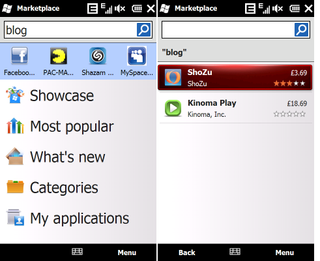 Search for Apps
Once there are more apps, Marketplace's search function will become more important. At the moment, it's fairly basic. You can search from the front screen or by choosing Search from the Menu, while both search the entire catalog of apps and look for keywords in the descriptions of the apps. If you run multiple searches, you can use the Back button to step through the previous results (choose Home from the menu to get back to the main screen).
If you don't see as many apps as you expect in search or in the catalog, it may be due to your handset. The marketplace app looks at phone features like screen size, input method, GPS, accelerometer, and so on and only shows apps that will work (based on what the developer specifies for its app).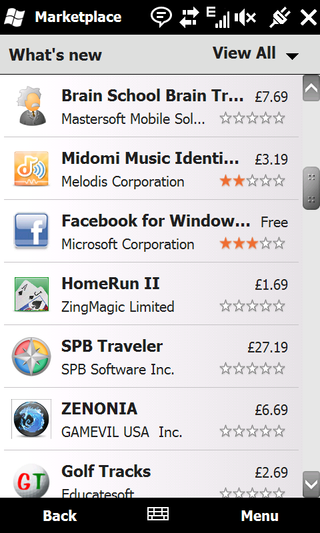 How Many Apps Are There?
With a heritage dating back to the Pocket PC PDAs, there are literally thousands of apps for Windows Mobile for everything from ebooks to piloting planes. The Handango Windows Mobile store, for example, has over 20,000 apps. Over 800 software developers are in the process of submitting apps to Marketplace, and although it launched with only 246 apps in the US store, that number was up 40% to 343 apps within three days.
The appeal to developers, Sullivan said, is "a submission process that's transparent to the developer and not overly burdensome." There's none of the uncertainty of Apple's app store, where developers don't know whether an app will be refused or why. "You know what the criteria are up front, and we evaluate against the criteria and you pass or fail," Sullivan said. There are only a few types of apps that Marketplace won't cover, such as adult and gaming applications and those that take users to another app store. There are also no VoIP apps that use 3G (although WiFi VoIP applications are fine).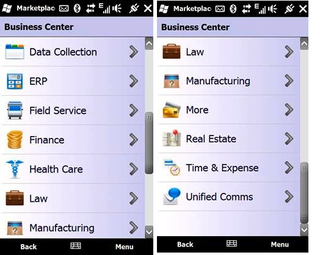 Windows Mobile is Still for Business
In the demos that Microsoft was showing before Marketplace launched, the Business category showed nearly a dozen areas of apps. Only a handful of these have made it into Marketplace so far, but it's an indication that although Microsoft is running TV ads showing mobile apps for consumers, Windows Mobile is still mainly a business smart phone. Nearly all the features in the 6.1 version were introduced for managing Windows Mobile phones remotely for businesses, and while Windows Mobile 6.5 has the new interface and consumer tools like My Phone, some of the deep technical developments are for improving connections to network resources for businesses. Windows Mobile is still designed for people who use their phone more for work than fun and there are more business-oriented apps in Marketplace than there are for Android (and more than there were for the iPhone when it first launched).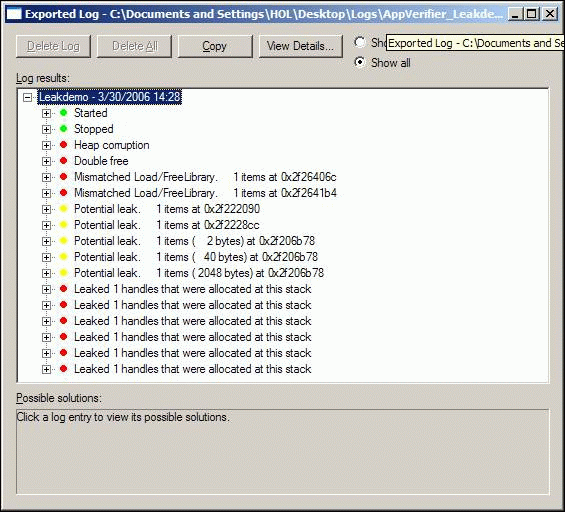 Marketplace Is Expensive for Developers?
For developers, it costs $99 to submit an application to Marketplace, even if it is a free app. That's rather more than for some app stores, but it's not like Microsoft is gouging developers. In fact, Bruno said the testing fee is "heavily subsidized" and it costs Microsoft more than $99 to run all the 60-odd tests needed to check that software isn't malicious, doesn't have security issues, and doesn't put too heavy a load on device or network resources. The tests also check that the app installs and uninstalls correctly and doesn't interfere with other applications. "We do very vigorous testing and that testing at this point costs a ton of money," Bruno said.
To encourage developers to use Marketplace, the initial $99 fee this year covers five applications, which is why you'll see a number of apps from the same developers in the store.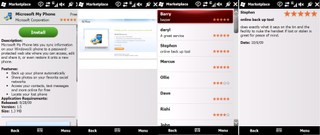 Ratings, Reviews, and Screenshots
As well as the description of an app, you can see images of it in action, and you can click through to see the individual ratings and reviews that make up the overall rating, with the names of reviewers. Perhaps because you can only review and rate apps on the phone at this point, there are many more ratings than written reviews and many reviews are only a couple of words long.
If you're not happy with an app after you download it, as with the Android Marketplace, you can get an automatic refund within 24 hours (which you'll find on the marketplace.windowsphone.com site). You're limited to one refund a month, to stop people treating downloads as trial versions, and if you've bought an app and returned it, you can't return it if you buy it again.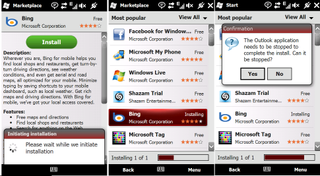 Step-By-Step Installation
Because the billing is done through Live ID, once you've signed in to Marketplace installing free and paid apps is the same process. When you click the Install button the app is sent directly to your phone. You don't have the option of saving the CAB file so you can't copy it to another phone, and you can't choose whether to install into main memory or on a storage card unless your phone has run out of storage space in main memory (Microsoft promises to offer the choice soon, perhaps in the November update). Once the download has started, you can go back to browsing the store while the progress bar stays at the bottom of the screen so you can see how it's doing. Some apps hook into Outlook Mobile or other apps you may already have on your phone. If they're running the installer will ask if it can stop them. Once the install is finished, your new app will appear at the bottom of the Start menu, along with all your other apps.

Shazam from Marketplace
Inside Marketplace you can get Shazam's popular application for "tagging" songs you hear. The app sends brief audio fingerprints to Shazam's Web service, where they're identified, and the details are sent back to you–including the option to purchase the song.
There are two versions of Shazam. The free version lets you tag up to five songs a month (just like version in the BlackBerry App World), after a short trial of the full version, while the full version, Shazam Encore, lets you identify all the music you want. Shazam Encore will also recommend similar music, and give you access to biographies and its own tagging charts, where you can see what's most popular at the moment. Oddly, the free iPhone version of Shazam lets you tag as many songs as you want. Other than that, the experience is much the same–it's easy to install the app and easy to tag and identify music you hear.
You can uninstall the trial and buy the full version in Marketplace or keep using it, but you'll get a reminder to upgrade at the top of the screen. When Marketplace offers upgrades, the reminder will take you to the Marketplace Website, but at the moment, that just gets you an advertisement for the portal.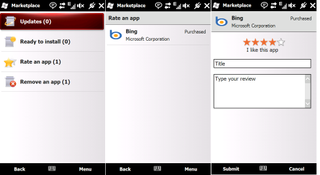 Managing and Rating Your Apps
When you look under My Applications you see any apps that have been downloaded but not yet installed and any apps for which updates are available. You can remove apps you no longer want from here or rate the apps you like.
You can only rate apps you've downloaded through Marketplace, to stop scores being artificially raised (or lowered). Bruno said the overall ranking and rating for an app is "a combination of that rating, the number of downloads, and another factor" but he also said Microsoft is taking steps to stop the ranking system being gamed. "People do some unnatural things to make sure their app goes in at the top, so I'm not going to go into details of what the algorithm looks like," Bruno said.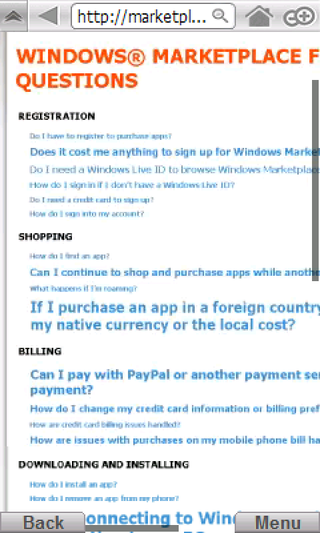 Marketplace Questions and Answers
If you choose Help from the menu in Marketplace, it opens this list of questions and answers on Marketplace's Website. This is helpful, but these are all general solutions. If you have a problem with a specific application or something not covered here, follow the Get Support link from your purchase history or join the Windows Forum (both also on Marketplace's Website).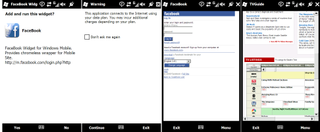 Widgets or Windows Mobile
Marketplace isn't just for full-blown apps as Microsoft also expects to see widgets for 6.5's new HTML and JavaScript Widget framework on the store as well. In fact, for security reasons, Microsoft only wants to see widgets in Marketplace.
Widgets are basically a wrapper around a Web service, and Microsoft has sample widgets for MSN and Bing that are included on many phones. Because they're HTML and JavaScript, they're simple to create, but they show up in the Start menu like any other application. Windows Mobile engineer Jorge Peraza developed the Widget system for Windows Mobile and said: "For Windows Mobile 6.5, there is no way for a widget to be self-signed or to identify itself as being trustworthy. So we are delegating that to Marketplace, where the developers have to pass through a certification process."
So far we haven't spotted any widgets in Marketplace (perhaps because to put one there you have to pay the same $99 fee that application sellers must pay). Mobility site Fuze has created 50 widgets that wrap popular Websites, but because of the security issue, you have to download Fuze's own installer to get them on your phone.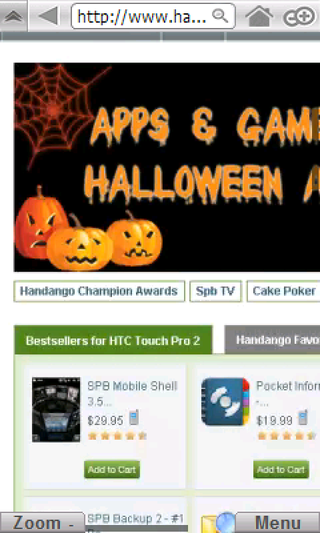 But Marketplace is Not the Only WinMo Store
Windows Mobile Marketplace isn't the only way to get apps on your Windows Mobile phone. It isn't even the only app store that runs on your phone. Handango has been selling Windows Mobile apps for years. It does have the reputation of charging developers more than Marketplace does, but it already has a large catalog. It even has its own Windows Mobile client, InHand, which lets you browse and download apps–although it's more intrusive than Marketplace is, demanding to know your mobile operator and zip code. The Handango app isn't quite as friendly as Marketplace either, but if there's such a large store already–and plenty of places to get apps online–is there a point to Marketplace? Given how few Windows Mobile users install apps and how hard it is to find apps from the phone itself, the answer is yes. The openness and choice of Windows Mobile have been as much a disadvantage as a selling point.
Sullivan said he sees multiple ways to get apps as an advantage for Windows Mobile, making an obvious comparison to the iPhone. "It's a philosophical statement about our approach to the market and how we respect the end user," Sullivan said. "The notion of freedom and choice and flexibility and the sense of end users being in control are core tenets of our platform. The fact that I would need someone else's permission to install software on my device is just anathema to how I think about this as being mine."
Obviously, Marketplace is Microsoft's answer to the App Store (and to BlackBerry App World, the Android Marketplace, and the rest). At this point it's a slightly late and fairly limited answer, but it has the potential to be one of the easier app stores to use, especially when the newer features are available in November.