7 Best Solar Eclipse Glasses on Amazon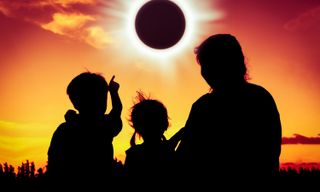 7 Best Solar Eclipse Glasses on Amazon
Whether you plan to view the 2017 Solar Eclipse from an area within the path of totality or from anywhere else in the country on Aug. 21, it's dangerous to do so without proper eye protection.
Update 8/21: If you don't have time to get glasses today, you can make your own eclipse viewer using our easy instructions.
According to our sister site Space.com's guide to protective, eclipse-ready eyewear, a viewer must be certified by the International Organization for Standardization (ISO) and include printed usage instructions on the product itself. We scanned and charted through the American Astronomical Society's reference page of reputable vendors and manufacturers to come up with a list of the best solar eclipse glasses you can buy. [Editor's note: It's come to our attention that Amazon has removed listings for some glasses that the company could not confirm came from a reputable manufacturer or had been certified as meeting ISO standards. Amazon is refunding customers who bought those glasses, and we have removed them from this story.]
Credit: Shutterstock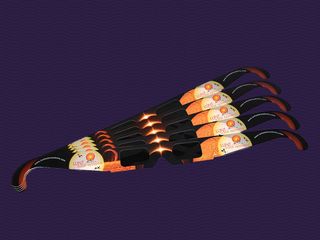 Lunt Solar Systems Eclipse Viewing Glasses 5-Pack:
Each of the viewing glasses in this five-pack from Lunt Systems features a fiery solar design, and the package comes with a printed scientific guide to 2017's total eclipse. These glasses use special orange-tinted lenses to ensure a sharp and vivid view of the sun.
Credit: Amazon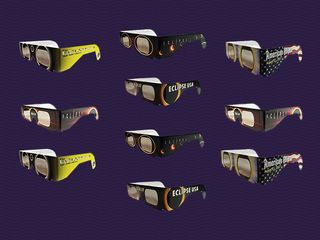 American Paper Optics Eclipse Glasses 50-Pack:
Another entry from American Paper Optics, this 10-pack of glasses comes with five distinctive designs, which combine the best of Americana, space and solar eclipse visuals. There's also a pack of 20 available for order in the same style.
Credit: Amazon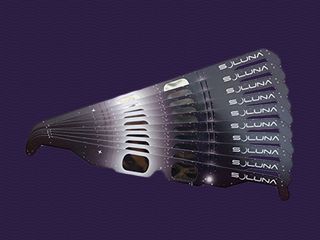 Soluna Solar Eclipse Glasses 10-Pack:
You can order these shades from Soluna in packs of either 10 or 50. These black, polymer-coated glasses are manufactured by American Paper Optics and have photo-realistic solar eclipse artwork on the side.
Credit: Soluna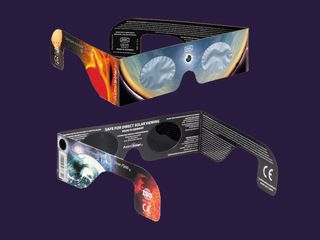 Baader Solar Viewer 5-Pack
This solar viewer from Baader features a vibrant astrological design that extends across the entire front of the frame. These NASA-approved glasses use sharp and clear lenses to produce unfettered views, and are manufactured to show the total solar eclipse in true-to-life color.
Credit: Baader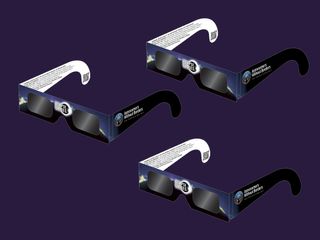 Astronomers Without Borders Solar Viewing Glasses 25-Pack
Astronomers Without Borders' solar viewing glasses must be ordered in sets of 25 glasses, but the organization guarantees fast shipping within a day of your order, so you won't have to worry about getting them before August 21. If you're feeling generous, you can also purchase glasses as a donation for eligible schools across the country that would be unable to afford this equipment otherwise.
Credit: Astronomers Without Borders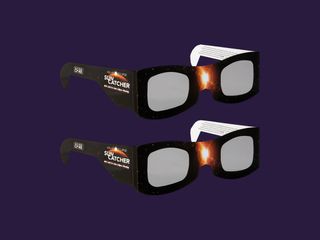 Explore Scientific Sun Catcher Solar Glasses 2-Pack
Explore Scientific's rounded solar glasses come in a pack of two and are ready to deflect any of the eclipse's harmful rays. With a large and reinforced frame, you won't need to feel uncomfortable wearing these glasses for the entirety of the eclipse. The lenses are tinted to produce a yellow-orange image of the sun.
Credit: Explore Scientific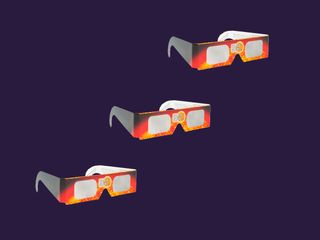 Flinn Scientific Eclipse Glasses
These glasses from Flinn Scientific might feature a burning-hot image of the sun, but you can prevent your eyes from suffering the same fate during the eclipse by wearing these protective shades. The solar shades are a great value as well, so you'll have no problem having enough for everyone to enjoy the event.
Credit: Flinn Scientific