New Asus Eee PC Goes WiMAX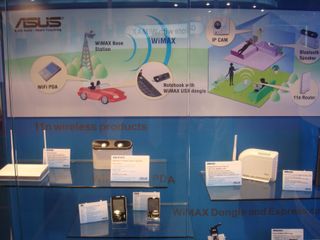 New WiMAX gear, new Eee PCs
At Computex Tuesday, Asus worked hard to let conference-goers and the public know that WiMAX is a big part of the company's product road-map. This display shows off a WiMAX base-station and notebook dongle, but the company also intends to include WiMAX in the new Asus WiMAX Eee PC 901, as well as a few other wireless networking peripherals. The company also let loose a few more variants of the Eee PC, all with larger screens, colorful outer shells, and new and improved batteries.
Let us warn you: Don't bother hunting for pricing information. Asus hasn't provided that kind of information yet, but we expect it in coming weeks.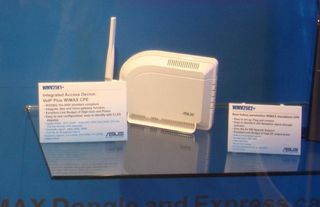 WiMAX Device
WiMAX, otherwise known as 802.16e, needs is own host of routers and access points, just like WiFi. Among the devices Asus is launching as "last mile" solutions (the products that will bring WiMAX the last step from the airwaves to your computer) is the WMNV25E2+. It is an "integrated access device" that connects to a WiMAX base-station as a wireless area networking source and provides an Internet connection to nearby computers.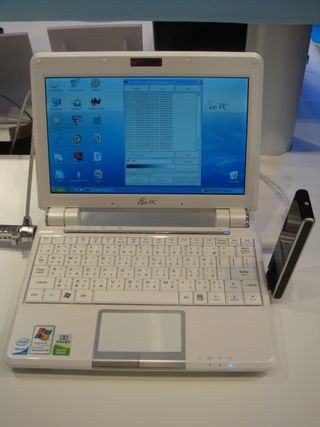 WiMAX Dongle
This upright USB 2.0 device plugs into computers to make them WiMAX compliant. Called the WuSB25E2V2, it works with notebooks or desktops and connects to WiMAX base-stations. According to Asus, the dongle can rotate 180 degrees to help it in its search for better WiMAX signal. Of course, if you get your hands on the WiMAX version of the Eee PC 901, you won't need this device.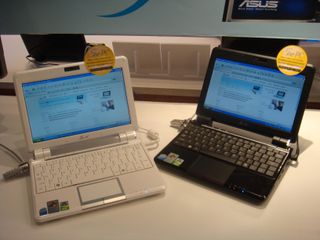 WiMAX Eee PC 901
In addition to the Computex conference, Taiwan is also playing host to the WiMAX Expo, where attendees will get to test out a WiMax-touting Eee PC 901 while riding a tour bus around Taipei.
Asus has integrated GCT's GDM7205 WiMAX silicon chip into the Eee PC.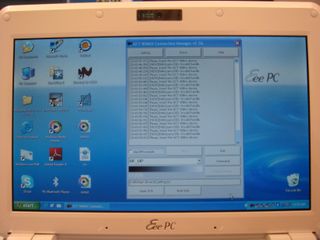 WiMAX Connectivity Screen
Here's a close-up of the software interface to Asus' WiMAX USB Dongle and integrated WiMAX Eee PC 901.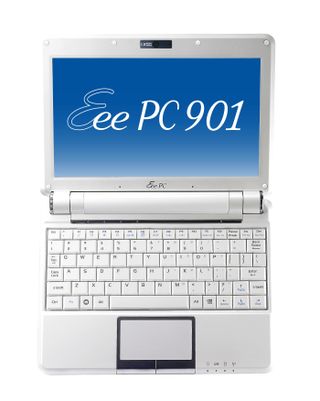 Eee PC 901
Many details about Asus' Eee PC 901 are already known: It contains a solid-state drive, an Atom Intel CPU, as well as upgraded battery technology designed to make the battery last up to 7.8 hours between charges. It is available with Windows as well as Linux. It has a larger display than the original Eee PC, and a built-in 1.3 megapixel camera. But, the notebook is still not available for purchase.
Asus is also talking up a new feature: Infusion cover patterns, "inspired by various elements" and "provide vibrant colors to suit the user's individual personalities." We haven't seen photos of these new aesthetic touches, but according to Asus, these cover patterns are created in a manufacturing process that inlays designs into the computer chassis.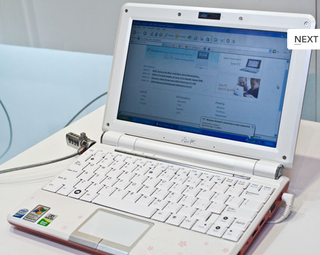 Eee PC 1000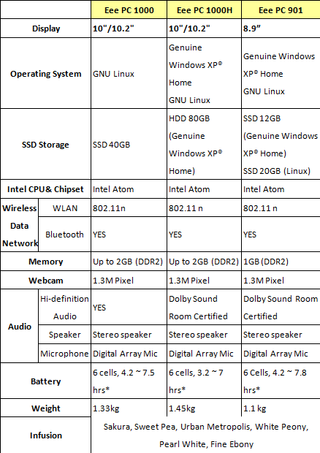 Comparison Eee Spec Sheet
Here's a list of specifications for the three new Asus Eee PC models. Notice the screen sizes, the storage capacity, and the "infusion" colors.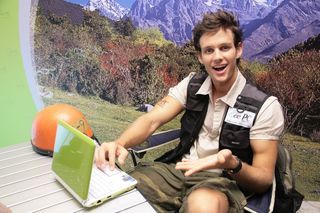 Asus Eee PC Infusion colors
This Asus Eee PC fan boy sure looks happy to have his hands on the new Eee PC 901. We're guessing he's working with a unit decked out with "sweet pea"-colored Infusion decorations.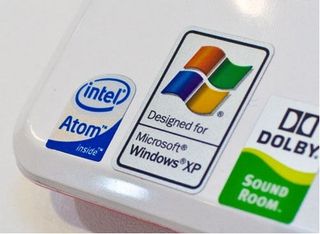 Asus Eee PC Deck Stickers