From The Labs: Summer Innovations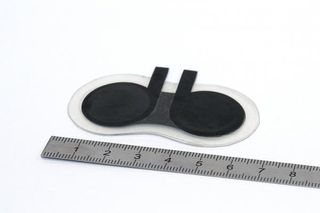 Printable Batteries
Batteries have long been the bane of tech engineers' existence – in order to make gadgets cooler and smaller, batteries need to change. It turns out, though, that shrinking batteries is one of the most difficult jobs. Now, researchers in Germany say they have developed a new process to print tiny, flexible batteries – which can be used in everything from bank cards to medical gadgets – for just pennies each. The new batteries weigh just a gram – the weight of one paperclip – and are thinner than a credit card. They can be printed from a special machine and are able to give 1.5 V of power. Since the batteries are so small, they can easily be lined up next to each other for 3 or 4.5V of power, the researchers say. Right now, their life isn't very long – but in the future flexible tiny batteries could be powering all sorts of wearable gadgets.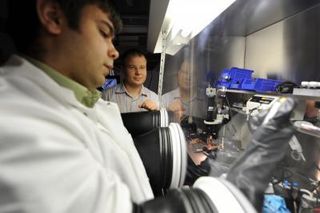 Electronic Glue
Solar cells and computer chips both use big semi-conducting crystals to make their electronics work. But one of the problems – and costly parts – of the system has been the ability of the crystals to efficiently transfer energy to one another, due to organic molecules that often get in the way. Now, researchers at the University of Chicago have created an electronic 'glue' that can greatly improve the electronic coupling between the crystals. They say that the innovation may drop the price of semi-conductors significantly, by insulating the organic molecules with an inorganic substance. The university has already licensed the technology to a company for thermoelectric application.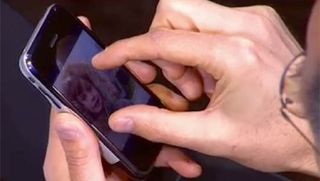 Turning Gestures Into Email
Ever find yourself with your hands full, but wishing you could tap something out into your phone? A Duke university student has found a way to turn gestures in the air – for example, writing a parking space location – into email that can later be retrieved. Using the function of accelerometers existing in most new cell phones, the researchers wrote a program that can interpret waves in the air into letters and numbers – turning your smartphone into a very expensive pen. They call their innovation application the PhonePoint Pen, and they plan to have the application available for download in the next few months. Obviously, writing giant letters in the air isn't the most efficient way of jotting down information on your phone, but it could be a good option when your arms are overloaded and you want to remember a license plate or parking stall number.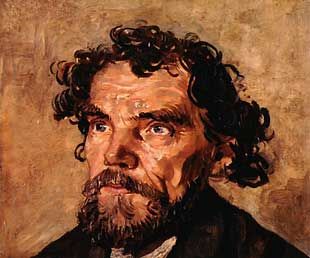 Software To Catch Fakes
Art historians and experts spend years trying to determine whether a painting came from the hand of a real master or is the work of forger. Now, a computer program designed by Dutch researchers aims to do the same kind of sleuthing in just mintues. The program recognizes faces and can also sort through large amounts of data to analyze cultural artifacts like Roman coins and shards of ancient pottery. The researchers say the same program can be applied to data sets like the census or other statistics to look for patterns that wouldn't be automatically visible.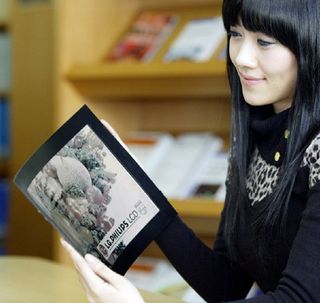 Flexible Monitors
For people working in tough spots like battlefields, technology needs to keep up with the constantly-changing situations. Electronics that are flexible and bendy have long been desired by the military – and now a group of researchers has gotten a little closer. They say they have to reduce the size, weight, and improve the efficiency of existing semi-flexible monitors, and they did it using a new material: polyethylene naphthalate. Currently they have a small experimental display of 320 x 240 pixel resolution, though they estimate that within a couple of years, a more manufacture-friendly model of a PDA-like flexible display will exist.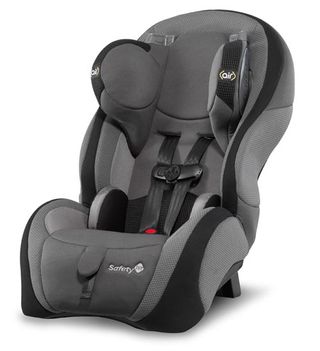 Air Protected Baby Seat
Baby seats have not seen a lot of new innovation since their inception, but this new method of protection caught our eye: Safety 1st has created a seat that basically includes a giant supersoft pillow around a child's head. The company says that one in three child deaths after a crash is due to a side impact collision – and until now car seats were not really designed to shield baby brains from impact with something not-so-soft, like the side of the seat. The seats will be available later this year in Babies R Us stores, and now I'm going to go look for a giant pillow to sheild my own noggin from collisions.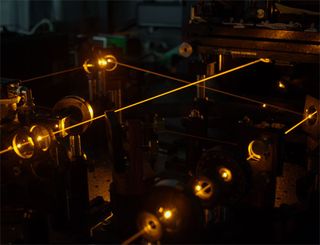 Laser Light Switch
Move over, typical transistors. Swiss researchers have found a way to use lasers to control switches optical transistors, a development they say could pave the way toward light-based computers. Conventional computers are based on transistors, which allow one electrode to control the electrical current moving through the device and are combined to form processors. The new component achieves the same thing, but for laser beams instead of electric currents. The Swiss researchers made a device using two laser beams, orange and green, and used one to control the other. They say that such light-based computing is better than our current system because optical fibers that carry light are much faster than wires that carry electricity.

Advanced Data Storage
It's really not too common for researchers at the NIST – the National Institute of Standards and Technology – to discover a new material for data storage, but that was the news last week . The researchers were studying the behavior of nanoscale structures, making tiny sandwiches of materials with different magnetic properties. They found something that surprised them: the properties of magnetism that were interesting on the tiny nanoscale actually extended out one thousand times farther than they thought. Engineers are planning to build dense arrays of these nanostructures on a chip for memory or sensor devices.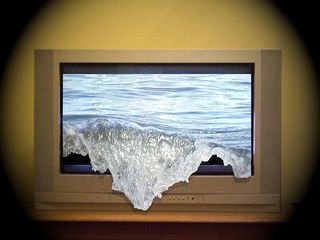 3D Television
Going to watch movies in 3 dimensions is fun, but those red and blue glasses? So 2000 and late. There is hope for the 3D future, though, in research for a way to bring 3D TV into your living room. The researchers, based in Europe, say they used holographic film and oriented projectors in a special way to produce a high-resolution 3D image. Their ultimate goal is to make 3D movies and 3D cameras, but for the moment they have produced a prototype system was produced with a resolution of 100 Megapixel – or around 10 times that of HDTV – at 25 frames a second in six colors. They say that in addition to big-screen aspirations, the military and gamers are markets where they want to aim their 3D technology.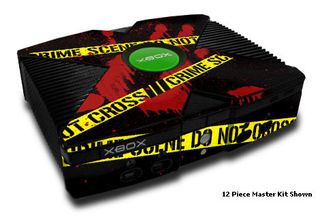 Xbox Detective Kit
Since so many gadgets in our lives are actually little computers, it makes sense that criminals would hide data in the strangest of places – like in the hard drive of a gaming console or a PDA. Now, researchers have created a toolkit for law enforcement to use when they have to extract data from the drives of all sorts of devices. The researchers say that they have created a forensic operating system that can delve into all kinds of audio, video, text and image files. The software can also record every move, which is important for the legal system when it comes to prosecuting digital crimes.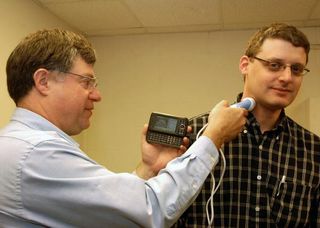 Ultrasound On Your Phone
You can already use your smartphone to play games, jot notes, snap pictures, and surf the web, so why not use it to take a peek inside your body? Researchers have created medical probes that connect to any Microsoft smartphone with a USB cable and download an ultrasound right to your phone. They say that these devices, which include endoscopes as well as ultrasound machines, would be used in ambulances and emergency rooms – as well as in rural medicine or battlefields where large machinery just isn't an option. They aim to get the price of the gadgets down below $500, and for that cost you could also do ultrasounds at your next Rock Band party.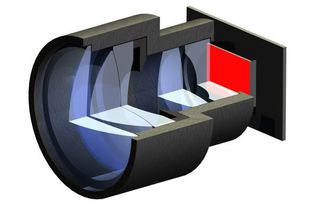 Mini Beamer
Outdoor movies on projectors are great fun in the summer – but thoser projectors are always huge, and expensive. Now, European researchers have found a way to pack all the technology of a projector into a 1-inch long gadget, which can beam your favorite sports games onto a sheet or wall wherever you are. Unlike current projectors, the new device doesn't need additional illumination. It uses OLEDs and the display produces an image with a brightness of 10,000 candelas per square meter – it's only about half that bright for color images. It's a lot brighter than a computer monitor, which generates about 150-300 candelas per square meter. And the tiny size of the mini-beamer means that it could be integrated or attached to a cell phone to show movies right off your phone.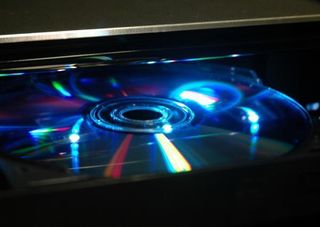 5D Discs
Discs with the power to hold 2,000 times the data of current DVDs could be just around the corner, according to researchers in Australia. The new discs incorporate swaths of nanostructured material, and the extra two dimensions come from color and polarization. To create a dimension of color, the researchers inserted gold nanorods onto the disc's surface, and recorded the rods' behavior from different wavelengths along the color spectrum. There are still some question marks in the technology of the discs, including the question of at what speed the data should be written – but the researchers, who have partnered with Samsung, say they are confident that the discs will be commercially available in 5-10 years.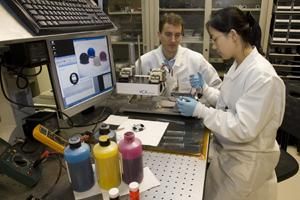 Brighter E-Paper
One of the big problems with e-readers like Amazon's kindle is that the electronic paper is never bright enough for people's eyes. Part of that problem seems to be solved now, with research that has created electronic paper that reaches the same brightness as normal paper. The researchers were trying to achieve a whiteness of 85 percent in their electronics, and they succeeded – adding that with their technology, a device like the Kindle could move from black and white to full color. They also say that because the optically active layer on their innovation can be less than 15 microns thick, flexible bright displays could be made as well as electronic windows.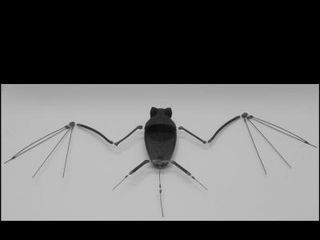 Robo-Bats
Robots that mimic the movements of animals like fish or birds are useful in countless ways – they can maneuver into tiny places and are as efficient as their organic counterparts. New research has added another created to the robo-list: the bat. Before the engineers started to build a robotic bat, they studied the skeletal and muscular systems of real bats of all sizes, to try to harness the same efficient flapping motion. Then they used materials like metal alloys that respond to the heat of electirc currents and contracts micro-scale electric wires just as a muscle would contract inside a bat. The researchers say their robo-creatures are a perfect fit to do surveillance in places where humans can't go – like on detection missions for biological, chemical, or nuclear agents.