Best Google Daydream View Games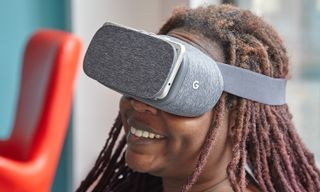 Best Google Daydream View VR Games
Now that you've got your Pixel or Pixel XL and your Google Daydream View, it's time to see what all this virtual reality hubbub is all about. Check out the following games and get ready for trippy, immersive fun!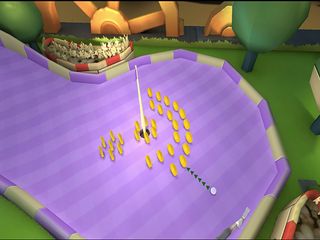 Wonderglade - (Free)
Wonderglade takes you on an amazing journey through an amusement park and lets you play various carnival games, from play nine rounds of mini-golf to smashing ice crystals with a magic wand. This game is actually four mini-games in one and each game has a very gentle learning curve. Between the awesome colors and the cutesy music, Wonderglade is a great addition to your VR gaming library.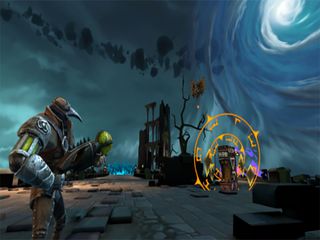 Hunters Gate – ($5.99)
Get ready to unleash your inner demon killer with Hunters Gate. In this fun action RPG, you can choose between the gun-toting Forge and the clever mage Payne and traipse through gorgeously designed levels. The gameplay is uncomplicated (look to aim, press button to shoot) and the levels are easy to navigate and beautifully designed. In addition to a single-player mode, you can also play with a friend with a local co-op mode accessible through a local Wi-Fi network.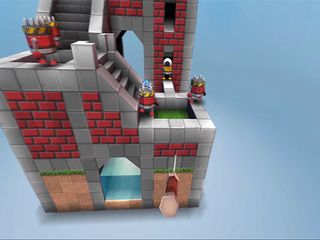 Mekorama – (Free)
This amusing and lighthearted puzzle lets you help a robot make its way to a designated location by giving it various commands. The VR view is a welcome addition that helps you rotate the levels to get a better sense of your robot's exit strategy. The early levels start out easy enough and help you get a good feel for the controls before issuing more daunting challenges that reward creative problem-solving skills. And once you're done making your way through all 50 stages, you can create your own brain-teasing puzzles to stump your friends.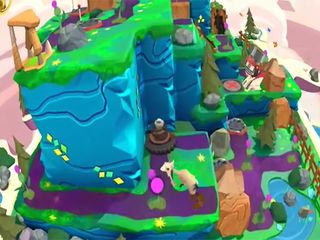 Danger Goat – ($5.99)
Promising almost exactly what is advertised, Danger Goat involves a goat that is in danger. Each level looks like a psychedelic board game and the dangers that your poor mammal will face range from killer robots to missiles. The gaming controls are simple and the third-person VR perspective is a great touch that keeps the game from being too immersive. This game comprises 28 lush levels set in different locales including a snowy mountaintop and an outer space setting. If you're looking for a good mental workout, pick up this game!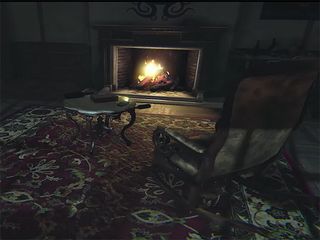 Layers of Fear – ($9.99)
Explore new depths of horror in this terrifying VR game set in a mysterious mansion. Layers of Fear excels at setting a creepy mood, using dim lighting and narrow hallways to give you the feel of being alone and stalked. Because the developers care about your safety, you can play this game while sitting and use the motion controls to point and click to where you want to go. The game offers plenty of jump scares along with a satisfying story designed to keep you at the edge of your seat.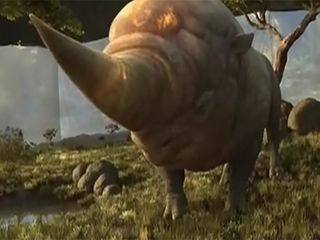 Fantastic Beasts and Where to Find Them – (Free)
Based on the movie and the J.K. Rowling novel of the same name, Fantastic Beasts allows you to get in touch with your inner magician. You can use your motion controller as a wand to craft spells in addition to summoning and interacting with beasts. The graphics are very impressive and the environments vary from the outdoors to a beautiful rendered interior of a wizard school. Fantastic Beasts does well to take advantage of the Daydream's capabilities.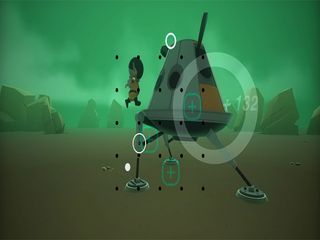 Earthshape – ($4.99)
In this Daydream launch title, your job is to guide a ball through a dotted grid to reach a circular exit by literally connecting the dots. Each time the ball ricochets off a drawn line, you receive bonus points. Although Earthshape does not rely heavily on VR controls, the VR serves to enhance an already enjoyable experience. This game is sure to appeal to both casual gamers and hardcore puzzle-solvers.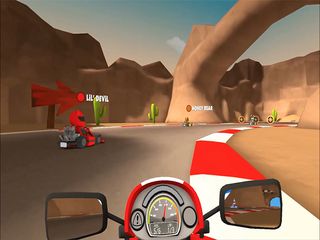 VR Karts – (Free)
VR Karts is a casual racing game in the same vein as the Mario Kart series. You'll face off against colorful opponents on beautifully designed courses and you can defend yourself and cripple your foes with a variety of power-ups. The first-person perspective makes the game feel very immersive but won't leave you feeling queasy. The game offers a single player mode and an online multiplayer in case you want to test your driving skills against human adversaries.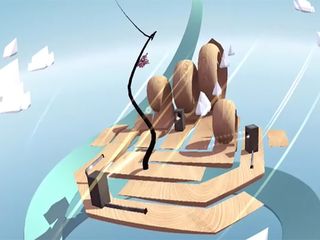 Claro – ($4.99)
In this nature-friendly puzzle game, you are positioned above a gorgeous field and are tasked with using sunlight to make a tree grow. You can accomplish this by manipulating the position of the sun or rotating and dragging objects around to get your tree the best lighting. The motion controls work very smoothly here and the game never feels gimmicky with the use of the controller or the VR. Overall the game is a gift for the eyes and ears thanks to the beautiful scenery and the serene background music.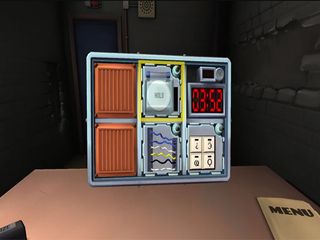 Keep Talking and Nobody Explodes - ($9.99)
In this clever cooperative game, you are trapped in a room with a bomb set to explode. Nearby, your friends in the real world have blueprints with instructions on how to defuse the bomb but, since they're not wearing a DayDream View, they can't see what you see. Thus, it's a race against time as your friends walk you through how to disable the bomb while you try to keep your head and follow instructions. The game is quite exciting and this skillful incorporation of gameplay is quite appealing. Keep Talking is a guaranteed must-have for parties.

Daydream Blue – ($4.99)
Daydream Blue is a "classic" tale of going camping with a robot pet. Set in first-person, the game wonderfully recreates the feel of being in the wilderness. You can perform several actions, from playing fetch with your robot to skipping stones across a lake to fishing. The music helps to capture the calm, laid-back feeling of relaxing in the woods.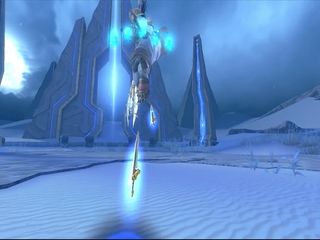 Twilight Pioneers – (Free)
Twilight Pioneers is an intriguing first-person action RPG that casts you in the role of a hero working to thwart the Dark Lord by releasing his captives and stopping him from collecting all the evils in the universe. Armed with various swords and accompanied by a dragon spirit, you can slash your way through breathtaking levels. The motion controls are smooth and the laser point controller works very well as a sword substitute.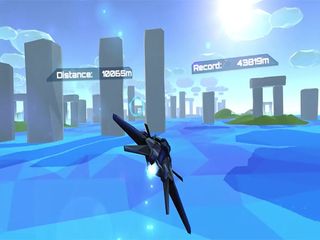 PolyRunner – (Free)
In this first-person endless runner, you are a pilot guiding your spaceship past several obstacles trying not to crash and burn. You steer your craft by tilting or moving your head and although the experience may sound intense, the gameplay will not leave you nauseous. The graphics are simplistic but work very well and complement the fast-paced nature of the game.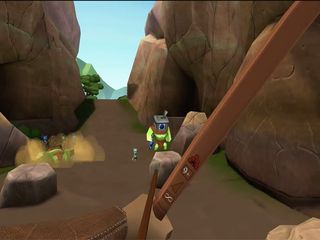 Archer E. Bowman – ($4.99)
In this fun archery game you play as the eponymous Archer E Bowman, working to defend his homeland from waves of invaders. Much like Oliver Queen from the Arrow series, you can acquire trick arrows (such as exploding or electrifying arrows) and use them on your foes. The humor is light-hearted and the graphics work well with the jovial atmosphere of the game. And the first-person view makes you really feel like you're on the front lines.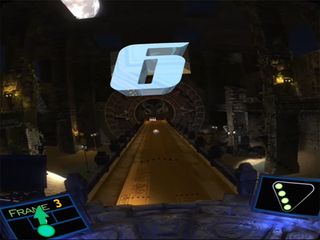 Action Bowling – (Free)
Bowling has never felt more dynamic than with this fun Daydream launch title. Choose from one of three locales (a regular alley, an excavation site, or a space station) and bowl to your heart's content. You can control the strength, direction and even the spin of the ball. Each locale has a wonderful design that holds together very well thematically. The game only has a single player option but that doesn't detract from the fun.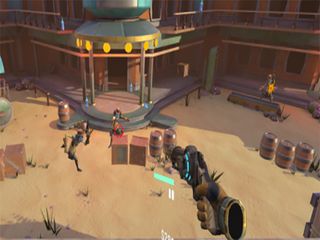 The Arcslinger – ($4.99)
A nice throwback to arcade shooters such as Virtua Cop and Time Crisis, The Arcslinger arms you with a magic gun and has you fire away at waves of foes. Gunslinging tricks are an actual mechanic in this game; by performing various movements you can access magic skills that can be used to more effectively take down your enemies. The controls are quite easy to grasp and the gameplay is dynamic and exciting.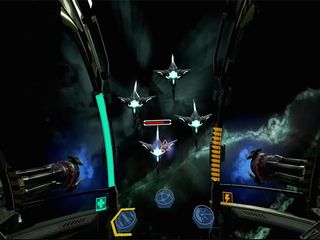 Gunjack 2: End of Shift – ($12.99)
Gunjack 2: End of Shift is a space shooter set in the perilous sector around New Eden. The controller handles like a dream and the control scheme is very intuitive. Utilize various weapons from guns to smart bombs and protect your rig with a liberal use of your energy shields. Gunjack 2 offers a campaign mode, a score attack-like Daily Shift mode and an upcoming Challenges mode. There isn't enough praise that can be heaped on the graphics, which really help to capture the feeling of a dogfight in outer space.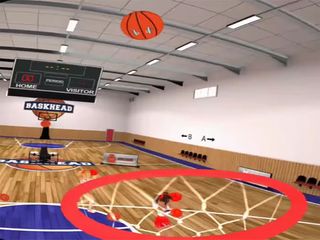 Baskhead – ($3.99)
One of the most unique VR sports titles around, Baskhead has you playing as a basketball hoop! Yes that's right, an actual hoop. Your job is to position your head so that your hoop-skull can catch as many balls as possible while cheerleaders egg you on. The game offers various modes including a local multiplayer where you and up to 9 other players can use the same headset and compete for the highest score.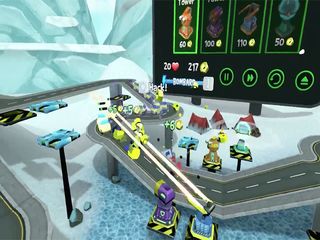 Evil Robot Traffic Jam –($9.99)
Evil Robot Traffic Jam is a tower defense game whose title pretty much spells out what you are fighting against. In order to prevent these automatons from locking your town down with the evilest of all evils—gridlock—you'll have to build towers and rail guns to take down these nefarious rubberneckers. The 3D maps look stunning and the gameplay is simple and engaging. You'll have hours of fun and probably feel a bit cathartic freeing your town from traffic.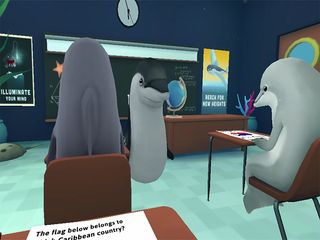 Classroom Aquatic – ($15.00)
If you've ever wanted to prove that you're smarter than a dolphin, Classroom Aquatic is the perfect game for you. This light-hearted game casts you as a diver/exchange student at an underwater school and has you completing exams. The fun part is that you can cheat off your fellow cetaceans but as they catch onto to your intellectual dishonesty, they'll work harder to cover their own papers. You'll also have to make sure that your teachers don't catch you with your eyes off your own paper.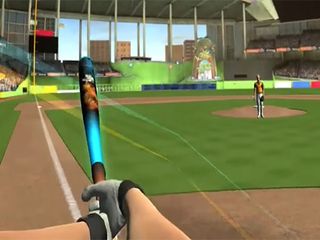 Home Run Derby – ($4.99)
Realize your dreams of knocking one out of the park with this fun first-person baseball game simulator. You can choose from a group of derby competitors and start swinging in 3D environments that are facsimiles of real-life baseball stadiums. Each extra stadium costs $2 but if you are a baseball fanatic, it's a small price to pay.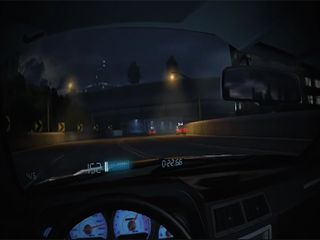 Need for Speed: No Limits VR – ($14.99)
For those of you clamor for a great VR racing game, look no further than Need for Speed: No Limits VR. This game both promises and delivers on a great immersive experience as you steer through breathtakingly gorgeous racecourses. The motion controls are slick and easy to understand and the sound effects are simply amazing. The game also offers great customization options for your cars including an awesome respray option. Have fun outracing both your opponents and the police in this smooth ride.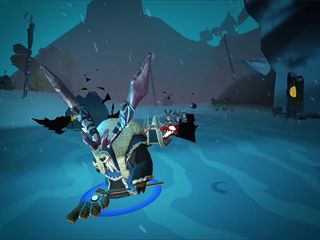 Frostbound – ($4.99)
In this survival game, you are the head of a group of creatures striving to survive a beautifully rendered, but cursed wintry mountain. In order to stay alive, you and your fellow elkin will have to set up camps, scour the landscape for useful resources and defend against wolves. As you go through the game, you'll learn more about the curse and your group of elkin. The game places a nice emphasis on strategy and supply management and the wonderful atmosphere will keep you captivated.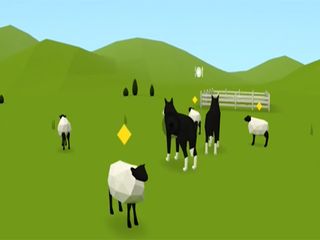 Moatboat – (Free)
In this unique simulator, Moatboat casts you in the role of a great creator. Using your voice and hands, you can create mini-worlds and populate them with flora and fauna. For example, you can create a flock of sheep and either breed them, feed them, or have them get eaten by wolves. This god game offers a wide range of choices, which keep the game interesting. You can also save and share shots of your world.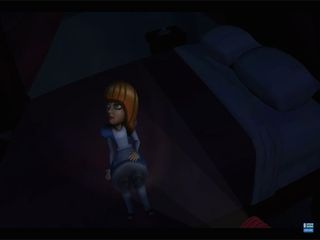 Sisters – (Free)
Beware of scares as you play through this riveting VR ghost story. The controls are look-based and thank goodness for that, because you don't want to run away from a creepy doll into a wall. But since the title relies on sight, the majority of the frights comes from jump scares. For example, you can look at a portrait, turn away, and then turn back to find a ghost in front of you. The game is relatively short but you'll definitely get your money's worth if you are a horror fan.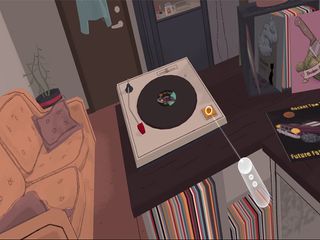 Untethered – ($4.99)
In this episodic title, you are a radio host in a small town working to uncover a mystery. The game is very immersive and filled with job-appropriate tasks including playing records, taking calls from listeners and recording your own lines. The motion controllers work smoothly and picking up and manipulating objects are simple. The art style has a nice retro feeling to it. Definitely check out this game and add it to your library.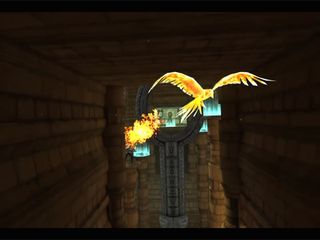 Wands – ($5.99)
If you've ever wanted to experience an immersive Dungeons & Dragons fantasy, then Wands is the game for you. As a wizard, you can choose your avatar (male or female), select one of three wands and duel in lovely rendered dungeons that feel appropriately arcane. The learning curve is a little steep but once you get a hang of the controls, battling is an entertaining breeze.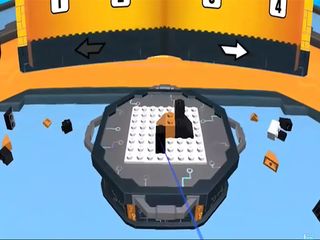 Lego Brickheadz Builder – (Free)
A welcome entrance to the Lego video game series, Lego Brickheadz Builder captures the fun of being a kid again. The bright colors and kid's room aesthetic is great for putting players at ease. You can solve formulas from a playbook to unlock Lego characters or other extras. You can also customize your own Lego characters via head or body swapping difference pieces. And you can even enter free build mode and craft objects to your heart's content.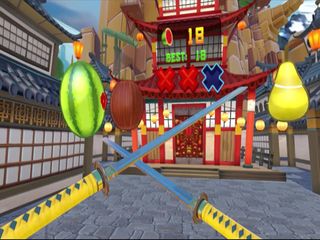 Fruit Ninja VR ($14.99)
Unleash your inner martial artist in this fun fruit-slicing game. The game maximizes the use of 360-degree motion as you rotate around with a sword, slashing fruits, avoiding bombs and racking up combos to get extra points. The game offers four modes: Arcade, Survivor, Classic and Zen. Sword swiping is easy to do with the motion controller and the game can provide hours of entertainment, provided your arm doesn't get tired.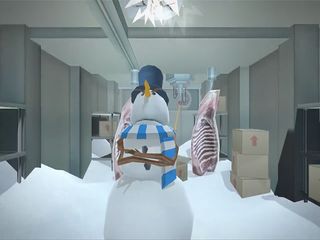 Floor Plan – ($4.99)
Set in an elevator, Floor Plan has you traveling through different floors of a building and interacting with an interesting cast of characters. Although the action takes place in one spot, the game never feels claustrophobic. In this bizarre building, you can meet up with angry snowmen, sentient piggy banks, and living jackhammers. The motions controls are easy to operate and the ability to grab and use objects is very straight-forward. This short light-hearted game is a nice bright addition to the Daydream line-up.