LAS VEGAS — Why carry a TV around the house when you can order a mechanical servant to roll into any room and beam movies onto a wall? Cerevo's upcoming Tipron robot provides just that service, driving around the house and using its built-in projector to display content on any flat surface up to 80 inches in size. In a brief demo we saw at CES 2016, the robot appeared to work really well, but with its price estimated at $1,000 to $2,000, you're paying a high premium over the cost of a mobile projector you could carry with your own hands and feet.
Measuring, 11.8 x 15.7 x 13.4 inches, the Tipron has a sleek, futuristic aesthetic with a gleaming white body that's accented by small patches of black on its joints and base. While moving, the robot remains folded closed, but when it's ready to beam content, the robot "transforms" by folding out its projector head and doubling its height to 30.4 inches. The head can also rotate and tilt up or down in order to project higher or lower on the wall.

During our CES demo, we had a chance to see the Tipron in action as a Cerevo representative demonstrated how to control the robot with an Android app. As we watched, he made the Tipron transform and rotated its head. He also showed us how the app has a list of rooms within the home and lets you select which room you want the robot to go to.

Like any good projector, the Tipron can output any content from your phone, whether that content is a YouTube video or a PowerPoint presentation. In its press release, Cerevo says you can program the robot to beam a feed from Twitter or the news onto the wall next to your TV while you watch a sporting event.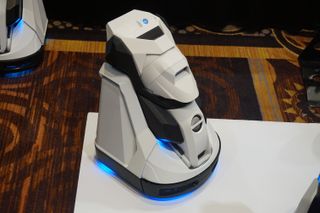 The projector itself has a maximum resolution of 1280 x 720 (720p) and brightness of 250 lumens. The phone connects to the robot via Wi-Fi. There's also an HDMI port on the robot so you can plug into it directly or attach a device like a Blu-ray player or Chromecast.

If you just want a projector and don't need a robot, the market is filled with lightweight models that cost less than $500. For example, the Asus S1 projector costs just $288 and offers 3 hours of battery life. More expensive home theater projectors cost more but promise better image quality than Cerevo's robot.

The Tipron also has a 5-megapixel camera on-board that can shoot stills or video from the around the house. Being able to roll around the house taking photos may actually be a more compelling use for some consumers.

Cerevo claims that the Tipron will last 2 hours on a charge, which is long enough to watch most films. You can use the app to move the robot back to its charging station when it's not in use.

The company expects to ship the Tipron sometime later in 2016, with the price still to be narrowed down from that $1,000 to $2,000 range.