The holidays are a great time to enjoy the company of friends and family — and when you've had your fill of that, they're also a great time to catch up on video games. The Tom's Guide crew recently enjoyed a restful week off from work to celebrate Hanukkah, Christmas, Festivus, New Year's and whatever other December holidays fell within our purview. And, during that time, our gaming writers enjoyed a diverse array of games that came out in the past year or two.
We've already put together our lists of the best games of 2022, the most disappointing games of 2022 and the games you missed in 2022. But this list represents a more personal take.
These aren't necessarily the best, worst or most underrated games of the year — these are the games that grabbed our attention enough to sink a week's worth of free time into them. We can't promise you'll enjoy every one of these games, but we can promise that we'll personally vouch for at least one apiece. If you want to start off the new year with a game you might not have played otherwise, check out what we've been enjoying — sometimes wholeheartedly, and sometimes with caveats.
Asterigos: Curse of the Stars
While I didn't game much over the holidays, I did discover one of my new favorite titles of 2022 — or perhaps 2023, considering I picked it up right before New Years. Asterigos: Curse of the Stars won me over with Souls-like gameplay combined with Greco-Roman inspiration. The cartoony art style belies its challenging nature, though it's far more accessible than anything from FromSoftware. In the limited time I allowed myself to game, I played Asterigos non-stop and I can't wait to dive back into it. — Jordan Palmer
High On Life
High On Life appears to be fairly divisive. Some gamers have declared it the best Xbox Game Pass release of 2022, and others an overly hyperactive chore. So consider me somewhat of an outlier because after playing around five hours over the holidays, I fall in between the two extremes. As somebody who enjoys the early seasons of Rick and Morty, I found the humor chuckle-worthy, but pretty hit-and-miss overall. And the shooter gameplay is undoubtedly solid but seriously lacking inventive mechanics or any real energy. Considering High On Life's perceived status as a polarizing title perhaps my lukewarm indifference towards the game is the hottest take of all. — Rory Mellon
Mario + Rabbids: Sparks of Hope
Mario + Rabbids: Sparks of Hope has been out since October, and I'm pretty sure that I've been singing its praises nonstop since then. A sequel to the cult classic Mario + Rabbids: Kingdom Battle, Sparks of Hope is also a surprisingly challenging turn-based strategy game. I cannot overstate just how absurd it is to control a team of Mario and Rabbids characters, all wielding guns, as they sprint across battlefields, hide behind cover and activate special abilities as though they were in an XCOM game.
And yet, there's no denying that Mario + Rabbids: Sparks of Hope just plain works, from its strategic battles, to its clever puzzles, to its sharp script, to its detailed graphics. (Its music also punches way above its weight class, but you've got to hear it for yourself.) I finally finished the game over the break, and I already can't wait for the upcoming DLC adventures. — Marshall Honorof
Sonic Frontiers
I spent my winter vacation playing Sonic Frontiers on PC. While I normally like to game on my Nintendo Switch when possible, I knew its aging hardware just couldn't keep up with Sonic Team's open-world take on everyone's favorite blue hedgehog. Pop-in aside, Sonic Frontiers really clicked for me once I edited the game's hex values and got to experience it on my ultrawide monitor. While the platforming is really enjoyable and I loved seeing the new things the team tried to do with Sonic, the world still felt a bit barren and left me wondering what an open-world Mario game would feel like. — Anthony Spadafora
Star Wars Battlefront II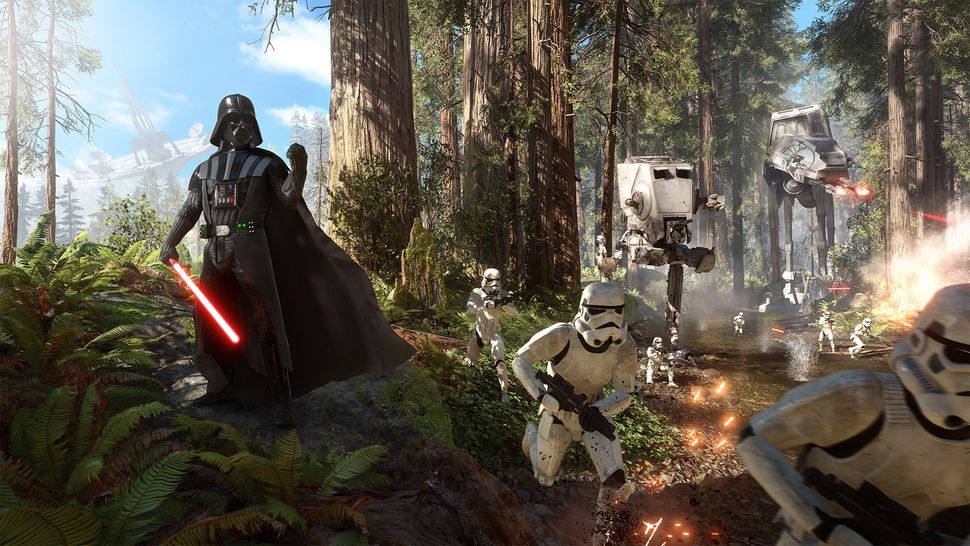 I'm no fan of multiplayer gaming, but I do like Star Wars, so Star Wars Battlefront II has always posed a conundrum for me. I didn't want to pay full price for a multiplayer-focussed game, but I did still want to experience the single-player story first hand. The holidays finally gave me that chance when the game dropped to £4 (just under $5), and boy was I disappointed.
Battlefront II's campaign felt more like an extended tutorial for multiplayer. A collection of random multiplayer game modes interspersed with snippets of plot. And not a very good plot to boot. I'm not sure what I expected from a game that was widely derided for its pay-to-win mechanics at launch, but I'm really glad I paid next to nothing for the experience. — Tom Pritchard