While it's widely accepted that Apple is planning a refresh of its iPad range, the exact timing appears to be up in the air. Some leakers believe we're going to get a refresh of iPads as early as this week, while others predict we won't see anything until 2024.
So should you hold off buying an iPad? Here's what we know at the moment.
When is the next iPad refresh expected?
Predictions for the iPad range's upcoming refresh range from tomorrow (Oct. 17) to early next year.
Just yesterday, Supercharged News claimed "sources familiar with Apple's media plans" had told it the company is "planning briefings with select media personnel scheduled for later this week specifically focused on the iPad." The report added that "announcements could happen as soon as Tuesday, October 17."
Also in the "this month" camp is the leaker Instant Digital, who wrote that an iPad refresh is expected soon.
But countering both of these is Bloomberg's well-connected Apple reporter Mark Gurman, who stated that while the company is working on new iPads, "the latest indications are that it won't happen this month".
"I don't believe updates of any significance are imminent," he added.
Add to that skepticism the analyst Ming-Chi Kuo, who tweeted last week that it's "unlikely" we'll see new iPad models in 2023.
For what it's worth, 9to5Mac initially said it had corroborated the Supercharged report on an imminent iPad release, but later posted an update that the release might actually by a new version of the Apple Pencil with a choice of magnetically attached tips.
The good news is that we'll be able to confirm or eliminate one of these predictions pretty swiftly. If there's no launch this week, then we're likely looking at a 2024 launch — anything later than an October launch would risk missing out on holiday season sales.
Will there be an Apple iPad October event?
Almost certainly not. Back when Gurman was predicting an October release for new iPads, he anticipated that the refresh would be too minor to justify the sound-and-dance of a full streamed event.
Speaking to the MacRumors podcast Gurman stated that he wasn't convinced there was enough to "drag people down to Cupertino". Instead, he believes Apple will do something similar to the M2 Pro launch back in January, where the company unexpectedly dropped a 20-minute video on the day itself.
Besides, we're already halfway through the month, and Apple usually gives anywhere from 7 to 10 days notice when it sends out invitations to a live event such as September's iPhone 15 launch.
What models are in line for an update, and what are we expecting?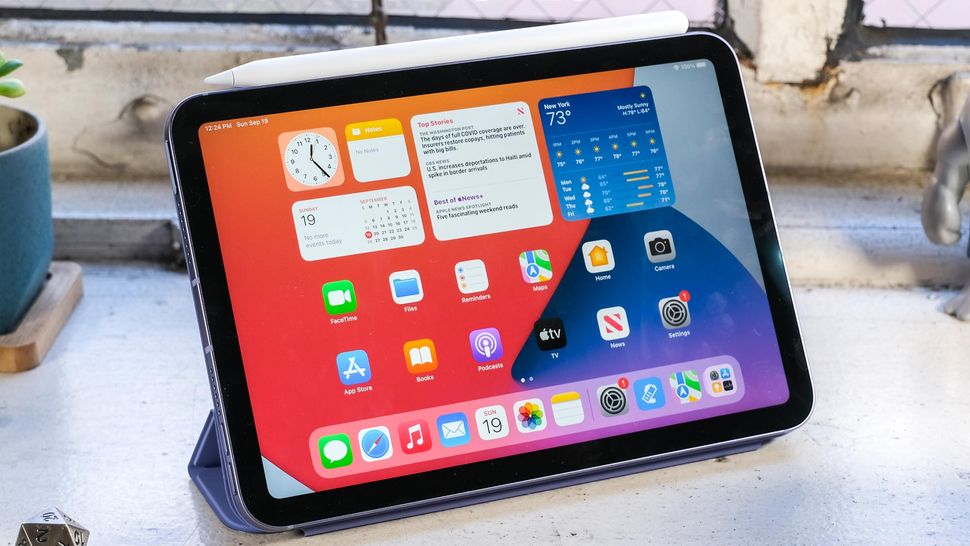 There are three iPads tipped for an upcoming refresh: the regular iPad, the iPad Air and iPad mini. The last of these is the most 'overdue' as it was last refreshed in 2021 with the iPad mini 6. The other two had updates last year.
But it's best to dampen your expectations of what's coming. No big design changes are expected, and the main change will be faster chipsets for all three. The iPad mini 7 will get the A16 chip seen in the iPhone 14 Pro and iPhone 15, while the iPad Air 6 will get an upgrade to the laptop class M2 processor. The entry-level iPad would lag a bit behind both, getting the A15 chipset from the iPhone 13.
Other than that, we shouldn't expect big things, according to Bloomberg's Mark Gurman. The company has big plans for the iPad Pro in 2024, and he doesn't think we'll see "anything other than minor updates to the company's other tablets before then".
What about the iPad Pro?
According to Gurman, 2024 is going to see the iPad Pro's "first major update to the product since 2018".
That's thanks to a combination of three big upgrades. The first is the power of the upcoming M3 chip, which will be manufactured to TSMC's 3nm process offering big boosts to speed and efficiency.
The second is the adoption of the OLED screen technology already used by the company's iPhones and Apple Watches. These will be "crisper and brighter", "reproduce colors more accurately," and will see a 0.1-inch size bump for the larger model taking it to 13.1 inches.
These upgrades will help make the iPad Pro function better as a surrogate laptop, but the final predicted change could make that even easier.
Gurman reports that Apple is planning big changes for the Magic Keyboard, which should make "the iPad Pro look even more like a laptop than the current setup" with the addition of a "larger trackpad." He later stated that it'll be abandoning its polyurethane stylings in favor of aluminum for a more premium look that's also less prone to bending and tearing.
Updated at 3:30 p.m. ET with additional details about possible launch rumors.
More from Tom's Guide