Spider-Man: Across the Spider-Verse set a new standard for superhero movies. But what makes the Spider-Verse series great isn't the comic-book hero at the center of its multiverse shenanigans, but rather the invention and brilliance of its animation, storytelling and characters.
The original Spider-Man: Into the Spider-Verse broke new ground in animation, blending 3D and 2D elements along with innovative techniques to create a completely new style all its own. And you will see the lasting ripples it's made on the industry in the stylized visuals of several of the movies we've listed below.
You won't find a lot of caped crusaders or crime-fighting in this list, but don't worry. These movies evoke the same visually stunning innovation and heartfelt, character-driven narrative that made Spider-Verse such a hit to begin with. Not all heroes wear Spidey-suits, after all.
While you're waiting for Across The Spider-Verse to hit streaming, check out these five best movies like Spider-Man: Across the Spider-Verse.
The Mitchells vs. The Machines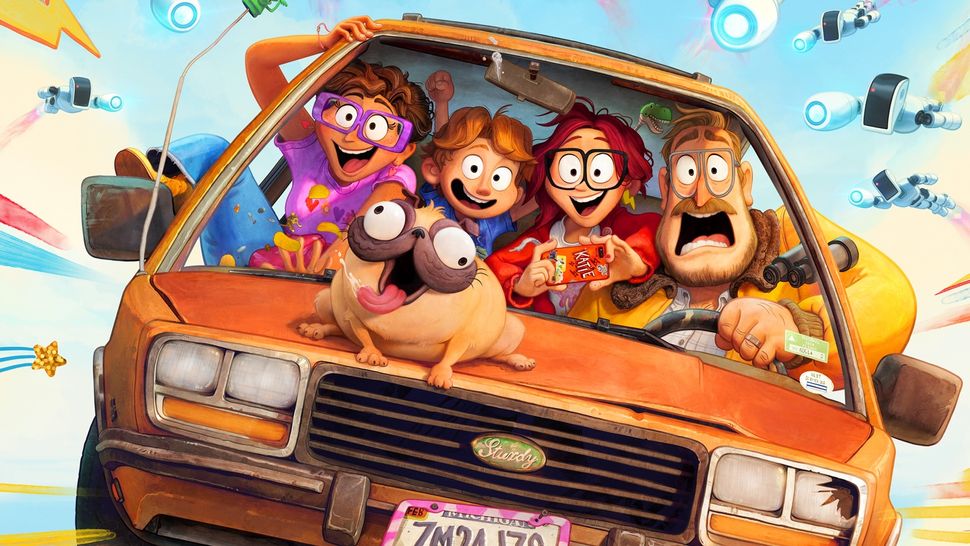 First up is The Mitchells vs. The Machines, a bit of a no-brainer given that it's made by the same team (Phil Lord, Christopher Miller) as Spider-Man: Into The Spider-Verse.
This zany, offbeat family adventure follows the Mitchell family after they set out on a road trip right before daughter Katie (Abbi Jacobson) heads off to film school. Everything goes awry when the robot uprising begins and artificial assistant (Olivia Colman) leads an army of smart tech to overthrow the human race. While the Mitchells fight off murderous Furbys and robot vacuums, their intergenerational attitudes toward technology and art come to a head. It's a chaotic and hilarious ride with a star-packed cast, including Danny McBride, Maya Rudolph and Eric Andre.
It's a joy to watch, too, easily making our list of the best Netflix family movies. The Mitchells vs. The Machines is every bit as a feast for the eyes as Spider-Verse. Doodles and scribbles punctuate the frame during the Mitchells' scramble to save the world, making it look like Katie's sketchbook has come to life.
Watch it on Netflix
Puss in Boots: The Last Wish
If this one feels out of left field, you're not alone. I went into Puss in Boots: The Last Wish not expecting much, but it's right up there with Spider-Verse in terms of quality.
Rather than yet another Shrek spin-off, Puss in Boots: The Last Wish is a sharp reimagining of the character that gets back to its original fairy-tale roots. Antonio Banderas returns as Puss along with Salma Hayek's Kitty and a new cast of fairy-tale cohorts, including Jack Horner (John Mulaney), Goldilocks (Florence Pugh) and her Three Bears Crime Family (Olivia Colman, Ray Winstone, and Samson Kayo).
The movie blends 3D and 2D animation to evoke the feeling of a fairy-tale storybook illustration, with lush-painted backgrounds, stylized visuals and vibrant colors. Puss and Boots: The Last Wish really gets at the heart of what made the original Shrek such a hit in the first place, telling a triumphant and heartfelt tale about making the most of life.
Watch it on Peacock
The Bad Guys
Think of The Bad Guys as a family-friendly Ocean's 11. It follows a cohort of villainous animals voiced by a star-studded cast (Sam Rockwell as Mr. Wolf, Awkwafina as Ms. Tarantula, Marc Maron as Mr. Snake and Craig Robinson as Mr. Shark) as they pull off their toughest con to date — becoming model citizens.
After a job goes south, the crew's lifetime of daring heists finally catches up to them. They're threatened with jail time unless they turn over a new leaf. While they struggle to figure out this whole "being good" thing, the team is split over whether to use this opportunity for one last job or actually take this charade to heart. The Bad Guys is a heist film packed with plenty of heart and humor, and the stylized animation is wonderful to watch.
Watch it on Netflix
Wolfwalkers
Wolfwalkers is a gorgeously animated film from Cartoon Saloon, the production company behind 2009's The Secret of Kells and 2014's Song of the Sea. The story takes place in mid-17th-century Ireland, where tomboy Robyn Goodfellow (voiced by Honor Kneafsey) has moved to a small with her stern but caring father, Bill (Sean Bean).
Superstition and magic run wild, and though Bill has his orders to clear the forest of wolves, Robyn stumbles into becoming an important ally in their survival. Venturing outside the city walls to the forbidden forest, she befriends the spunky and fiery-haired Mebh. Mebh's a wolfwalker, creatures of Irish folklore that are neither human nor beast but some combination of the two, and must work with Robyn to find her lost mother as Bill and the other townsfolk threaten to destroy their home.
It's a simple story that tackles some surprisingly complex themes of anti-authoritarianism, modernization, and our place in the world around us. And its stylized visuals are absolutely breathtaking, drawing inspiration from illuminated manuscripts and Celtic fairytales.
Watch it on Apple TV Plus
Klaus
Another one of the best Netflix family movies, Klaus is the kind of Christmas movie that's still fun to watch all year round.
This gorgeous animated film tells the origin story of Santa Claus, but not in any way you've heard it before. In the fictional town of Smeerensburg, Jesper (voiced by Jason Schwartzman) is a spoiled postman from a rich family who becomes unlikely friends with — you guessed it — Klaus (voiced by J.K. Simmons), a toymaker and something of a cryptid to the local townspeople.
While the animation is predominately hand-drawn, it uses some clever design and lighting tricks with layering and shading to give its 2D characters a 3D effect. As a Santa Claus origin story, Klaus is a bit convoluted, but oozing with enough charm, interesting characters and goofy humor that it can't help but worm its way into your heart.
Watch it on Netflix
More from Tom's Guide