With Twitter — or X, as Elon Musk would like you to call it — seemingly going downhill faster each day, a number of alternative social-media messaging platforms have risen to try and take its place.
The most recent has been Threads, which launched on July 6, and quickly surpassed more than 100 million users in less than four days. Given it ties into Instagram, Threads has a ready-made community which could be appealing to those looking to leave Elon Musk's somewhat chaotic Twitter while still keeping an audience.
But not everyone likes the Meta way of doing things, and for them, something less corporate may appeal even if it means joining a smaller community.
If that applies to you, here are the five best Twitter alternatives you should consider signing up for today.
Threads
Instagram's Threads is Meta's answer to Twitter. You sign into the Threads app using your Instagram credentials, and its interface should prove familiar to Instagram users.
The main difference from Instagram you'll notice is that text is the dominant thing on the screen, rather than images. You can still post images, though (up to 10 images and videos), and multiple media items show up in a nifty, horizontal carousel, introducing an intuitive way to tell a story or share a moment with more than simple text.
Content discovery is a bit trickier than on Twitter. You can only search for accounts, as opposed to words or phrases that might be trending. There's no way to curate your feed to show content only from the accounts you're following. Rather, Threads' singular feed combines the "For You" and "Following" feeds on Twitter into one, showing a mixture of content from the accounts you follow as well as trending posts. In-app messaging is also out, limited to Instagram DMs for now.
Another important thing to note: Unlike Twitter, Threads is tied to another social media app, so you won't be able to delete your Threads account without deleting your Instagram.
Bluesky
If you miss the pre-Musk Twitter of old, then one possibility is to follow the app's founder. Jack Dorsey — or @jack as plenty of people knew him when CEO of Twitter — has set up Bluesky, which automatically gives it a bit more credibility. He's done it before, why can't he do it again?
There are differences, of course. Not only is it quite barebones at the moment, but Bluesky is a decentralized network. That means it'll eventually fracture into different communities that aren't managed by the company itself — although at the moment, you can only join "@bsky.social".
Actually, you might not be able to. Bluesky is currently on an invite-only beta, which means you need to know someone to gain access. If you're keen to try it sooner rather than later, the r/blueskyinvites subreddit is worth a shot.
Try Bluesky: Desktop / iOS / Android
Mastodon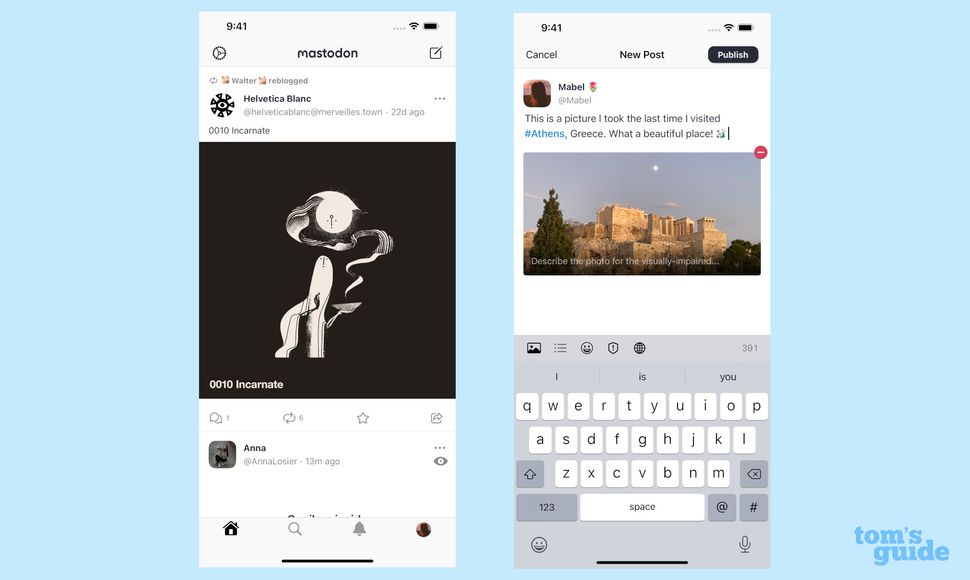 Speaking of decentralized Twitter rivals, Mastodon was in many ways the social network best placed to capitalize on the Musk exodus, having been kicking around since 2017.
But while it's similar looking at a glance (albeit with 500-character 'toots' instead of 'tweets'), Mastodon can feel quite alien to new users thanks to its open-source and somewhat confusing decentralized approach.
While Twitter is one site, Mastodon is made up of a series of smaller servers each hosting a maximum of 250,000 users. You pick a moderated server at sign-up with everyone from rollercoaster enthusiasts to beekeepers catered for.
This approach has pros and cons: it certainly feels a bit more close-knit and friendly, but can also prove a bit isolated as a result of its more closed-off nature.
Try Mastodon: Desktop / iOS / Android
Hive Social
If you mostly see Twitter as something to do on your phone, then Hive might be a decent alternative. There's no desktop version, and it's purely for iOS and Android.
The platform aims to bring back everything "you used to love about social media in a new way" — and that includes a song that plays when anyone visits your profile just like on MySpace back in its heyday 20 years ago.
Just as with Twitter, you follow people on a timeline and if you especially like someone's content you can repost it. Crucially, content isn't surfaced algorithmically and everything you see will appear in the order it was originally shared.
But if you enjoyed Twitter for its brevity, then this probably isn't for you: there's no character limit at all.
Try Hive Social: iOS / Android
CounterSocial
If your main beef with Twitter is the fake news, trolls and spam, then CounterSocial's main pledge should be of great interest to you. It claims to have a "zero-tolerance stance" on "hostile nations, bot accounts, trolls and disinformation networks."
And the service really means it: it has blocked seven countries that it claims are the main sources of such problem accounts, including Russia, China, Iran, Pakistan and North Korea.
There are no ads, with funding coming via the community, and it boasts some other interesting features including a built-in deepfake detector and Factlayer integration to warn you about biases of links before they're clicked. It also offers encrypted file sharing, private messages and calls between users.
In use, it'll feel quite familiar to Twitter exiles, including power users familiar with TweetDeck thanks to its optional multi-column dashboard mode. If you really want to be on the cutting edge, there's even a virtual reality mode.
Try CounterSocial: Desktop / iOS / Android
Cohost
Like CounterSocial, Cohost makes a virtue of its difference to established, corporate social media sites.
There are no ads, no tracking and no algorithms to surface posts, which will instead appear chronologically according to who you follow. "Clear and effective moderation" will be done by humans, Cohost assures.
It looks and feels a bit more like Tumblr than Twitter with long posts being reasonably common. But the functionality is there, and that includes the ability to repost interesting content into your timeline for your followers to enjoy.
At the time of writing, there are no mobile apps however, meaning you'll just have to create browser shortcuts if you want easy access with your mobile fix. While it's free to use, members are encouraged to sign up to Cohost Plus for $5 a month to help "keep the lights on".
Try Cohost: Desktop
More from Tom's Guide