Whether you're a green thumb or beginner, gardening can be challenging at the best of times. That goes double for heavy clay soil, as it can be even harder to plant your favorite blooms for a stunning backyard.
Clay soil is widespread in most parts of the United States, and considered the most challenging soil conditions when trying to grow a flower or vegetable garden.
Typically, this soil type consists of very fine mineral particles and not much organic material. As a result, this texture is dense and wet, not leaving much room for air and water movement/drainage for plants. In addition, clay soil can compact easily, and is prone to cracking in dry weather — making it difficult for roots to grow through.
Luckily, there are certain plants to grow in clay soil that are hardy to cope with such conditions. These will help to improve its texture, and can actually benefit from its great water-holding capacity.
Of course, these will depend on your location and zone so always check the USDA hardiness zone for any suitable plants. So if you have challenging soil in your yard, here are 7 best plants to grow in clay soil.
Does your yard regularly face windy weather? Be sure to also check out 7 best plants for surviving high winds. And here's 7 best self-seeding plants for fresh growth every year.
1. Daylily
These pretty perennials are incredibly low maintenance and very adaptable. Daylilies are tolerant of growing in most soil conditions, but thrives best in moist soil and heavy clay. Although they prefer moisture, avoid leaving them to sit in waterlogged conditions.
Daylilies can tolerate full sun to part shade, and can grow up to 3 feet tall depending on variety. Best suited for zones 3-10, color varieties include red, pink, orange, yellow, and purple for a vibrant backyard.
2. Viburnum
Viburnum is a beautiful, evergreen shrub that grows best in clay soil. These tolerate most soil conditions, preferring moist, well-drained soil. These can be planted in sun, partial shade, or in shady spots in your garden.
Depending on the species, viburnums will also grow in dry soil, while most will tolerate periods of drought during the summer — after establishment.
In addition, these are fast-growing plants (1.8 to 3m in height), and can make ideal plants to create backyard privacy. Alongside the stunning, colorful varieties, Viburnum's fragrance is stronger in warm temperatures — making your yard look and smell pleasant.
3. Hostas
With their attractive white or lavender blooms, hostas are surprisingly low maintenance. These tend to cope well in any soil type including clay, and prefer for their roots to stay moist.
Hostas are extremely durable, and can grow up to 3 feet tall (5 feet with flowers), filling your yard with stunning lush foliage. In addition, these are suitable for shady gardens, thriving in partial to full shade, and can be grown amongst other ground cover plants.
4. Purple coneflower (Echinacea)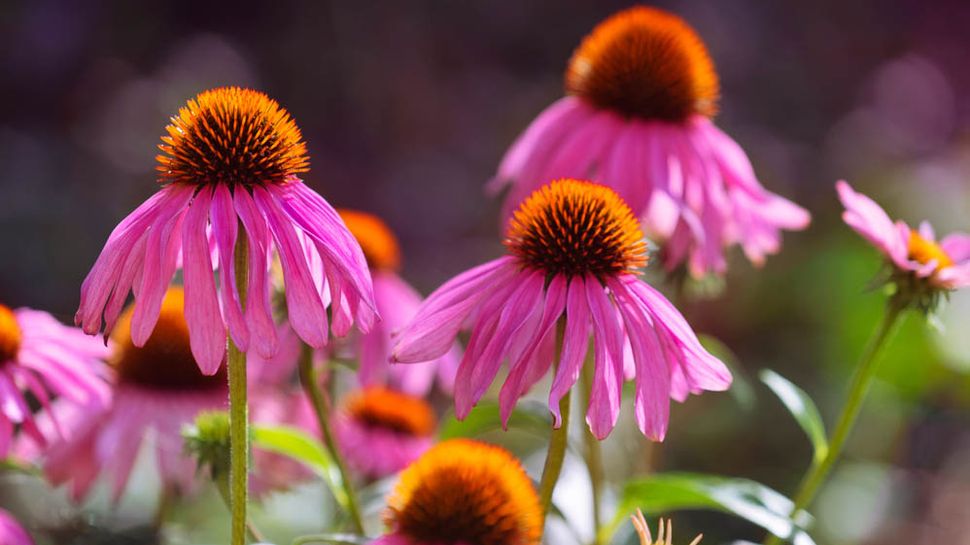 Coneflower or echinacea is a popular perennial, and recognised for its vibrant blooms and shuttlecock shape. Unlike other Echinacea varieties, the purple coneflower has fibrous roots that can tolerate growing in clay soil.
They also prefer medium moisture with good drainage, but can cope well with drought. Coneflowers prefer full sun to partial shade, and can grow as tall as 3-5 feet tall.
Since these are hardy perennials, you'll tend to see the coneflower growing in damp meadows, and woods in the United States. What's more, these colorful blooms are known to attract butterflies and bees to your backyard.
5. Bearded Iris
Bearded Iris are also known to grow well in clay soil, but it needs to be well-drained. In fact, certain varieties such as Japanese Iris or blue flag will cope well with moist soils and will even tolerate short-term flooding.
These are generally low maintenance, provided you plant them in a sunny site. Irises only require a few extra waterings a season, and most varieties grow from 3 to 5 feet tall — making them suitable for borders. Since irises love wet roots, these are ideal for ponds, streams, or boggy areas.
6. Bee Balm
Bee Balm has shallow roots, which makes it tolerant to clay soils. Generally, these cope well in moist but well-drained soil, which will keep them healthier and prevent powdery mildew. In addition, they are known to be drought-tolerant, and can grow as tall as 4 feet.
These vibrant blooms thrive in full sun to partial shade, and colors range from warm reds and cool lavenders. What's more, bee balm is highly fragrant when planted in groups, so will make your backyard smell sweet.
7. Asters
Asters are a large cluster of plants, consisting of many different species and colors. These pretty, violet flowers thrive in moisture-retentive soils such as clay soil, but would need good drainage.
In addition, they grow best in full sun during the summer, but also flower in partial shade from fall season.
Most asters are late flowering perennials that are easy to grow, and can get as tall as 2 metres. Generally, you can find various color varieties in white, pink, purple, blue and red which would make beautiful rock gardens, or for borders.
What is the best soil for planting?
The ideal soil for gardening is loam or loamy soil. This comprises of a 40-40-20 percent mix of sand, silt and clay, that has a balanced organic mix. Loam soil has moisture retention with good drainage, good airflow and decent nutrient retention — making it the best soil for gardens.
If you're unsure of your soil type or condition, you can invest in a soil test kit, such as MySoil Soil Test Kit ($29.99, Amazon). This also indicates pH level, and what nutrients your soil is lacking.
More from Tom's Guide