One of the best vacuum cleaners can help keep your floors spick and span, free of dust and pet hair alike. But, which type of vacuum cleaner is best for your home? There are actually several types to choose from, including upright, canister, handheld, robot and cordless. And while homes have predominantly relied on the first two corded categories in the past, many are now switching to cordless.
Is it worth making the switch though? While cordless vacuum cleaners have come a long way since they were first introduced, there remain drawbacks to the premise and design, especially when compared to corded options. To help you make an informed decision, we've listed all of the pros and cons behind cordless vacuum cleaners. You should factor all of these in before making the upgrade, and consider whether this type of vacuum cleaner would actually suit your home. Let's start with the pros.
Also, here are 9 vacuuming mistakes you're probably making. And ever wondered Shark vs Dyson: Which vacuum cleaner is best? We have the answer.
Pros of a cordless vacuum cleaner:
1. Lightweight — Just looking at the size and shape of cordless vacuum cleaners, you can tell off the bat that they're more lightweight versus corded designs. While the final weight of each cordless vacuum will vary depending on the built-in technology and the materials used, they tend to weigh about 3-6 pounds.
Corded upright vacuum cleaners, on the other hand, weigh anywhere from 8-19 pounds (more than 6x the weight in some instances!). Weights for this category can fluctuate much more, but on the whole, they're definitely the more heavy to push around. Canisters weigh a similar amount, although some can be more than 20 pounds — but, with these, it's a little different as the vacuum sits on the floor behind you. Having said that, you're still dragging the weight around, so cordless is the most convenient in this respect.
2. Maneuverable and flexible — Nothing quite beats the maneuverability of a cordless vacuum cleaner. The lightweight build combined with a slim design and flexible joints, gives a freedom of movement which you can't achieve with other types of vacuum. You can reach under furniture and into crevices with ease, and accessories are often supplied for added versatility.
The accessories you receive depend on the model in question, but some come with crevice and upholstery tools as well as a dedicated rotating brush head for pet hair. There's no cord to lug behind you, and no need to switch power points as you go — it's truly liberating the first time you make the switch.
3. Great for spot cleaning — At first, cordless vacuums were primarily designed for spot cleaning. It was only as they became more popular, that brands had to consider extending the performance to the whole house. But, even with the improved technology, cordless vacuum cleaners still remain ideal for spot cleaning. They're quick to grab and get to work, with no major effort required because of the lightweight design. They can also fit into tight and awkward spaces for difficult spills. The dust canister takes seconds to empty when required as well.
4. Can double up as a handheld model — One of the biggest selling points for cordless vacuum cleaners is their ability to double as a handheld model. Simply remove the hose and replace with whichever attachment you require, and voila, you've got a handheld vacuum cleaner ready to go.
This saves you the expense of purchasing a separate model were you to use a corded design, plus it saves you the added storage space. In my experience, cordless vacuums tend to supply more power versus dedicated handheld models as well — so you're likely getting a better performance on top of this.
5. Quick to use — Cordless vacuum cleaners couldn't be much more convenient to use. There's no need to unravel a cord, drag it to a suitable position or plug it in. You can literally grab and go, vacuuming wherever and whenever you choose. This makes them really speedy in use — ideal if you've got last minute guests coming over and you want to give the floors a once over.
There's generally limited settings to adjust on cordless vacuums as well, but that doesn't mean its capabilities are limited. For instance, some premium cordless vacuum cleaners will automatically adjust the power depending on the floor type it senses. These designs will often give you different power levels to manually choose from as well.
6. Latest technology and advancements — When it comes to vacuum cleaners, cordless and robot are the categories which are receiving the latest technology and advancements. In fact, Dyson has gone so far as to stop developing corded vacuum cleaners — only focusing its efforts on cordless models in the future.
As a consequence, if you want to use the latest technology, a cordless vacuum is your best bet. Recent advancements from Dyson include lasers which can detect hidden dust as well as LCD screens, which display more detail on what you're picking up. More and more cordless vacuums can also display the remaining battery life, while others will alert you when the filter needs cleaning.
7. Compact for storage — Cordless models have a smaller build compared to corded, so naturally they require less storage space. Some even come with wall mounts, so they can be held in a dedicated place. Canister models, on the other hand, can take up substantially more floor space due to their bulky design and overall large footprint.
Cons of a cordless vacuum cleaner:
1. Power is limited — First, while the power of cordless vacuum cleaners has improved substantially over the years, unfortunately it's still not a match for corded designs. The pick up on floors is generally more limited, particularly when it comes to difficult debris, such as entangled pet hair in carpet. As a consequence, if you're often dealing with substantially dirty floors, such as those which suffer from large footfall, a corded vacuum may still be best. A better removal rate means fewer passes to get your floors looking clean, saving you both time and effort.
Corded vacuum cleaners are also less likely to be blocked by such high levels of debris, meaning they will require less maintenance over time. If your home suffers from heavy debris, and is predominantly filled with carpets, we recommend sticking to an upright vacuum cleaner, while those with hard floors are better suited to canister models.
2. Battery life can hold you back — While a cordless design does give you valuable freedom of movement, unfortunately it does mean you're depending on a limited supply of power, and here's where it can really hold you back. If your cordless vacuum runs out of power while you're cleaning, you may have to abandon the task until it has sufficiently recharged — not ideal if you're preparing for visitors.
Of course, some brands have found ways to mitigate this issue. Some cordless vacuum cleaners now feature removable batteries which you can charge separately. This means you can purchase more than one battery and have additional ones on standby for such an emergency. Most brands have improved the general run time over the years as well, with some models claiming to last up to two hours.
Although, in my experience, most vacuums don't tend to last as long as they claim in the real world, as the run time is based on minimal power usage. My advice would be to opt for a cordless vacuum which displays the battery life, so you can keep on top of the charging. If you're dealing with a large floor space, and one charge wont cover it, opt for a model with replaceable batteries, or stick to corded.
3. Storage can be tricky — While a cordless vacuum is compact for storage, unfortunately it will need access to a plug point for charging. This can be difficult if you want to store it out of sight, unless you've got a model with a removable battery. You might also have to install a wall mount to keep it flush against the wall, which isn't to everyone's taste.
In fact, keeping your cordless vacuum cleaner upright can be tricky in general. Most models can't stand independently, so you will have to lean it against the wall as you work your way around the house — otherwise you have to lay it flat on the floor. This can get frustrating, because cordless vacuums have a tendency to fall over when not propped up exactly. Some cordless models, which look more like upright designs, can stand on their own, but it's less common.
4. Can be expensive — There's a huge range of prices when it comes to cordless vacuums, with entry level models starting from less than $100, ranging up to $750 for the latest technology. That means it's all too easy to overspend, so make sure you know what you want from your cordless vacuum before you start perusing, while keeping your budget in mind, and only pay for those features you need.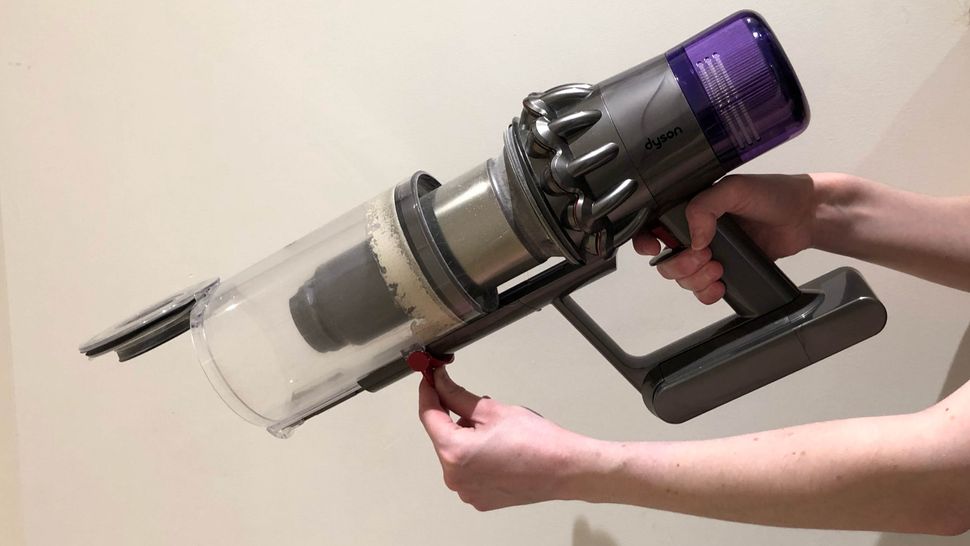 5. Dust canister is small and limiting — It's worth flagging the size of the dust canister. Unfortunately, with a more compact vacuum design comes a more compact dust canister. And that means you will have to empty it much more often than you're used to. In fact, mine requires emptying after each session, which is annoying. It's also quite gross to do this so often, and not ideal if you suffer from allergies either.
Some premium cordless vacuum cleaners do come with self-emptying charging bases, similar to what you'd find with some of the best robot vacuum cleaners. This essentially stops you from emptying the dust out so regularly. However, you will still find that the canister on board fills up rather quickly, and you may have to pause midway through cleaning to empty it on occasion.
6. Storing accessories can be awkward — If your cordless vacuum cleaner comes with accessories, they can be tricky to store and access. This is because, aside from the crevice tool, they usually can't be held on board the vacuum, unlike upright and canister designs. That means, whenever you want to access any of the extra tools, you might need to rifle through your cupboards.
Some charging bases and wall mounts can hold attachments to make this less of an issue. But, you still won't have immediate access to the accessories when you need them most.
Bottom line
Ultimately, whether a cordless vacuum is right for you comes down to your specific needs and preferences, as well as the size of your house. Personally, I can't go back to corded, but if you deal with heavy-set debris on a daily basis, cordless vacuums may not yet have the power you require.
---
For more cleaning tips, tricks and how tos, check out how to clean a washing machine, how to clean a cast iron skillet and 10 cleaning mistakes that will ruin your home. You can also check out this Dyson vacuum cleaner that is a sci-fi tech marvel.