Amazon Prime Day deals are already rolling in, even though Prime Day itself officially doesn't start until Tuesday the 11th. If you're having a home networking headache, this particular deal could be for you. The TP-Link Deco M5 mesh Wi-Fi system is currently on sale at $50 off at Amazon in Prime Day sales.
The best mesh Wi-Fi systems allow you to extend your Wi-Fi coverage throughout your home, eliminating Wi-Fi dead zones and allowing you to play that online shooter in the attic, if you so choose.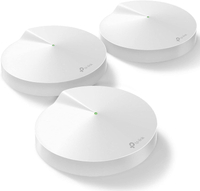 TP-Link Deco M5: was $189 now $139 @ Amazon
The TP-Link Deco M5 is a small mesh Wi-Fi system featuring three routers, which offers up to 5,500 sq. ft. of coverage. The Deco M5 supports speeds up to 1.6 Gbps, and allows for up to 100 devices to be connected. You can also set up guest networks and manage your network from the Deco app. Ethernet Backhaul is also supported.
I installed the TP-Link Deco M5 in my home around 9 months ago, and have been completely satisfied with the system, even though I bought mine at full price. I needed something relatively small to extend my Wi-Fi network upstairs to our bedroom and, more importantly, to my home office for gaming and work.
The M5 provides a strong network throughout our house and I've had no issue whatsoever with the speeds I achieve, around 100 Mbps peak, or the stability of the network. As such, the Deco M5 been fine for online gaming, downloading and streaming. I've had no issues with the devices themselves or the firmware — it's essentially been plug and play, and I haven't had to think about the network since installing it.
My favorite feature of the Deco M5 is the app, which easy to use and makes managing your networks and guest networks easy, as well as figuring out when something has gone wrong at the ISP's end.
The Deco M5 covers 5,500 square feet and supports speeds of up to 1.6Gbps, with up to 100 devices connected. A big feature for many will be Ethernet Backhaul, where multiple routers can be wired up via the ethernet ports for a faster, more stable connection. I haven't used this as my routers are all relatively far apart, so I wouldn't feasibly be able to run an ethernet cable between them. However, it's an extremely useful feature if you can wire yours up, especially if you have extra flexibility on placement by purchasing add-on routers.
At $139, this system is currently $50 off. This isn't the cheapest we've seen it, but it isn't far off ($135 is the lowest price ever), so we wouldn't expect this to go much lower in price as Prime Day rolls on. If you're on a shoe string budget though, check out our roundup of the best cheap mesh routers which are all under $100.