10 Gadgets That Give Olympic Athletes an Edge in 2016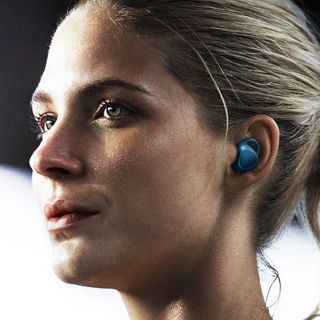 Help 10 Gadgets That Give Olympic Athletes an Edge in 2016
The world's attention has turned to Rio de Janeiro, site of the Summer Olympic and Paralympic Games. Four years of training, sacrifice and dedication have led up to a little more than two weeks of competition for 12,500 athletes representing more than 200 countries and participating in 28 sports.
Today's athletes have plenty of tools at their disposal to help them train, compete and unwind, all in the pursuit of an Olympic medal, personal best or simply memories to hold for a lifetime. Here's a look at the technology that's helped athletes perform their best before and during the games, as well as some tech that will let these competitors make the most of their downtime in Rio.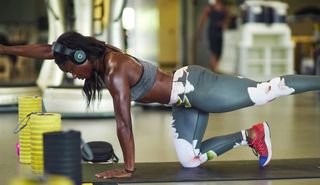 Halo Sport: Brain Stimulation
Five track-and-field athletes from three countries augmented their Olympic training by wearing headphones from California-based Halo Neuroscience. The $649 Halo Sport device looks like an ordinary pair of headphones, but it has been engineered to deliver a mild electric current to the part of the brain that coordinates movement. This current makes the brain's neurons more or less likely to fire, depending on the situation.
This technique, officially called transcranial direct current stimulation, has been the subject of much neuroscience research lately. The studies, although small, have shown that the currents can improve cognition as well as movement. For the athletes, the company said, the currents improved training for "explosive" tasks such as accelerating out of the starting blocks — a part of the competition when many sprint races are won.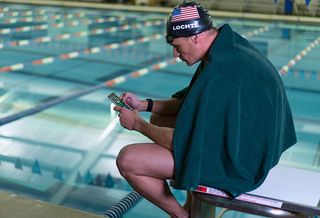 Whoop: Ryan Lochte Wears It
The athletes competing in Rio have been wearing devices that track a lot more than just heart rate and steps taken. Whoop, made by a Boston-based company of the same name, is a wristband that collects data used to analyze strain, recovery and sleep. This information helps athletes understand how behavior changes during training as well as how everyday activities (ranging from sleep to travel to alcohol consumption) can affect overall performance. The goal, of course, is to prevent overtraining and to avoid an injury. About 20 Whoop clients, including U.S. swimmer Ryan Lochte, will wear the wristband in Rio.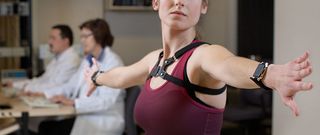 ADPM Opal
A device developed by Oregon-based APDM Wearable Technologies focuses on body movement. The Opal is a small, square-shaped sensor that has an accelerometer, a gyroscope and a magnetometer. Up to 24 of the devices can be used in conjunction, so trainers can see every aspect of an athlete's movements. This technology has helped members of the U.S. men's gymnastics team maximize muscle efficiency and members of the U.S. men's diving team improve their form during rotations.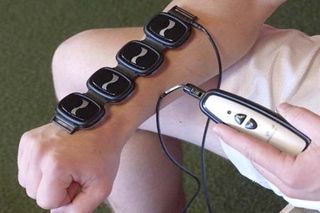 LumiWave Injury Prevention
Olympic athletes may seem invincible, but injuries affected about 11 percent of the athletes who competed at the 2012 Summer Games in London. An estimated 25 percent of those injuries four years ago were the result of improper training — doing too much, not doing enough, getting recovery wrong and so on.
Members of America's gymnastics team are using the LumiWave device to stimulate blood flow before and after workouts as a way to relieve pain caused by soft-tissue injuries. Manufactured by Colorado-based BioCare Systems, LumiWave is now available to the general public starting at $449.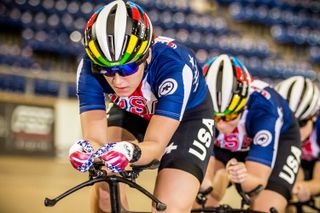 Solos Smart Glasses
American cyclists have worn Solos smart glasses during training runs (the glasses aren't allowed in competition). Via IBM's cloud-computing platform, the glasses display data transmitted from sensors on the bike, providing insight into a cyclist's speed and pedal revolutions. The Solos glasses recently completed a funding round through Kickstarter and should start shipping to backers by October.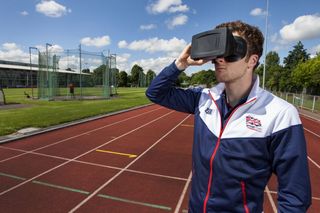 VR-Vantage
VR is helping British athletes prepare for the Summer Games. Technology from British defense firm BAE Systems known as VR-Vantage is allowing athletes competing in sports such as sailing, the canoe slalom and the triathlon to visualize their courses. Athletes can view this 3D footage in their downtime, using a VR headset or a 360-degree video on their smartphones. In doing so, athletes can gain insight into the turns and terrain of the course without having to be there — and without putting additional wear and tear on their bodies through the normal rigors of training.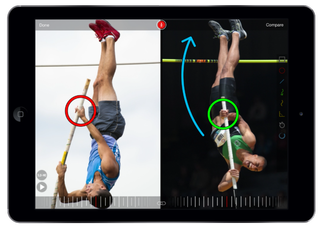 TechSmith Virtual Coaching
Advances in mobile, broadband and video technology now allow coaches to provide feedback to athletes no matter which far-flung corner of the globe they call home. Coach's Eye, developed by Michigan-based TechSmith, lets athletes record a video on a smartphone, tablet or GoPro camera and send it to a coach for analysis. A coach's response can include written words, voice-over narration or even side-by-side videos to, say, compare an athlete's form on squats in the gym to the proper technique. The product also has slow-motion features that let coaches pinpoint specific actions that an athlete needs to improve.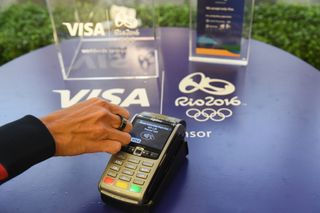 Visa Smart Rings
"Smart" rings have been a bit of a hard sell for the general public. But they're more convenient for Olympians who otherwise worry about wallets or wearables as they change out of workout clothes and travel from venue to venue. In Rio, a select group of athletes will be wearing a ring backed by an account with Visa, the exclusive payment provider of the Olympic Games.
The ring will work at near field communications (NFC)-enabled point of sale terminals, of which there will be 4,000 in Rio. Instead of being linked to a wearer's 16-digit credit card number, the ring uses token technology linked to a unique digital identifier. The ring doesn't need to be charged, as it draws just enough power from the payment terminal to make the transaction. It's also water-resistant to a depth of 50 meters.
Only 45 athletes on Team Visa will be wearing the rings, so the devices won't be everywhere. However, the small sample size will give Visa a chance to test the technology in a closed environment for a short period of time, so the company can iron out any kinks before unveiling the rings to a larger audience.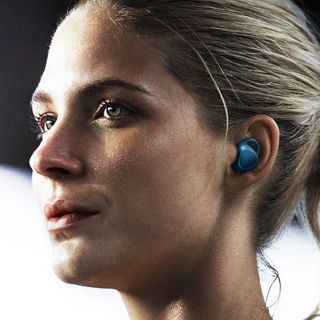 Samsung Galaxy S7 and Gear Icon X
Samsung is the official smartphone partner for the Summer Olympics, so each of the 12,500 or so athletes competing in Rio will receive an Olympic Games limited edition of the Galaxy S7 Edge.
Samsung is also giving athletes the Gear IconX. These cordless earbuds come with a stand-alone music player and an in-ear heart rate monitor that, when paired with a Samsung smartphone, can track fitness updates through the Samsung S Health app.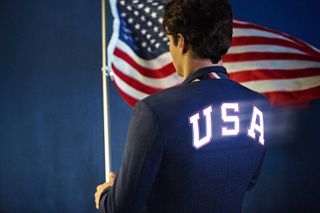 Ralph Lauren Team USA Jacket
Designed by Ralph Lauren, this light-up Team USA jacket will be worn by flag-bearer Michael Phelps will during the opening ceremony. The jacket features electroluminescent panels that will light up the U.S. Olympic team logo on the front, and it reads "USA" on the back. After all, some wearable tech is all style and no substance.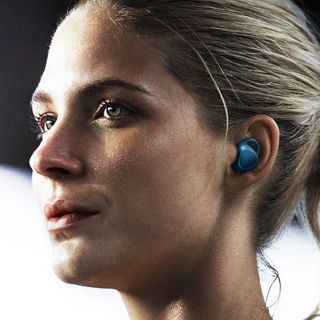 Get the Most Out of the Olympics
Want to train like an Olympian? Then check out our 10 favorite workout apps and our Best Fitness Trackers. And, if you want to watch the games in Rio, here's how you can stream the games online, watch them in 4K, and even view them in VR.