10 Reasons I Spent $3,000 on a MacBook Pro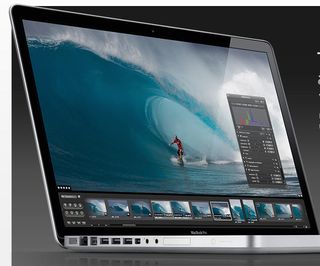 Opinion: $2,845.84 and Worth Every Penny
Apple began shipping the updated 17" MacBook Pro in late February at the staggering base price of $2,799. Whoa. Many of you are probably thinking, "There are no compelling reasons to buy such an expensive laptop." Well, I did it. In fact, I paid $2,845.84. While you may not agree with them, I thought I would share 10 reasons why I decided to buy the newest and biggest MacBook Pro rather than any other laptop.
We've spent plenty of time here at Tom's Guide covering the differences between Macs versus PCs. Well, I'm over it. To me, a laptop is just a piece of hardware that runs software. The CPUs, memory, hard-disk drives (HDDs), optical drives, and other components come from the same sources whether you buy a computer from Apple, HP, Dell, or any other vendor. This article was written on a 17" MacBook Pro running Windows Vista Ultimate, with a Fujitsu 320 GB HDD, an Nvidia 9400-based motherboard, an Nvidia 9600M GT GPU, a Matshita optical drive, and an Intel Core 2 Duo CPU running at 2.66 GHz.
To me, the only thing that defines this computer as an Apple is its design, as well as a few engineering choices regarding the type and quality of the hardware. Apple is a premium product and, in my opinion, is no different from Alienware, Voodoo PC, or any other custom builder. Apple happens to include a Unix-based operating system that feels very polished and is marketed to a specific type of consumer. So, with that out of the way, here are the 10 reasons that made this updated 17" MacBook Pro worthy of my dollars.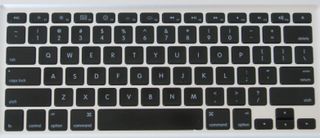 The Best Keyboard Around
When shopping for a laptop, the first thing I check out is the feel of the keyboard. The keyboard, for example, was the first factor that convinced me to buy the original MacBook Pro in 2006. The updated MacBook Pro's keyboard is even better. There is an excellent feel to the keys, and they are very durable. The keyboard features white letters on black keys, making them easy to read in daylight. But the keys are also backlit, which makes them easy to read in low-light conditions, too.
Alienware laptops, HP's dv3510nu, Gateway's MC7801u, the Dell Studio, and many more laptops also offer backlit keyboards, but to my fingers, they are not of the same quality. The Apple keyboards have very little flex, which provides a consistent typing surface. This is in direct contrast to the Gateway MC7801u, which has a somewhat flexible keyboard making it inconsistent when typing. The Apple back-lighting is adjustable, which is more desirable than the backlight on the HP dv3510nu that must remain either on or off. Overall, the Apple keyboards are a valuable feature to anyone using a laptop as his or her primary means of computing. I have yet to find any laptop brand that surpasses the Apple laptop keyboards.

Best Laptop Enclosure Yet
My second reason to buy a MacBook Pro is the new unibody enclosure. This enclosure is created out of a single piece of aluminum. The Apple ads make it look like the enclosure is just a solid block of aluminum cut into an enclosure by a computer numerical control (CNC) machine. You most likely have already seen a CNC machine on any TV show where they create custom cars or motorcycles. CNC machines are used to cut metal very precisely. "Unibody" is a somewhat deceptive term, since there is actually a top enclosure that holds the keyboard and wraps around the entire side and slightly onto the bottom. The lower plate screws into the lowest part of the top enclosure to produce a very smooth seam.
The design gives the owner access to what is inside the laptop, but the upper part gives this unibody enclosure great strength and integrity. This means that there is less flex in the enclosure. Limiting the flex means less stress on the internal parts, which translates into a longer life for the laptop. This unibody enclosure is the most solid feeling laptop I have ever used and makes me feel less concerned about toting around such an expensive machine. The laptop is built tough.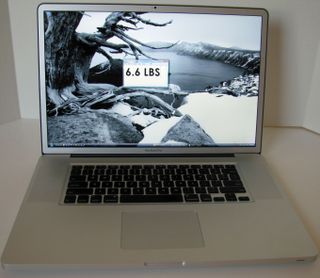 Very Light And Thin
Since the case is made out of a single piece of aluminum, it is not only strong but very light and is advertised as the lightest 17" laptop available. I have yet to find a 17" laptop that is as light as the new MacBook Pro. It weighs in at a slight 6.6 lbs. If you know of a lighter 17" machine, please tell me about it in the comments section below. My own searches showed the Toshiba Satellite L355-S7902 starting at 6.94 lbs as the only competitor lighter than seven pounds. When compared to laptops with dedicated video cards and comparable CPUs, the weights of these machines average about a pound heavier than the new MacBook Pro 17". You might say, "Well, that's only a pound," but that pound makes a difference if you already have to carry a large number of accessories.
All of the unibody Mac Books are under an inch thick, while most of the competition is 50% thicker than that. Other PC makers are trying to imitate the Apple product line but there are inherent costs in building a laptop so thin, yet at the same time strong and light. Only vendors like Voodoo PC have mastered it with the Envy 133, which is the main competition for the MacBook Air. HP has introduced a line of laptops that seems to be made out of aluminum, yet is not as thin. The main advantage of a thin laptop is the ease of portability. Being so thin means it fits into more places and is easier to use on your lap. I noticed right way that the front edge no longer cuts into my wrist like the thicker laptops do. This makes long typing sessions much more comfortable.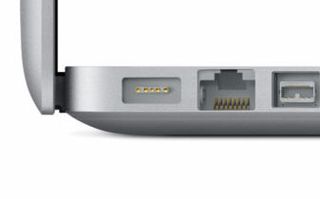 Magsafe Power Connector Rocks
Apple introduced the Magsafe power adaptor for laptops in 2006. This power adaptor features a magnetic DC connector that ensures your power cable will disconnect if it experiences too much strain on the cord. So, a sudden pull will not cause the laptop to be pulled off the table and onto the floor. This innovation is a real-life money saver. My niece managed to ruin her Gateway laptop when someone tripped over the power cord. The computer fell to the floor and the power plug broke off inside the laptop, which then required professional repairs. The incident would not have happened if she had a Magsafe power adaptor plugged into a MacBook.The plug would have disconnected before pulling the laptop to the floor.
Since I have a five-year old at home, the chance of my cord being pulled is very high. The Magsafe magnetic connector will guide the power plug into place for a quick-and-secure connection. The LED on the end of the Magsafe connector will turn green if the battery is fully charged or amber if it is charging. This makes it easy to tell when your laptop is fully charged. The power block has two L-shaped brackets that extend to provide cable management of the Magsafe's power supply, which keeps things neat. It is compatable with all MacBook Pros, so the power plugs are interchangeable. Is Apple the only company with a magnetic power adaptor? I believe so. Please chime in below if you're aware of other vendors selling this feature.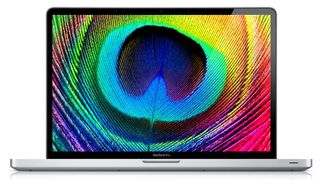 The LED-Backlit Display is Beautiful
The updated MacBook Pro has an LED-backlit display that very few other laptops have. The above mentioned HP dv3510nu has a 13.3" LED-backlit screen. Sony also sells LED-backlit displays in some of its laptops but I could not find another 17" laptop with an LED-backlit display. The benefit of the LED-backlit display is that it provides corner-to-corner, even brightness. The feature is very noticeable when viewing pictures and video as the colors are bright and true throughout the screen. Most laptop screens appear darker in spots and at the edges.
This screen is not only bright, but also high-def capable with a resolution of 1920x1200 with 133 pixels per inch. Apple claims it offers a 60% greater color gamut compared to its previous-generation screens, while my tests revealed that the display is indeed exceptional. All this, and it still draws less power than most other displays. For me, the icing on the cake is that this computer comes with the option to upgrade to an antiglare display. Some people like glossy displays for the extra color vibrance and deep blacks that they create. Personally, I hate the reflection of the glossy displays and often work in very bright conditions where the glossy displays are nearly unusable due to glare. I was more than happy to spend the extra $50 to avoid the glossy display, and I wish more PCs were available with the antiglare screen option.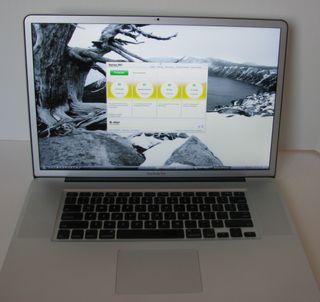 The Dark Side is Stronger in PCs
Okay, here's the real reason I forked over money for this computer: The Sith made me do it. No, not really…but the dark side of the Internet is very strong on the Windows platform. You know what I mean. Many innocents are infected by Flash and Java attacks on PCs running Windows, even with full-featured security suites installed. Please don't start yelling that Apple OS X has insecurities, too. I know it does—it is very possible to attack OS X. The PWN2OWN contest demonstrated how quickly Apple OSX can be hacked.
But the difference is that most PCs in the world run some version of Windows. Percentage-wise, it is a more plentiful target. I will always use a good online security program, but I consistently use OS X or Linux for my casual Web-browsing activities as these operating systems are under attack less frequently.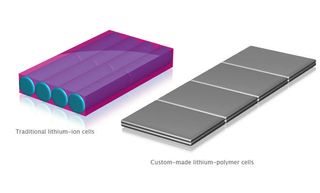 Seven- to Eight-Hour Battery Life
My new computer has a battery that promises seven to eight hours of battery life on a single charge. Apple lists eight hours of autonomy on average with Nividia's 9400 GPU and an average of seven hours with the 9600M GT GPU. This extra hour increase is only available in OS X under the power settings, so Windows users are limited to up to seven hours on a battery charge with the 9600M GT.
I have been able to watch a full-length movie on this computer, with plenty of battery left for other things. I am consistently able to use this laptop for five hours on a charge thanks to the design. The battery is designed to be recharged 1,000 times versus the traditional 200-300 times of most other lithium-ion batteries. This is achieved by charging the battery in way that provides the longest life. Apple calls this technology Adaptive Charging. Since the battery has a longer life, Apple engineers embedded the battery in the enclosure. Doing this enabled them to increase the battery's capacity by 40%.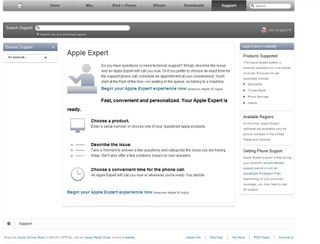 Customer Support is Exceptional
The reliability of Apple's laptops over the past several years helped encourage me to go ahead with my purchase. The company's products are known for reliability and longevity. Apple comes out on top in independent reliability rankings and provides excellent customer support.
You can go to the local Apple store or chat online with a company representative and get many of your issues quickly resolved. I was recently impressed when I took my old 15" MacBook Pro into the Apple store. The employee took my MacBook Pro in the back, popped off the worn keys, and replaced them. He did this in less than 10 minutes and sent me off feeling that I got what I paid for (in this case, I paid nothing and got something). Apple has great technical support because it works hard at it.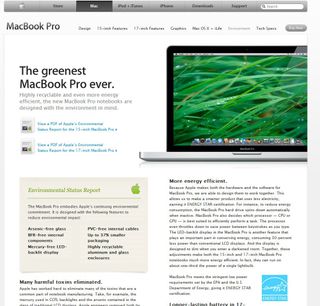 Helping To Make a Cleaner Planet
The new MacBook Pros have earned Gold status from the Electronic Product Environmental Assessment Tool, or EPEAT, which evaluates the environmental impact of a product based on how recyclable it is, how much energy it uses, and how it's designed and manufactured. Apple has also designed this MacBook Pro to last a long time. It has an LED backlit display, which should keep the display looking great for years long after cold cathode florescent laptop screens have faded. The unibody enclosure should protect the inner workings well enough to help it last. Finally, the battery has an estimated life of five years and that means fewer batteries are replaced and thrown away. The laptop should thus have an incredibly long life, which makes it less harmful for the environment compared to traditional laptops.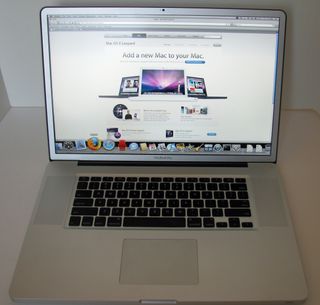 Only On A Mac: Vista, XP, and/or OS X
Apple products give you the ability to run any operating system that you prefer. I use OS X to watch movies, edit pictures and video, and browse the Web. I then boot into Windows for my daily work and for Windows-only games.
Programs like Parallels, VMware, and Virtual PC are useful, but they still do not allow software to run as well on a Mac as it would on a native machine. Apple includes BootCamp with all Macs now, so all you need is a copy of Windows, and you can load Windows XP or Vista on your Mac. Windows runs natively on the MacBook Pro and has direct access to the hardware. This gives you the best of both worlds: Windows and Unix in a dual-boot configuration.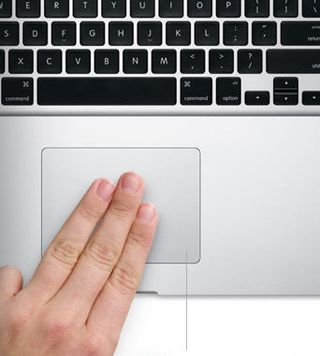 Conclusion
I've shared the 10 arguments that helped me decide to buy a MacBook Pro 17". But there are plenty of reasons not to buy a MacBook Pro and I know it isn't for everyone. The cost of the baseline unit is $2,799 and that is very high for a laptop today. While it is comparably priced with other premium laptops, I had sticker shock. It would be easy to justify buying something cheaper if you have to save money. Also, another downside is that you can get a Blu-ray drive on many other laptops, but not on an Apple. Some people claim it is because Leopard does not support Blu-ray (and perhaps Snow Leopard will in the future).
Also, I wished that Apple had included a powered eSATA port. It seems like the chipset could easily support it. I would love to use my eSATA flash drive, reviewed here, without having to use a Expresscard to get the eSATA port. I can get this in almost every HP and Asus laptop but not in a premium Apple product? That's disappointing.
I am also not a big fan of the multi-touch trackpad. I have found it harder to be precise with it than with a separate mouse button. Perhaps with more time I will become more accustomed to it.
I am sure many of you have your opinions about why buying a 17" Mac Book Pro is not in the cards for you and I'd like to hear about it in the comments section below. But in my case, the screen quality, size, weight, and strength of this laptop presented a fair value proposition.