Internet Explorer Tips, Tricks, and Add-ons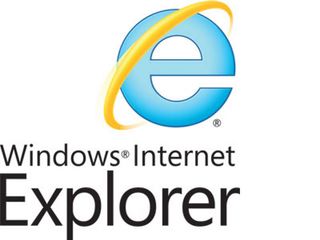 Microsoft Internet Explorer
Though Firefox and Chrome have chipped away at its market dominance, Microsoft's Internet Explorer is still one of the most used browsers in the world, and the latest iteration, IE 10, is set to be released along with Windows 8. Today we'll look at a few basic tips and tweaks for optimizing Internet Explorer and maintaining your online privacy, as well as a few popular add-ons for IE.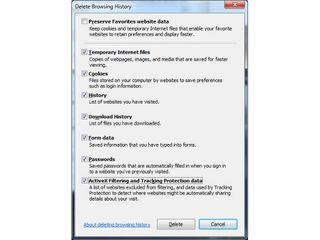 Clear your Browsing History & Cache
Any seasoned surfer will know to clear their browser's temporary internet files and cache periodically. The browser's cache can help speed up the loading times of your frequently visited websites, but once it starts to fill up, it can (paradoxically) slow your browser down. To clear your cache and other temporary data in Internet Explorer, click on Tools (gear icon) -> Internet Options. In the General tab, look for Browsing History and click on the Delete button, which will then bring up a menu allowing you to select what temporary data you want to delete. Tick off the relevant materials, delete, and presto! A cleared browser cache.
You can fine tune how strict or lenient you are with this, as removing items like Cookies and saved Passwords may require you to log in again when you visit certain web sites and social media services.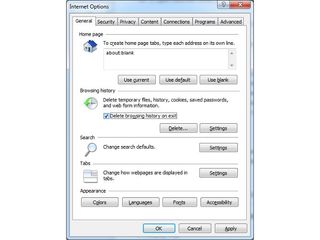 Automatically Clear History, Cache, and Cookies.
If you want to be more paranoid about both your security settings and cleaning up your cache, you can set Internet Explorer to automatically delete your browsing history and the browser cache every time you exit the browser. From within the Internet Options->General tab, click on the "Delete browsing history on exit" checkbox to turn this option on. It'll free you from the hassle of having to manually dump your browser cache regularly, but it will, in all likelihood, add some hassle by requiring you to log in to your web pages and social media services every time you reopen the browser (the cookies that will have saved your login details will have been deleted). This is recommended practice if you share a computer with other users and don't want them to have access to your account logins when they use your browser.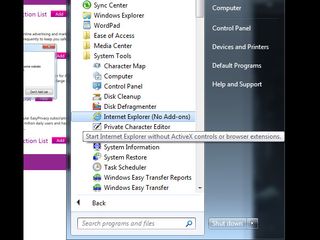 Starting IE without Add-Ons
Another feature that can be both a blessing and a curse is IE's add-on support. Add-ons can add extra utility and features to a browser, but having too many add-ons or badly written plug-ins can actually slow down your web experience. Is IE loading slowly? It might be a problem with your add-ons. You can try loading IE without add-ons to check out whether this is the case. Go to Start Menu -> All Programs -> Accessories -> System Tools -> Internet Explorer (no add-ons). Give it a go, and if there is a massive speed improvement, consider turning off some of your add-ons (we'll show you how next page).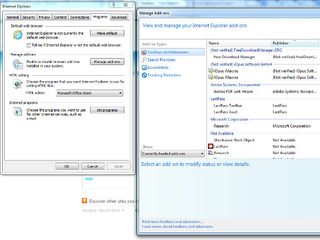 Add On Management
Managing add-ons is a breeze in IE. Go to Tools (gear icon) -> Internet Options -> Programs and look for the "Manage add-ons" button, which will take you to a window displaying a list of all installed and active add-ons, as well as their publishers, load times, and more. From here, you can enable or disable various add-ons that you've installed, as well as look for more toolbars and extensions via the "Find more toolbars and extensions" link. As a general rule, we suggest loading as few add-ons as possible to keep your browser moving at a respectable pace. Even toolbars or accelerators that add only 0.1 seconds to your load time can add up. When you have dozens loaded, you end up with a really bloated browser. Consider the functionality an add-on offers, and if you feel it's really worth it, load it up and see how it runs.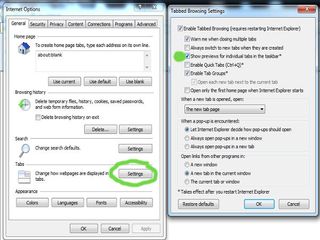 Disable Tab Previews
Internet Explorer automatically displays previews of loaded tabs when you mouse over it in the taskbar, a feature that some find useful and some find annoying. To enable or disable Tab Previews, go to Tools -> Internet Options -> General and go to the "Settings" button in Tabs. From there, uncheck "Show previews for individual tabs in the toolbar," and your problem is solved. Or, if you find that you miss it, you can re-enable from here as well.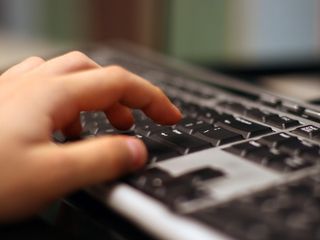 Learn the Keyboard Shortcuts
Keyboard shortcuts can be a real time saver and can separate the efficient power user from the key-pecking amateur. IE is armed with a plethora of useful shortcuts. Check out some of our favorites below:
Ctrl + D = Bookmark a page
Ctrl + T/N = Open a new tab or window respectively
Ctrl + +/- = Zoom in or out of a web page.
Ctrl + Shift + T = Open last closed tab (great for use after inadvertently closing stuff)
Ctrl + Shift + P = Open an InPrivate Browsing window (more on this later!)
Alt + M = Return to Home page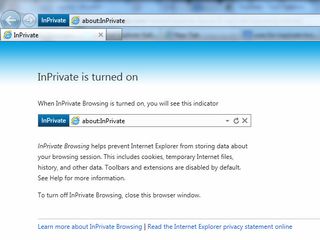 Privacy: InPrivate Browsing
Internet Explorer's InPrivate Browsing mode allows users to browse online without the fear that their browser is recording their every move and storing cookies over time. InPrivate mode, much like Chrome's Incognito browsing, keeps the browser from recording potentially sensitiveinformation like browsing history, login details, and more. It's great for times when you have to share a computer with others. Even if you don't like keeping secrets from family or significant others, it might still come in handy if you're ordering a surprise present online and don't want the transaction record or search details to show in your browsing history.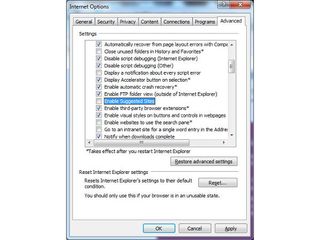 Privacy: Turn off "Suggested Sites"
Internet Explorer's Suggested Sites feature allows your browser to recommendsites based on your internet surfing habits. It does this by recording your browsing history and sending it off to Microsoft for analysis. If you're wary of having your browsing history recorded and transmitted, you can turn off this feature in the Internet Options -> Advanced tab, under the browsing category. Uncheck "Enable Suggested Sites", and IE will keep your browsing history private.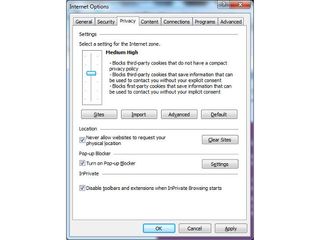 Privacy: Cookie Settings
Cookies are another online feature that can be both a blessing and a curse. No, we're not talking about your mother's delicious pastries, we're talking about internet cookies, little bits of code that websites use to record login sessions or track your online presence. On the one hand, they can be a timesaver, such as when they record your logins so that you don't need to enter your password every time you visit a site or forum. On the other hand, they can also be used to track you online. You'll want to be aware of the intensity of IE's cookie settings, which you can access through Internet Options -> Privacy. A slider bar allows you to choose between a series of presets ranging from the absurdly lenient "Accept All Cookies" to the stringent "Block All Cookies". "Medium" and "Medium High" are a good balance of settings to work with. Higher than that, and your online experience might suffer. Lower than that and you leave yourself open to malware or worse.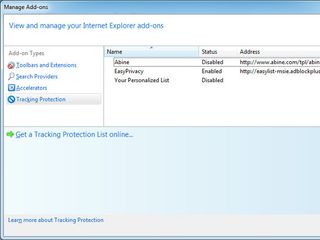 Privacy: Tracking Protection
A final piece of privacy advice is the use of Tracking Protection. Tracking Protection Lists are lists that single out scripts and files that can track you online. Internet Explorer automatically blocks these files if you load a page that uses them. This prevents items on the list from tracking you. There is no Tracking Protection List enabled by default, but it's easy to download and enable one from the Internet Explorer Gallery. Simply go to Tools -> Safety -> Tracking Protection, and from there, "Get a Tracking Potential List online" brings you to the IE Gallery where you can quickly select from a series of popular Tracking Protection lists.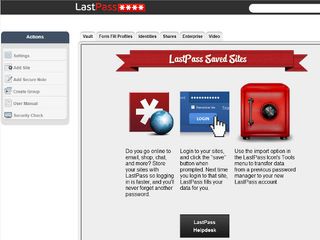 AddOn: LastPass
Last but not least, we do a round up of five useful add-ons that shouldn't put too much of a load on IE while still adding some useful features for utility or browsing. First up is LastPass, a free online password and form filler manager. LastPass bills itself as a one-stop-shop for password management across multiple services and browsers. It's a great and useful utility for those that consider themselves a klutz when it comes to recalling password and account details. Just don't forget the login and password you use for LastPass itself!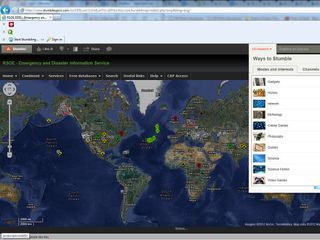 AddOn: StumbleUpon Toolbar
StumbleUpon is a search service that allows users to log in and create an account linked to a series of interests. From there, the StumbleUpon toolbar provides you with serendipitous webpage or image suggestions that match your tagged interests list. It's a neat little utility for casual, coffee break browsing.
Segue: See how much screen space all those add-on toolbars take up? Another reason to keep them to a minimum.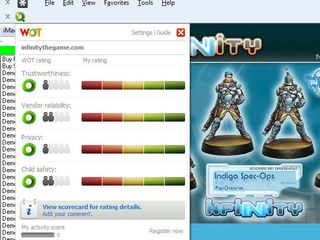 AddOn: Web of Trust
Web of Trust (aka WoT, not to be confused with World of Tanks) is a crowd-sourced security application that rates the trustworthiness of websites and links based on user reviews. WoT places a color-coded circle beside website links and these provide a general review of a link's safety. Hovering your mouse above the icon offers a more detailed breakdown of the rating according to Trustworthiness, Vendor Reliability, Privacy, and Child Safety, as rated by users online. By no means a replacement for good malware protection but a nice added layer of security.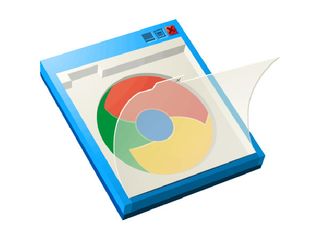 AddOn: Chrome Frame for IE
Much like IETab lets Firefox and Chrome users use the IE rendering engine in their respective browsers, Google's Chrome Frame for IE extension allows Internet Explorer die-hards to use the Chrome engine for certain sites within an IE tab. This allows you to take advantage of Chrome-specific features in Google Docs, Gmail, and YouTube, as well as some HTML 5 features that aren't yet fully supported in IE.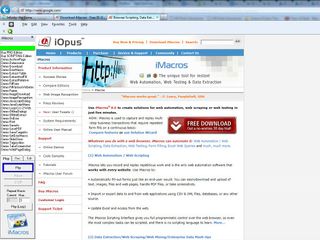 AddOn:iMacros
Finally, we have iMacros, a macro manager integrated into IE as a plugin that allows you to run, create, and edit a stable of macro commands (automated series of commands that allow you to breeze through bulk operations). Beginners to macro use should find the interface simple enough, while advanced users will have a wealth of operations to play with. iMacros is free to use but it will reset your home page when first installed. It'll go back to your default after running any macro.
Do you have any IE tips and tricks for optimizing performance? Any particular utility add-on that you can't go without? Share your thoughts with us and fellow readers in the comments thread.