15 Augmented Reality Projects That Already Exist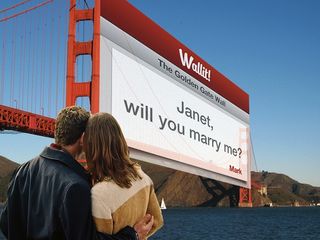 Wallit App
Wallit lets you put your mark on anything – virtually. Say you're at the Eiffel Tower and you want to scrawl your name and a message. With Wallit, you can – without any of the headaches of getting arrested for vandalism. The app taps into the social experience of leaving a message at a certain place, so users must all contribute to the same wall. In addition, content has to be generated and posted from the physical place where the virtual wall is located.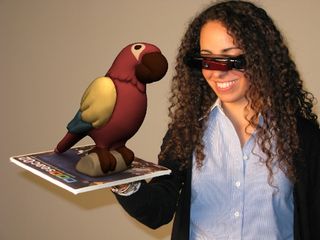 iWear VR920
Vuzix may not have the media buzz of Google, but they have been making and selling virtual-reality glasses for years. The iWear VR920 are glasses that incorporate immersive big-screen 3D video, head tracking, microphone and audio. You can move, look around, listen, and communicate with others - almost like being in the 'real' world – and they're not just for gaming.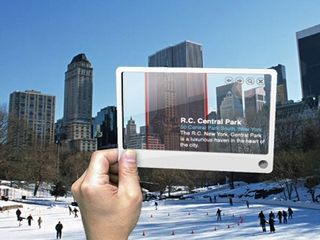 Google Goggles
Sure, there's no glasses-display involved, but Google used image recognition technology to let users pull up info on a number of different types of objects in this free iPhone and Android app. Goggles can scan bar codes to obtain product details, translate foreign language text, and even solve Sudoku puzzles. Think that's sick? There's also an option to add contacts by scanning business cards.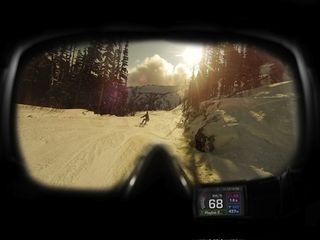 Recon Mod Alpine Goggles
Goggles and skiing go together like peanut butter and jelly, right? Recon takes the goggles to a new level of augmented-reality awesome. The heads-up-display goggles use a rider's GPS location to display elevation, speed, and time of day in a small screen that sits at the bottom-right of the user's field of vision — and it's all in real time. All the cumulative data from a day on the slopes can be downloaded to a computer, and the GPS information can be associated with interactive maps so users can chart their speeds against location. Recon's current products augment those original features with improvements that include jump analytics, buddy tracking, music playback, navigation, and smartphone connectivity. The goggles won't tell you that the subway is running late, but Android connectivity will alert you when you have an incoming call or text.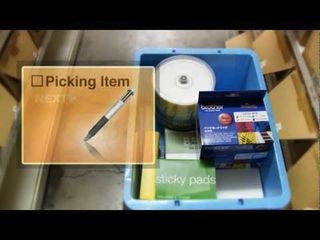 Brother AiRScouter
The printer company Brother has come out with a pair of augmented-reality glasses that is geared toward industrial uses, like workers in a factory or pickers who put items in boxes. The glasses use a monocular design with a translucent LCD that sits in front of the wearer's left eye. Brother says the resulting image is the equivalent of looking at a 16-inch monitor that's one meter away. As a factory worker is operating machinery, the AiRScouter can overlay workflow instructions in real-time, and it can also aid in communication between the factory and workers.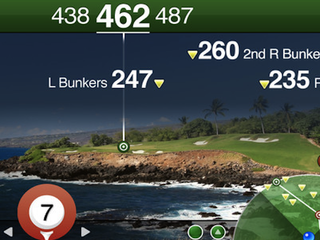 Golfscape GPS Rangefinder App
Augmented Reality apps can really help with specific sports or activities – like golf. The app uses a database that contains GPS data for each hole on over 33,000 courses across the globe. Based on the user's location as determined by the phone's GPS, the apps can provide highly accurate distance estimations to various points on the course, including greens, bunkers, doglegs and layup points. Golfscape takes it a step further, however, providing this information in a heads-up AR view.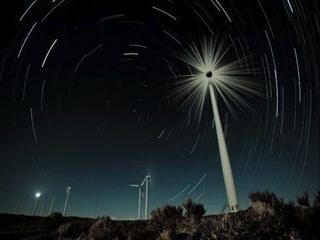 Project Paperclip
Augmented Reality can change the way we look at art, as evidenced by the Google video – but some art collaborations are already using the technology to adjust a user's experience of art. Project Paperclip uses a photography exhibit's QR codes to throw in an auditory experience to music, but the synergy of technology and art is likely to go far beyond this app.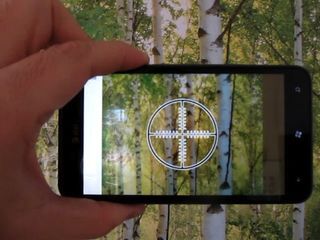 Augmented Colors
This Windows Phone app lets you grab any color from the real world and transfer it exactly to the digital world. Need to make a magazine cover with the exact shade of the bougainvillea outside your office? No problem!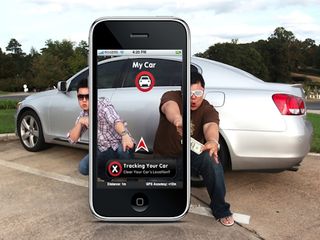 Augmented Car Finder
Can't remember where the car's parked? If you're capable of operating an iPhone (sober or drunk), then this app will let you follow your phone to the correct vehicle. The reminder app saves the car's position, pulls up the street address near your parking location, and steers you in the right direction – all for free.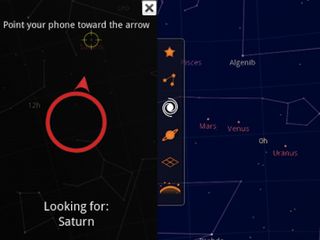 Google Sky Map
Any Android device can become your ticket to the stars with this Google Sky Map app. The app takes your phone and makes it an optical telescope that can identify stars, constellations, and planets just by aiming the phone at the sky. Google introduced a time machine feature capable of recreating and displaying the sky on any given time or date, along with a "Night Toggle" mode that enhances star color and brightness at night. You'll also find a Hubble image gallery to view and search other objects above the Earth's atmosphere.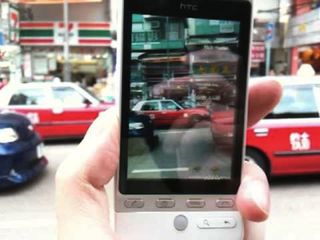 Lookator
If finding Wifi hotspots is what you need to do, Lookator is a must-have. The Android app uses augmented reality to turn hotspots into visual signals, showing you the strength and location of any wifi around you. Oh, and it also gives you walking directions to get to a signal. Just hold the your smartphone up and Lookator will take care of the rest.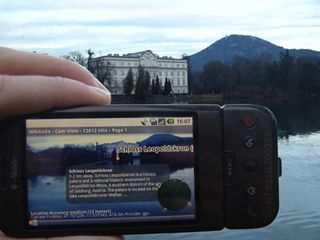 Wikitude
Better than an enthusiastic tour guide with an iPad, Wikitude is a virtual browser that lets you point your camera towards a location and bring up information on that place. It also finds mobile coupons and discounts for local stores. The "myWorld" feature and "Create Place" tool can be utilized to mark and share favorite spots with friends on Facebook. It's available on all mobile platforms – for free.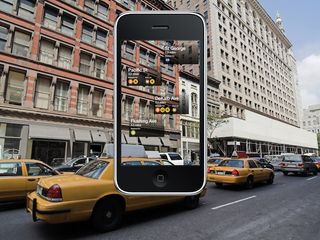 Acrossair
Acrossair lets you see what others see in a city – when you hold your phone sideways, you can look at your location on a map, and choose what you want to examine later. You can view cinemas, hotels, and many other amenities, check out geo-tagged Wikipedia entries, or see local tweets--you can even pin a location to find your car later. Once you've chosen a layer, simply hold your phone upright, and the full-screen camera viewfinder appears with overlaid information that pops up in see-through balloons as you move around.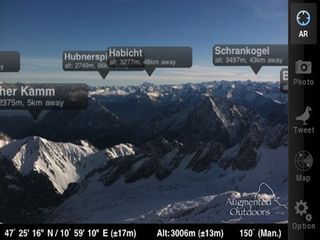 Peaks
Peaks does for the natural world what many of the visual browsers do for the constructed world: explain it, and make it fun! It's a simple augmented reality app that lets you point to any mountain (major or minor) and get information about it. The app which is $3 and only available for iPhone currently, will tell you the peak's altitude and how far away it is. When you go outside, the app also lets you take photos, both with and without the overlaid info.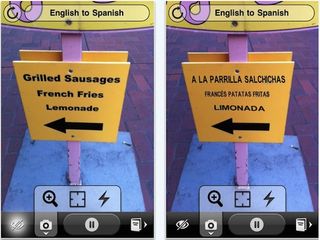 Translator
So the menu says Moo Shoo Chicken, but is that really what the Chinese script reads? There are several augmented reality apps that can translate languages, but this new tool from Bing looks pretty great. Use your camera to translate printed text, voice recognition to translate spoken text, or the keyboard to enter text that you want to translate – from signs, menus, newspapers, or any printed text. Microsoft calls it automatic subtitles for daily life.