9 Reasons To Install The IE9 Beta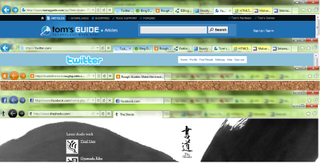 See The Web Sites You Want, Not The Browser
If you've always used Internet Explorer simply because you've always liked its Web slices and accelerators, or have been fond of the fact that it was the first browser to run in protected mode for security, or because in IE your online banking site reliably works; whether you've stuck with it from inertia, or because you need it for a work site – whether you love or tolerate IE today, we think you're going to love IE 9 beta.
Even if you're tried every IE 9 Platform Preview, you haven't seen the new browser until today; the beta is the first time we've seen the new interface. Yes, it looks rather like Chrome and Firefox, but it looks good, regardless– and it works better on small netbook screens. It's clean and simple, with a single box for typing searches and addresses and no clutter at all – you can have a menu bar and a favorites bar and page tools, but if you don't use them they're not in the way.
To make the Web sites stand out more, when you pin them to your taskbar they get a slightly different interface; the favorites icon gets bigger and the interface takes on the color of the site.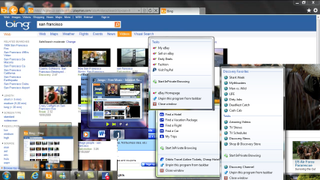 Work With a Web Site Like A Real App
The new-look tabs work like any browser tab – but they also do a whole lot more. You can drag a tab onto the desktop to tear it off into a new window, which Chrom and Firefox have been able to do for a while, but that's not all. If you want to see two pages side by side, drag the tab into the corner of the screen and you get Aero Snap sizing for just that tab (which Chrome can't do); drag it back afterwards (which Firefox can't do). Drag the tab to the Windows 7 taskbar and you can pin it like an app and load it like an app. Once you pin a Web site to the taskbar, you get Windows 7 jump lists that the site can control – eBay, Discovery, Orbitz, Twitter and lots of other sites put common tasks and content links in jump lists. If you're playing content on Jango you can hover over the taskbar icon to get a mini player thumbnail that lets you play, pause, forward and rate the song. In a few weeks Bing will get a mini player that lets you jump between the different tabs of your search. With IE 9 beta, your Web apps get the same cool Windows 7 features as Windows apps.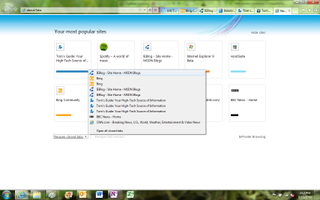 Find Pages You Visit Often, Faster And Easier
The first thing people do when they open a new tab page in IE is type something into the address bar (which seems obvious). Only 4% of all IE users in Windows Vista and 7 (that let Microsoft track them) have put anything on the favorites bar, so IE 9 puts sites you visit all the time as buttons right on the new tab page, arranged by how often you visit. There's a color-coded bar showing you often you go to that site. Recently-closed pages are now on a popup menu so you can get back to the page you just closed.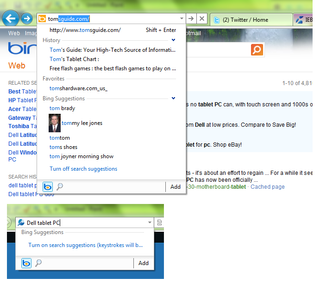 Find What You Want Faster But Stay Private
Worried that Google Instant Search tells the search engine too much about you? By default the new combined 'one box' for URLs and searches doesn't send what you're typing until you hit return - which means search engines don't get to see what URLs you type in - but it does still search your history, favorites and other local information for matching sites that might be what you want. If you want to get Search Suggestions from the search site of your choice as you type because you think they're useful, you can turn that on with one click in the results dropdown.
This may seem paranoid or you might be glad to have the option of extra privacy; everyone is going to have their own opinion. What's nice about the IE 9 beta is that the more private option is turned on by default – not the one that advertisers and search engines might prefer.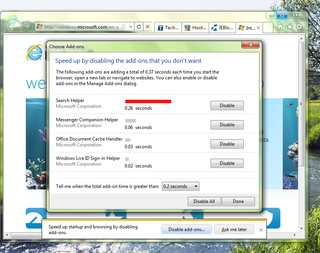 New Tabs Always Open Fast - Or Know Why Not
The most basic thing you can do in your browser is open a new tab, before you even load a page - and that should be instant. Microsoft has been saying for a while that if IE 8 doesn't open a new tab fast, then an add-in is to blame; the IE 9 beta will actually warn you if that's happening. When you first install IE 9 (if you had IE 8 installed with add-ins) or any time that opening new tabs gets slower than the expected 0.2 of a second, you'll see a popup in the new notification area at the bottom of the screen asking if you want to speed up startup. That shows a dialog with how long each add-on adds to the time it takes to start a new tab – and Microsoft isn't afraid to tell you when its own tools are slowing you down. This kind of naming and shaming is exactly what we need to get faster add-ones and faster browsing.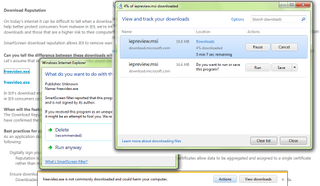 Trusted Downloads Save You Malware Headaches
The new download manager in IE 9 works with the SmartScreen service Microsoft uses to check for malware on Web sites. It has the usual list of what you've downloaded recently with options to save and run files or to pause and cancel current downloads, but it also looks up the reputation of every file you download to see if it's something thousands of people have already downloaded safely or a piece of malware with the same file name. If it's known and trusted you don't have to click through all the dialogs asking if you really want the file – it downloads and runs automatically. Only if it's unknown will you get a warning asking what you want to do and making you confirm you want it. (This feature is still being tested and will start working with the beta soon).
IE 9 also protects you from malicious adverts; a way that legitimate sites can be hijacked to deliver attacks. The SmartScreen filter blocks known malicious adverts and the notification you see tells you where the 'malvert' came from as well as the real site that you were trying to get to.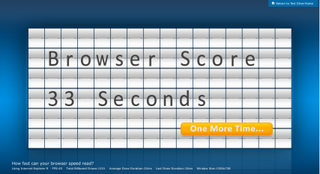 Sites Are Faster And Your Battery Lasts Longer
IE9 is just plain fast at everything, from opening new tabs to speeding up JavaScript to running Web apps, because of the new JavaScript engine that uses the second core if your CPU has one, and because of the way it uses your GPU to accelerate text, pictures, video and everything else in the browser. That's faster than the hardware acceleration in the latest version s of Chrome, Firefox and Safari; on a fast PC IE9 takes 14 seconds to run the new Speed Reading test in the IE9 test drive (our Core i5 PC was a little slower at 33 seconds). But even on the fast PC, Firefox takes 9 minutes and Chrome takes 13 minutes. On comparable spec systems, Safari gets a score of 43 on the psychedelic browsing test - and IE9 gets 1810.
And it does it without hammering your battery life. Yes, you're using the GPU as well as the CPU inside your PC, but on a lot of notebooks the GPU actually uses less power than the CPU so you save overall, points out Jason Weber, who's in charge of IE performance. Even if the GPU uses more power than the CPU, it does the rendering much faster so it can turn off more quickly. The worst case scenario is high-end gaming notebooks with high-power GPUs, where you either don't save any power or actually use a little more.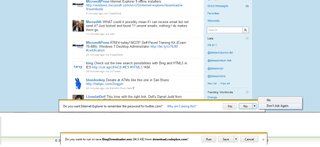 IE Gets Out Of Your Way, Not In Your Face
No more dialogs popping up on top of the page to ask if you want IE to remember a password when you just want to get on with using a site; you do get the option but it's out of the way in the new notification bar at the bottom of the screen. Instead of the browser fussing and getting in the way, you get straight to the Web site. If you download a file from the Web, the confirmation message is as the bottom of the screen as well, so you're always looking in he same place.
You'll also get a notification if a tab hangs; that only affects the tab having problems – the other tabs carry on working, the dialog tells you which site is causing the problem and it's just that tab that restarts, not the whole browser.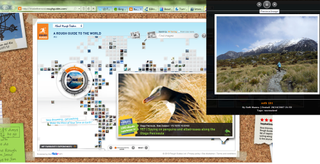 Great Web Sites Look Better
The point of a browser is to run Web sites and apps and IE 9 does that better than ever. To prove it, Microsoft has put together a collection of amazing new Web apps from a 3D virtual reality museum that's written in just 500 lines of JavaScript but runs faster than the native code 3D Google showed off earlier in the year, to painting programs to an interface Cool Car board on the Top Gear site to the Rough Guides photo explorer. Check out the links at www.thebeautyoftheweb.com; you might find a new favorite.