We checked out the Kinect line at about noon on Wednesday afternoon. There were between 80 and 100 people in line at that point, and though none of them looked bored, tired or fed up, they didn't exactly look overjoyed to be sitting in the cold either. Really, we can't blame them. First in line was Peter, a New Yorker who had been waiting since 7pm on Monday evening. If I'd spent two days loitering outside the Toys R Us in Times Square, you better believe I'd be more than a little ticked off at the weather, the tourists and the constant stream of people asking me why I was there. Peter was a little subdued, but more than happy to talk all the same.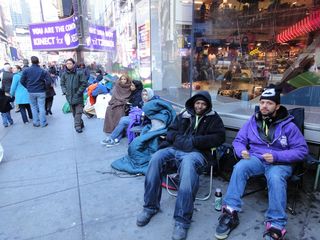 Still, fast-forward 10 hours and it was a completely different story. Everyone was standing up, cheering and clapping. The line was now snaking around the corner and stretching back about a block and a half. Microsoft had handed out Kinect t-shirts and hats and everyone was having a grand old time begging the promo guys and girls for more swag. We walked the length of the line and talked to the last guy, who had arrived at about 10 minutes before we found him. His name was Eddy and he was in line to get Kinect for his 3-year-old son, who is celebrating his fourth birthday this Friday.
"He's really excited. He's gonna be great at it too!" said Eddy proudly. The Rutherford resident said his son had played the Wii but that Kinect "will be so much better." However, he also said that he didn't think the peripheral would sell well because of its price.
"I think Kinect is going to trump the Wii but I think it will put people off that it's so expensive–" Eddy breaks off to join in a wave, jumping up to throw his arms in the air and yell with the rest of the crowd, before picking up where he left off. "So, yeah, I think it's going to be the hardcore gamers who get it first. I think other people will be put off by the price – it's expensive, but I think the hardcore gamers will get it and then other people will come after that."
We also spoke to a family from Deptford, New Jersey, that had arrived at 8: 30 p.m. Stelios, 11, and Loren, 13 were excited about finally getting to play with Kinect and, considering the boys are off school for the week, their dad Steve was more than happy to wait in line with them. With no Wii or PlayStation in the house, the guys are loyal Xbox fans and the boys started playing at a young age.
"[Stelios] started playing the Xbox when he was four," said Steve, smiling.
Stelios spoke up, gesturing to his older brother who was sitting next to him reading a Halo book, and stated, "I started playing Halo when I was four; I taught him everything he knows."
Gill and Jessica, also from New Jersey, showed up at 5 p.m. and were about halfway down the queue. Cheerful and chatty, when we asked if they were cold, they laughed and answered a resounding yes. They knew it would be a long wait but were more than willing to hold out for the free copy of Joy Ride and Kinect Sports that Microsoft is giving to the first 3,000 customers.
The wait seemed to drag on forever, but finally, the one minute countdown began. When the big "countdown-to-Kinect" clock hit zero, the crowd erupted and any flagging moods were instantly revitalized. It didn't last long, though. Microsoft reps came out tapping their phones and informed the waiting crowd, "There's still two more minutes!"
A couple of minutes later, to chants of "Let us in! Let us in!" Microsoft and the Toys R Us crew opened the doors and let the first group of customers in. Ten minutes later Peter, our friend from earlier in the day, emerged from a side door carrying his Kinect accessory. Walking down the street he held it aloft for the cameras. Two days in line has got to be tiring, but don't forget, Peter still has that after-party to go to!
Did you queue up to buy Kinect in your town? Let us know in the comments below!