The best portable chargers help keep your phone alive when you need it most. They also power our phones, tablets, Nintendo Switch consoles and even our laptops when the need arises. Since we all find ourselves out of the house with low battery life at some point, you'll need a portable charger.
Not long ago, we completed a litany of tests on 10 of the best portable chargers, pulling from the big brands and popular competitors. We tested how fast they charge and how many full phone charges each power bank stores. Though these portable chargers all regularly appear on bestseller lists, they are different in a number of important ways.
We've got these best portable chargers ranked in order of what we ourselves would buy, with shoutouts for the best portable charger, as well our favorite compact charger and the best portable charger for USB-C.
Our testing was performed on the same iPhone 12, with its brightness set at 100%. We tested each charger in four different ways: how much of a charge it added in 15 minutes, how much it added in an hour, the time it took to refuel an iPhone from dead to 100% and how many times it could refill the same iPhone 12 from dead.
So, if you're always trying to keep your phone at 100%, or worry about hitting empty in the wild, we've got the details you need. This includes what chargers offer which kinds of ports, and how many, so you can even charge multiple devices at once. Even if your phone is on our longest lasting smartphones page, you could benefit from this portable insurance package on your next outing.
The best portable chargers you can buy today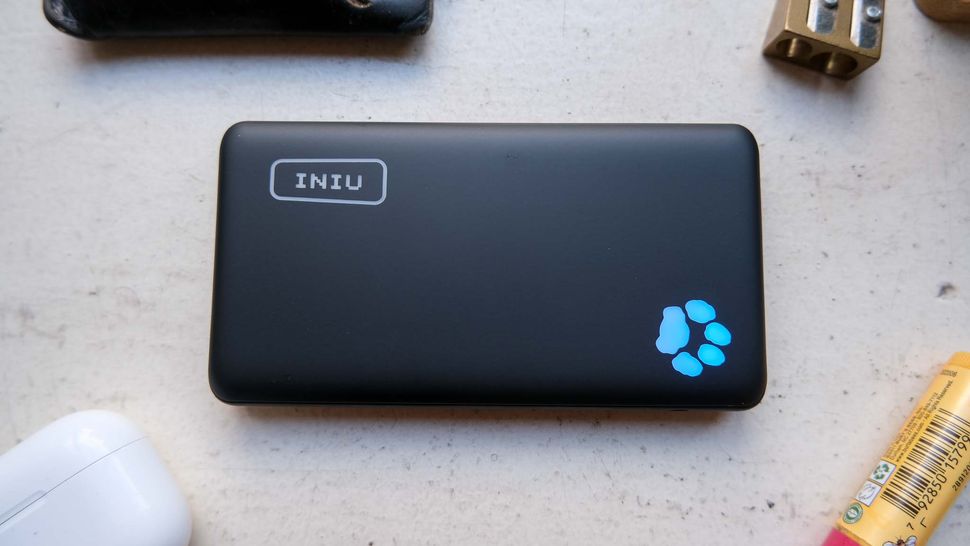 A shocking upset for the top slot, Anker (the typical standard-bearer) lost to INIU's 10000 mAh charger. This brick is one of the best portable chargers because not only did its charging times and speeds sit near the top of the chart, but it's got 2 USB-A output ports to the Anker PowerCore Slim 10000's single USB-A charging port. And since that second port can be the difference between powering a secondary device while you charge your phone (or helping a friend out when they need it), we're giving the INIU the overall nod.
And for a brand we're not that familiar with, this INIU charger stood up in 15-minute and 1-hour timed charging (at 22%, 78%), with times that were within 1-2 percentage points ahead of the PowerCore Slim's times. It only failed to beat the Anker to fill a complete phone once, putting up a 2-hour time, four minutes behind the Anker. Both chargers refilled about 2.2-2.25 iPhone 12s, so it's practically a dead heat. INIU also has a longer warranty: its 3-year plan is twice as long as Anker's 18-month window.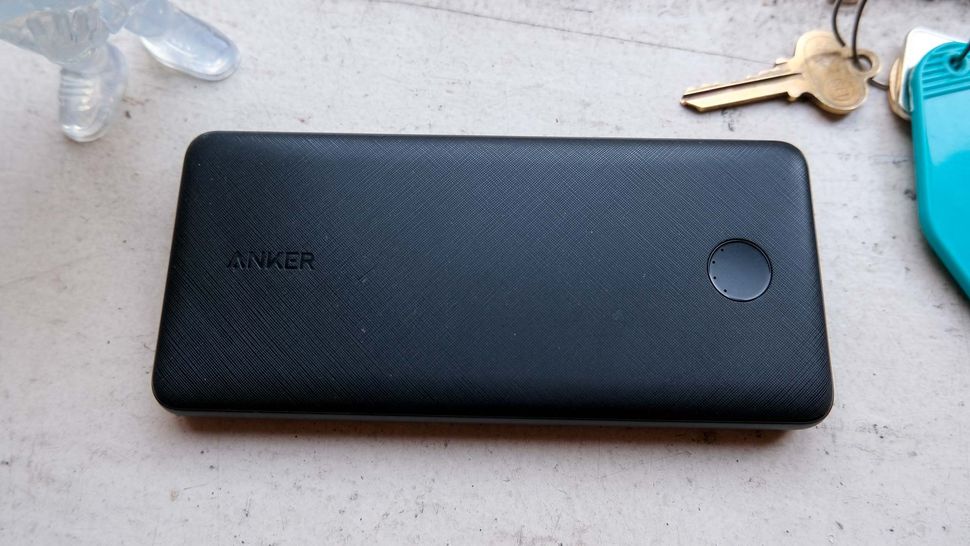 Our number 2 pick (still one of the best portable chargers) is the Anker PowerCore Slim 10000, which is a bit heavier than the INIU 10000 pack (7.3 ounces to 6.9 ounces). But it would have taken the top slot had it had that second USB-A output port.
That's because its charging times were so close to the INIU brick (21% in 15 minutes, 76% in an hour) and its overall time to fill an iPhone 12 was 4 minutes shorter, at 1 hour and 56 minutes.
But it's so close to the INIU that we have to keep it as the #2-ranked portable charger. These bricks are so close, practically within margins of error in testing. If you only need to charge one device at a time, and the sale pricing makes the Slim 10000 that much cheaper than the INIU, go for it.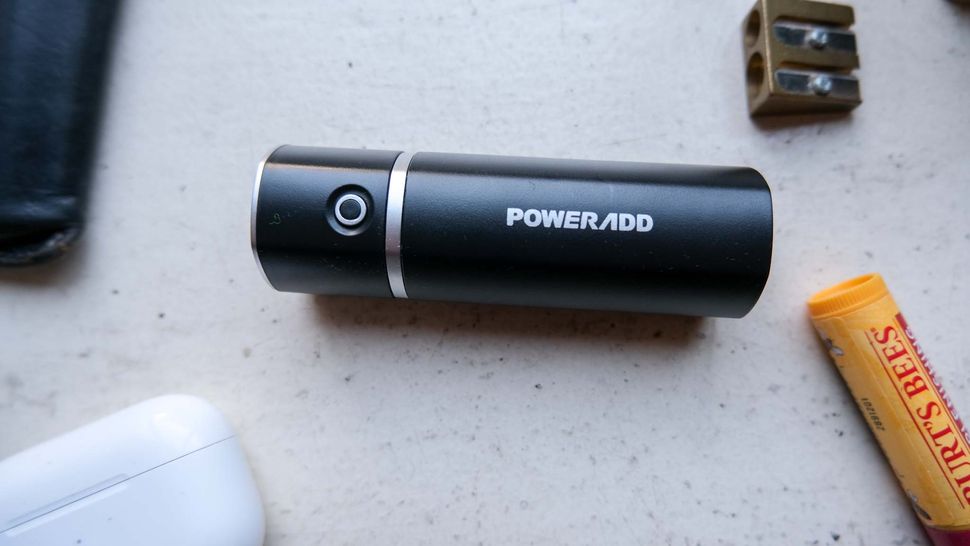 Not everyone needs a full brick that can get their phone fully charged. Sometimes you just want the ease of mind of a small cylinder of juice. And (again) the numbers between the Poweradd Slim 2 and the competitive Anker 5000 mAh stick are close. The Poweradd won on 1-hour charging (67% to 62%) and lost on the 15-minute window (16% to 19%).
In terms of internal capacity, the Poweradd didn't actually beat the Anker, but was within the margin of striking distance, at 97% to 105%. And that difference isn't worth dinging it over. So, how did the Poweradd stick make it this high on our list of the best portable chargers? It's often the cheapest on this list, typically sitting at around $10.99 (that's almost over half as much as similar chargers). And at 4.4 ounces, it's a touch lighter than the 4.7-ounce Anker PowerCore 5000.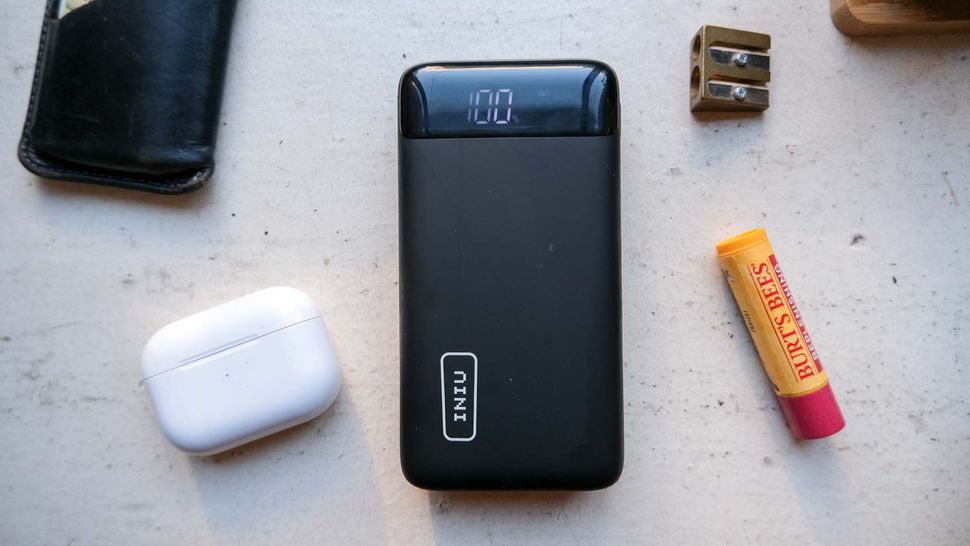 USB-C is no longer the port of the future, it's the port of the day. And while INIU's 20-watt brick is a bit heavy (the second heaviest on this list), its dual-function USB-C port makes it a clear favorite for one of the best portable chargers for those charging with the reversible port. This way, you can both charge it and charge other devices with the same USB-C cables, and you've also got two other USB-A ports for recharging other devices.
On top of that, it turned in the best performance in the 1-hour charging window, bringing our dead iPhone 12 to 81% of its charge. And its 1-hour and 57-minute time to bring that iPhone to a full charge is the second-best of the pack, only off by a minute from the PowerCore Slim 10000. Its high capacity of 20000 mAh also meant it refueled an iPhone more than most of these chargers, with 4.78 iPhone 12 refills.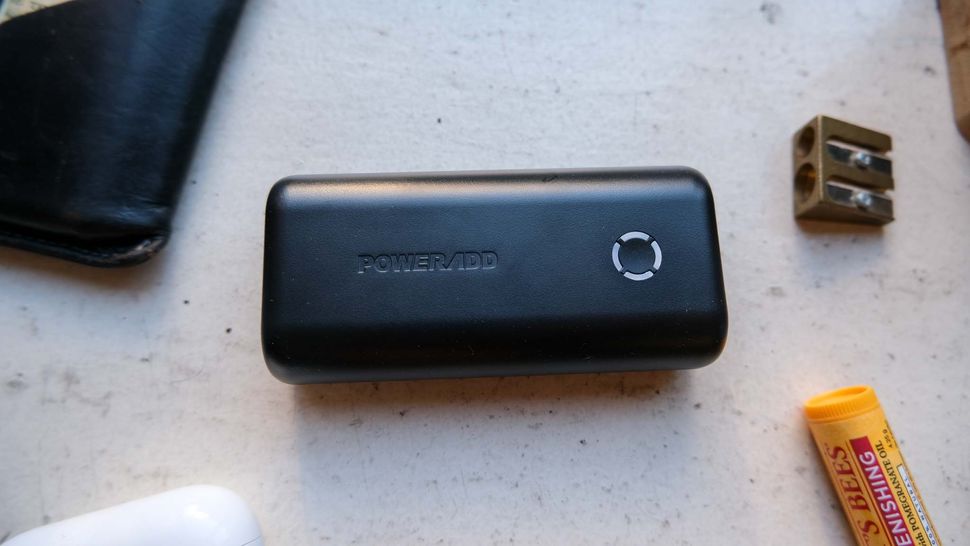 The Poweradd EnergyCell 10000 doesn't look like a 10,000 mAh battery — it's small enough to be mistaken for a 5,000 mAh charger. But it packs about two full iPhone 12 charges into its shell, which makes it a surprisingly long-lasting power supply, and one of the best portable chargers overall.
Don't let that size worry you. Its 15-minute and 1-hour charging scores (20% and 71%) are up there on the right side of the ranges of scores. The only thing that's slightly disappointing is that it only has one USB-A out port, but that makes sense given its small size. That portability is one of its biggest strengths, though, as you probably won't have your whole crew expecting you can help their phones stay charged if you're not carrying a tank of a portable charger.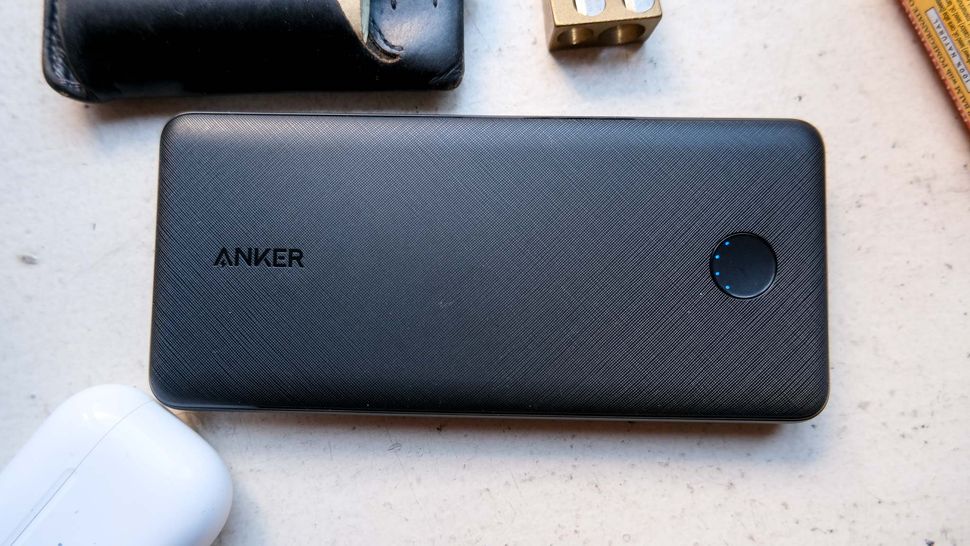 Anker's 20,000 mAh brick is lighter than comparable bricks by a few ounces, but its charging scores are consistently behind by 3 to 4%. Its other win is seen in its USB-C input for faster charging of the brick, but since it only has USB-A output, you're going to be refueling at a lower rate than you might like. It also has one fewer USB-A output than competitors.
All that said, though, we could see an individual finding this to be the right charger for their needs. Anyone who is looking to primarily charge their own phone, and wants a high-capacity pack so they need to refuel less frequently will appreciate the more-portable weight. All you need is a pocket big enough to hold it, and you'll have juice for days.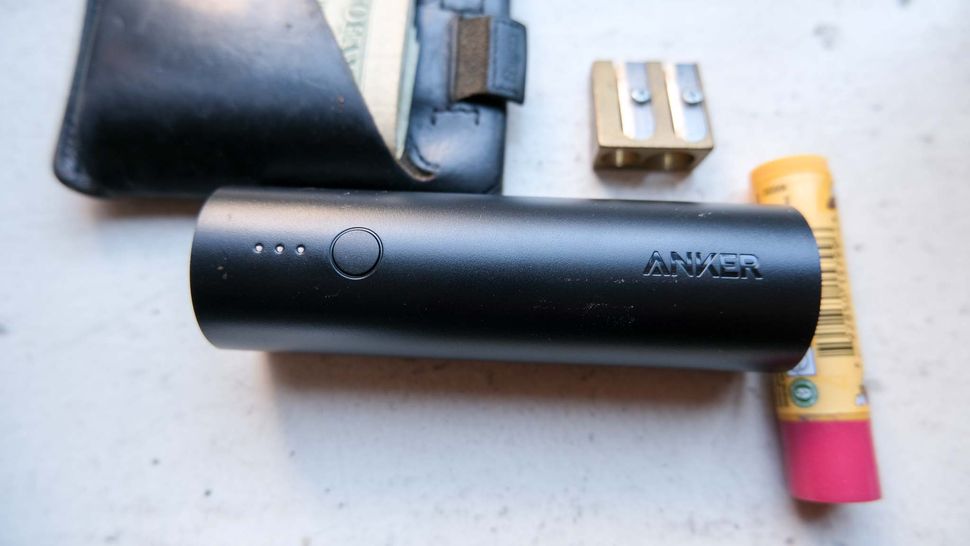 Compared to the higher-rated 5,000 mAh charger on our list (the Poweradd Slim 2) Anker PowerCore 5000 lags behind on speeds. It only refueled 62% of the iPhone 12 in the first hour of charging, which is the second-lowest score on the list.
The best aspect of the PowerCore 5000 is that it hit 19% after 15 minutes, which is 7% above the Miady power banks. There's nothing particularly wrong with this charger, but nothing impressive either. If you got it as a present, you might hold onto it and get a ton of use out of it. If it goes on sale for a deep discount, we wouldn't be against considering it. But at the end of the day, it's low on our list for a reason.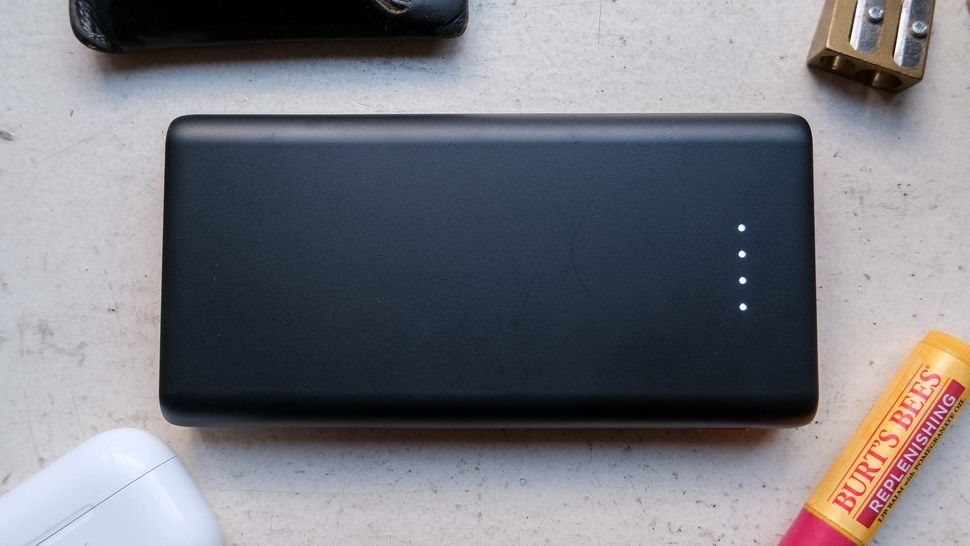 We always look at no-name brands on Amazon with askew looks, and (unlike the INIU power banks) the Ekrist proves our suspicions right. Its main positive features are that its 25,800mAh power supply refueled our iPhone 12 four times, and at 11.2 ounces, it's 1.4 ounces lighter than the 20,000 mAh INIU portable charger. That said, there are other bigger chargers that pack a ton of juice that you should opt for instead.
Its downsides are easy to see. For starters, there's no USB-C input or output. And its charging proved slow in testing, with unimpressive scores on the 15-minute and 1-hour windows (17% and 72%), and one of the longest times for charging an iPhone 12 from dead to 100% (2 hours and 21 minutes).
It would have been dead last if not for the Miady discount double.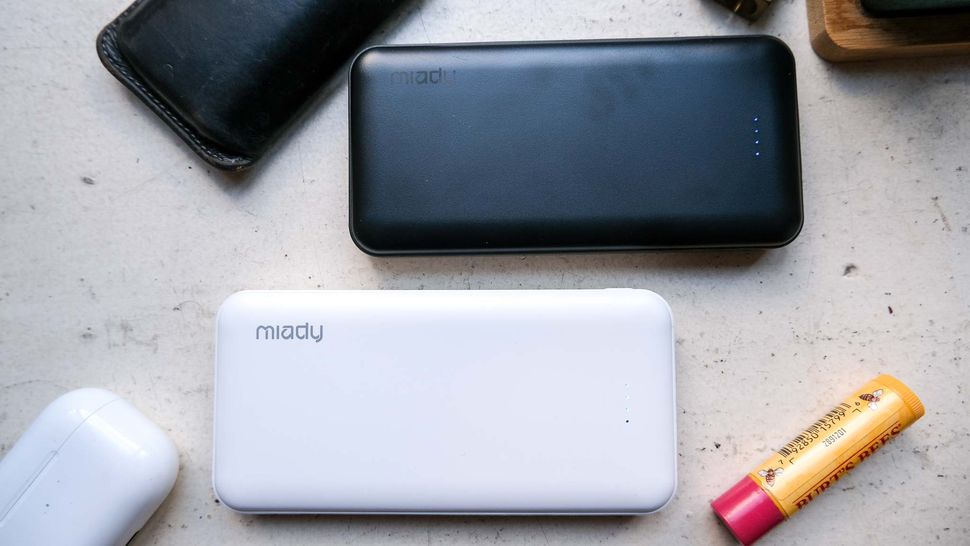 This Miady portable charger two-pack is popular for one reason and one reason alone: you get two 10,000 mAh chargers for around $30 (normally). And while that looks great on paper — sharing is caring, especially with a household filled with devices to charge — the math doesn't work out. That said, a 10,000 mAh power bank costs between $17 to $20, so there are some savings here.
Those savings are not worth what you lose on charging performance. The Miady chargers took the worst scores in each category. Its 3-hour time to refill an iPhone 12 was 39 minutes longer than the Ekrist's second-worst score, and its scores on 15-minute and 1-hour charging times (12% and 39%) are also quite low, with the latter being exceptionally poor (the next highest is 62%).
How to choose the best portable charger for you
Finding the right charger capacity: You'll often see a four to five-digit number, with the letters mAh following it, and that's your first big indicator of how much this charger is right for you. If you're constantly refueling your phone and other gadgets, go for at least 10,000mAh. For each extra device you charge, add at least 5,000 to the mAh rating you're looking for. Just need to prevent your device from hitting 0 on late nights out? You'll be good with something in the under 5,000 mAh rating, provided you remember to charge it often.
Be a ports authority: If you hold onto your devices forever, and don't already know what a USB-C port is, you can probably just get whatever fits your price. But if you're the kind who wants faster charging, look for a brick that has PD in its name. The best portable chargers, at least for my money, charge devices the fastest and use the Power Delivery (PD) standard. Also, their USB-C ports mean you can refuel these power banks with the same cords used to charge modern laptops.
How we test portable chargers
You want a charger that was put through the rigors of refueling, so we did just that. With timers in hand, we kept draining an iPhone 12 and then timed how much time it took for each power bank to refuel those phones. Along the way, we checked out how much of said iPhone 12 (the same one) were refueled after 15 and 60 minutes. We kept that iPhone at 100% brightness the whole time.
Our ranking also factored in the portability and designs of each model, as especially small and pocket-friendly chargers can't physically store as many mAh of battery power as their larger brethren. Similarly, the smaller a charger is, the less likely it has more than two ports (one for gaining a charge, the other for giving power).
Those looking to keep their tech protected throughout each and every charge should check out our guide to the best surge protectors.